How to Write a Return Policy for Your Small Business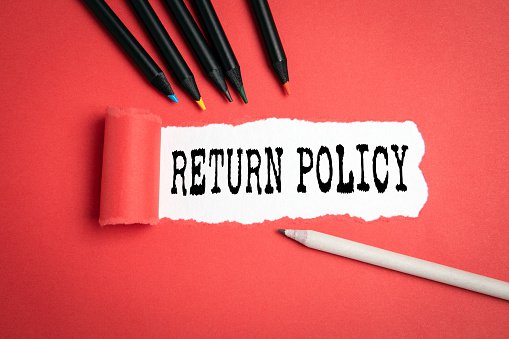 Allowing customers to return products, get a refund, or exchange damaged items they're unsatisfied with fulfills legal requirements, improves their customer service experience, and encourages brand loyalty.
It gives your customers a sense of security, knowing they can return the product if it isn't exactly what they expected. That feeling of security can be just the push they need to take out their wallets and continue their purchase.
What's more, having a return policy also standardizes your process, streamlines request handling, and detects potentially defective batches of items.
---
Overview: What is a return policy?
Return policies guide your customers through the process of returning or exchanging defective, unwanted, or wrongly sent merchandise they purchased from your e-commerce store.
The policy can vary depending on your industry and type of products sold, such as software and other digital items, but it should include the general requirements for processing returns.
Your policy should state the allowable return period, mention whether customers need to present a receipt, and specify the process for exchanging products received as gifts.
---
What to consider when creating a return policy for your small business
A well-crafted return and exchange policy balances your responsibility to satisfy your customers when handling product returns, against the costs, time, and effort involved in the process. Consider these three crucial factors when creating your return policy.
1. Refund methods
Determine how you credit returns, whether via store credit or in the original form of payment, will function since this brings additional costs, such as restocking fees for opened products. Consider how these might impact your pricing structure.
2. Regulations
Check the laws regulating returns in your state, country, and areas of operations to ensure your store return policy adheres to legal requirements. The regulations should help shape your terms and conditions.
3. Return window
Most return windows are within 30-90 days, but seasonal products can become obsolete, which could leave you with out-of-trend items you might not be able to resell.
There's no one-size-fits-all framework when creating a return window, so you'll have to consider the dynamics of your business. When done right, it augments your customer retention strategies and bolsters your brand image as a company that cares about its customers.
---
How to write and implement a return policy
Follow these best practices to develop a return policy that helps you mitigate risks and win your customers' trust.
Step 1: Ensure your return policy is highly visible
Make your return and refund policy easily accessible by adding it on strategic, hard-to-miss parts of your web pages, especially right before your customers confirm their purchases.
Add links to your policy throughout relevant pages on your website, such as your product and checkout pages, the site footer, cart, FAQ page, and more.
Check out how Macy's placed their return policy link on their e-commerce website in the image below.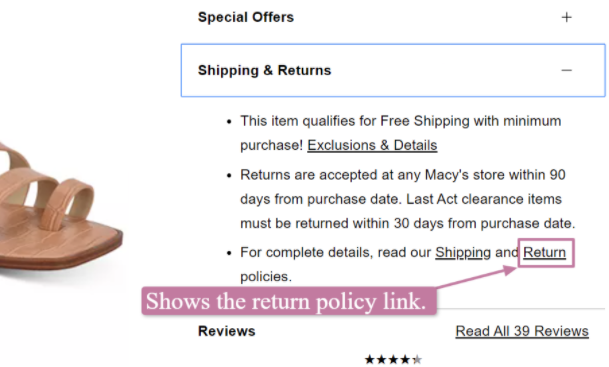 Be strategic on where you place the link to your product return guidelines to avoid needless customer inquiries or refund processes.
Step 2: Find the right service provider for your return process
Use a reliable platform for processing your returns to save time and money and expedite the process for your customers.
Shopify, for example, offers built-in features that let you manage exchanges and returns, including a function that generates return shipping labels for orders. Theirs is one of the best e-commerce solutions online to handle returns.
Applicable to domestic orders, return labels allow customers to ship products back through a pay-on-scan process, which means a shipping carrier measures and weighs the package, and calculates the cost.
The carrier scans the package and charges the amount to your Shopify account, so you only pay if the return label is used. This helps you recover returned inventory and save money on steep carrier shipping costs while accommodating customer returns.
Another option is to integrate return and exchange apps into your e-commerce platform to allow self-service options for your customers to process returns.
Use a portal that allows your customers to make return requests, download return shipping labels, choose products to exchange their purchased items with, etc., to streamline the process.
Step 3: Use simple words
Avoid confusion and help your customers fully understand your return policy by using simple and unconfusing words.
Use straightforward but meaningful phrases and terms and make sure your policy covers the basic requirements for returns processing.
Try these tips when writing your return policy.
Emphasize and repeat crucial keywords and policy terms. Include key terms such as "items allowed for return or exchange" and repeat them when necessary to highlight specific requirements in your policy.
Use a return policy template. Avoid creating your policy from scratch by using a template. Save time and avoid needless headaches since you'd only need to fill in the blanks and make minor adjustments to the template.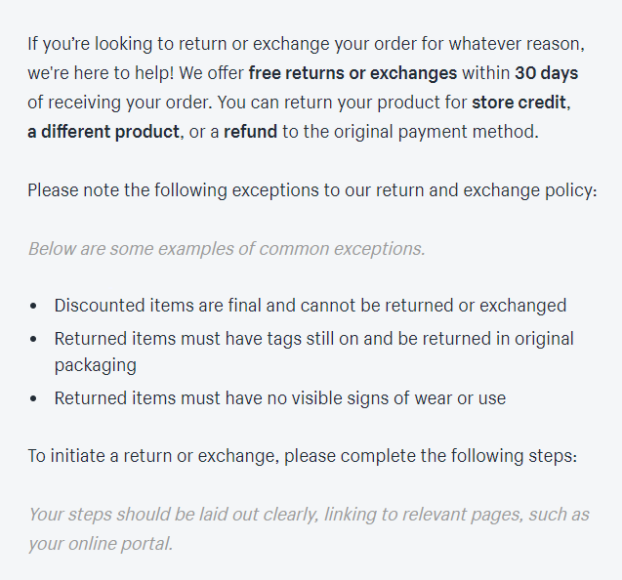 Use the right tone. Avoid saying, "you are required to" or "you must." Be more conversational but concise when guiding your customers through your return process.
A return policy is an extension of your customer service. Use the same language and tone when offering assistance to consumers and use it to support your online product marketing efforts.
Step 4: Set customer expectations
Set proper expectations to help your customers understand the process and know what they need to do, including specific conditions and limitations of your policy.
Ensure your policy answers potential customer questions and concerns, such as:
What is the step-by-step process for requesting a return, exchange, or refund?
Should customers include the order slip?
Will your business provide a return shipping label, or do customers need to pay for the shipping cost?
Do customers need to use the original packaging or a new one when sending back the product?
What is the return window and timeframe for completing an exchange or return?
What condition should the product be in to qualify for a return?
Use subheadings to make your policies and procedures easier to understand. It improves your customer's overall experience as they figure out how your product return procedures work.
Step 5: Empower your employees to handle returns
A well-written policy should be clear enough that even your staff can facilitate the returns just by reading it.
Your employees should know when a return, exchange, or refund is not allowed to prevent fraudulent returns. Some examples are when your customers file a request after the return window, if the warranty expired, etc.
Remember to run training sessions regularly to reinforce your staff's knowledge regarding your protocols. Ensure that your staff can process returns and answer your customers' questions so you can free up more time and get more work done.
---
Start building your return policy
Tailor your return policy to your business dynamics. Think about what makes sense to your customers while being mindful of your policy's impact on your business.
You can even set a return policy that highly favors your customers and use it as leverage when putting together your pricing strategy.
The thought of creating a return policy might be overwhelming at first, but with the points we shared above, you now have a framework and a guide to put together a return policy for your business.
View more information: https://www.fool.com/the-blueprint/return-policy/