How to Use Real-Time Chat for Your Customer Support
Imagine that every time someone visited your website, you could wander over to them and strike up a conversation as if you were a salesperson in a showroom. Well, now you can, thanks to real-time chat software — and it's changing the way online companies do business.
A recent study reported 79% of businesses found that implementing live chat resulted in an increase of not just sales and revenue but also customer loyalty. It's so simple to implement in your business, and it has a profound positive impact almost immediately.
Here's how to use real-time chat software to boost sales, increase customer retention, and improve the customer experience overall.
---
Overview: What is real-time chat?
Real-time chat is software that allows you to directly interact with customers who visit your website. It creates a pipeline of leads that you would otherwise not have access to because customers would have dropped by, poked around, and then left.
A chat box automatically pops up on your website shortly after a visitor arrives, asking them if they need help finding something. If the visitor types a question in the box, your team is alerted, allowing one of your salespeople to respond to the customer in real time.
Chatting platforms are new technology that gives website-based businesses a huge advantage that wasn't available to companies even 10 years ago, and it offers them a chance to develop new leads from standard website traffic.
While there is no requirement to immediately respond to customer inquiries through real-time chat, it's wise to immediately respond since the more time that passes, the more likely you are to lose that potential customer.
---
4 benefits of utilizing real-time chat for customer service
Real-time chat offers four key benefits to small businesses looking to increase their lead generation.
1. Access to more customers
Most website visitors pop in, take a look around, and then leave, never thinking about your business again. But live chat gives you the opportunity to capture some of those leads.
If a visitor asks a question in the chat box, you have a chance to immediately connect with that individual on a personal level and answer questions. This interaction may directly lead to a sale, or it may merely provide a lead that you can connect with later. Either way, it gives you an opportunity to expand your customer base.
2. Super-targeted leads
Lead generation can be difficult because you have to figure out which individuals are likely to buy from your business. But visitors to your website have already shown an interest in your company and products, so the lead generation is done for you.
As a result, each lead you are able to nab through live chat is a super-targeted lead that is much more likely to buy from you than most others.
3. Leads are already warm
The problem with turning leads into customers is they have no idea who you are. As a result, you're stuck with cold calling, which has a success rate of just 2% compared with warm calling, which converts at rates of 30% or more.
When customers connect with you via live chat, they're now a warm lead who is aware of your business, is interested in your products, and has connected with your customer service team in a way that builds trust and very likely results in a future purchase.
4. Better relationships with existing customers
Don't just use real-time chat to find new customers; use it to provide a better customer service experience. If your customers have a problem, most likely they will visit your website before they pick up the phone or fire off an email.
By popping up a chat window, you provide an immediate conduit for the customer to get their issue resolved before frustration grows. This improves customer satisfaction and therefore increases the likelihood you will retain them.
---
3 best customer service software options with live chat features
Many customer service software platforms will help you better serve your clientele, but only some of them offer live chat options that allow you to directly connect with visitors to your website. Here are three of the best platforms for that purpose.
1. LiveChat
LiveChat, which launched in 2002, is one of the top names in customer service chat software. The company produces a customizable chat widget that is installed throughout the website. The dashboard is simple to use, with a left-hand navigation menu and a text message-like display for chatting with customers.
LiveChat offers additional specialized products such as HelpDesk (for ticket management), ChatBot (automated chatbots that use artificial intelligence), and KnowledgeBase (a help center for customers).
Not surprisingly, LiveChat offers top-notch customer support, and it is relatively affordable at $19/month per user for the most basic package.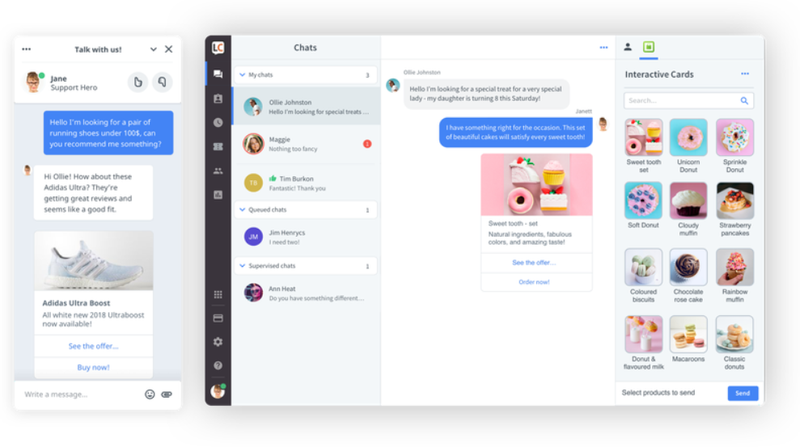 2. LiveAgent
LiveAgent allows you to choose a predefined chat window from four style options. The software alerts your customer service team when someone makes an inquiry through the chat box.
LiveAgent also offers extensive issue tracking functions so you can monitor correspondence between your team and customers and make sure that nothing falls by the wayside.
The dashboard is simple and easy to use, which is a must for effective communication between your sales team and customers. Navigation of the software is intuitive, and the features list is impressive.
LiveAgent provides good customer support, ranging from phone and email to video tutorials and integration guides.
Unlike most customer service solutions, LiveAgent offers a free version that limits you to one email address and a seven-day ticket history. Its paid options are reasonably priced, starting at $15/month per agent.
3. Help Scout
Help Scout aims to streamline customer support operations with an email-style interface that uses shared mailboxes instead of a typical ticketing system to help your team manage multiple products and customer inquiries.
Help Scout also offers its Beacon feature, which includes live chat server, if you spring for the mid-priced Standard package.
In addition to live chat, Beacon suggests relevant help contact and shows customers their support history, all from your website. It has a simple interface and navigation is straightforward.
Unfortunately, Help Scout doesn't offer phone support, although it does have 24×6 email and chat. Pricing starts at $15/month per user but, as noted above, you'll need to pay for the Standard package ($25/month per user) to get the Beacon with live chat feature.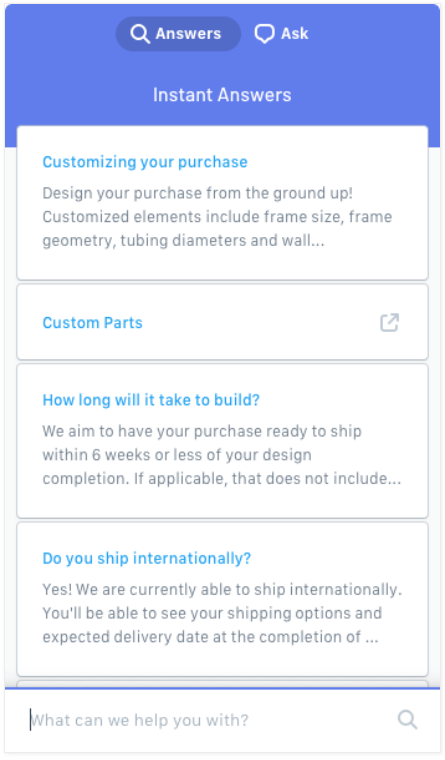 ---
Real time chat can take your business to the next level
Real-time communication with both prospects and current customers using chat applications is a vital way to improve the health of your business and lay the foundation for future expansion.
By signing up for a chat client and instituting a chatting system with your sales and customer service teams, you'll increase your sales and improve your customer retention.
If you're not using chat applications to improve customer care and sales lead generation, now's the time to start. Try out a few options and settle on one that best fits your business.

View more information: https://www.fool.com/the-blueprint/real-time-chat/