How to Electronically Sign a PDF in 2021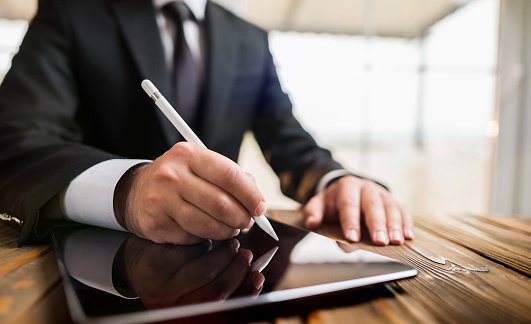 We may receive compensation from partners and advertisers whose products appear here. Compensation may impact where products are placed on our site, but editorial opinions, scores, and reviews are independent from, and never influenced by, any advertiser or partner.
Documentation flies all around the net these days, because it's just way easier to deal with digital rather than physical documents these days.
You've probably signed documents electronically more than a few times with files that are already prepared for your signature. Companies often use a signature creator and ask you to sign a PDF online. But sometimes you're stuck trying to figure out how to sign a PDF on your own.
Whatever the scenario, it's easy to do.
But before we get into the nuts and bolts of how to sign PDF documents, let's go through a few frequently asked questions so you can understand what your electronic signature actually means.
---
Frequently Asked Questions
What is an electronic signature?
An electronic signature, also referred to as an e-signature, refers to the process of digitally applying your signature to a document, indicating you have read and agreed to the terms within that document.
A signature may involve actually signing your name, like using your mouse pointer as if it were a physical document, or it could be as simple as clicking a button that indicates you understand and accept the terms.
The purpose of e-signatures is to streamline what is a cumbersome process for businesses involving faxing or mailing paperwork that must be signed and then returned to the requester.
What is a digital signature?
The terms digital signature and electronic signature are often used interchangeably, but these are two different things.
A digital signature goes beyond an electronic signature by creating layers of encryption designed to ensure that the document has not been tampered with, altered, or accessed by an unauthorized user.
These signatures create a "fingerprint" using digital signature certificates and public and private keys that validate their authenticity and security.
What am I doing by signing this document electronically?
When you sign documents online, you are doing the same thing in the eyes of the law as if you were using a pen to sign your name on the dotted line of a physical document.
An electronic signature should not be made lightly — if you're not sure you agree to what's in the document, don't sign it. Read all terms and conditions within the document before signing, as you would any other legal document.
Why am I being asked to sign this document electronically?
A company or organization is requesting you to sign a document to ensure that you have agreed to whatever terms they have set for your relationship with them.
They likely require you to e-sign to improve their own business document management, as this is considered a best practice in today's digital age. If you are buying a product or service, they may ask you to sign to agree to payment.
If you sign after receiving delivery of something, that provides the sender proof that you have acknowledged receipt of the product (protecting them from claims that they did not deliver the product and, therefore, owe you a refund). These are just a couple examples of why your signature might be required.
Is it as legally binding as ink and paper?
Yes, thanks to the E-Sign Act, which holds that electronic signatures carry the same force as handwritten signatures in the United States.
What if I just click "Accept" instead of signing my name, does that have the same legal force?
Under the E-Sign Act, an electronic signature is defined as "an electronic sound, symbol, or process attached to or logically associated with a contract or other record and executed or adopted by a person with the intent to sign the record."
This gives companies quite a bit of flexibility when requesting a signature in terms of what form it can take. As long as the organization can prove you had intent to agree to the terms, which an e-signature shows, it doesn't matter if you actually signed your name or if you clicked the "Accept" button.
How do I know my signature won't be tampered with or that the document won't be altered?
This is a legitimate concern. It's wise to take a few safeguards to ensure that the document you're signing has proper safeguard in place. This includes ensuring that the service you are using uses an HTTPS-encrypted browser connection.
The service should also provide an audit trail showing the IP address, time stamp, and other information confirming the authenticity of the signature. If you are still concerned, request to sign via digital signature, which goes a bit further and includes much more sophisticated encryption methods.
Now that you understand electronic signatures and their ramifications, here's the straightforward process you can use to create electronic signature PDFs. The simplest way to do it is to use one of the three major electronic signature software products: Adobe Acrobat, Microsoft Edge, or Docusign.
---
How to sign a PDF with Adobe Acrobat
Open the PDF file.
Click the "Sign" icon on the toolbar, or select Tools > Fill & Sign.
Select "Place Signature."
You will be asked, "Who needs to fill and sign?" Click the blue button under the "You" header to the left.
The software will attempt to locate fields automatically, and you will choose the field you want for your signature by clicking on it.
Click the "Sign" icon on the toolbar and choose whether to add a signature or just initials.
Choose whether to type your name, draw it, upload an image, or use a saved signature.
Click "Apply" when you have created the signature.
---
How to sign a PDF with Microsoft Edge
Open the PDF in Microsoft Edge.
Click the "Draw" icon in the top right.
Draw your signature wherever you want in the PDF.
Click on the "Save" icon in the top right.
Send the modified PDF to the requester.
---
How to sign a PDF with DocuSign
Sign into DocuSign.
Upload the PDF — DocuSign will convert any fields within the PDF into recipient fields.
Click "Sign a document now" and choose the PDF sent to your inbox.
Drag your signature into the document and drop it in the desired field.
Send the PDF to the requester.
---
Invest in business software
If you're searching online for help with how to do things like sign a PDF, you probably don't have document management software that can help you with common small business needs. Now's a good time to take a look at your current software or processes and determine if you need an upgrade.
The Blueprint has reviewed software used in many different industries and identified those with the strongest features. Check out a few options applicable to your business and give them a try. They might help you take your business to the next level.
View more information: https://www.fool.com/the-blueprint/how-to-sign-a-pdf/