How to Buy a Foreclosed Home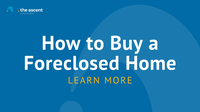 One possible route to homeownership involves buying a foreclosed home. Here, we'll cover what a foreclosed home is, how to buy a foreclosed home, the pros and cons of purchasing a foreclosed home, and how to keep your risks to a minimum.
What is a foreclosed home?
When a home buyer takes out a mortgage, the real estate acts as collateral. That means that if the borrower stops making payments as promised, the bank has the right to take possession of the property. Complicating the matter, government agencies back some types of loans, including FHA, USDA, and VA mortgages. That means that if a home buyer defaults on one of those loans, it's up to the agency in question to repossess the property, sell it, and pay the original lender what they are owed.
Here's how foreclosure works:
The homeowner misses several months of payments.
The mortgage lender begins the foreclosure process by filing a public notice with the county recorder.
The bank notifies the borrower that they are in danger of losing their home to foreclosure and lets them get caught up if they can.
If the homeowner is unable to come up with the money (or make an agreement of some sort with the bank), either the lender or government agency backing the loan repossesses the home.
The homeowner must vacate the property or be escorted out by law enforcement.
The bank or government agency attempts to recoup as much money on the property as possible — ideally, by selling it at auction.
If the property does not sell at auction, the bank or government agency takes ownership. This is referred to as real estate owned (REO).
If you decide to purchase a repossessed home, you will buy it at auction, from the original lender, or a government agency.
Five steps to buy a foreclosed home
There's no denying that buying a foreclosed home is more complicated than a garden-variety home purchase. But if you're a first-time home buyer or simply want to land the best deal possible, the savings can be worth the trouble. Here are the five steps of how to buy a foreclosed home:
1. Get pre-approved
Shop mortgage lenders to find the best interest rates and loan terms. Once you've settled on a mortgage lender, get pre-approved for a mortgage. People sometimes confuse the terms "pre-qualified" and "pre-approved." Here's the difference between mortgage pre-qualification and pre-approval: When a lender pre-qualifies you, they let you know how much they think you are eligible to borrow, based on the information they have. When you're pre-approved, the bank tells you how much you will be able to borrow. A pre-approval letter lets the seller know you're serious about buying.
2. Decide how much you can afford
It doesn't matter how much a lender says you can borrow if the amount is outside your comfort zone. Decide how much works within the confines of your monthly budget and stick to that price. You can use our monthly mortgage payment calculator to estimate payments for different types and sizes of mortgages.
3. Work with an experienced real estate agent
Buying a foreclosed home can be more complex than making a traditional purchase. That's why it's vital to work with a real estate agent with experience selling distressed property (that's a term for property under foreclosure or already owned/being sold by the lender). Purchasing a bank-owned property works best when your agent knows the ins and outs of how to buy a foreclosed home — from how an auction works to whether a foreclosed property qualifies for a VA loan.
4. Gather your down payment
How much you're required to put down on a property depends on a number of issues, including the type of mortgage you apply for and how much you want (or need) your mortgage payment to be. The more you put down, the lower your monthly mortgage payment will be.
5. House hunt
Do you want to bid at a foreclosure auction, or would you rather shop REO-held properties? If you're going to auction, be doubly-sure that your real estate agent knows the lay of the land. All auctions have their own rules, and you'll need the guidance of someone who understands those rules.
Why foreclosed homes are cheaper
A foreclosed home may cost less because the mortgage lender wants to recoup what it lost when the borrower defaulted. The lender is less inclined to wait around until someone offers them enough to pay off the original loan and turn a profit.
According to Wells Fargo, its foreclosed property is listed at fair market value. It says the price of their bank-owned property is in line with similar listings in the same condition. The phrase "similar listings in the same condition" is vital because not all foreclosure property is habitable. Not all lenders get their foreclosure properties up to snuff. It's not unusual to see a home in a foreclosure auction or even an REO sale that has been stripped of its wiring, missing light fixtures, and in need of other repairs. While it may be cheap to buy the structure, you'll need to plan to finance home improvements, too.
Financing a foreclosure property
While it's not unusual for real estate investors to pay for a foreclosed property in cash, many customers take out a mortgage.
That said, it may be challenging to get a mortgage on a foreclosed home in terrible condition. If a foreclosed property has been vacant, damaged by vandals, is missing windows, or is otherwise uninhabitable, lenders see it as inadequate collateral. One way around this is to take out a rehab loan. For example, if you're taking out a conventional mortgage, Fannie Mae offers the HomeStyle Renovation Loan. If you're more interested in FHA mortgages, FHA offers the 203(k) rehab loan. Both programs allow you to roll the property's price and the cost of repairs and upgrades into one mortgage.
If the foreclosed property is in relatively good shape and safe to inhabit, the mortgage process is much like any other. The process can be simplified by taking out a mortgage with the original lender, but check first to make sure they offer the most favorable rates and terms. If your credit score is not as high as you would like, check with mortgage lenders for poor credit.
Buying a foreclosed home: pros and cons
View more information: https://www.fool.com/the-ascent/mortgages/how-to-buy-foreclosure-property/