How Project Management Works for Small Business in 2021
Project management is a daunting phrase when you're a small business. You feel constantly bombarded by tasks left and right, and putting together a project plan and executing it sounds complex and time-consuming.
But in reality, it will save you a ton of time and ensure that you complete projects without causing undue stress on you or the rest of your company.
If you're desperate for some project management help and aren't sure where to start, you've come to the right place. This guide will break down why project management is important for a small business and help you find software that will make life easier.
5 ways project management will help your small business
Stay on budget and schedule
More control
Increase the chance of success
Establish accountability
Actionable insights
---
Overview: What is project management?
Project management refers to the tasks that go into organizing a team to accomplish a specific objective or series of objectives by a specified deadline.
Project management helps a manager navigate numerous obstacles in putting together a plan, such as identifying available resources, what milestones and deliverables must be achieved, who is responsible for what, and many other aspects of a project.
In small businesses, a project manager may deal with less complexity but faces the additional challenge of fewer available resources.
---
The benefits project management can bring to your small business
I know what you're thinking: "It's a small shop with me and a couple others — I don't need to do project management." However, small business project management is not about how many people you have, but how you run the project itself.
I'll outline five key benefits in particular, and some project management examples to show what that looks like in real life.
1. Stay on budget and on schedule
Small businesses have no room for error, which is why it's important you meet your project budget and schedule goals. Organize a project at the outset and manage it effectively until completion, and you increase the chances you achieve your objectives on time and within budget.
Example: During project planning, Dave realizes equipment rental costs for a new home are expected to increase by 20% in three months, while he's in the middle of the project. He finds savings in other areas to compensate and avoid an unexpected budget overrun.
2. More control
Projects that spin out of control can tie up an organization's resources and interfere with other important tasks, because you have fewer workers you can spread around to fill in the gaps. If you want to avoid constant disruptions to your business, you need to implement project management.
Example: Susan's thorough project planning identified that Greg was available during a particularly busy week for the project, and she attached him to tasks that would take place that week even though he wasn't a primary stakeholder.
3. Increases the chances of success
The difference between project failure and success often comes down to the project manager: Did they devote enough time at the outset to draft a thorough project schedule?
Did they closely monitor the project to ensure it was hitting milestones on time, and make adjustments to get back on track when unforeseen obstacles pop up? Small businesses often neglect to put this time and effort into this part of the project and then wonder why they fail to achieve objectives.
Example: Sarah noticed while doing regular check-ins that a sales team failed to call as many people as she expected over a certain week.
After checking in with the team, she found that sales team members were called to assist with another project without her knowledge, and so she had a conversation with the other project manager to ensure his needs were being met without pulling resources from her own team.
4. Establish accountability
Even in small businesses, you often run into an accountability problem: "I wasn't responsible for that, you were." If roles aren't clearly defined, important tasks fall by the wayside.
But good project management ensures that roles are clearly defined and assigned, with no question who is responsible for what, and nothing gets left to chance.
Example: Because Dave attached individuals to specific tasks and outlined in detail what they were responsible for, everyone knew when the ball was in their court and all tasks were completed on time.
5. Actionable insights
Good project management includes good documentation, data accumulation, and accountability. Once the project is over, you can go back, assess performance, make educated guesses about what went wrong or right, and make adjustments to future projects.
Otherwise, you're just flailing in the dark, doomed to repeat mistakes or omit successes on the next project.
Example: Craig went through the data after the project was finished and noticed that his IT company had completed 20 fewer tickets than the month before.
After consulting with his team, he learned the company had taken on a new contract that involved more on-board training and fewer tickets, but tickets likely would ramp up again so his team would need to be prepared. This enabled him to plan accordingly for the next project.
---
The best project management software for small businesses
It's always tricky shopping for software when you're a small business. So many options cater to large or mid-size companies, and often offer too many project management tools and too high a price tag for your organization.
Fortunately for you, The Blueprint has reviewed many project management software options, and these three are some of the best suited for a small business.
1. monday.com
Our top-rated project management software option is also great for small businesses, thanks to its easy and visual user interface. But monday.com also is packed with project management collaboration tools, so you won't have to sacrifice ease of use for functionality.
It uses a simple "board" system that keeps all aspects of a project under its own board, so everything is kept neatly organized.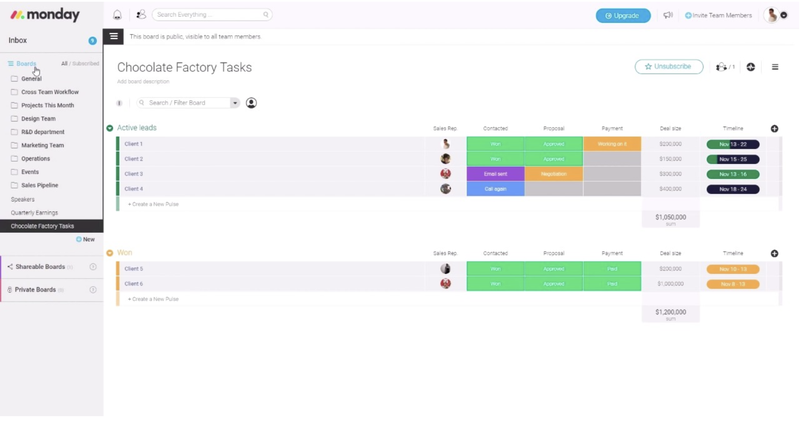 Best feature: The software's shared team calendar will keep everyone — even if it's just you and a colleague — on the same page so you're not stepping on each other and you know what the other is up to.
You'll also be able to spot tasks scheduled weeks or even months in advance so you can ensure you are meeting critical milestones.
Pricing: Pricing is a bit complicated as it is based on user and feature tiers, but fortunately for small businesses, that makes it more affordable. With fewer users and fewer feature needs than most, you'll pay less.
The lowest price is $17/month for the Basic version, which allows two users. Bumping up to five users will cost $25/month. At worst, if you had 10 users and wanted the Pro version, it would only cost you $119/month total. That's not bad.
2. Trello
Trello is great for small businesses for two reasons: it uses a simple kanban-style system that you will pick up right away, and it has a completely free version.
With Trello, you create a task or "card" that contains all of the information about the task (including files and deadlines), and you drag and drop this card along the various stages until it reaches completion. You can tag any relevant user so they are alerted whenever an action is taken on it.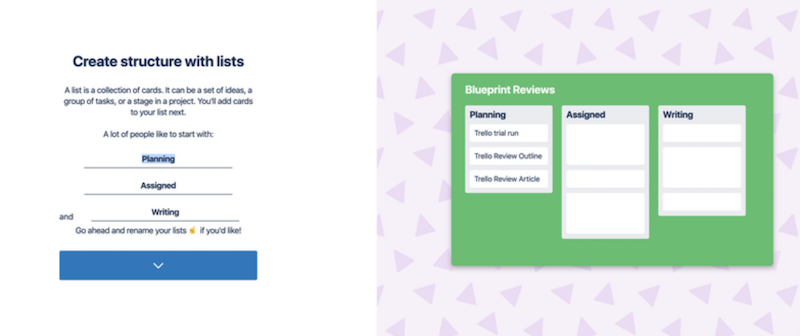 Best feature: Each Trello card has a commenting section, meaning you can converse with other stakeholders on the task. This makes communication easy between relevant users, without distracting other users with conversation that is irrelevant to them.
It also creates an action log that you can refer back to and which makes it clear to the next person that the ball is in their court.
Pricing: Trello offers a free version with unlimited personal boards, unlimited cards, and unlimited lists. The limitations are on the file size attachment limit (10MB), the number of team boards (10), and a few other features.
If you want a larger file attachment limit, priority customer support, unlimited team boards, and other goodies, you'll have to pay $9.99/month per user. The Enterprise version also includes personalized onboarding and advanced features starting at $20.83/month per user.
3. Basecamp
Basecamp is a well-known name in project management. It's good for small businesses because of its simple flat price that includes all task management tools (and the fact that it's an easy-to-use platform).
While it has some limitations in terms of budgeting and invoicing, small businesses who just need a straightforward project management platform should be satisfied with Basecamp.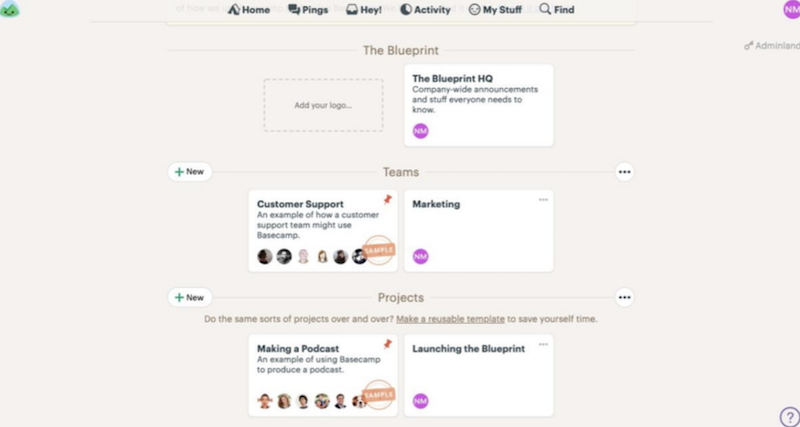 Best feature: Basecamp's big selling point is its simple dashboard that gets you anywhere in the software without having to take a class in how to use it. It uses colorful navigation squares so you can jump to the message board, the to-do list, documents, schedule, and anything else you need to check in on.
Pricing: Basecamp offers a free version called "Basecamp Personal" that has a creation limit of three separate projects at once, a limit of 20 users, and 1 GB of storage space — which certainly may be all you need if you're a small team.
If you want unlimited projects and storage space of 500 GB, it's $99/month flat, a price most small businesses can afford.
---
Start planning your next project
If you've never properly sat down and done project planning before, one of the best project management tips we can give you is to just get started. Bone up on the project management basics and start drafting the plan for your next project well in advance so you'll be prepared when it comes time to implement it.
Don't worry about being perfect — the more times you do it, the better you get, and even an imperfect plan is better than nothing.
The Blueprint has reviewed many project management software options. Try out a few software options before settling on one since you won't know whether it's a fit for your style simply through a review alone. Most developers offer free trials, and you should take advantage of that for a few weeks.

View more information: https://www.fool.com/the-blueprint/project-management-for-small-business/