How (and Why) to Integrate Trello and Jira in 2021
Siloing people, processes, and resources within your company hampers your business operations. The same is true for your project management software: Teams must communicate with each other and external stakeholders during every project's life cycle, even when using different software.
Trello and Jira are popular project management software options, but they offer even greater functionality when integrated. We'll go over the advantages and steps to do this below, so you can decide if this could help your small business.
---
What is the benefit of using Trello and Jira together?
Trello and Jira are project workload management tools available from Atlassian. While their functionality overlaps, important distinctions exist between them.
Trello's flexibility makes it applicable to a broad range of projects. Jira was designed for software development, but its use has expanded to incident and project management.
Using Trello
Trello is a simple drag-and-drop kanban project management system. Users create online "boards" with sequential actions broken out into vertical lists as in the screenshot below: backlog, in progress, for review, and done.
Individual project cards, such as "consolidate changes to pricing page" below, move from one list to another as actions, which can be assigned to different people at each step, are completed.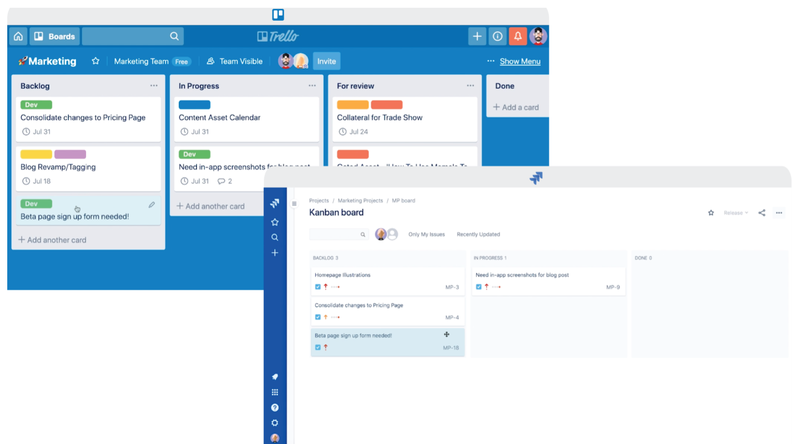 Using Jira
Each Jira board for a project displays tasks and cards, which it calls "issues," using kanban organization. Users can choose additional display options, however, when creating a project management plan, including scrum, process, and task management.
Jira is like Trello's older sibling: It can do everything Trello can and much more.
Trello is appropriate for more informal, non-technical projects and teams, but projects requiring granular-level control and reporting need Jira.
---
Three Trello-Jira synchronizations
Due to their different core users and features, three types of synchronization create extended functionality:
Two-way
Trello to Jira
Jira to Trello
1. Two-way synchronization
When you have different teams or departments that use Jira or Trello in your company, they may need to collaborate on projects. Two-way synchronization creates a single workflow, whether it's to assign a critical task or share project management tips.
For example, many marketing departments use Trello project management, while programmers use Jira. If both groups are working on a website overhaul, they can work within their preferred project management software.
Corresponding Trello cards and Jira issues are linked and automatically update when a change is made in either system.
2. Trello to Jira
Jira is also used for incident management. In this scenario, Trello functions as a help portal to submit incident tickets. When a user has a problem, they create a Trello card that's replicated in Jira as an issue.
Subsequent information technology (IT) help agent actions update only the Jira issue, so the user isn't burdened with all information at every step in the incident's resolution.
You can also use your Trello board to solicit feature requests. Submitted requests appear in Jira as issues, so your IT support team gets them via their existing workflow.
Using Trello is easier for non-technical users, so you may also receive more feature requests. Your IT department's customer satisfaction (CSAT) scores could correspondingly rise thanks to Trello's integration with Jira.
3. Jira to Trello
Jira-to-Trello synchronization lets you push out select information without making everything within a project public. Want to release product updates or general news? Need to keep external stakeholders apprised of a project's progress? A Jira-created issue does this when it's replicated as a Trello card.
Jira-to-Trello synchronization can also save you money because Jira requires individual user licenses once you have more than 10 users. Is Trello free?
Its business-level plan isn't, but you can set a Trello board so it's publicly accessible by anyone, even without a Trello account. A public board shows up in Google searches, too.
You can use different types of synchronization across multiple projects at the same time as appropriate.
---
How to set up and use the Trello integration with Jira
The beauty and curse of software is that everything can be done multiple ways. The easiest method to use all three sync options outlined above is via a third-party vendor specializing in automated software integrations. You will pay for this functionality on top of Jira and Trello pricing.
Unito has multiple integration options featured in the Atlassian app marketplace, so we'll use it in the steps below. Other companies such as Zapier also do this with a similar setup process.
Step 1: Create your Unito account
First, you must create an account at Unito and choose a subscription plan. They range from $10 per month to $225 per month, depending on the number of users and software synchronizations and how often syncs occur.
The $10 plan lets you have up to 10 users and five auto syncs that update every 10 minutes. Each plan has a 14-day free trial, so you have plenty of time to experiment with various synchronizations to see how they work.
Step 2: Choose the type of synchronization
Once your account is set up, log into the Unito website to create your first synchronization. You can link either two projects or, for advanced users, three projects.
Step 3: Choose your projects to synchronize
On the next screen, select the software to sync. In addition to Jira and Trello, your options include:
Asana
Basecamp
Bitbucket
GitHub
GitLab
HubSpot
Wrike
Zendesk
Then, select the two boards to sync and the direction: two-way or one-way.
Step 4: Filter tasks
For this step, you'll decide two things: the tasks to include from both boards and whether to sync all open cards or filter the cards. Three filter options include or exclude cards based on:
Labels
Vertical lists
Assigned members
Step 5: Map text and data fields
Next, decide which of the 21 fields to link between cards and issues, which depends on the amount of information you want shared and the direction of the sync.

You can delete any of the linked fields on the field mapping page, so only the information you want shared between corresponding issues and cards is connected.
Step 6: Test your synchronization
Finally, you must test the workflow synchronization between Trello and Jira. The default setting on the last setup screen is to sync new cards/issues, so none of your existing information is affected until you know everything is working.
Create a new card or issue to confirm the sync is working correctly. Then, you can safely sync your older cards.
---
Integrate Trello and Jira now
Integrating Trello with Jira highlights an important point: the need to free your software and applications from their silos. The ability to customize your workflow across multiple platforms gives your company even greater flexibility and capabilities.

View more information: https://www.fool.com/the-blueprint/trello-jira-integration/