Hootsuite vs. Buffer: Which is Best for Your Small Business?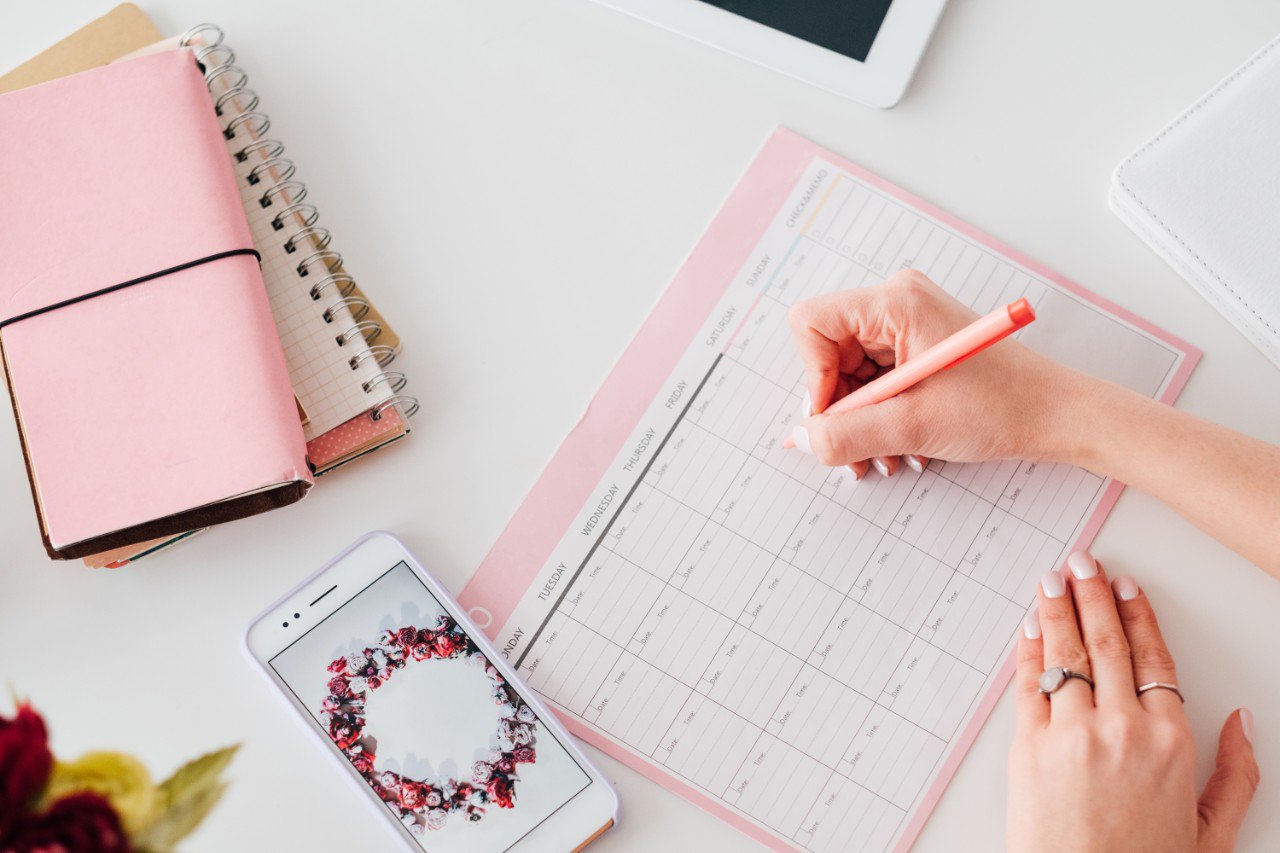 If you're responsible for running a social media campaign of any size, you have likely considered using software to automate posts from your social media content calendar.
As part of this consideration, you may have wondered whether to opt for Hootsuite or Buffer. Below, we weigh the strengths and weaknesses of each platform across the performance categories that matter most for businesses.
---
Hootsuite vs. Buffer: An overview
Social media can be chaotic and confusing.
The major social media management software companies aim to impose order on this flux, but they do so in markedly different ways. Each platform has created interfaces and tools that will appeal to various audiences.
Who is Hootsuite for?
Hootsuite has features that will appeal to businesses of all sizes, but the subscription packages offer the best value for small- and medium-sized enterprises.
Hootsuite integrates with a very wide range of social networks and provides an effective dashboard for managing all of your social media activity in one place. As such, many businesses will find everything they need within this platform.
Sole proprietors may also find their requirements met by the free Hootsuite account option (even better!).
For larger businesses, the cost of a subscription can increase rapidly, and Hootsuite lacks the sophisticated collaboration tools some teams may require.
Who is Buffer for?
Buffer is best for individuals and smaller social media teams. It's very simple to set up and navigate, but its features are advanced and reliable.
Its new content creation tool, Pablo, is a handy addition to the platform and helps make up for the lack of Google Drive integration with Buffer.
To gain access to the platform for multiple users, you'll need to upgrade to the Business account subscription. At that price point, there are alternatives to Buffer that provide a more complete package. For example, Buffer's social listening tools are limited when compared to those of Sprout Social.
---
Hootsuite vs. Buffer: Features
Broadly speaking, Hootsuite and Buffer offer similar feature lists. They each cover the basics of social media post scheduling, social media audit tools, and marketing analytics dashboards.
Upon more detailed inspection, there are some significant distinctions, though. The importance of these unique features will be dictated by your company's current marketing campaign requirements.
What Hootsuite offers
Hootsuite is a long-established name in social media management software. It's trusted by thousands of brands, large and small, and it's easy to see why. It's a user-friendly platform that enables social media trend monitoring, scheduled posts across multiple platforms, and even a free account option.
The post scheduler is one of the best in the market, and this is the core feature companies use most often in Hootsuite. There is no limit to the number of posts you can schedule on Hootsuite, whereas Buffer restricts users to a maximum of 2,000 posts.
Moreover, Hootsuite connects to a truly impressive number of social networks. In total, there are 35 options, including YouTube and Pinterest, plus a few lesser-known sites such as professional social network Viadeo.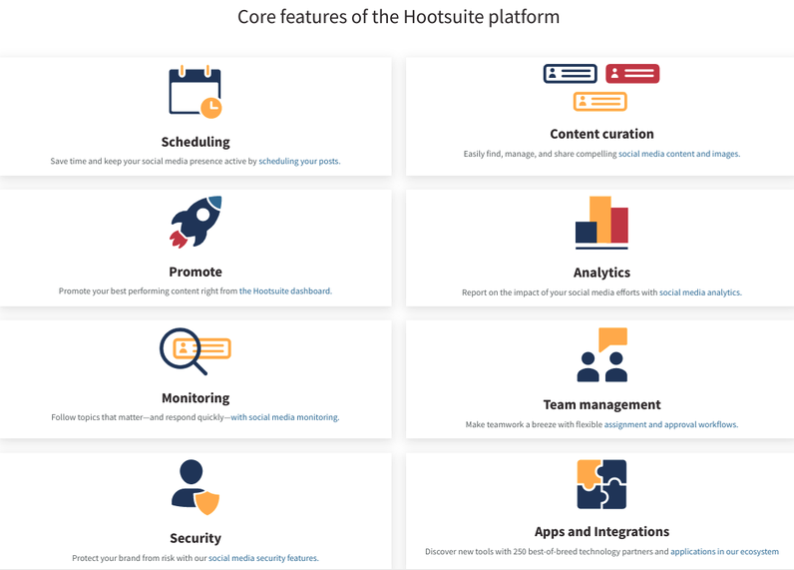 Hootsuite's collaboration tools are designed to help you assign and monitor team activities, and its social media monitoring capabilities are easy to use.
All of these features can be managed and analyzed from your central dashboard within the Streams tab.
What Buffer offers
Buffer social media management tools have undergone a serious transformation over the past few years. The central feature in Buffer is still the automated post scheduler, but this is now supplemented with a set of advanced features for conversation management and marketing analytics.
It's important to note that Buffer now contains three separate products, and you need a subscription to all three to really benefit from the software's full set of features.
Buffer Publish: Create and publish your social media content, or schedule posts in advance. Buffer Publish remains a superb tool for scheduling content and has been improved further by its recent upgrade.
Buffer Reply: Monitor and manage your social media conversations across all platforms within one inbox. Buffer Reply contains some useful automation rules for identifying topics in audience comments and assigning them to specific team members. Buffer Reply's social listening tools are effective for Twitter, but they still lack detail when it comes to Instagram and LinkedIn analysis.
Buffer Analyze: Create marketing reports and analyze your social media performance. Buffer Analyze contains all of Buffer's new reporting features, including some intriguing features for content marketing insights.
Buffer Reply and Buffer Analyze are welcome additions to the central set of Buffer tools, but it's worth noting again that they are separate products that require additional subscriptions.
Results
Hootsuite wins this one. It has a practical, extensive list of features, and its free version is fit for the purposes of most individuals.
Buffer has improved rapidly on the features front, but its new set of products is still developing.
---
Hootsuite vs. Buffer: Support
When investing in marketing technology, you want to make sure you get the full potential out of your new subscription. Moreover, technology doesn't always function as it should.
For example, your scheduled social media posts may not go live at the right time, or you may lose connection to one of your social media accounts at a pivotal juncture.
In these moments, you want to know that support is at hand. The right assistance can help avert a crisis, and it can even offer strategic insight that helps you grow.
So, how do Hootsuite and Buffer fare?
What Hootsuite offers
A link to support is always present on the Hootsuite platform. Every page has a Feedback button, which allows you to create a support ticket. This normally leads to a response over email with suggestions to help rectify the situation.
There's also a comprehensive help center that covers the vast majority of issues you're likely to encounter.
The Hootsuite social media support teams, available through Facebook and Twitter, typically respond within 12-24 hours.
That said, Hootsuite does not provide a support phone number or live chat assistance.
What Buffer offers
Support is available on Buffer through email and Buffer's social media accounts on Twitter and Facebook. The knowledge base is a useful option for smaller issues, as it contains resources on a wide array of topics.
As with Hootsuite, there is no option for phone support or live chat with Buffer, which is a little disappointing.
Results
Buffer, by an unimpressive nose. It has slightly faster response times than Hootsuite and offers a variety of helpful tips within the platform to help users navigate issues. Still, neither platform truly stands out in this category.
---
Hootsuite vs. Buffer: Ease of use
We've all had that sense of being overwhelmed by the convoluted nature of some marketing technology. We log in and simply don't know where to start. You may also need to train new team members to use the platform.
These tools are supposed to help us get more done, more successfully. It's therefore imperative that a social media marketing platform be accessible and intuitive.
What Hootsuite offers
Hootsuite pioneered many of the interface features we now expect as standard in all social media management tools.
Its Streams tab curates a side-by-side feed of everything you need to see, and the mobile app (available on iOS and Android) focuses on the key points you need to address. Moreover, the Hootlet Chrome extension allows you to share content from any website with just a couple of clicks.
However, the Hootsuite interface is starting to show its age. It can look a little clunky when compared to the slick aesthetic of Buffer.
What Buffer offers
In our Buffer review, we highlighted this platform's ease of use as a strong point. In fact, it wins on this count against all of its rivals in the social media management market.
Buffer also has an app for iOS and Android, and the overall look of the new Buffer has been designed with a mobile-first world in mind. The dashboards are slick and at times even minimalist, allowing you to focus on the details that matter.
You can set up your account in seconds, connect multiple social media accounts, and start scheduling posts immediately.
Results
Buffer truly excels in this category. It has a detailed walkthrough of its platform for new users, and the interface is simple to navigate.
While Hootsuite is also a strong performer here, Buffer is our outright winner.
---
Hootsuite vs. Buffer: Pricing
These feature-rich technologies often have multifaceted pricing options that can confuse rather than illuminate. It can be difficult to get a sense of whether the quoted price is fair since a direct comparison across different platforms is close to impossible.
With that in mind, we've attempted to translate the fine print for you below.
What Hootsuite offers
There are five subscription options available on Hootsuite, four of which are shown in the screenshot below.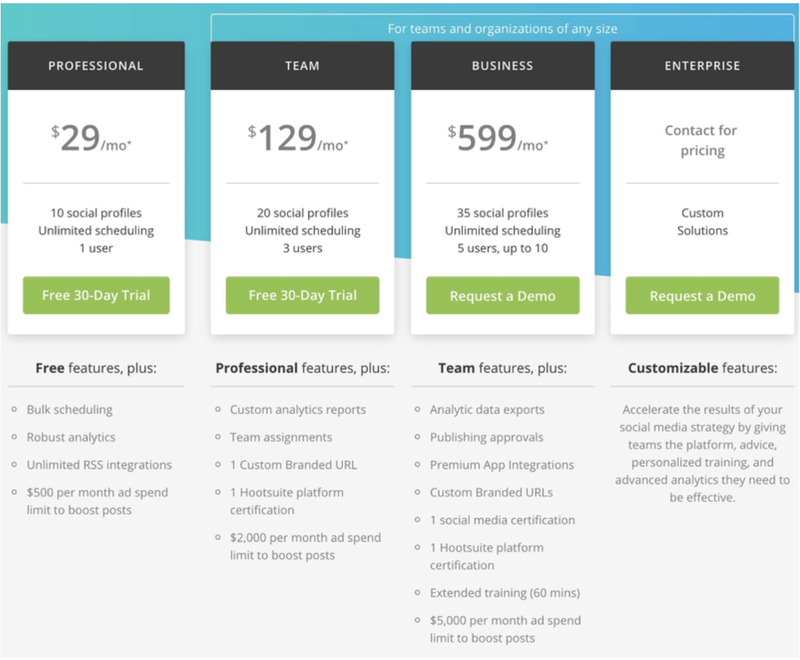 The cheapest paid subscription plan is the Professional account at $29 per month. This includes up to 10 social profiles and some analytics features, but it's restricted to one user.
The Team account is priced at $129 per month for three users and 20 profiles. At this level, you gain access to Hootsuite certifications, which are a great way to train and reward staff.
Next on the ladder is the Business account at a much pricier $599 per month for up to 10 users and 35 social media profiles. This also includes training and premium app integrations, so this account level should cover all but the largest organizations.
You need to contact Hootsuite for a quote should you require the Enterprise level subscription.
The other Hootsuite subscription is the free account option. It allows connection to three social media profiles and 30 scheduled posts per month.
For many smaller businesses and sole proprietors, that will likely be sufficient. It's difficult to look beyond Hootsuite as a recommendation in these circumstances given that it's a highly effective platform for managing social media activity.
Hootsuite also offers a free 30-day trial for all subscription plans. You need to provide credit card details, but you can cancel at any time.
What Buffer offers
Buffer makes it very simple to sign up and get started. You don't need a credit card to sign up for the 14-day trial, either.

As mentioned above, Buffer is now really three separate products: Buffer Publish, Buffer Reply, and Buffer Analyze. Within each product, there are three subscription tiers and a host of optional add-ons.
Whether you consider Buffer a good value or not will depend on how many of these add-ons you require. In particular, costs start to escalate quickly for businesses that require access for a lot of account users.
If you're using Buffer for business purposes, you may find you need to upgrade to get all of the features your team needs.
Buffer Publish costs just $12 per month for one user and eight social media profiles, which will be plenty for individual users. The Business plan is $85 per month for six users, plus $25 per month for any additional users. If you only need the Buffer Publish tools, this makes it an approachable option.
The challenge here is that Buffer's latest innovations reside in the Reply and Analyze products, which will continue to receive much of the company's attention.
The Pro account within Reply costs $42 per month for one user, which will allow you to access Buffer's conversation management tools. The Business account contains advanced reporting and automation but costs $188 per month for one user.
You'll have to upgrade by paying an extra $25 per month for more users, should you require them.
It's easy to imagine a scenario where a business reaches the upper level of the Buffer Publish subscription with six or more users, then decides to add Reply to their package only to find that they must pay for each individual user again.
Buffer Analyze has a Pro account ($28 per month) and a Premium account ($40 per month), too. You'll need to opt for Premium to access Shopify integration and Instagram Stories analytics.
As with Hootsuite, there is a free account option in Buffer. Buffer's free account connects to three social media profiles and allows 10 scheduled posts, compared with Hootsuite's 30 scheduled posts.
Results
Hootsuite takes this win. It's simply easier to get a handle on what the pricing options mean, and the lower account tiers provide good value for teams.
Buffer's approach of having three separate products may benefit those with very defined requirements, but for most, it's more complex than it needs to be.
---
Hootsuite vs. Buffer: Integration with other software
Social media is just one element of your company's marketing plan. It's an important part, for sure, but it must work in concert with other channels to ensure you hit your marketing KPIs.
Therefore, you need a social media management software that connects to your other marketing tools. Otherwise, your job gets more difficult rather than more efficient.
What Hootsuite offers
As highlighted in our Hootsuite review, Hootsuite is head and shoulders above the competition when it comes to integration with other software.
The Hootsuite App Directory contains over 150 applications, including free apps for Google My Business and Adobe Stock.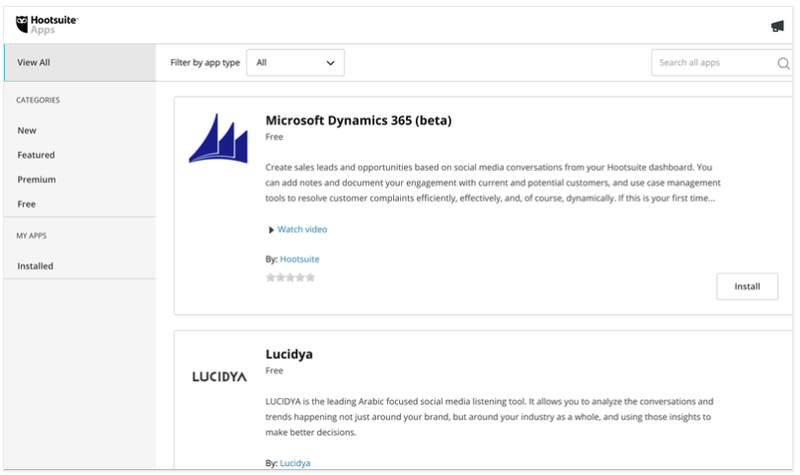 Most apps are free to use, but there are a few paid options, including Basecamp ($4.49 per month) and Slack ($3.49 per month).
This makes Hootsuite a highly flexible, customizable platform that can work seamlessly with your other marketing technologies.
What Buffer offers
Buffer is no slouch in this category, either. It contains a variety of extensions that can bring Buffer publishing to other platforms in your tech stack. For example, the Zapier app allows you to push content live, through Buffer, from over 400 external tools.
The selection of apps available through Buffer has a narrower focus on social media than what Hootsuite offers. This is not a negative, given that they are highly practical tools, but it's worth considering.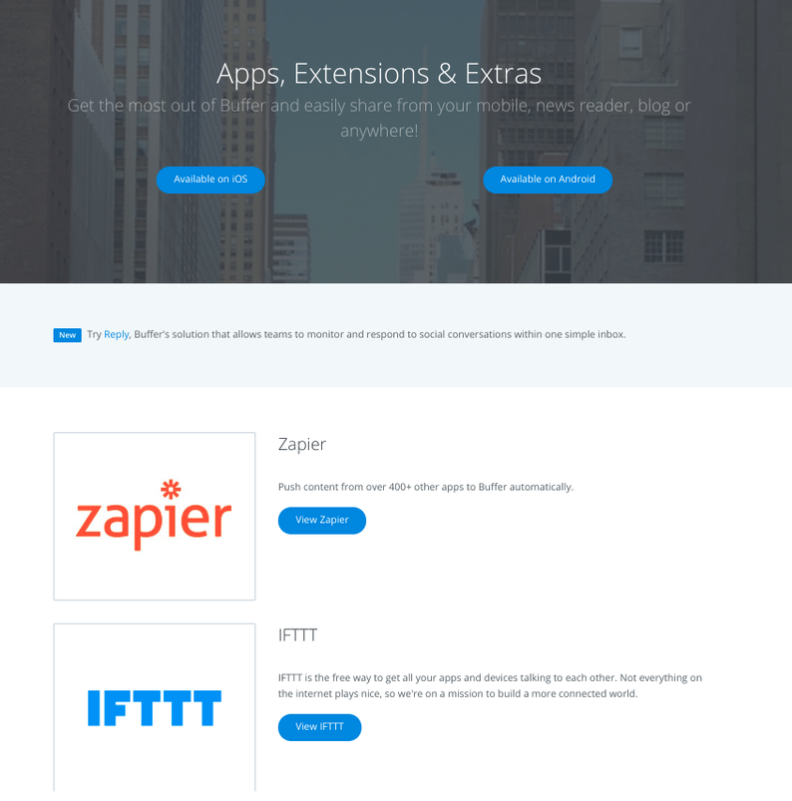 Results
Hootsuite takes the cake. Without doubt, Hootsuite is the clear winner in this category. Although Buffer does have a selection of very useful apps, Hootsuite wins on both quantity and quality.
---
Hootsuite vs. Buffer: Marketing analytics
Social media marketing has been elevated to a much higher status within most organizations today. As such, marketers expect to use their social media management tools to analyze just how effective their efforts have been. Often, they need to visualize and present this data to their bosses, too.
What Hootsuite offers
Hootsuite Analytics is excellent for Twitter and Facebook reporting. The dashboards are clear, and they reflect all of the major social media metrics — with additional insight into how audience segments respond to different types of content.
The data Hootsuite displays can also help you identify new influencers to work with, which is one of the most important marketing tactics for many businesses today.
Some advanced features are only available with a Business or Enterprise level subscription, though. For example, you will only gain access to basic reporting templates with a Professional or Team account.
What Buffer offers
Buffer analytics offers a user-friendly take on the world of social media data. The central dashboard is great for a quick sense check on performance, but it's also easy to dig deeper into the numbers to see which individual posts have worked best.
The template builder is highly effective, and you can click Add to Report on any graph to place it into your weekly dashboard.
Although it's still a work in progress, Buffer's analytics offering is much improved and is certainly on the right track.
Results
Buffer wins here. It does a better job of synthesizing data from multiple sources into a single dashboard while also making information accessible to all team members.
---
How They Compare: Hootsuite vs. Buffer
View more information: https://www.fool.com/the-blueprint/hootsuite-vs-buffer/