Here's Why Neal's Yard In Covent Garden Is London's Best Kept Secret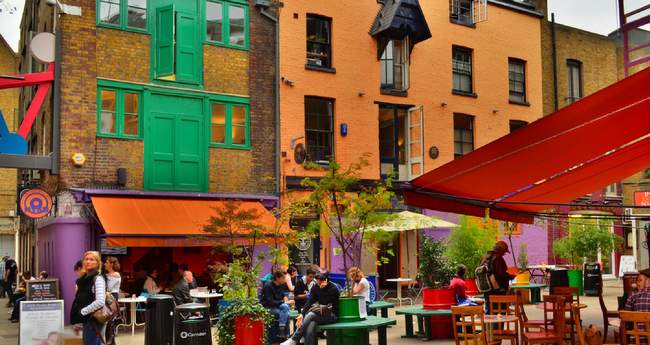 Tucked away in a little corner of Covent Garden is Neal's Yard, a side street of the most colorful shops that lead into a beautiful courtyard. The enclave contains the iconic Neal's Yard remedies, Neal's Yard Dairy and the popular Wild Food Cafe. Apart from that, there are also many other little boutique stores that specialize in sustainable and ethical practices.
If you've got time to kill before your next theatre show at Covent Garden, you'll definitely want to spend it exploring Neal's Yard. Read on to find out some of the must visit spots in this hidden gem.
1. Neal's Yard Remedies
Specializing in beauty and skincare products, Neal's Yard Remedies which uses only organic ingredients where possible is one of the places to stock up on your beauty haul! Tastefully packaged and delicately fragranced, what else are you looking for. Another highlight of the store is the rows of transparent jars filled with all sorts of dried herbs which people can also stock up on.
Address: 15 Neal's Yard, London, WC2H 9DP
Opening hours: Mon-Sat: 10am-7pm; Sun: 11am-6pm
2. Neal's Yard Dairy
If you love cheese, you'll be sure to find a cheese for every dish, occasion and taste bud at Neal's Yard Dairy! Maturing only the finest cheese from creameries and small farms from Britain and Ireland, get samples of the best of day before bringing home your favorite!
Opening hours:10am-7pm daily | closed on Sundays
Address: 17 Shorts Gardens, London WC2H 9AT, UK
3. Wild Food Cafe
If you're one for diets and eating clean and raw, Wild Food Cafe is the perfect place for you. Serving up organic heirloom produce, even if you're not hungry at the moment, you can still visit the cafe and take up a raw food cookery class and learn about its benefits! There is also a store for you to bring some home wild food produce like cacao butters for you to recreate the dishes at home.
P.S. Try to get a seat on the first floor and enjoy the beautiful vibrant streets of Neal's Yard!
Address: 1st Floor, 14 Neal's Yard, Covent Garden, WC2H 9DP
Opening hours: Mon 11.30-4pm  |Tue-Sat 11.30-9pm | Sun 11.30-6pm
4. Jacob the Angel Cafe
Jacob the Angel cafe is a small but highly anticipated restaurant hidden in Neal's Yard. If you're headed there for breakfast, you'll be treated to pastries, yogurts with lots of toppings, muffins etc. For lunch, pick up a sandwich – baguettes with crab, chicken and a ton of veggies or a salad with ingredients like roasted squash, beef and many other toppings.
If you're just dropping in for a snack, you'll be spoilt for choice with their array of sweets – coconut cream pies, peanut butter blondies and tiramisu cakes. Don't forget to pair your treat with a cup of the Square Mile coffee or a Kombucha!
Address: 16A Neal's Yard, London WC2H 9DP, UK
Opening hours: weekdays 8.30am-5pm | Weekends 9am-5pm
5. Hair by Fairy
Treat yourself to a hair job at Hair by Fairy, a hair and beauty salon that has attracted the likes of those from the fashion world, media and even celebrities! Whether you're looking for a haircut, a massage or a manicure, you'll find a comfortable experience here!
Address: 8-10 Neal's Yard London WC2H 9DP, United Kingdom
Opening hours: Mon – Sat 10am-7pm | Sunday 12pm-5pm
6. Casanova & Daughters
The Sicilian deli and wine bar Casanova and Daughters tucked away in Neal's Yard is home to some of the best and most authentic antipasti you'll find. Be sure to get a seat in the balcony for some of the best views of the yard.
Don't forget to bring home a jar of antipasti and some olive oil for your next cookout at home!
Address: 6 Neal's Yard, London WC2H 9DP, UK
Opening hours: Tuesday to Thursday 12pm-10pm, Friday- Saturday 12pm-11pm| Sunday 1pm-8pm | Closed on Mondays
8. 26 Grains
If you're watching your diet, 26 Grains is the place for you! With wholesome grain based dishes, their oat bowls are the perfect start to any morning. Our pick is the Bircher Muesli which comes served with almond milk soaked oats, chia seeds, mango ginger puree, black sesame and sweet potato! 
Address: 2 Neal's Yard, Seven Dials,LondonWC2H 9DP
Opening hours: Weekdays 8am-9.30pm | Saturday 9am-9.30pm| Sunday 10am-4pm
9. Homeslice Pizza
The thin dough pizzas at Homeslice Pizza are said to be some of the best in London! With 10 different pizza toppings to pick from, we'd suggest you order a whole 20" pizza to share with your buds and you can even go halfsies on toppings.
Address: 13 Neal's Yard London WC2H 9DP
Opening hours: 12pm-11pm daily
10. Covent Garden Theatre Shows
While not exactly in Neal's Yard, once you're done exploring this colourful street, the best way to end off your day is with one of London's famous musicals at Covent Garden. For the uninitiated, Covent Garden is home to many broadway theatres and often they have musicals that play all year round!
Klook your musical tickets and skip the queues! Just flash your mobile e-voucher at the ticketing counter to redeem your physical ticket and you're all set.
Other London essentials
If it's your first time in London, you'll definitely have to check out these
must visit places
. You'll also need your essentials like the
WiFi device
for all your IG worthy moments.
View more information: https://www.klook.com/blog/neals-yard-london/
Xem thêm bài viết thuộc chuyên mục:
Media