Greenhouse Review 2021: Pricing, Features & More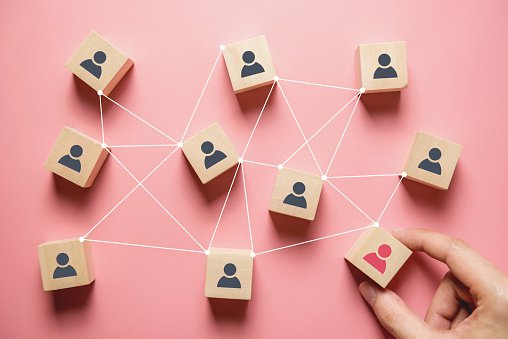 The world of work is changing. Remote working, freelancing, and the gig economy are all on the rise. That means the way your company has to recruit new employees is also changing.
You need a modern solution that can take into consideration the new skills your company will require of its employees, the range of profiles that will apply for your positions, and the approach you'll have to take to find the right candidate.
Job seekers also hold an increasing amount of power in the hiring market, as skills shortages make competition for talent a fierce business.
As

Greenhouse is a relatively new entrant to the recruiting software market — it was founded in 2012 — it's built from the ground up to cater to this new way of working.
---
Who is Greenhouse for?
As Greenhouse has different pricing plans that come with different features and price points, it is suitable for both small businesses and large enterprises.
Greenhouse is a modern recruiting system with straightforward workflows and step-by-step processes that make it easy to manage all stages of the pipeline even if you aren't an experienced hiring manager.
---
Greenhouse's features
Greenhouse includes a strong roster of features that help you find, screen, and interview candidates quickly and easily. It also then helps you onboard new hires efficiently and effectively.
Recruiting
Greenhouse HR software lets you create recruitment plans before you even start the process, specifying pipeline stages (and what each of these involves), milestones, who will be included in each stage, and necessary documents.
With Greenhouse's applicant tracking system (ATS), you can also create a branded career site to help attract candidates by showing them the benefits of working at your company.
Candidates can view and apply to open positions straight from this site. You can also create branded application forms.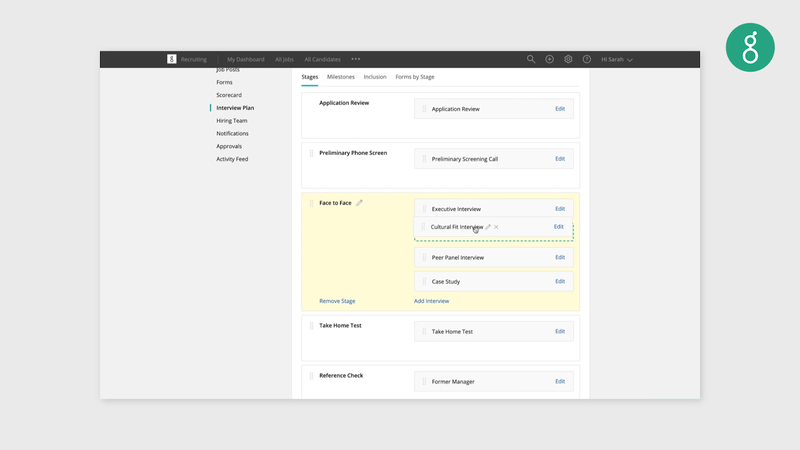 Greenhouse's job application process involves a step that lets candidates schedule interviews themselves, rather than having to go through the back-and-forth of trying to pin down a date via email. This also makes sure the process doesn't stall during key stages of the candidate pipeline.
Greenhouse's scorecards work toward eliminating bias in the recruiting process as everyone in the hiring team uses the same predefined criteria to assess candidates.
These scorecards consist of skills and types of experience that you can use to score how well a candidate meets the necessary criteria. This helps you build a more diverse, multigenerational workforce.
Talent database
Greenhouse recruiting software has a CRM-style database functionality that lets you create a talent pool that you can consult each time you open a new position. Every time a candidate's details enter the system, they are recorded in this database, and you can filter these details accordingly.
This speeds up your sourcing process and gives you access to a wider selection of prospective candidates. It also allows for more collaborative talent management as you can get the opinion of other members of the hiring team by sharing applications within the software.
Another useful sourcing tool is the Greenhouse LinkedIn browser plugin. This helps you better find and add candidates to the database by letting you save their LinkedIn profile directly in the software.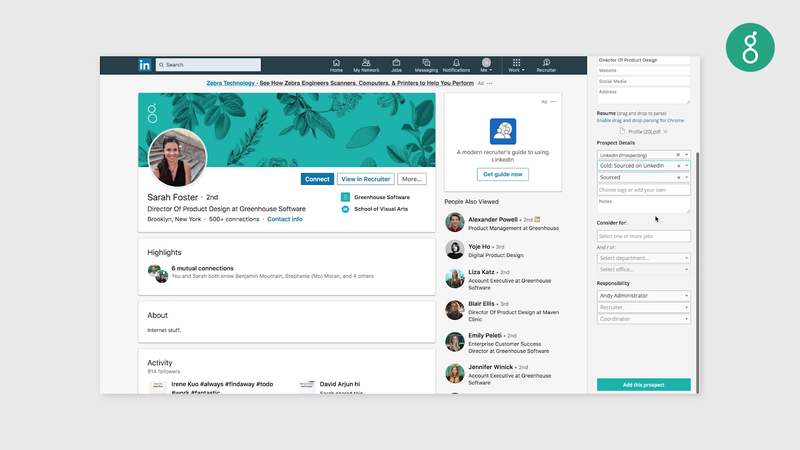 The only area that Greenhouse is lacking when it comes to sourcing is that– unlike other ATS options such as Workable — it doesn't use artificial intelligence or algorithms to automatically find and source passive talent who meet the recruiting criteria but who you couldn't find manually.
Hiring analytics
It's important to keep an eye on the performance metrics of your recruiting efforts so you can meet your staffing plan and people management goals. Greenhouse's hiring functionality lets you track recruiting metrics such as candidate source, applications over a time period, and number of candidates in the different pipeline stages.
Greenhouse software also uses past data to predict the future performance of your job openings and allows you to create custom reports. This data can also be used for upcoming workforce planning and employee management efforts, as you better understand how long it takes you to recruit for certain positions or skill sets, and what candidate sources work best for your company.
If there are any skills and levels of experience that your company finds it hard to source, then you can start the hiring process earlier than you would for other positions.
Onboarding
Onboarding should form part of your recruitment strategy and talent acquisition process, as it can boost employee retention and engagement. To ensure that there is no friction between the hiring process and employee onboarding, Greenhouse ATS automatically populates candidate data in the system.
This includes data such as employment status and type (full-time, contractor, at-will employee, etc.), department, and location, but is fully customizable according to the specifics of each new hire.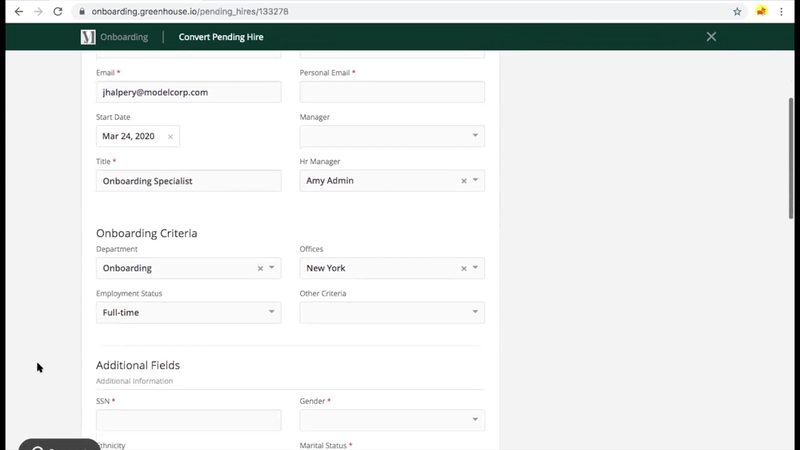 The new hire can also enter their details in the Greenhouse portal, and sign documents virtually before they start (again with customizable fields), which frees up time spent on admin on their first day.
You can use this data to generate a checklist of onboarding activities to carry out before and after the new hire's first day, as well as assign people to activities and add due dates.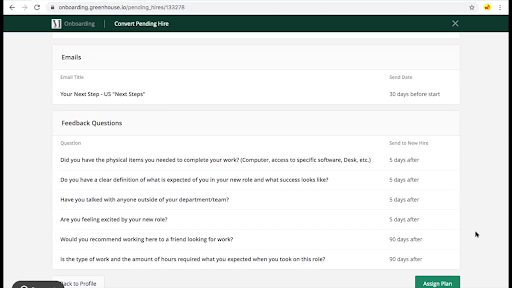 To ensure you are providing the best onboarding experience, you can create surveys that you can send out to gain feedback on the process. Greenhouse's workforce analytics capabilities mean you can compare this data with that of other candidates to gain insight into what's working and why.
---
Greenhouse's ease of use
It's often easier to handle a standalone recruiting and onboarding solution than it is to try and get a grip on the hiring functionality within an all-in-one human resources software.
Greenhouse's main dashboard provides an overview of upcoming tasks and suggests actions you should take to keep your open positions moving. This is helpful in reminding you what you need to focus on next, and where you need to go to complete these tasks.
Another useful feature of Greenhouse is the series of helpful links at the side of the dashboard that provide you with more information about how you can complete next steps. This is helpful when new users are familiarizing themselves with the solution.
The main navigation is straightforward, with tabs simply named "Jobs," "Sourcing," "Candidates," "Reports," and "Configure." Greenhouse does have a lot of functionality, so getting used to where it all lives does take time, as does configuring the solution so it best meets your needs.
---
Greenhouse's pricing
Greenhouse hiring software does not provide any public information about its pricing. Instead, it encourages you to request a demo to find out if it meets your hiring needs.
According to the information it does provide, it charges on a per-employee basis. There are also three pricing options: Essential (the least expensive), Advanced, and Expert (the most expensive).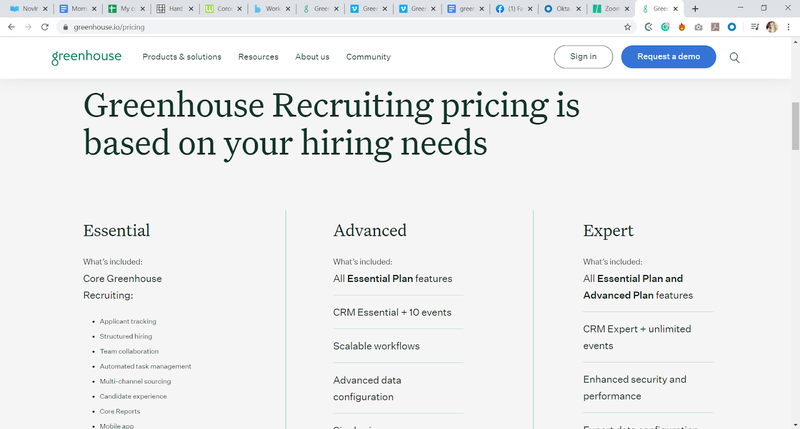 Each plan has a different range of features. For example, the Essential plan does not include custom reports and advanced career page configurations.
---
Greenhouse's support
Greenhouse provides a comprehensive, searchable knowledge base, which includes articles and tutorials on account setup, learning how to use features (especially if you aren't familiar with hiring software), and recruiting and onboarding.
It also runs regular webinars, while its newsletter is well-known in the industry for being a gold mine of useful information on improving your recruiting and onboarding techniques.
Greenhouse also provides phone and social media support.
---
Benefits of Greenhouse
Greenhouse helps you manage your recruitment process from start to finish. You can set up a hiring schedule that includes all the stages of the pipeline, all actions you plan to take during the process, and deadlines for each action.
Greenhouse recruiting software helps you nurture candidates if they aren't right for the role or ready to be hired straightaway, as well as makes sure you create a good first impression with a smooth onboarding process.
---
More than just recruiting
Most applicant tracking systems include features that help you source and screen candidates. Many even go as far as letting you do background checks and send out offer letters. Greenhouse stands out because it also includes onboarding features.
Onboarding is a key process when it comes to candidate experience, as it's the new hire's first real taste of life at your company. That's why joining up the hiring and onboarding process is so important to recruiting employees who are going to stick around in the long term.
View more information: https://www.fool.com/the-blueprint/greenhouse-review/