GnuCash vs. QuickBooks Online 2021: Which Is Better?
Maybe you've heard of GnuCash, but want to know more about it. Or, you've read our accounting software reviews and have some questions about QuickBooks Online.
If you're ready to finally make a choice, we're breaking down these two options with an in-depth, side-by-side comparison.
---
An overview: GnuCash vs. QuickBooks Online
Who is GnuCash for?
Originally designed as a personal finance application, GnuCash has added a number of business-related features to the original application, making it a good option for startups, sole proprietors, and very small businesses.
GnuCash is an on-premise application you'll need to download onto your computer — it does not offer remote access. A mobile app for Android smartphones is available, but it offers limited functionality.
Who is QuickBooks Online for?
QuickBooks Online is well suited for sole proprietors and growing businesses alike. With four plans available, QuickBooks Online offers scalability, so you can start slow and ramp up as your business grows.
Not only suitable for growing businesses, QuickBooks Online is also a good fit for sole proprietors and micro-businesses that need a scaled-down version of a solid accounting application.
---
GnuCash vs. QuickBooks Online: Features
GnuCash and QuickBooks Online are both designed for small businesses, but that's where the similarities end. GnuCash is very reminiscent of more traditional accounting software applications and offers solid functionality behind a nondescript home page.
QuickBooks Online is a nod to the business owner who wants to access his or her business data at any time, from any place, and also wants access to the hundreds of apps available.
What GnuCash offers
GnuCash is the perfect fit for sole proprietors who are more comfortable with an on-premise application. It may also be useful if you're a little familiar with accounting terminology prior to using GnuCash, though there are resources available to help you.
GnuCash uses traditional accounting terms such as Accounts Payable (A/P) and Accounts Receivable (A/R) instead of the current terminology such as bills, sales, and invoicing.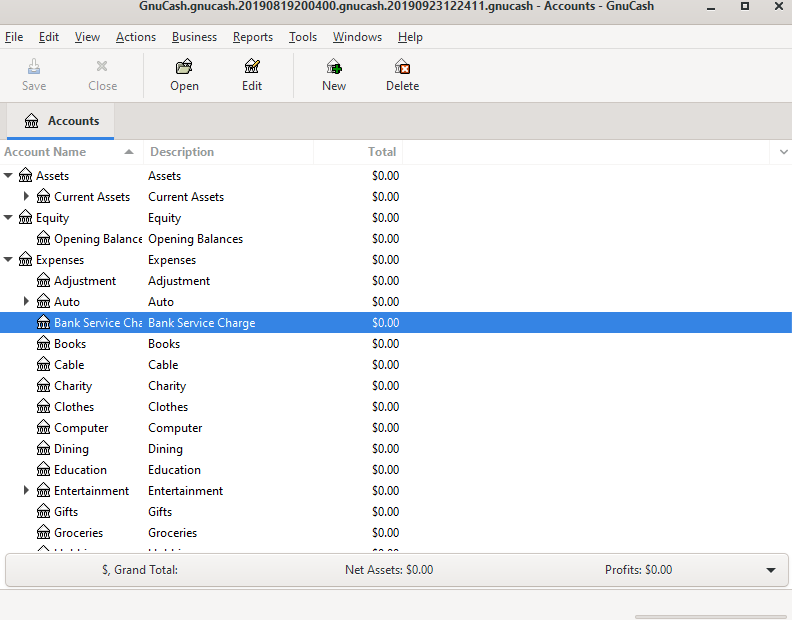 GnuCash offers double-entry accounting and includes a nice checkbook-style register you can use to track all of your income and expenses. The product also offers automatic bank statement reconciliation, allowing you to import all of your banking transactions into the application, with the ability to review the transactions prior to completing the import process.
A/P functionality is terrific in GnuCash, so you can enter and pay a bill. A reminder system will notify you when the bill due date draws near.
You can process vendor payments in the Process Payment screen, choosing which vendors you wish to pay and running checks only for those vendors.
The A/R feature in GnuCash is just as impressive, with the ability to create a customer invoice, adjust pricing levels, offer a discount to customers, and calculate sales tax. When payment is received, you can post it from the open customer account. Both customer and vendor details can be managed in GnuCash, giving you the option to assign a currency type for each customer, assign billing terms or a discount, and assign a credit limit as well.
One of GnuCash's best features is its comprehensive budgeting capability. The product also offers limited payroll ability, though you would likely be better served by using a third-party payroll application.
What QuickBooks Online offers
QuickBooks Online offers many of the same features as GnuCash, and it also includes a summary dashboard that gives you a nice snapshot of your business.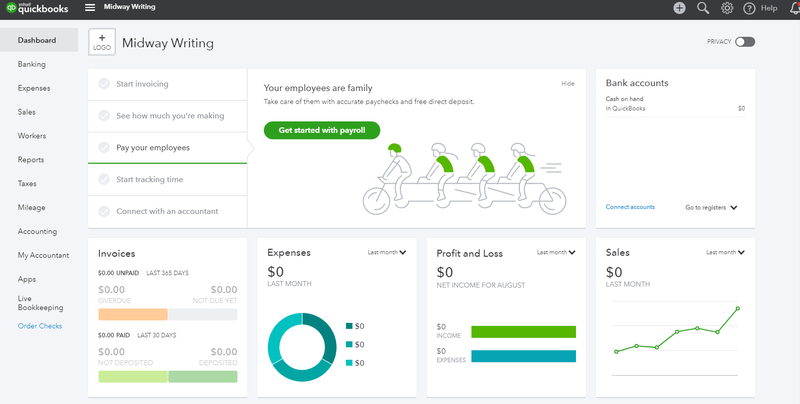 Like GnuCash, QuickBooks Online offers excellent invoicing capability, so you can customize an invoice, attach bank account or credit card numbers to an invoice for immediate payment, and make an invoice recurring. You can send a reminder to customers when their payment is past due, or just email the invoice with a link to various online payment options.
QuickBooks Online's features vary widely from plan to plan, so it's important to be sure you know exactly what is included in the plan purchased.
You can choose to connect all of your related financial institutions to QuickBooks Online for automatic transaction importing, or just reconcile your account each month. If you still like to pay your vendors using a check, you'll have to subscribe to one of the more expensive plans — bill entry is available in all versions, but you can only pay those bills by check if you use one of the higher-tier plans.
QuickBooks Online also offers an Accountant option, so you can share your account with your CPA or accountant.
QuickBooks Online includes excellent customer and vendor management, so you can easily track a lot of detail in both categories. Budgeting capability is also available in QuickBooks Online, but only in the top-level plans.
In addition, you can only create a budget for a single year, and budget forecasting ability is not available in the application, nor can you combine budgets.
Results
QuickBooks is the winner. GnuCash includes solid accounting functionality, but so does QuickBooks Online, in addition to online access, scalability options, and the ability to connect with hundreds of third-party apps.
---
GnuCash vs. QuickBooks Online: Support
The support options for GnuCash and QuickBooks Online vary as much as the applications do, with GnuCash offering various guides and resources but no formal support options, while QuickBooks Online offers a number of support resources via chat, email, and telephone.
What GnuCash offers
As freeware, GnuCash does not offer any dedicated support options, although there are a variety of online resources available should you run into any issues. Support resources include:
The GnuCash Help Manual
The GnuCash Tutorial and Concepts Guide
GnuCash Wiki
Knowledge base
In-product help
What QuickBooks Online offers
QuickBooks Online offers a number of help and support resources, including the following:
Product support via telephone
Product support via email
Product support via messaging
Featured support articles
In-product help
Product training options
Searchable knowledge base
User community
Results
The winner is QuickBooks Online, which offers just about every type of help and support option available, ranging from user guides, step-by-step instructions, and a searchable knowledge base to a variety of ways to contact support personnel.
---
GnuCash vs. QuickBooks Online: Ease of use
While very different, both GnuCash and QuickBooks Online are easy-to-use applications, although GnuCash does require you to download and install its application, something not necessary for QuickBooks Online.
What GnuCash offers
GnuCash is designed to work with a variety of operating systems, including Windows, MacOS, Linux, FreeBSD, and Solaris. Once downloaded, you can use the product assistant to set up the application.
GnuCash's default navigation screen provides you with a list of all of your accounts and their current balances with all system functions available from the drop-down menu bar at the top of the screen.
You can easily have multiple windows open in GnuCash and navigate between them, and if you get stuck at any time, just click on the Help option on the menu bar, which will take you to the GnuCash Online Help Manual, mentioned earlier.
What QuickBooks Online offers
As an online application, you don't need to worry about installation for QuickBooks Online. The setup process is designed to be easy, so you can jump right in and get to work, setting up only the necessities and adding the rest when you get to them.
QuickBooks Online has an intuitive user interface, with a vertical menu bar to the left of the screen offering easy access to all available system features. Screens are designed for easy data entry, with all screens offering easy lookup capability in the necessary fields.
Results
QuickBooks wins this one with its intuitive navigation screen, easy data-entry options, and quick access to numerous tools and resources.
---
GnuCash vs. QuickBooks Online: Pricing
Pricing can play an important role in determining which software application to purchase, but it's also important to remember that just because an application is free doesn't necessarily mean it offers the best value.
What GnuCash offers
GnuCash is an open-source application and is free. Just download the application and install it on your computer. There is a donation page you can visit if you wish to contribute to the open-source project, but the application is 100% free.
What QuickBooks Online offers
QuickBooks Online is a scalable application that currently offers four plans. They range from a single-user plan that costs $12.50 for the first three months, to an Advanced plan that currently costs $75 per month for the first three months and supports up to 25 users.
QuickBooks plans include:
Simple Start: $12.50/month for a single user. The price rises to $25/month after three months.
Essentials: $20/month per user for up to three users. The price goes to $40/month after three months.
Plus: $35/month per user for up to five users. The cost increases to $70/month after three months.
Advanced: $75/month per user for up to 25 users. The price rises to $150/month after three months.
Results
QuickBooks is the winner on pricing. GnuCash is free, and for sole proprietors and other very small businesses, it offers tremendous, though limited, value as it cannot grow beyond a single-user application.
QuickBooks Online is reasonably priced, so you can start out slowly but retain the option for growth in your business.
---
GnuCash vs. QuickBooks Online: Integration with other software
A software's ability to integrate with other applications can be important, and it may quickly become a necessity when your core application doesn't offer all of the features you need.
What GnuCash offers
GnuCash does not offer integration with any applications other than Quicken, so if you need to manage inventory, track time, or calculate sales tax, you'll need to track that information in a separate application.
What QuickBooks Online offers
QuickBooks Online lets you connect to hundreds of apps from within the application, making the connection process quick and painless. Apps are available in a variety of categories including payment acceptance, CRM, time tracking, and inventory.
Results
QuickBooks Online is the clear winner, here. If you want to connect with other applications, QuickBooks Online is the way to go since GnuCash offers essentially nothing in this department.
---
GnuCash vs. QuickBooks Online: Reporting
Both GnuCash and QuickBooks Online offer excellent reporting capability, with a variety of report options available from both applications.
What GnuCash offers
GnuCash offers good reporting options including asset and liability reports, business reports, and income and expense reports, with more than 60 reports, graphs, and charts available.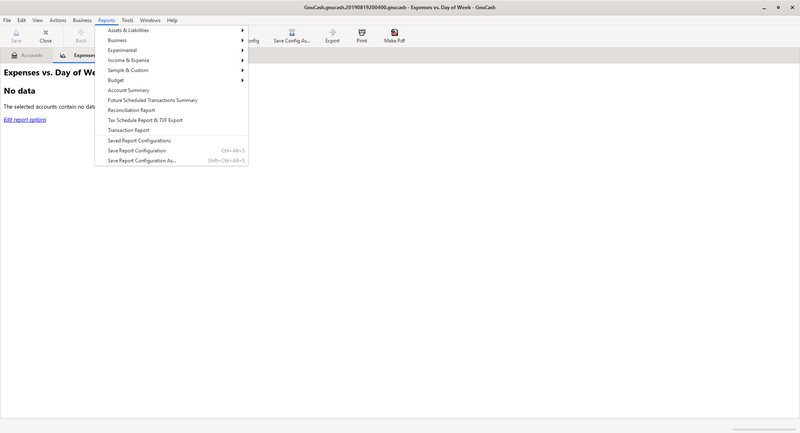 The application also includes excellent budget reporting, with a budget income statement and budget profit and loss reports available. All reports offer good customization capability, and you can save any customized report in GnuCash.
All GnuCash reports can be exported in HTML format, or saved as PDFs. There's not an option to export reports to Microsoft Excel, but with the customization capability in GnuCash, it's likely you won't need to anyway.
What QuickBooks Online offers
QuickBooks Online also offers solid reporting capability, with more than 50 reports available, though many of those reports are only available in the more expensive plans. Report categories include Business Overview, Accountant, Money In (accounts receivable), Review Sales, and Money Out (accounts payable).
You can also create and save custom reports in QuickBooks Online, export reports to Excel for further customization, or save any report as a PDF.
Results
GnuCash wins this time.
Though it's hard to top QuickBooks Online's 50 reports, GnuCash does so with 60 reports available, with all reports completely customizable. QuickBooks Online does offer export to Excel, which GnuCash does not, but both applications will save reports as PDFs.

View more information: https://www.fool.com/the-blueprint/gnucash-vs-quickbooks/