GnuCash Review 2021: Features, Pricing & More
---
Who is GnuCash for?
GnuCash is an accounting software that offers basic accounting functionality and is completely free, making it an excellent option for startups and small businesses with limited budgets, as well as for individuals interested in tracking their personal finances. GnuCash is a single-user system, so you won't be able to add any additional users to the application. As a result, the product is great for a sole proprietor, but would not be a good fit for businesses expecting to grow. GnuCash is not cloud-based software, so you'll have to download the application from their website.
GnuCash was initially developed way back in 1997 as an alternative to Quicken, but newer releases of the application also include solid business features. GnuCash has been translated into 21 languages and offers solid multi-currency capability, making the product an excellent option for small businesses and startups that conduct business globally.
---
GnuCash's Features
The business features in GnuCash are quite extensive; particularly for a free product and include double-entry accounting functionality, a checkbook-style register for tracking both income and expenses, and the ability to handle transactions in a variety of currencies. Automatic statement reconciliation is also available in GnuCash, with banking transactions automatically downloaded and matched with system transactions. You can add the automatic banking import feature during setup, and will have the opportunity to view the data imported from the bank prior to completing the import function, which helps maintain accuracy and eliminates the need for journal entries down the road. There is also a bill payment reminder in GnuCash which will notify you when bills are due to be paid, and most importantly, will also notify you when a customer's payment is late.
While many of the features in GnuCash can be used by individuals and businesses, the product offers some very specific advanced accounting features that are designed to be used by businesses. These features include:
Accounts Payable (A/P)
If you own a business, it's a safe assumption that you have bills, and GnuCash makes it easy to manage and pay those bills on a timely basis. The A/P feature integrates with the rest of the application, eliminating the need to enter duplicate information. You will need to make sure that you create an A/P account under Liabilities when setting up GnuCash if you will be paying vendors. It only takes a minute or two to enter a new bill in GnuCash, and you can edit the bill at any time prior to processing payment. Be sure to post the bill in order to have it saved and ready for payment.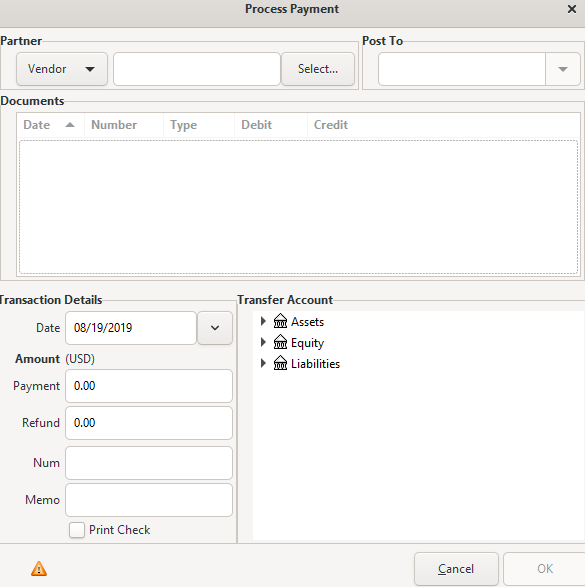 Once a bill is ready to be paid, you simply process the payment using the Process Payment screen (shown above). This allows you to choose the bill or bills you wish to pay as well as the bank account you wish to pay them from.
Checks can be printed in GnuCash from the account register using standard Quicken checks, and you can print a single check or multiple checks.
Accounts Receivable (A/R)
If you sell items or services to customers on credit, you will need to keep track of the amount they owe you. You'll also want to know when their payment is past due. The A/R feature in GnuCash allows you to do just that, while also offering complete invoicing capability. Be sure to add the A/R account under Assets when setting up GnuCash. Additional features in the A/R module include the ability to track quantities sold, adjust pricing levels, offer discounts to customers, and calculate the appropriate sales tax on the invoice.
The same Process Payment screen used when paying a bill is also used to post payments received from customers by simply indicating under the Partner option whether the payment is to a vendor or from a customer. An employee option is also available in the Process Payment screen for businesses paying employees.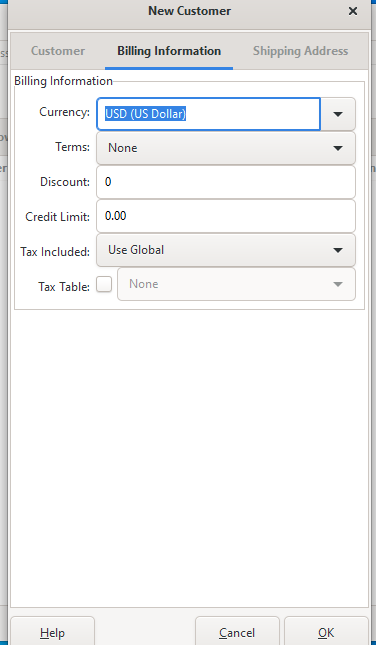 Tracking customers and vendors
You use this screen above to enter additional details about each customer, including a specific currency. A similar screen is available for entering vendor information.
When tracking a customer, you can add useful information to their account, including billing terms, a customer discount, and a credit limit. You can also add the appropriate tax table if the customer should be taxed on the purchase. When entering vendor information, you can assign each vendor-specific terms and sales tax information as well.
Budgeting
GnuCash offers solid budgeting capability, so you can create a yearly budget for any or all of your accounts. You can also create a budget, and then copy those numbers to a new budget if desired.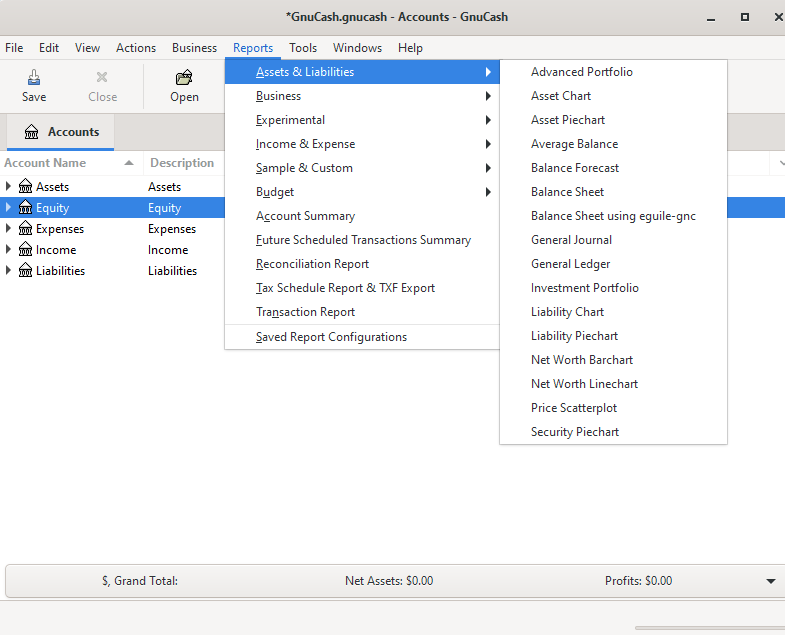 Reporting
GnuCash offers excellent reporting capability, with a variety of management reports and financial statements. Choosing the report category will display the various report options available in that particular category. In addition to financial statements, GnuCash also offers customer, vendor, and employee reports. All reports in GnuCash can be printed or exported to HTML if desired. However, report customization is limited to choosing specific filters, which is unfortunate, as the product does offer an excellent selection of reports.
GnuCash offers depreciation management as well as limited payroll capability, though you may be better off using a third-party payroll application like Gusto or Paychex that files payroll forms and pays the appropriate taxes; particularly if you're paying several employees. There is no time-tracking capability in GnuCash at this time.
Support
GnuCash offers a variety of help and support options, though there is no formal support option available.
GnuCash Help Manual
The GnuCash Help Manual is available from the GnuCash website, and includes a complete introduction to the product, as well as links to other help and support options. The manual offers detailed instructions on setting up, editing, and working with accounts and includes a separate section for business features. In addition, the manual can be accessed from any screen in the application.
GnuCash Tutorial and Concepts Guide
The Tutorials and Concepts Guide offers an abbreviated version of the more comprehensive Help manual, including a product overview, and sections on managing both personal finances and business finances.
GnuCash Wiki
The GnuCash Wiki offers users documentation that can be helpful, including installation information and recent product changes. In addition, an FAQs page is also available, and you can contact the GnuCash user community using the mailing list option. An Internet Relay Chat (IRC) option is also available.
---
GnuCash's Benefits
One of the biggest benefits of using GnuCash for micro businesses is the ability to track both personal finances and business finances. As an added bonus, the application offers excellent reporting capability, and allows you to be up and running in a short amount of time. While the interface is somewhat dated, extensive help options are available throughout. In addition, the $0 price tag can be a tremendous benefit for those with a strict budget.
---
GnuCash's Pricing
As an open source application, GnuCash is completely free, though they do have a donation page for those that wish to contribute to the open source community.
Is open source not the right fit for you? Check out FreshBooks, The Blueprint's pick for "Easiest to Use" accounting software.
Go to FreshBooks Review
---
GnuCash's Ease of use
Those interested in GnuCash can visit their website to download the application. As a multi-platform program, GnuCash can be installed on a variety of operating systems, including Windows, MacOS, Linux, Fee BSD and Solaris. Product installation is painless and only takes a few minutes. Once installation is completed, you can choose to create a new set of accounts or import QIF files if you've been using Quicken. The application uses an assistant to help you through the entire setup process, whether you're entering new accounts or importing accounts.
There is also an option to access the new user tutorial, which I highly recommend, as the application is not as intuitive as QuickBooks Online or Xero. If you do end up creating a new set of accounts, the assistant will help guide you through the process, including choosing accounts that best suit your needs. Don't worry if the account descriptions don't exactly fit, since you can edit them once the new account creation process has been completed. Setup options are different for those who will be using GnuCash as a personal finance application and those who will be using it for business.
To expedite the setup process, GnuCash includes a default business hierarchy that you can choose, which you can later modify to better suit your needs.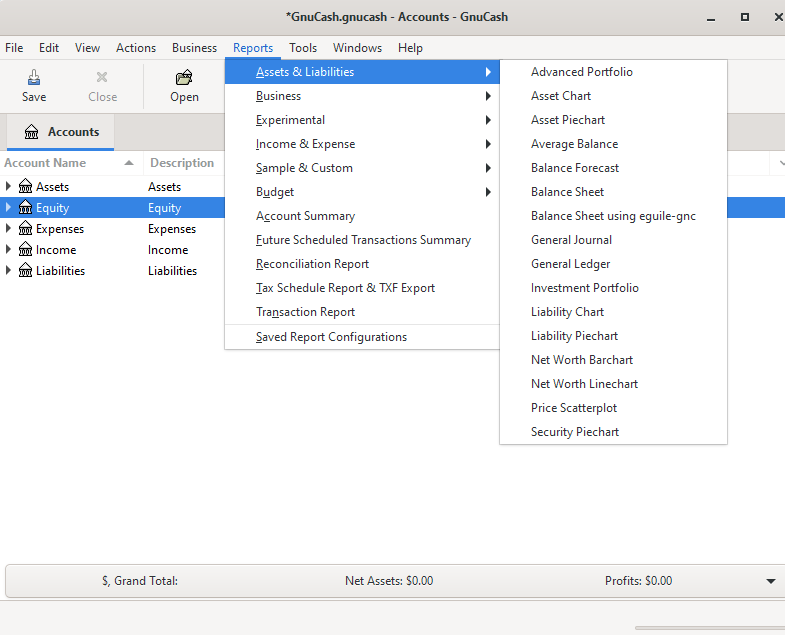 The default navigation screen in GnuCash is the Accounts window (shown above), which displays all of the accounts that you create during the setup process. Once the application is in use, you will see the current balances for all accounts and sub-accounts. You can click on any of the account balances displayed to access a register for that account. You'll have access to all system functions from the Accounts window as well by simply clicking on the desired area, and then choosing from the options available on the drop-down display. Once you access a feature in GnuCash, a new display window will open, and a tab will be placed on the tab bar, making it easy to navigate between multiple windows simultaneously. If you get stuck anywhere along the way, just click on the help option at the top, which will take you to the online Help Manual, which offers detailed instructions on everything from getting started to customization options for the application.

View more information: https://www.fool.com/the-blueprint/gnucash-review/