FreshBooks vs. Wave: Which is Better?
Both FreshBooks and Wave have been on the market for at least a decade, with each application offering similar features and functionality.
If you've read our accounting software reviews, and remain confused, be sure to take a few minutes and look at our comprehensive comparison of both FreshBooks and Wave.
---
FreshBooks vs. Wave: An overview
Who is FreshBooks for?
FreshBooks was originally designed with the sole proprietor in mind, making it a good fit for service professionals such as attorneys, architects, plumbers, designers, and anyone who works solo. But with four plans available, FreshBooks can also be used by growing businesses.
With its easy-to-use and intuitive interface, FreshBooks is ideal for those entering the business world for the first time who know absolutely nothing about accounting.
Who is Wave for?
Like FreshBooks, Wave was created for freelancers, micro-businesses, and sole proprietors. Accounting features in Wave are completely free, so you'll only pay for the application if you use Wave Payments or Wave Payroll.
If you plan on remaining a sole proprietor, Wave is a good fit for you. However, if your business plans include growth, it may not be the right option.
---
FreshBooks vs. Wave: Features
Both FreshBooks and Wave are designed for freelancers and sole proprietors, though FreshBooks offers a little more wiggle room for those who may want to add an employee or two.
As a side note: Both applications are always adding more features and enhancements, so it's likely that whichever one you end up choosing, you won't regret it.
What FreshBooks offers
FreshBooks updates its product regularly, including a complete rebuild in 2016. This year alone, FreshBooks has introduced bulk importing capability, client account statements, the ability to accept ACH bank transfers as payment, a bank reconciliation summary report, a new message center, and brand new keyboard shortcuts.
Perhaps the most important change has been FreshBooks move to double-entry accounting, which results in the software being a more credible competitor to similar products on the market.
The FreshBooks dashboard offers a good summary view of current business status, including outstanding revenue, total profit, and spending. FreshBooks invoicing is top notch, allowing you to add a new customer as you're preparing the invoice.
Various customization options are available from the invoice entry screen, and you can preview a completed invoice prior to emailing or printing. FreshBooks is designed to connect to your banking institution, automatically importing all transactions.
You can create recurring invoices and expenses in FreshBooks, which is great way to manage both payments and expenses. FreshBooks will also automatically send reminders when an invoice is past due, and can add a late fee to the invoice.
FreshBooks allows you to accept both credit cards and, as of recently, ACH transfers, which will likely result in faster payment. Another great feature is the option to mark an expense as billable and later charge that expense back to your customer.
If you're working with other team members or outside contractors, you can create a project in FreshBooks, assign project due dates, track project status, and share images and other documents with assigned team members. Mobile apps are available for both iOS and Android devices, and offer invoice creation, receipt management, and the ability to receive important notifications.
It also offers good time-tracking capability with a built-in timer available. As an added bonus, you can invite your accountant or CPA to access your account at no extra charge.
What Wave offers
Wave's dashboard also offers a nice snapshot of your business, including both overdue bills and invoices, cash flow, and current bank balances. Recent updates in Wave include enhanced system navigation, easier journal entry capability, and a rebuilt reports page that is better organized for easier report access.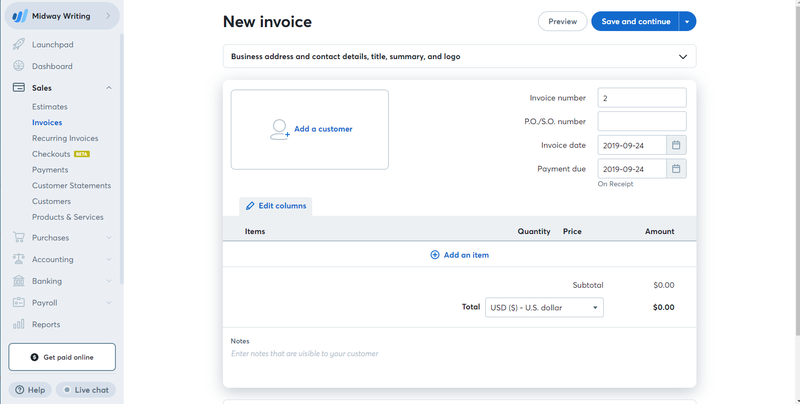 Invoice creation in Wave is quick. You can add a new customer during the invoice creation process, and have the option to use one of the invoice templates available in the application.
Any invoice created can also be designated as recurring, and the Wave mobile app for iOS and Android devices lets you create and send an invoice from anywhere. In Wave, you'll also be notified when an emailed invoice has been viewed, or a payment has been made.
However, because Wave is designed for online payment acceptance, there is no quick way to record a payment made by check. You can create an estimate for any customer and if the customer accepts the estimate, you can convert it directly to an invoice.
You can connect Wave to any financial institutions, and if you use the optional Payments by Wave, you can accept online payments. There is also a beta feature that will allow you to accept payments from your website.
Both customer and vendor information can be managed in the software, though only limited information can be entered. You can also add a product or service in Wave, but there is no option to manage inventory in the application.
Because the majority of your expenses will be added via your bank account, there is little need to enter expenses, though you do have the option to enter a vendor bill, including how the bill was paid. Payroll by Wave is also available, but complete payroll tax services are only available in CA, FL, IL, NY, NC, TX, VA, and WA. Users in all other states will need to file their taxes themselves.
Results
FreshBooks wins this round. While there are a lot of similarities in the features between the two applications, FreshBooks offers additional options such as the ability to bill on retainer, as well as time tracking capability and the option to mark an expense as billable and charge your customer.
---
FreshBooks vs. Wave: Support
Even with the availability of easy-to-use applications such as these, there remains a need for adequate product support. No matter how many resources are provided, it's always nice to have the option to call support and talk to someone about a persistent problem.
What FreshBooks offers
FreshBooks offers both toll-free telephone support and email support during extended business hours. Below is a list of all support options in FreshBooks:
Toll-free telephone support
Email support
In-product help
In-product messaging
FAQs
Searchable knowledge base
What Wave offers
Wave support options include:
In-product help
Email/remote connection support
User guides
User community
Searchable knowledge base
User community
Chat support (for Payroll and online payment subscribers only)
Results
While most of the help and support options in both are similar, FreshBooks wins this one with its live support options.
---
FreshBooks vs. Wave: Ease of use
Both FreshBooks and Wave offer intuitive user navigation screens, making it easy for new users to find their way around the application in a short amount of time.
What FreshBooks offers
FreshBooks dashboard displays a welcome screen to new users that shows your setup progress, so you know exactly how much you have left to go. A navigation bar to the left of the  welcome screen provides access to all system features.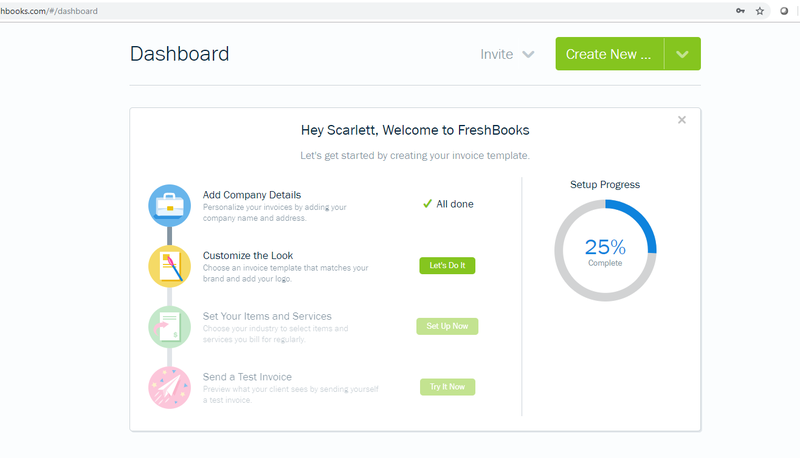 Mobile apps are available for iOS and Android devices, and the product remains in sync at all times, so you can use it in your office in the morning and on your phone in the afternoon, with all data remaining consistent.
Once the product has been set up, the dashboard will display a summarized view of your business. Data entry screens in FreshBooks are consistent throughout, with look-up options available in all the necessary fields, and if you get stuck anywhere, you can just click on the question mark to access online help.
What Wave offers
The Wave Launchpad serves as a good starting point for new users, guiding you through the system setup process. Once setup is complete, the Wave dashboard serves as the homepage, offering a summarized view of your business.
Like FreshBooks, Wave offers a vertical menu bar to the left of the screen, with access to integrations and settings found at the bottom of the menu bar. Clicking on a feature brings up a short menu of functions available, which you can click on to access that function.
All data-entry screens are easily navigated and offer look-up capability throughout. If you do get stuck, you can access the help function at the bottom of the menu bar for quick access to online help
Results
This one is a tie. Both FreshBooks and Wave offer intuitive system navigation, making it easy for new users to jump in and get to work.
---
FreshBooks vs. Wave: Pricing
FreshBooks offers industry standard pricing, while Wave is free, though there are fees assessed if you accept online payments or use Wave Payroll.
What FreshBooks offers
FreshBooks offers several plan options based on the number of clients billed per month. Costs are as follows:
Lite: $13.50/month for up to five billable clients.
Plus: $22.50/month for up to 50 billable clients.
Premium: $45/month for up to 500 billable clients.
Select: Custom pricing for more than 500 billable clients.
What Wave offers
Wave is a completely free application, though you will have to pay if you want to accept payments online or use their Payroll service.
Payments pricing:
2.9% + $0.30 per transaction
1% per transaction for ACH payments
Payroll Full-Service pricing:
$35 monthly base fee
$4 per active employee/contractor paid
Payroll Self-Service pricing:
$20 monthly base fee
$4 per active employee/contractor per month
Results
This is a tough call, but I'll go with Wave. It's hard to beat "free." For those just starting out, or on a very tight budget, Wave can provide what you need.
---
FreshBooks vs. Wave: Integration with other software
Instead of weighing down accounting software with a ton of features that users will never utilize, software vendors smartened up and decided to provide integration capability instead, eliminating the need to pay for features and functions that will never be used.
What FreshBooks offers
FreshBooks can connect with more than 200 apps like Gusto for payroll, Stripe for online payment processing, Avalara for tax management, and Basecamp for time tracking. You can also connect with more than 1,500 apps using Zapier.
What Wave offers
Wave connects with a few apps directly, including Etsy, PayPal, and Shoeboxed, while offering connection to more than 1,000 additional apps using Zapier.
Results
FreshBooks wins, offering a direct connection with more than 200 apps, though both applications offer solid integration with additional apps through Zapier.
---
FreshBooks vs. Wave: Reporting
Reporting options in both FreshBooks and Wave are similar, with both applications offering a limited number of reports, though all the necessary financial reports are included in the available reports.
What FreshBooks offers
FreshBooks includes 14 standard reports, with limited customization available, though you can export any report to Microsoft Excel for customizing. FreshBooks does offer a nice report screen, where you can save favorite reports for easier future access. You can also save any report as a PDF.
What Wave offers
Wave includes 12 standard reports, also with limited customization capability. Reports can be exported to a CSV file for customizing, or saved as a PDF. Wave recently updated the report interface screen which is now organized by report type.
Results
With FreshBooks 14 reports and Wave's 12 reports, there's no clear winner in the reporting category, particularly since both applications offer report exporting and limited customization capability.

View more information: https://www.fool.com/the-blueprint/freshbooks-vs-wave/