Fishbowl Review 2021: Features, Pricing & More
Fishbowl is a manufacturing and warehouse management solution included in the greater QuickBooks software catalog. FishBowl integrates with other solutions across the QuickBooks portfolio, providing automations for almost all of your business processes.
Fishbowl's feature set paired with QuickBooks integrations provides valuable capabilities for shipping management, e-commerce platforms, accounting, customer relationship management (CRM), electronic data interchanges (EDIs), and more.
You can also depend on Fishbowl for robust asset tracking capabilities such as monitoring inventory turnover ratio and defining critical compliance and organization efficiency standards.
And integrations outside of the QuickBooks portfolio provide Fishbowl users even more efficiency. Businesses can connect Fishbowl to important partners such as UPS, eBay, Salesforce, and other CRMs, marketplaces, and shippers.
Continue reading to learn more about Fishbowl's capabilities and integrations to see if it's a fit for your inventory needs and beyond.
---
Who is Fishbowl for?
Fishbowl is designed for manufacturers, wholesalers, distributors, retail, and e-commerce companies, and other inventory-laden businesses. The manufacturing and warehousing tools are built to scale with growing businesses, providing support from startup to global enterprise.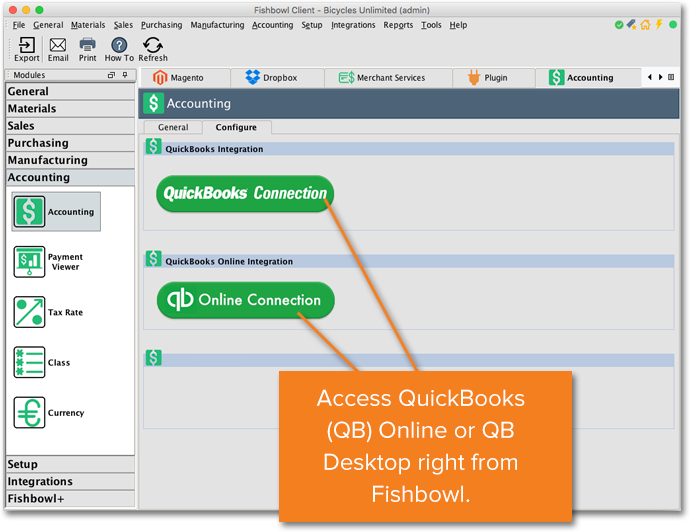 Any business can use Fishbowl to monitor and improve manufacturing workflow, design optimal layouts for warehouses, boost order fulfillment rates and processes, and more.
Even If you're running sales across one or multiple marketplaces, such as Amazon, eBay, or Shopify, Fishbowl monitors all of your e-commerce accounts and updates inventory in real time as sales come in across platforms.
---
Fishbowl's features
Fishbowl provides abundant capabilities in its rather focused feature set. At its core, the inventory features track incoming and outgoing stock, keep records current, and coordinate fulfillment.
For a high-level example, a sale on your e-commerce platform sends a sales order to your Fishbowl accounting platform. That order updates your inventory levels and notifies your warehouse to pull the sold items for fulfillment.
The order is also sent to your accounts system to record the financial exchange. Your shipping system or fulfillment partner is notified of the order information, and then delivery is scheduled and the order fulfilled.
Here is a detailed rundown on the seven primary Fishbowl features that manage your inventory and get orders from warehouse to customer.
Manufacturing
The Fishbowl manufacturing capabilities offer advanced work and manufacture orders as well as bills of materials and production process needs. These features provide support and newfound efficiencies for simple and complex manufacturing needs across industries and business sizes.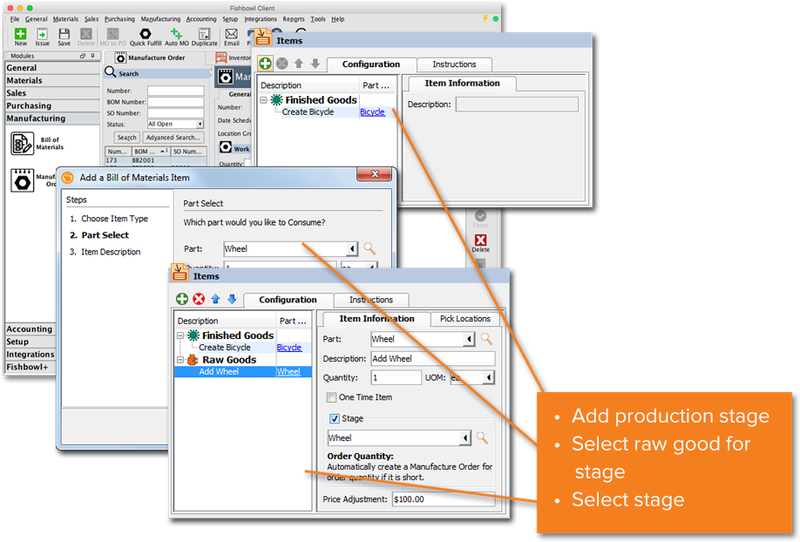 Manufacturers understand how hard it is to coordinate complex processes across locations.
Fishbowl manufacturing eases that difficulty by automating typically tedious manufacturing tasks, including bills of materials, manufacturing instructions, stagings, and more. You can automate generation of manufacturing and work orders, bills of materials, and other documentation.
Warehousing
The Fishbowl warehousing components support typical warehouse and inventory management needs for individual warehouses and multi-location organizations. Businesses can use the power and flexibility of tools such as barcoding, scanning, and auto-reordering to keep inventory and order fulfillment running smoothly.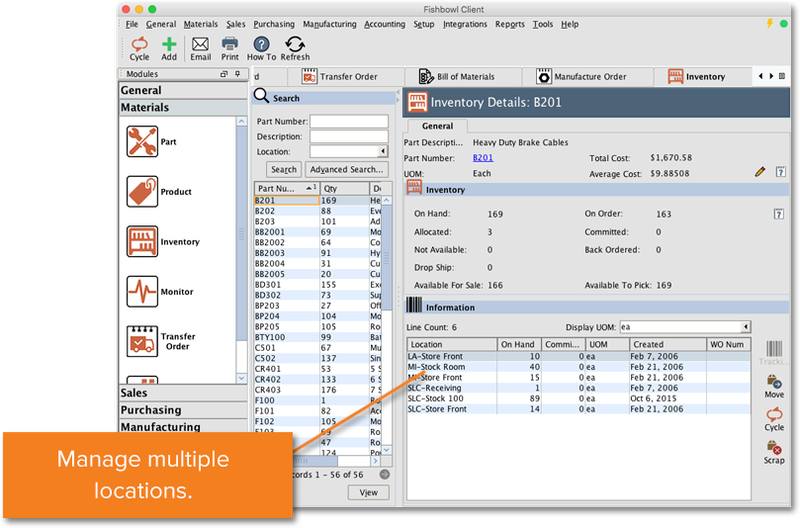 Key integrations enable you to receive orders directly from e-commerce platforms including Shopify and BigCommerce.
And Fishbowl provides a dashboard to then compare shipping methods and efficiently fulfill orders with pick, pack, and ship automations. You can even leverage time clocking within Fishbowl warehousing to clock employee hours and manage payroll.
Asset tracking
Fishbowl asset tracking capabilities include everything you and your team need to track shipment status across multiple warehouses for all your sales. You can monitor fulfillment stages, track expiration dates, and auto-reorder packing supply materials.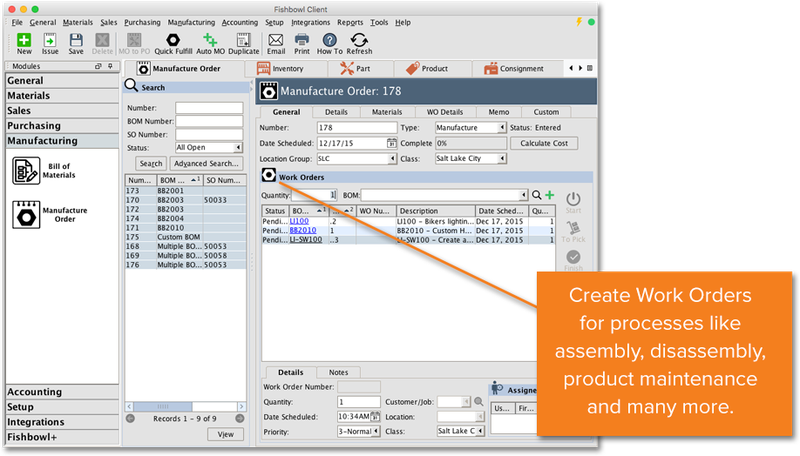 These robust asset tracking tools provide you with a snapshot of all your incoming and outbound inventory movement. And having them embedded within your larger inventory management solution saves you from having to bring on a separate asset management platform.
Hosted services
Fishbowl empowers mobile inventory management with its hosted services offering. It provides remote server hosting to make your Fishbowl inventory levels, product pricing, and other data accessible from anywhere.
Along with mobile accessibility, these hosted services enable you to back up valuable data and provide critical data and access security measures.
Mobile inventory
Fishbowl Go is an iOS and Android app that enables users to update inventory records on the go. It syncs with barcode scanners to make it easy to input new inventory and notate picked, pulled, and shipped products to update fulfillment status.
The app allows you to use a connected barcode scanner, tablet, or smartphone to generate, assign, and scan barcodes, add details to product profiles, take stock of inventory on hand, and more.
The barcode scanning reduces human error by eliminating the need to manually input codes. The app also expedites your new inventory receiving process by generating and assigning barcodes on the fly rather than having to go back to an office or hub to catalog new stock.
Checkout processing
Fishbowl offers an integrated checkout and point of sale (POS) solution designed to easily process orders and payments. It centralizes your ability to complete sales and manage inventory into one platform.
The checkout processing includes the ability to instantly process transactions via cash or credit cards. The platform features an easy-to-use touch screen and intuitive interface.
And given the greater Fishbowl inventory management integration, the checkout processing automatically updates inventory numbers in real time as sales are processed.
Time tracking
Fishbowl offers a plug-in that employees can use to track their hours on the job. This enables manufacturing and warehousing managers to monitor hours and track labor costs. It offers detailed reporting to compare the accuracy of budgeted labor time compared to actual time clocked.
Employees access the Fishbowl time-tracking system on their mobile devices. GPS tracking allows you to track when and where employees clock in and out. Payroll integrations automate employee distributions, ensuring accuracy in pay. And the scheduling components help track upcoming PTO and holidays.
---
Fishbowl's ease of use
Fishbowl provides a familiar and easy-to-use interface and organization for navigating and executing commands across the system. Everything comes ready to use right out of the box. This can be a negative if you're looking for more customization, but it's a plus for anyone just needing a streamlined system.
The ability to generate and scan barcodes puts time back in your day. It also removes human error and ensures accuracy across inventory needs tasks. The barcoding, tracking, and general organization make it easy to monitor assets from manufacturing through to order fulfillment.
---
Fishbowl's pricing
Fishbowl is sold as two separate modules: Fishbowl Warehouse and Fishbowl Manufacturing. Each starts with a one-time license fee of around $3,000 per user. Prices vary for each user based on the quantity of user licenses.
It's sold based on the amount of concurrent users you need. There's a one-time purchase for every user license and then you have the option to continue with an annual renewal for upgrades and support.
Each user license is for one concurrent user. The license never expires and includes unlimited access to training videos, documents, and other online assets as well as unlimited phone support.
---
Fishbowl's support
Fishbowl offers a wide array of support tools for upskilling, training, and troubleshooting. Fishbowl support options include online chat, email support, managed Fishbowl Inventory training and troubleshooting, and updates.
In addition, there's abundant online documents and videos for training, manuals, a troubleshooting wiki, and more. You can also rely on peer-to-peer help with Fishbowl Inventory forums.
---
Benefits of Fishbowl
Fishbowl offers immense benefits for QuickBooks users. The seamless integrations with everything QuickBooks provides a system that's easy to set up and use for inventory, warehouse, asset management, and more.
Even for non-QuickBooks users, Fishbowl provides a valuable and comprehensive set of tools to manage and optimize all your inventory needs. Fishbowl can centralize the bulk of your business needs into one platform.
---
Fishbowl manages inventory across open waters
Fishbowl offers a wide range of capabilities to support your business across the entire supply chain and sales process. Its seamless QuickBooks integrations make it an ideal fit for existing QuickBooks companies, but it also works well as a standalone tool for managing inventory, manufacturing, assets, and order fulfillment.
The cost of Fishbowl Inventory software may be prohibitive, but businesses that can afford it will gain an invaluable tool.

View more information: https://www.fool.com/the-blueprint/fishbowl-review/