Fetch Rewards Review: Easy Cash Back and More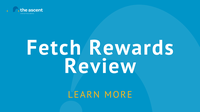 Top perks
Submit receipts from any store for up to two weeks
With the Fetch Rewards app, you can submit receipts from any store, including retail stores, gas stations, grocery stores, and even drugstores. Wherever you like to shop, Fetch Rewards has you covered.
And you don't need to worry about stopping in the middle of errands just to snap your receipts. Fetch Rewards allows you to submit receipts up to 14 days from the date of purchase. However, you can only submit a total of 14 receipts per rolling seven-day period.
Automatic redemptions
Not only does the Fetch Rewards app offer points for every receipt, but you can earn even more rewards when you purchase any item from hundreds of everyday brands. You can also get bonus rewards for products featured in the current special offers.
Unlike some other rewards apps, however, the Fetch Rewards app doesn't make you waste time browsing and activating offers just to get your rewards. Instead, the Fetch Rewards app will automatically apply your bonus points for any qualifying items it finds on your scanned receipts.
Redeem points for gift cards or donations
As with rewards credit cards, the points you earn from rewards apps are only as good as their redemptions. The Fetch Rewards app allows you to redeem your points for gift cards for dozens of popular brands, including Apple, Walmart, and Hulu. You can also redeem points for donations to several major nonprofit organizations.
You don't need to save up millions of points to get a decent redemption, either. Gift card redemptions start as low as 3,000 for some options, with other brands requiring a minimum of 10,000. Most redemptions offer $0.001 per point, so you'll get $1 for every 1,000 points.
Use both printed and emailed receipts
The Fetch Rewards app lets you easily submit physical receipts through the camera on your mobile device by clicking the camera icon on the app's home page. Then line up your shot, hit the button, and you're good to go. The app automatically scans your receipt to make sense of your purchases.
Of course, with so much of our lives going digital these days, you don't always get a paper receipt. The Fetch Rewards app allows you to connect your email and Amazon accounts to easily port your emailed receipts. Simply click the e-receipt button on the homepage to connect your accounts.
Referral code for friends to use
If you love to share the love, Fetch Rewards has you covered. You can invite friends and family to try out Fetch Rewards by sending referral links. Not only can you earn 2,000 points for each successful referral, but your referee will earn 2,000 Fetch Rewards points, too. That's an extra $2 worth of points for trying the app. Also, Fetch Rewards runs special deals for larger referral bonuses for up to 3,500 points.
View more information: https://www.fool.com/the-ascent/personal-finance/fetch-rewards-review/