FBAR Filing Requirments 2021: What You Need to Know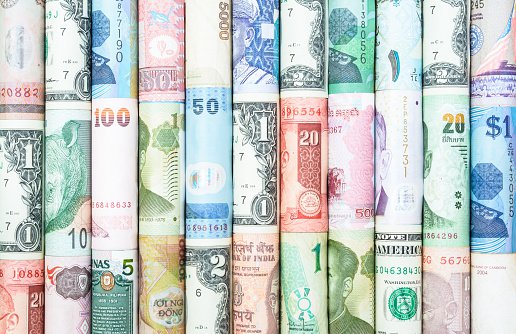 You may have heard on the news that large multinational corporations dodge U.S. taxes by moving cash out of the U.S. It may be tempting to do the same thing and open a foreign bank account to ease your own tax burden. It won't work.
The U.S. government requires annual reporting of all foreign bank accounts if the total balance goes over $10,000 at any point during the year.
Still need to open a foreign account for your business or even for personal assets? Read on and we'll walk through the FBAR form and how to file it.
---
Overview: What is an FBAR?
The Foreign Bank Account Report (FBAR), aka Financial Crimes Enforcement Network (FinCEN) Form 114, is used to declare the account balances of foreign bank accounts. The government uses it to combat personal and business tax dodging by moving cash balances overseas.
---
Who needs to file an FBAR?
Any individual or business with an aggregate foreign bank account balance exceeding $10,000 in a given year must complete the FBAR Filing. According to the IRS, these situations are excluded from reporting:
Correspondent/Nostro accounts
Owned by a governmental entity
Owned by an international financial institution
Maintained on a United States military banking facility
Held in an individual retirement account (IRA) you own or are beneficiary of
Held in a retirement plan of which you're a participant or beneficiary
Part of a trust of which you're a beneficiary, if a U.S. person (trust, trustee of the trust or agent of the trust) files an FBAR reporting these accounts
---
How to file an FBAR
You must file the report either directly with FinCEN, using the BSA e-filing system, or using tax software. Look for some type of expat option, and it will likely allow you to complete and file the form. If you want a third party, such as a CPA, to complete the report for you, submit the Form 114a to authorize them.
Let's walk through the main parts of the filing system.
You can either file online using the link above or download the PDF from this page and return to submit it. I would recommend using the PDF, as you don't have to worry about information getting deleted if you get distracted.
Here is what the downloaded PDF looks like: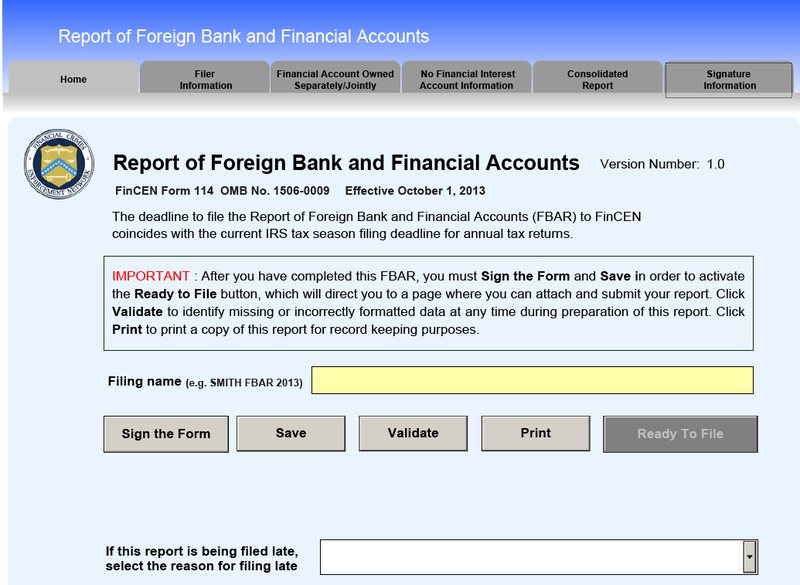 Start by entering your business name and the filing year. It may not be necessary on the first page, but it's a good practice to click the validate button on each page to make sure you don't omit any required information.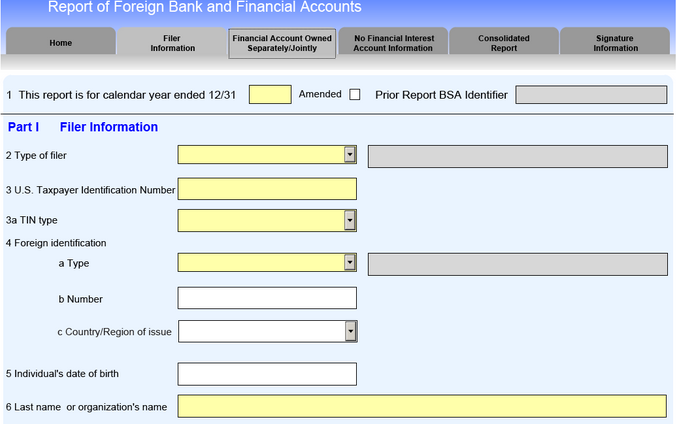 Choose your entity type in question two and fill in your TIN (Tax Identification Number) in question 3. If you don't know your TIN, here are a few ways to find it. TIN type is EIN (Employer Identification Number).
Enter the entity information you established in the foreign country to set up your account in question four, and put your business's name in question 6.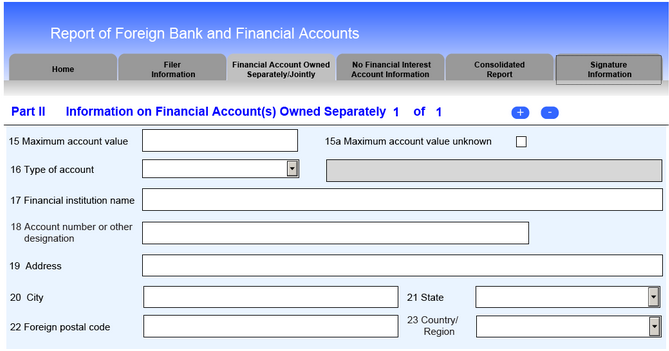 The next three tabs contain the same questions. The first is for financial accounts you directly own, second is for financial accounts you have signature authority on but no financial interest in, and the third consolidates the two and produces a total.
Click on the blue plus button on the top right to add more accounts.
Your financial institution can provide the maximum account value for the year. Worst case, you can go through bank statements to find it.
The other information can be found on bank statements as well.
On the final tab, you enter your own name with your position in the company to certify and sign for the information.
Should you open a foreign bank account?
It's easy enough to do annual FBAR reporting and add it to your small business tax checklist, but it probably isn't worth it unless you're actually doing a lot of foreign business.
If you're trying to minimize taxes or diversify away from the dollar, there are easier ways to do it in the U.S. that don't require such annual bureaucracy.
View more information: https://www.fool.com/the-blueprint/fbar/