Expensify Review 2021: Features, Pricing & More
Tired of those products that promise easy expense management but end up being anything but? If so, give Expensify a try.

Expensify offers four different plans with varying features, so you can choose the plan that best suits your business today and scale up down the road if necessary.
---
Who is Expensify for?
Expensify is one of those rare products that is a good fit for everyone. Whether you're a freelancer, a sole proprietor, or managing dozens of employees, Expensify can be a welcome addition to your business.
---
Expensify's features
Expensify's features can vary widely based on the plan that you purchase, but all plans include the ability to upload an unlimited number of receipts, share and submit expenses (including an unlimited number of SmartScans), and offer next day expense reimbursement.
Each time a receipt is uploaded or scanned into Expensify, an expense report is automatically created, with the option to submit the report for reimbursement immediately or add additional expenses before submitting it.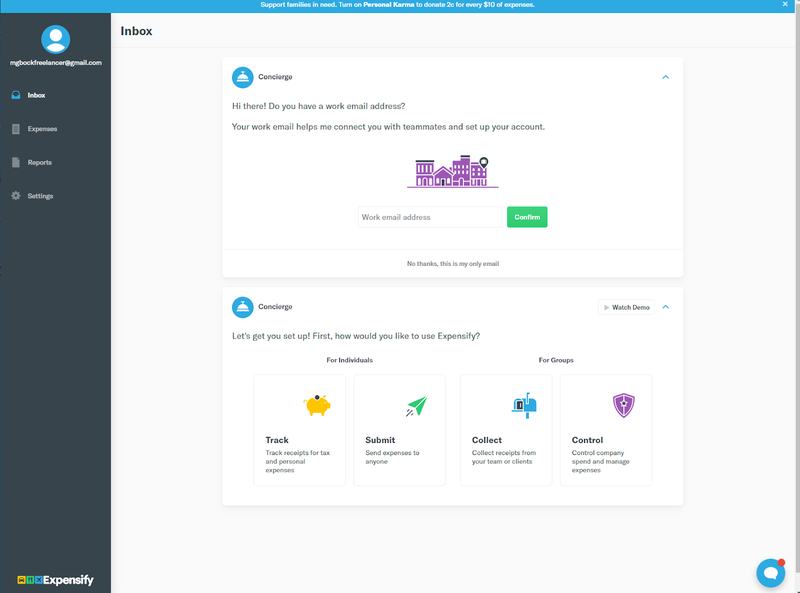 GPS mileage tracking, per diem management, and bank and credit card transaction importing are also available in all Expensify plans. More advanced features can be found in the group plans (Collect and Control) including the Expensify Card, Concierge Travel, complete expense report approval, and the assignment of a vacation delegate.
While you'll have to subscribe to the Control plan for integration with accounting applications such as QuickBooks Desktop, QuickBooks Online, Xero, NetSuite, Oracle, and SAP, you can still export Expensify transactions via a CSV file if you're using one of the other plans. Here's a rundown on some of the other features found in Expensify.
Expensify Card
The Expensify Card has created some recent controversy if you read through the Expensify User Community posts, with the company now basing pricing on whether you use the Expensify Card in your business. However you feel about the new pricing structure, the Expensify Card does offer some terrific benefits, including the following:
Daily settle up of funds
Smart limits to control spending
Automatic e-receipts
Immediate reimbursement
The Expensify Card, which is available in the Collect and Control plans, carries no fees, nor does it charge interest, and it has no minimum commitment required.
Direct deposit reimbursement
Expensify expedites the employee reimbursement process, allowing you to set up an ACH account during the product setup process, which can be used to pay bills as well as reimburse employees immediately for expenses they've incurred.
SmartScan
SmartScan uses optical character recognition (OCR) on all receipts scanned into the application, which enables it to easily extract the text that is on the image. But it goes one step further than simple receipt scanning software — it analyzes details like merchant name, receipt amount, date, and even the type of currency used, then compares the extracted data to existing data like a credit card charge, matching the two.
If SmartScan cannot read the receipt, it will flag it so the information can be entered manually. SmartScan is mainly used in the mobile app, but can also be used digitally or by emailing a receipt to receipts@expensify.com.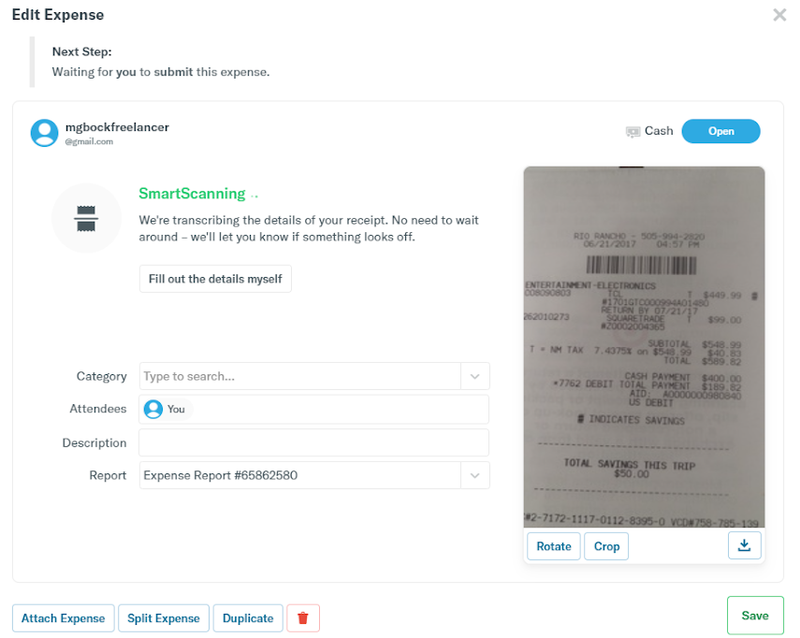 All Expensify accounts include 25 SmartScans per month, with company plans offering unlimited scans.
Mobile app
Expensify's mobile app for iOS and Android devices is also where you'll find the SmartScan feature. The app allows you to handle everything from routine expense entry to approving your employee's latest expense report.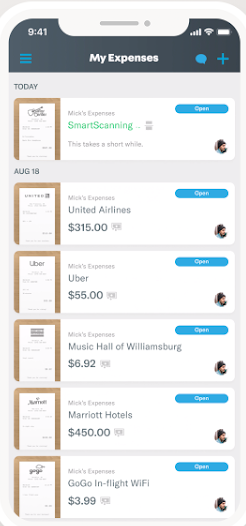 The mobile inbox also allows you to fix any pending expense violations, invite team members to sign up for Expensify, and even receive travel notifications, including updated travel itineraries and flight delay notifications. You can also automatically track mileage using the Expensify mobile app.
Guided Review
Guided Review is designed to make your job a little easier. Once you create expense policies in Expensify, the Guided Review feature analyzes company expense policies when reviewing all submitted expense reports, in order to spot and flag potential policy violations.
---
Expensify's ease of use
The Expensify main entry screen provides you with easy access to all of the features available in the plan that you purchased. When signing in for the first time, you'll be presented with a list of messages that indicate the items that need to be completed prior to using the application.
Once these items have been completed, you can access the other features from the vertical menu bar at the left of the screen. The expenses screen lets you easily manage all of your expenses, whether they're in the form of a receipt or manually entered in the application. Each time you enter an expense, a related expense report is created that can be submitted for reimbursement if necessary.
Expensify also includes numerous automated features such as a scheduled submit option, an auto-sync option for exporting to a third-party accounting application, and a manual reimbursement threshold that can be set to automatically approve expenses under a set threshold. You can also assign category rules, set specific policies, and flag any submissions that violate the policy.
Finally, Expensify makes it easy for your employees to get reimbursed quickly, using either the ACH payment option or the Expensify Card. For those using the card, funds will be placed on the card once an expense has been approved. If you do get stuck anywhere in the application, just click on the blue icon at the bottom right corner of the screen, which allows you to start a chat with the concierge.
---
Expensify's pricing
So how much is Expensify? While pricing seems fairly straightforward, there are a lot of pricing options offered, such as annual pricing, month-to-month pricing, bundled pricing, and unbundled pricing, so be sure and pay attention to the fine print on the Expensify pricing page.
Expensify currently offers four plans, with the first two plans — Track and Submit — designed for individual users, while the Collect and Control plans are for small businesses with multiple users.
Track: For individuals and sole proprietors who only want to track business expenses. The Track plan starts at $4.99 per month when billed annually.
Submit: For individuals and small businesses that want to track and submit expenses. Submit starts at $4.99 per month when billed annually.
Collect: Collect is for small businesses looking to automate the receipt management process, and will auto-sync to your accounting application. Collect also includes the Expensify Card. Collect starts at $5/month per user when billed annually.
Control: For businesses looking for complete expense report management, card management, and expense reimbursement, the Control plan also includes multi-level expense approvals. Control starts at $9/month per user when billed annually and includes the Expensify Card.
You can choose to pay month to month at a higher rate or pay annually, with the annual pricing reflected above. Things get complicated with the Collect and Control plans, with pricing based on whether you choose to use the Expensify Card.
---
Expensify's support
Expensify's Achilles' heel is product support, with no telephone support offered. Both chat and email support are available, as is the very active Expensify Users Community, which is very active and provides solutions to common issues as well as best practices.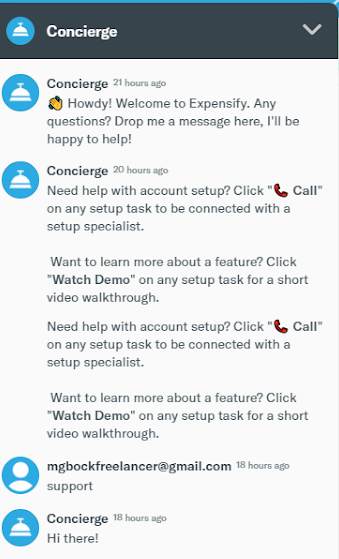 You also have access to the Concierge feature from anywhere in Expensify, which serves as the chat option. In many cases, the support options available in Expensify will be sufficient, but because Expensify also deals directly with banking and other funds through their ACH feature and the Expensify Card, it would be helpful if a live support option was available to answer any urgent questions.
---
Benefits of Expensify
The most obvious benefit of using Expensify is that you and your employees will actually use it. The mobile app is easy to use and offers full functionality, while the online application is simple to navigate and requires little if any training to start using. Another benefit is the Expensify Card.
While it may not be for everyone, the Expensify Card allows you to manage both your expenses and your employee's expenses by setting limits on each card. Finally, Expensify offers easy integration with your accounting software application, so both expenses and reimbursements will be easily and accurately recorded.
---
Expensify offers the expense management features a small business needs
A lot of people balk at using expense management applications, citing extra work, a confusing interface, or a complicated transaction entry process. Expensify eliminates all of these excuses from the start; offering an intuitive user interface that you'll be comfortable using within minutes.
With various price points available, Expensify can be used as easily by a freelancer as it can when you're managing multiple teams. Be sure to check out their free demo and try the application out for yourself.

View more information: https://www.fool.com/the-blueprint/expensify-review/