ESET Endpoint Antivirus Review 2021: Features & Pricing
[ad_1]

ESET cybersecurity began as an antivirus provider thirty years ago, and now protects over 100 million users in 200 countries around the globe. The company's clients include brands such as T-Mobile.
Its

ESET Endpoint Antivirus continues the tradition of effective and award-winning defense against malware. ESET's antivirus technology protects endpoints, such as laptops and servers, using several methodologies working in concert.
This approach makes sense. Cybercriminals use many techniques to breach Information Technology (IT) defenses. Antivirus protection must do the same.
The ESET Endpoint Antivirus product bundle focuses on prevention. It's intended to block cyber threats from infiltrating your IT network, and its effectiveness at stopping malware makes it among the best endpoint security software.
---
Who is ESET Endpoint Antivirus for?
ESET designed its Endpoint Antivirus package for small businesses seeking malware protection. It's more robust for protecting multiple endpoints than the ESET Smart Security Premium package, which is intended for smaller, home-based businesses.
Your organization should have a dedicated IT department to employ the ESET Endpoint Antivirus, though you don't need a full-blown security operations center (SOC) to get the most out of the software. It's designed to operate effectively with a small IT team.
ESET Endpoint Antivirus works on Windows, Mac, and Linux machines. You can opt for on-premises management of your endpoints if you prefer to host the software. A cloud-hosted option is also available if you don't have your own servers.
If you opt for the cloud-based management tool, mobile device protection and virtualization security are not included. This option also lacks the ability to sync with your Windows Active Directory and is capped at 250 endpoints. You'll have to move up to ESET's midsize business or enterprise solutions if you need to protect more endpoints.
The on-premises option covers mobile devices using Google's Android or Apple's iOS operating systems. It also includes security for virtual environments and supports synchronization with your Active Directory.
Small businesses in any industry can use ESET Endpoint Antivirus. If you're looking for additional security features or your company must follow industry-specific compliance regulations, such as encryption for the healthcare industry's HIPAA requirements, explore ESET's other product bundles such as its Endpoint Security package, which includes firewall protection.
---
ESET Endpoint Antivirus features
ESET's foundational malware protection technology comprises the contents of ESET Endpoint Antivirus. This technology incorporates multiple capabilities from artificial intelligence (AI) to proprietary reputation data as part of ESET's LiveGrid program.
Let's dive into how ESET Endpoint Antivirus combines these various methods to protect your IT network from cyber attacks in real time. We'll also look at other features that support your ability to execute IT security.
Malware defense
ESET antivirus is effective against all types of malware. It employs machine learning, a branch of AI used in ESET's endpoint security products since 1997. Machine learning allows ESET to automatically evolve its protections as new threats surface.
ESET internet security combines machine learning with additional security layers to address various cyberattack forms.
Ransomware: ESET Endpoint Antivirus protects your data from malicious file encryption. ESET's Ransomware Shield identifies this malware based on behavior and reputation, blocking processes that resemble ransomware behavior.
Zero-day attacks: Traditional antivirus has difficulty stopping zero-day attacks since these are never-before-seen threats exploiting software vulnerabilities. ESET Endpoint Antivirus solves this challenge by continuously monitoring exploitable applications, such as your browser, to identify and block threats attempting to use exploitation techniques.
Fileless malware: Traditionally, malware relied on computer files to infect and spread. Today's advanced cyber attacks use a fileless approach that's more difficult for antivirus software to detect because the malware hides in your computer memory. ESET Endpoint Antivirus uses a unique, proprietary technology, called Advanced Memory Scanner, which looks for this malicious behavior. It stops threats based on the actions taken by computer processes once the malware decloaks in memory.
Obfuscated malware: As fileless malware illustrates, cybercriminals work hard to hide their attacks, making it increasingly difficult for antivirus to catch them. ESET uses a sandbox environment to determine the real behavior hidden behind suspicious activity and confirm a potential threat. ESET Endpoint Antivirus will upload a sample to ESET's cloud sandbox for testing and validation within a safe virtual environment with the help of 13 R&D labs around the globe.
These security layers deliver potent antivirus protection against cyberattacks. In tests performed by independent testing firm AV-Test Institute, ESET successfully caught over 13,000 malware samples. ESET also stopped all 370 zero-day attacks thrown at it, exceeding the industry benchmark of 98.9%.

Other security features
ESET Endpoint Antivirus includes anti-phishing capabilities. It monitors communications between your web browsers and the external servers they connect to. This allows the platform to validate whether you're visiting illegitimate websites disguised as legitimate ones.
It also monitors the content of network traffic to protect against network attacks. If ESET Endpoint Antivirus deems some traffic as harmful, it blocks that traffic.
An impactful element of any antivirus software is its ability to protect without hurting your computer's performance.
In AV-Test Institute tests, ESET's software caused slowdowns greater than the industry average. For instance, AV-Test Institute measured a 28% average slowdown on a typical computer when launching popular websites compared with the industry average of 14%.
In my own tests, I used the ESET for Mac version, running a scan with multiple applications and browser tabs open with no noticeable impact on computer performance.
The ESET scans were fast as well. While competitor products might take hours to scan a computer, ESET virus protection completed its scan in minutes.
Another security consideration is the number of false positives. You don't want legitimate software flagged as a threat.
AV-Test Institute found ESET Endpoint Antivirus excelled in this area. After throwing more than one million samples of legitimate software at it, ESET Endpoint Antivirus marked only two as threats compared with an industry average of 27.
In my own tests with ESET Endpoint Antivirus set to its most aggressive scan setting, it flagged a File Transfer Protocol (FTP) application I use for work as a potential threat. Since FTPs are commonly used in IT settings, I was surprised, but it may have been due to ESET's unfamiliarity with the FTP software I was using.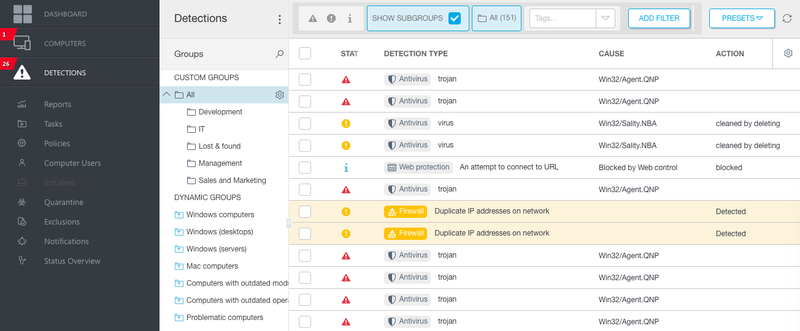 Security management capabilities
You manage your IT security through a single console, ESET's cloud-based management tool, ESET Cloud Administrator. ESET encrypts all data in the console for added security.
The console features a dashboard to view key security information at a glance. You easily gain insights into your IT security through the dashboard's robust data distilled into graph form.
ESET Cloud Administrator provides several features to manage your IT security. You can set security policies for your endpoints; you can create a list of tasks to perform, such as installing the ESET security agent on new endpoints; and you can set alerts to provide instant notification of any critical security issues.
After installation of ESET's software agent on your endpoints, users will have access to an ESET antivirus mini-console that allows them to view the protection status of their machine and details such as the results of a previous scan.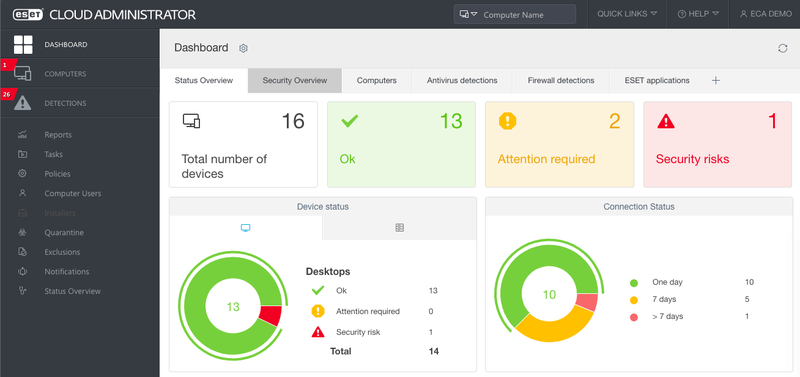 Reporting and analytics
The analytics component is just as important as antivirus software's ability to stop attacks. It's the primary means to obtain insights into your IT network's security posture.
ESET Endpoint Antivirus excels in this area. The platform is packed with intuitive reports, charts, and other analytics.
The ESET Cloud Administrator console's dashboard beautifully captures key information about your IT security. It lays out several interactive charts spread across categorized tabs so you can focus on the data that matters most. Click on a chart to drill down into the details behind the data.
The console comes with many built-in reports. These help identify security issues and outline what actions to take. For instance, you can view endpoints lacking the latest software updates.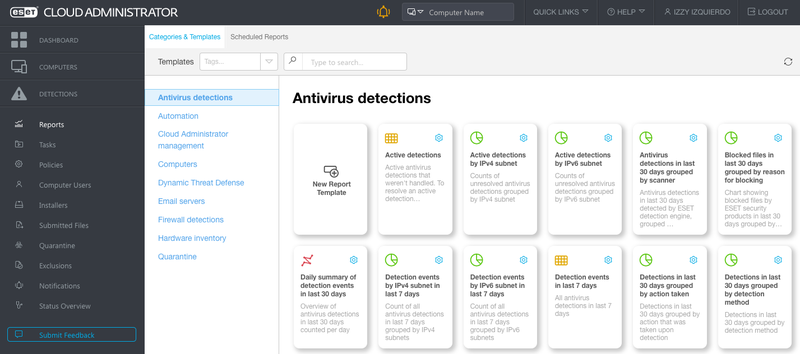 ---
ESET Endpoint Antivirus ease of use
ESET takes steps to make working with its products easy. Even so, it's not always smooth sailing.
ESET Endpoint Antivirus does a great job carefully walking you through the initial setup and installation process both in the application and through online help content. But unlike other services that let you jump in quickly, you must first create a business account, then add the licenses you purchased to that account before you can access the ESET Endpoint Antivirus platform.
This creates a multistep onboarding process. After the initial setup, you'll need to continue logging into the business interface to manage your licenses and the administrator console for your endpoints.
In the ESET Cloud Administrator console, you can choose the best means to deploy the endpoint software agent based on what makes sense for your situation. For example, you can email a link to users to download the agent or use a remote deployment option.
The functionality has a bit of a learning curve as you get to know the ins and out of the product, such as the difference between a managed endpoint versus one flagged as "Lost & Found." The cloud-based management console also takes a little getting used to. It's generally straightforward, but the placement of some functionality is counterintuitive.
For instance, the option to create your own security policy is at the bottom of the Policies page instead of at the top where other buttons reside, making the experience clunky until you become accustomed to button placement throughout the app.
The interface does include many helpful features. It allows you to add tags to filter your endpoints based on criteria important to you, such as tagging your CEO's devices. You can also highlight multiple items to perform actions in bulk. For example, you can quickly change the email address where security notifications are sent across all your alert types.
ESET Endpoint Antivirus comes with predefined endpoint security policies to accelerate your IT security setup. However, the cloud-based solution's lack of Active Directory integration reduces the product's convenience and ease of use on Windows machines.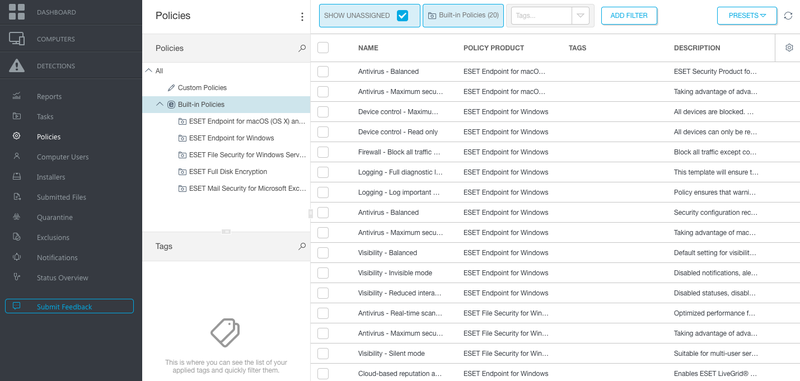 ---
ESET Endpoint Antivirus pricing
ESET's antivirus for Windows starts at $190/year for on-premises coverage of five endpoints. The cloud-based version begins at $239. ESET business pricing is a little higher than some rivals, but the price per endpoint drops when purchasing more than 10 endpoints or subscribing for multiple years.
ESET's software licensing is flexible, allowing you to transfer a license from a decommissioned endpoint to a new one, or to mix and match between different operating systems. You can add new endpoints at any time.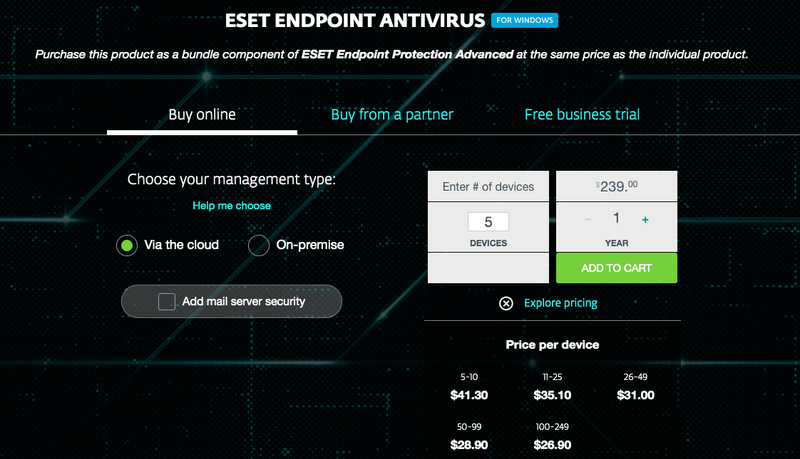 ---
ESET Endpoint Antivirus support
ESET support includes industry standards such as a self-service portal, 24-hour phone help, and a community forum.
Its online support is a bit convoluted. ESET has a knowledge base with articles specific to topics such as how to install ESET Endpoint Antivirus on an endpoint. It also offers a separate online help guide accessed through your ESET Cloud Administrator application. Performing a search in either could land you on a page for a product not related to yours, adding confusion if you aren't mindful of which product you're reading about.
Another surprise is that the online help's search functionality takes you to Google to view results. This happens only when using the application's help guide, not when perusing the knowledge base.
---
Benefits of ESET Endpoint Antivirus
The most important benefit of ESET Endpoint Antivirus is its excellent protection performance. It also combines its protection capabilities into a single interface. You don't need to install other software tools to cobble together a security solution, unlike some other antivirus software.
The platform provides comprehensive reporting and easy-to-understand analytics. Its dashboard contains rich insights so your IT team can simply perform a quick check of its contents to understand the health of your network security.
As your company evolves and your security needs change, ESET can grow with you. The company supplies a wide selection of products that range from advanced post-breach protection, such as endpoint detection and response (EDR), to cybersecurity training for your staff.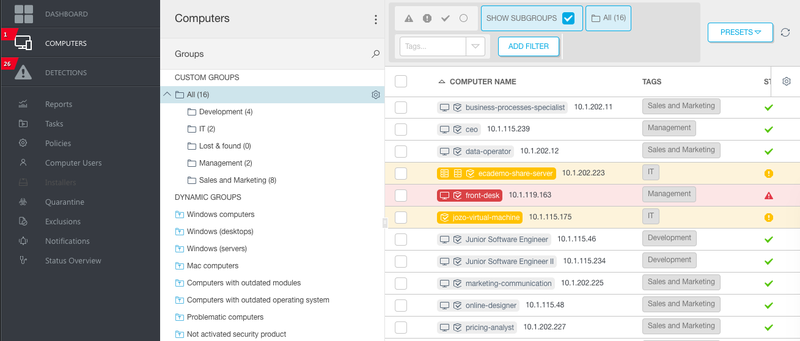 ---
A solid endpoint protection solution
ESET Endpoint Antivirus serves as a solid foundation for your organization's security. The product provides effective malware prevention for your endpoints, a must for any company.
Where ESET Endpoint Antivirus proves a mixed bag for small businesses is the lack of mobile device and virtualization security in its cloud-based option. For businesses that can't afford to invest in their own servers, these gaps are disappointing. The ability to leverage Active Directory is also a consideration when deciding between the on-premises or cloud-based approach.
To round out your IT security needs, look at ESET's other solutions and product bundles. For instance, your industry requirements may necessitate upgrading to ESET's Remote Workforce Security bundle, which includes data encryption services.
[ad_2]
View more information: https://www.fool.com/the-blueprint/eset-endpoint-antivirus-review/