Epos Now Review 2021: Features, Pricing & More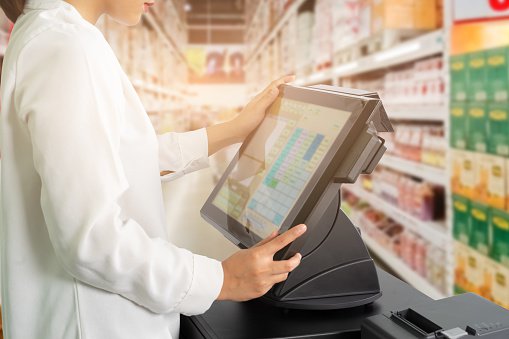 Epos Now is a UK-based point-of-sale (POS) provider launched in 2011 and now trusted by over 30,000 businesses in 109 countries worldwide as an essential sales and marketing tool. The business serves US-based clients from offices in Orlando, Florida.
The Epos Now POS system provides everything merchants need to complete sales at the point of purchase. Epos Now software also integrates key retail management features, such as inventory control, customer management and loyalty building, and essential retail reporting.
Continue reading to learn more about Epos Now and determine if it's the best POS system for your business.
---
Who is Epos Now for?
Epos Now splits their POS software into two distinct systems to cater to the unique operational and sales process needs for traditional retail merchants and restaurant and hospitality businesses.
Each system is priced the same, includes the same support, and comes with the same essential POS features. The difference is in the more nuanced and specialized capabilities.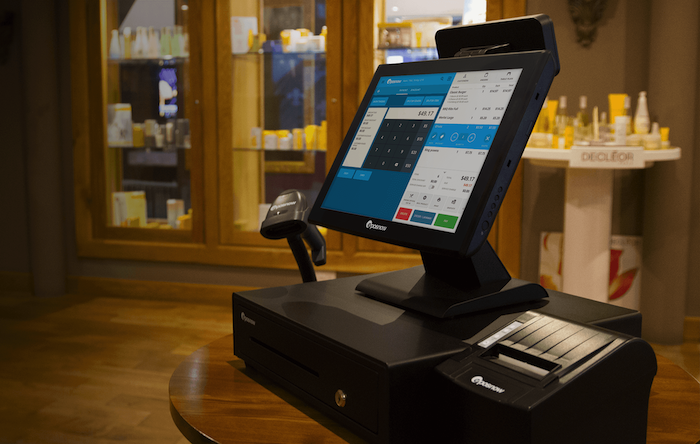 The retail system supports all types of retail-driven businesses, such as shops, boutiques, jewelers, automotive stores, and more. Specialized retail capabilities include:
Credit / pay-on account
Hardware adaptability
E-commerce integration
Promotions
Booking system
Invoicing
Stock management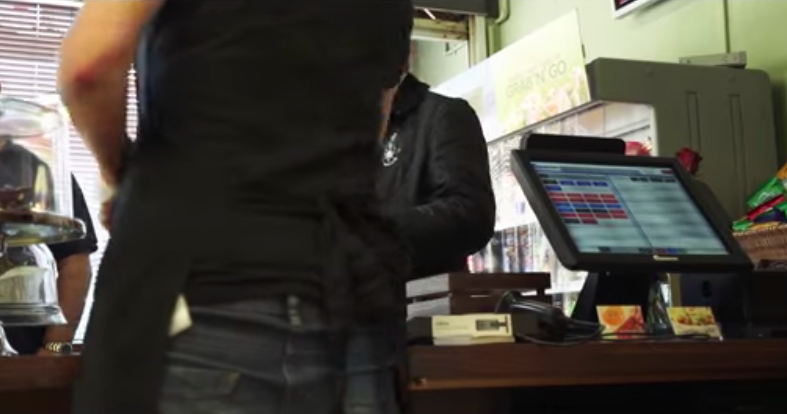 The hospitality system is designed to support the unique needs of businesses such as bars, restaurants, cafes, hotels, gyms, spas, and more. Specialized hospitality capabilities include:
Table layouts
Cloud syncing
Printer support
Master products
Quick login
Split bills
Online booking
Loyalty system
---
Epos Now's features
While Epos Now has two industry-specific offerings, the underlying POS capabilities are the same. Let's take a look at the core features shared by both systems. Retail merchants and hospitality operators alike will spend the majority of their time in Epos Now using these essential features.
Point of sale
Point of sale refers to everything associated with the act of processing and closing a sale. This includes inputting and finalizing the sale, processing the payment, and issuing a receipt.
Regardless if the transaction takes place at a counter, at the table, or behind a bar, these three components are the essential capabilities needed to complete a sale.
Epos Now consistently delivers on each of these essential features. You can take advantage of barcode scanning or simply manually input items into the system to effect the sale.
All payment types are supported via processing partners across the world. And the customizable receipts empower you to highlight customer loyalty information or simply feature your logo and contact information.
Inventory management
Epos Now's core POS offering conveniently packs everything you need in an inventory management system. You can monitor inventory levels to ensure you're neither over or under stocked but properly equipped for your projected sales.
Epos Now also supports alerts and automatically generates purchase orders when products fall below a preset threshold. This is especially helpful for restaurants to quickly restock the essential products being sold or used in recipes week after week.
Barcode scanning is another of the time-saving inventory programs Epos Now provides. Implementing barcoding products has benefits for both industries. It expedites sales by adding products with a simple scan and improves stock count accuracy by reducing human error.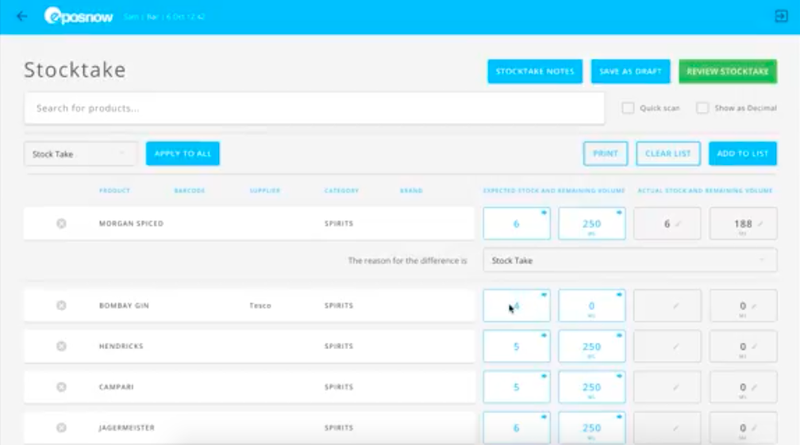 Reporting dashboards
Accurate and easily accessible reporting is essential for operators to monitor business performance and spot trends that can make you a better salesman. Epos Now gives you an instant overview of key business metrics and sales management.
These real-time metrics are available on any device via website or app. Reporting can cut across KPIs for products, stores, and individual employees.
Epos Now empowers you to create customized dashboards. These dashboards can be set up to contain any combination of measurements, expediting the reporting process by providing all the real-time metrics you're interested in in one convenient location.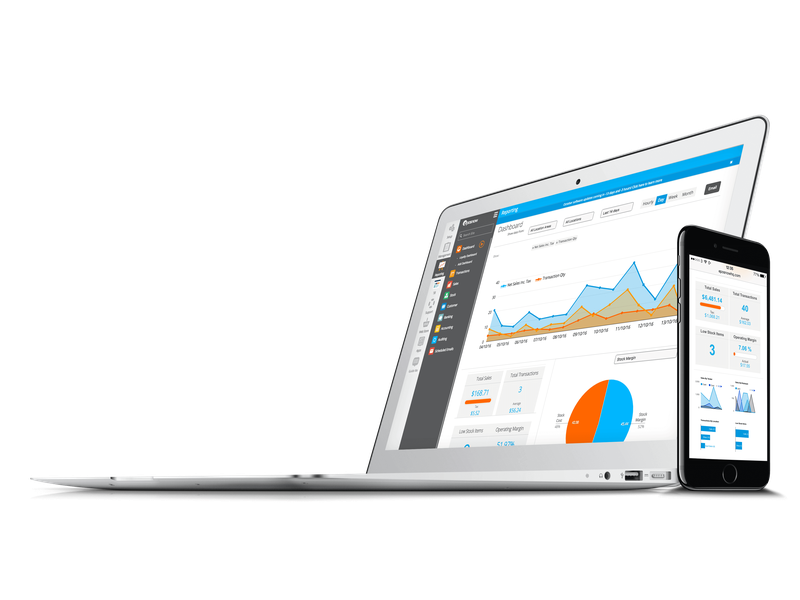 Customer management
Customer management capabilities are critical needs for retailers and hospitality operators, and Epos Now delivers them. Customer management features include a customer database so that you can record customer contact information and purchase histories for marketing purposes.
The database also supports balance tracking per individual customers for businesses to operate with invoices and open tabs or credit.
Epos also offers a loyalty module that helps your business deepen customer relationships and generate consistent repeat purchases. Focusing on building and improving relationships is a critical sales technique your business can employ.
Businesses can order branded loyalty cards through Epos that can be tied to customer accounts via a unique magnetic stripe signifier. Once tied to an account, that customer can have their card swiped to earn points for each purchase.
Customers can then redeem those points for discounts, special prizes, and other incentives that you think will drive new customer acquisition, generate repeat business, and sustain loyalty.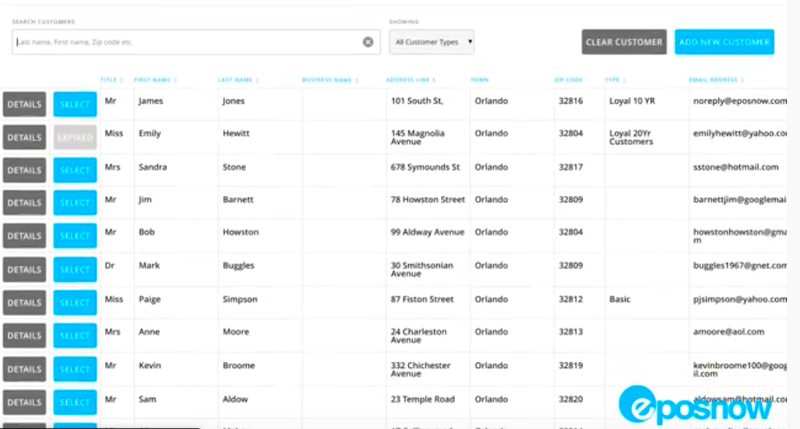 Epos has built-in customer management capabilities to help you deepen relationships and generate loyalty toward your store.
Employee services
Epos Now supplies you with critical tools to manage your staff. This includes essential features for any business, such as staff clock-in and clock-out for tracking hours and pay.
Staff reporting capabilities give you insight into employee sales performance so you can monitor over- and under-performers. This information is useful in making decisions on promotions, training, and staffing for key events.
You can work with your consistent top performers to make them champions of sorts who are available to help new and underperforming staff members grow and expand their skill sets.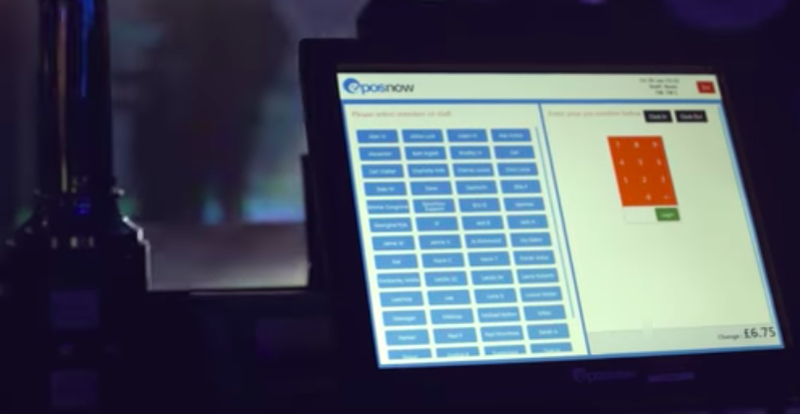 Employee management controls also allow you as the operator to set different permission levels for all your employees. For example, as a restaurant operator, you probably have a specific pricing strategy that you rely on.
You may want to prohibit servers and bartenders from altering prices or giving discounts. You can turn off that function when they log into their account, requiring a manager to be present and logged in to make these price changes.
---
Epos Now's ease of use
Epos Now provides a quick and easy process for getting started with your 30-day free trial. You simply have to input some basic contact information, and you'll receive a login and link to the system.
The software features a guide overlaid over the screen that highlights what everything is and helps you navigate through all the components.
The core point of sales functionality is a breeze to get up to speed on. And core management functions like adding new inventory and altering existing products are easy to find and smooth to work through.
---
Epos Now's pricing
All Epos Now software plans begin with a 30-day free trial so that you can ensure it's the best option for your business. After that, you may choose from three packages with different payment tiers.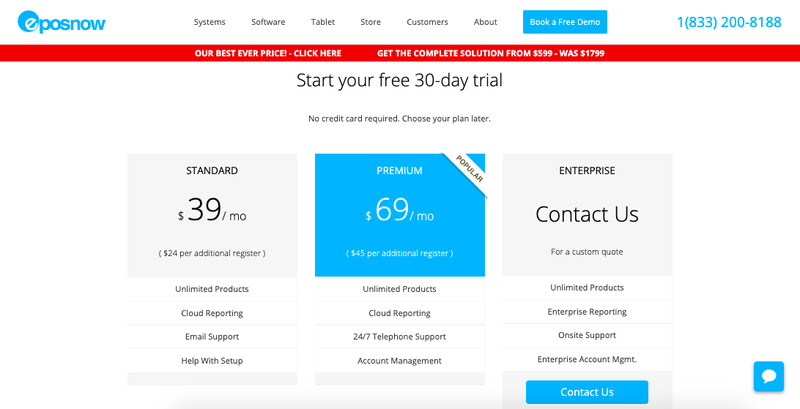 The standard option is $39/month while the premium option is $69/month. These two options seem to share the same features and capabilities set. Aside from price, a key difference between the two is the level of initial and ongoing support.
The standard option features email support and "help with setup" while the premium option includes fully managed account support with 24/7 telephone contact.
Another key difference between the standard and premium plan is the amount you are charged per register. The $39 and $69 monthly fees per option are representative of a single terminal.
So if your business requires multiple terminals, your monthly payments increase by $24 per terminal if you're on the standard plan and $45 per terminal if you're on the premium plan.
The price on the enterprise option is variable and depends on a multitude of factors such as the number of locations, terminals needed, etc. This is definitely an option worth considering if you need multiple terminals given the amount per terminal increases.
Along with POS software, Epos Now also directly sells the hardware that the software drives. By no means are you required to purchase hardware from them. You can operate the Epos Software on your existing systems or through hardware you purchase elsewhere.
But it may be helpful if you're starting a brand new business to get your hardware and software all from the same supplier. They sell everything from terminals to tablets and barcode scanners and printers.
---
Epos Now's support
Epos Now provides different levels of support. At its most basic level, the system features a guide walk-through that helps you navigate and perform basic tasks. You can toggle the walk-through on and off depending on the user's level of experience with the system.
Epos Now also offers more traditional support options, including live chat, calls, ticketing, and a robust community forum for peer support. Personal support requires a monthly subscription. One-on-one support has two price tiers.
The first is an additional $39/month, and it includes next-day equipment replacement, unlimited training, data backup and encryption, and continuous software updates. The more expensive plan is $54/month and adds 24/7 phone support on top of all the support features of the less expensive plan.
Epos Now doesn't require users to buy either support plan, but it's highly encouraged.
---
Benefits of Epos Now
Epos Now is one of many POS options for retail and hospitality businesses across the world. At the end of the day, the best system for your business depends on understanding your unique needs and determining how software can address them.
Epos Now has taken a great step toward doing just that by splitting their system up to provide retail-specific capabilities to retailers and hospitality-specific tools for bars, restaurants, hotels, and the like.
And while Epos Now doesn't boast an enormous feature set, it does enough to be an all-in-one system for your growing small to mid-size business.
---
Epos Now provides an all-in-one solution
Retail and hospitality operators can be confident in adopting Epos Now as an all-in-one management tool. It's easy to learn and get staff up to speed with. And the split systems provide valuable capabilities already built in.
The system also features enough integrations to support any additional needs that may arise. It can be the system to get you started and help you grow into a booming enterprise.
View more information: https://www.fool.com/the-blueprint/epos-now-review/