Epicor Retail Cloud Review 2021: Features, Pricing & More
Epicor is known in the ERP software industry, with a strong presence in manufacturing and distribution. It also offers CRM, human capital management systems, and retail management solutions, provided as cloud-based subscriptions and on-premise deployments.
In 2019, Epicor launched

Epicor Retail Cloud, a retail management solution that combines point of sale (POS), payment processing, inventory management, customer management, and reporting and analytics functionality in a cloud-based solution.
In this review, we evaluate Epicor Retail Cloud's retail features to see if it rates among some of the best retail software.
---
Who is Epicor Retail Cloud for?
Epicor serves all business sizes, from small businesses to large enterprises. It caters to specialty retail markets, such as lawn and garden businesses, pet stores, and thrift stores.
Epicor's retail products are priced higher than the average retail management software or retail POS system. Therefore, it's likely more suitable for mid to large size businesses.

---
Epicor Retail Cloud's features
Epicor Retail Cloud is designed for several speciality business types, and includes POS features, integrated payments, and customer loyalty capabilities.
Let's take a look at some of its most notable features.
Inventory management
Epicor Retail Cloud's inventory management capabilities are decent, but not especially comprehensive when compared to other retail solutions:
Support for multi-location businesses (including tracking real-time inventory across all locations)
Product bundling and kitting items into a single SKU
Serial number tracking
Individual item tracking
Returned item tracking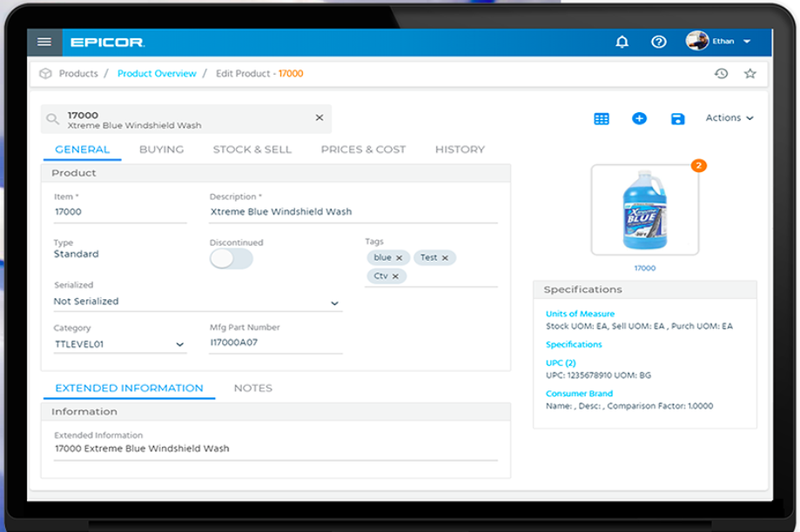 Product ranking
Epicor's product ranking features help businesses evaluate which products are selling, and it provides a detailed breakdown of factors such as units sold, dollars sold, gross profit dollars, gross profit percent, and transactions. This helps users make better merchandising and inventory decisions through a clear view of popular and underperforming products.
Customer loyalty
Epicor Retail Cloud helps users create data-driven customer loyalty records and programs to retain customers. Users can track customers' purchase history, lifetime value, and loyalty rewards.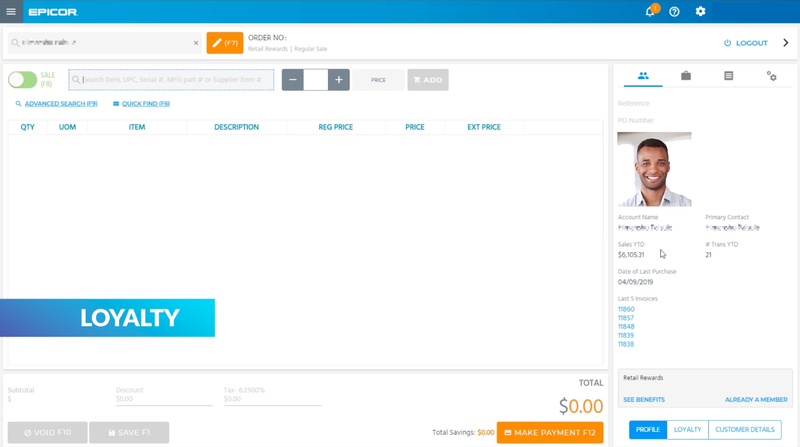 Quickfind
As the name suggests, Quickfind helps employees locate pricing information for products missing price tags or barcodes, or for items too large to pass through the checkout.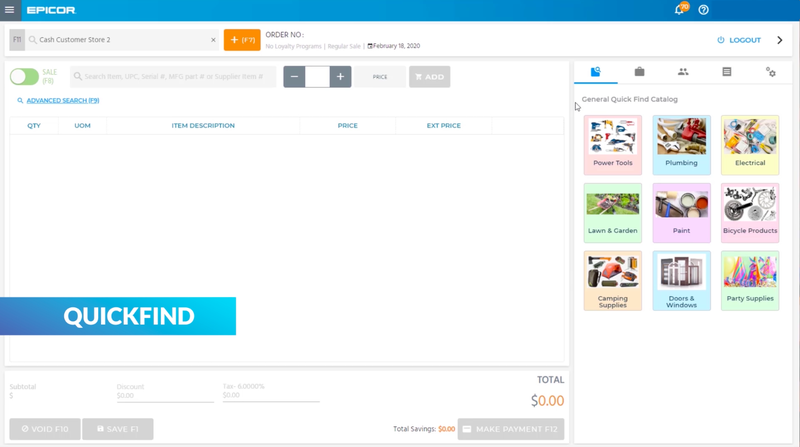 Point of sale and dashboard
The dashboard interface is smooth and intuitive, and offers a lot of useful information at a glance. On the left, users have access to their profile, the middle section houses roundup sales data, and the right sidebar offers users the chance to turn on specific alerts and provides top sales categories.
Onboarding to Epicor POS is quick and easy, and the system offers on-screen help where it's needed. Users also have offline access to Epicor POS, with business data, transactions, and credit card authorizations syncing to the system when the internet has reconnected.
Epicor Retail Cloud also offers employee activity and management, including setting access and approval rights and collection of employee checkout activity.
Payment methods
Epicor Retail Cloud offers several payment methods:
Credit and debit cards
Mobile payments
Custom gift cards
Users can also accept multiple payment types during a single transaction
Epicor Retail Cloud does not appear to offer a virtual terminal to manually process card-not-present (CNP) payments.
Users can also use Epicor Payment Gateway for their payment processing needs. The website promises the following payment processing benefits:
Low monthly processing fees regardless of transaction volume
PCI compliance
No surprise fees or costs
---
Epicor Retail Cloud's ease of use
Epicor Retail Cloud offers users many learning resources, such as interactive tours, guided learning, videos, and articles. This helps swift and seamless employee onboarding.
In terms of its user experience, the user interface is clean, uncluttered, and intuitive. Features, located on the left-hand sidebar, are easy to access, and its home page, which serves as a dashboard, summarizes overall business and sales health.
---
Epicor Retail Cloud's pricing
Epicor doesn't make Retail Cloud pricing public, which is disappointing. You'll need to contact their sales team directly for pricing information.
According to user reviews, Epicor's other retail solution, Epicor Eagle, which can be used by retail pharmacy software and other speciality services, costs around $349/month, per user. This indicates that Epicor Retail Cloud might be priced similarly, at the higher end of the pricing spectrum.
---
Epicor Retail Cloud's support
Epicor's website states their Advice Line team is available to provide customer support via the phone 364 days a year, 16 hours per week day, and 21 hours over weekends although they don't specify the hours which they can be reached. For a large vendor, this lack of information is disappointing. They also offer a library of help and production documentation.
---
Benefits of Epicor Retail Cloud
It's hard to pinpoint the benefits of Epicor Retail Cloud with so few user reviews. A tool's benefits are often realized after using it for a decent amount of time, and right now, not many businesses have chosen Epicor Retail Cloud.
However, users can benefit from its ultramodern user interface and effort at supporting the entire user onboarding experience. When users first log onto the system, they're greeted with a personalized home screen, and its configuration and messages can be personalized to each user's role and requirements.
---
Epicor Retail Cloud's value is yet to be seen
So, how does Epicor Retail Cloud stack up as a retail cloud solution?
This remains to be seen. There are next to no accessible user reviews for this Epicor product and minimal reviews for any of its other retail offerings. That goes for the information on the website, too — there is little information about the product there either. Though I liked the product's navigation and modern design, it appears to lack substance.
For a giant in the software world, I would have expected Epicor to market its product better, making it easier for prospective customers to discover what it offers specialty retail businesses. At the moment, the product appears functional, but there's little evidence to confirm this.

View more information: https://www.fool.com/the-blueprint/epicor-retail-cloud-review/