Ecwid vs. Shopify: Which is Better in 2021?
When narrowing down your choices for your best e-commerce platform fit, you will have heard of

Shopify but may be less familiar with

Ecwid. But does that mean you should opt for one over the other?
When you look at all the factors you need for a successful online selling platform, from sales capabilities to e-commerce marketing, the decision is really in the details.
---
Ecwid vs. Shopify: An overview
Ecwid e-commerce, first of all, is a bit different from Shopify and various other platforms thanks to the fact it's a store plug-in, rather than a software and site builder.
Ecwid gives you the ability to turn any site into an e-commerce site, with enhanced, personalized metrics and good insight into e-commerce KPIs.
Shopify, on the other hand, is an online store site builder for e-commerce businesses. Since it's dedicated to this task, it allows a lot of the process to be streamlined and efficiently located in one hub.
Who is Ecwid for?
For smaller- and medium-size businesses, an Ecwid online store represents an excellent, affordable option with a long list of features and a low price tag.
It's designed to scale with you as your business grows, enriching your marketing capabilities, product positioning, sales strategies, payments, and much more.
Plus, Ecwid lets you transform any existing site into a full online store, with all the best features of a dedicated e-commerce tool included.
Who is Shopify for?
As a solid and proven e-commerce platform, Shopify checks a lot of the boxes for new businesses and people looking to launch with ease.
Its features make Shopify a natural fit to implement your positioning strategy, and the sales capabilities help you expand customer lifetime value without getting too technical or overwhelming.
You don't need coding knowledge to build a store with Shopify either, so it's relatively beginner-friendly and geared toward those of us just trying to launch a brand and not create a highly customized web platform.
---
Ecwid vs. Shopify: Features
A platform's features determine its specialization capabilities. Whether it aids in sales and marketing or offers some truly unique templates, the right features can set you up for fine-tuned success.
What Ecwid offers
For a plug-in, Ecwid has a surprising and extensive feature list. From multi-channel selling that enables social commerce to the ability to ship on-demand via dropshipping, there are countless ways to increase your sales, visibility, and marketing creativity.
From the very beginning, Ecwid's assisted setup feature helps you build the right store without missing a step.
You can do bulk inventory uploads and edit existing products, and you can take advantage of Ecwid's automatic tax and shipping calculator when it comes time to send out products.
Ecwid offers numerous marketing integrations which cover a lot of promotional bases, from placing Google ads to creating promos and coupons that boost customer retention.
What Shopify offers
Shopify comes with excellent basic features right out of the box, including high-quality dynamic themes, straightforward customization with draggable modules, built-in analytics, top tier inventory management, and the ability to sync offline sales.
Add to this their great marketing integrations for promoting your business and managing all touchpoints of a customer's lifetime journey.
Another unique feature Shopify offers is its Exchange marketplace, which sells ready-made stores. Rather than building your own store from scratch, you can safely buy and take over an existing store, just like a physical shop coming under new management.

Results
There's really not much to call out a winner here. Both options offer extensive features that are also incredibly well made and add a lot of value. It's a tie.
---
Ecwid vs. Shopify: Support
Building a store is all well and good, but you are bound to have questions along the way. The best platforms offer not only resources but live representatives to dive into troubleshooting with you.
What Ecwid offers
Ecwid offers a range of support options, starting with an extensive library of resources and email support for all plans, including free ones. Higher-level plans graduate to live chat support, and the top two tiers can access exclusive phone support.
Response times are very fast for both email and live chat, and their answers are quite helpful and thorough. Ditto all the above for phone support.
An added and helpful touch for top tier buyers is a dedicated consultant to support them in setting up their store right from the beginning.
What Shopify offers
Shopify is known for its excellent support and rightly so. They have Shopify representatives available to customers by phone and by email ticketing 24 hours a day, seven days a week, with a reputation for fast, helpful responses.
Aside from traditional representative support, Shopify has an extensive library of online resources, instructions, and video tutorials to help you solve problems on your own.
Results
Though a super tight category, Shopify's support is too tough to beat. With 24/7 email and phone availability and a reputation for having super fast and knowledgeable representatives, they edge out the win here.
---
Ecwid vs. Shopify: Ease of use
If you're building an online store, you'll want to spend your time perfecting your brand and selling your wares, not worrying about a confusing or overly technical back end.
What Ecwid offers
Ecwid is built with that ease of use in mind. It doesn't make things more complicated than they need to be, especially in day-to-day management.
Once it's installed, you can edit pages, design your layout, and add products quickly and simply, just by typing in pre-populated boxes or clicking into a media uploader and uploading content. The side toolbar, too, mirrors many other software options and has everything labeled and organized intuitively.
What Shopify offers
Shopify lets you build and move modules via a drag-and-drop builder, which means that the actual building and editing of your site is going to be super simple.
The necessary buttons and tools, such as the ever-helpful "undo" button, are clearly labeled. Shopify kicks up your efficiency another notch with its helpful keyboard shortcuts.
What's really great about Shopify, though, in terms of ease of use, is that you don't have to worry about the technical aspects of building a working site.
It creates a working framework for you, allowing you to design and customize using its templates instead of having to build working parts from scratch.
Results
Yet another instance of both designs being very user friendly, and thus making it too close to pick a winner. Shopify and Ecwid templates and builders are both sleek, well-designed, and intuitive, making the store building journey as smooth as can be with either choice.
---
Ecwid vs. Shopify: Pricing
Before you fall in love with a tool, make sure you can afford it. Fitting into a budget is a big part of any selection process.
What Ecwid offers
Ecwid pricing is not only fair, a long-term free option bolsters it. While every plan starts with a free trial, you can also continue with an indefinite $0 option.
Its capabilities are limited, however, as it caps your sales inventory at 10 items and restricts access to a limited number of themes. But, if you only need to sell a few things, this is a great way to get just what you need at no cost to you.
The first paid tier, the Venture plan, is only $15/month, or $12.50 with annual billing, and gives access to increased inventory and theme selection options as well as many enhanced features.

What Shopify offers
Looking at the whole picture, Shopify's pricing is not only affordable, but it's pretty reasonable. With plans starting at $29/month, or $26.10 with annual billing, you'll have access to a lot of features and flex without ever needing to go all the way up to their $299/month option, or $269.10/month with annual billing.
The basic plan is quite comprehensive, too, coming standard with full access to the Exchange marketplace, a variety of themes, the ability to sell offline and sync to inventory, SSL (Secure Sockets Layer) for protecting sensitive data, and more.
Results
Despite Shopify's inherent bang for your buck, Ecwid wins this round courtesy of their free plan and their $15/month tier, over Shopify's cheapest plan of $29/month. With both options, though, you get a respectable list of features and good service for relatively low cost.
---
Ecwid vs. Shopify: Integration with other software
A useful e-commerce tool must play well with others in a field that's so dependent on marketing, payment gateways, security, etc. If your solution doesn't have the necessary integration capabilities, your sales abilities will be quite limited.
What Ecwid offers
Ecwid is itself a plug-in, but that doesn't mean it limits integration.
It can mesh well with several other software options to increase your store visibility, create sales promotions, diversify marketing, and more.
Plus, it has a handy app market for you to browse by category, but keep in mind that many of these options come with extra fees.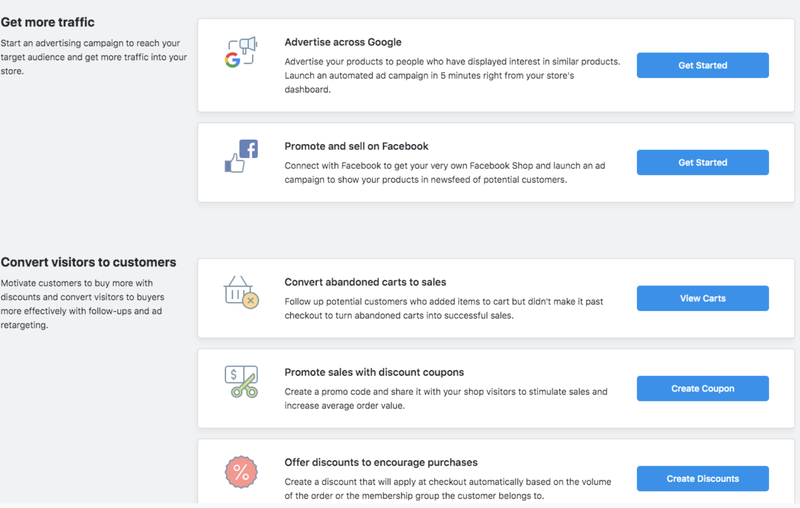 Ecwid, by default, offers integrations with marketing and promotional platforms such as Google Ads and Facebook.
What Shopify offers
Shopify is all about integrations. From accounting and finance apps to over 100 possible payment options to some sophisticated marketing integrations, they really cover all the bases and then some.
Shopify even ups the level of social media selling with its "click to buy" buttons as well as integrations for advertising across channels.
Results
Though Ecwid does have many available apps, Shopify has a whole fleet of ready integrations. There's just so much available that it is hard to beat in this round, and Shopify takes the prize.
---
Ecwid vs. Shopify: Design customizability
Building an online store means building around your brand, and you want your storefront to feel unique and fit in with your positioning. The more you can customize your site's visuals, the better.
What Ecwid offers
Because it's a plug-in, Ecwid doesn't work in the same way as a builder. Instead of picking a theme and building your store into it, Ecwid integrates into the site you already have and builds the online store to be similar, for instance in colors and font.
You can edit the basics of your storefront, but with limited customizations. For example, you can change the size of your product images but not to preferred resize options. Instead, you have three choices: small, medium, or large.
You can tweak your color palette but only select from the available color picker. This makes for a smooth experience, but does sacrifice on more in-depth customization.
What Shopify offers
Shopify starts you off by picking a theme, and the themes you choose from are further broken down by industry to assure the best fit. From there, you design with templates to easily create a store, and you can switch out templates at any time if you change your mind.
When editing, you have more control over everything, from page layouts to color choices. There are also several free stock image choices available that you can further modify and resize to meet your needs.
Results
Here Shopify wins outright. Ecwid has the basics of customization down, but for complete control, Shopify is the way to go.

View more information: https://www.fool.com/the-blueprint/ecwid-vs-shopify/