DocuSign Review 2021: Features, Pricing & More
DocuSign is the leader in the e-signature software space with an estimated 70% market share. As one of the oldest e-signature companies, founded in 2003, it's had years to build up a robust, comprehensive feature set.
The company now goes beyond e-signature capabilities, offering a suite of digital documentation services. Let's take a deep dive into the core e-signature DocuSign app to help you determine if it's right for your needs.
---
Who is DocuSign for?
DocuSign offers document signing options for any size business — from small organizations to multinational corporations. It also provides a personal version for individuals and can work with companies on custom solutions not covered by its standard capabilities.
DocuSign is secure and complies with U.S. and international regulations, making it ideal to meet a company's requirements for legally binding e-signatures. It includes features specifically for the real estate industry, one of DocuSign's early adopters.
---
DocuSign's features
DocuSign delivers a vast feature set from posting a signable form on your website to collecting payments with an e-signature. It's impossible to cover everything, but these are the key capabilities related to fulfilling a company's fundamental e-signature needs.
Document setup
The heart of e-signature software lies in document setup. DocuSign makes this process straightforward and intuitive while delivering options to fit many scenarios from emailing documents to in-person signing.
Document setup starts by uploading your form. Flag the areas where your recipients need to take action. DocuSign's toolset provides a drag-and-drop feature to easily define where signatures and other relevant information are required.
Little touches enhance the process. Document signers are color-coded when more than one person needs to sign. Set checkboxes, initials, and other common elements requiring action from your recipient. If the standard fields don't meet your needs, you can create a custom field.
For enhanced security, you can add an access code to the document. Recipients must enter the code to open and sign the form.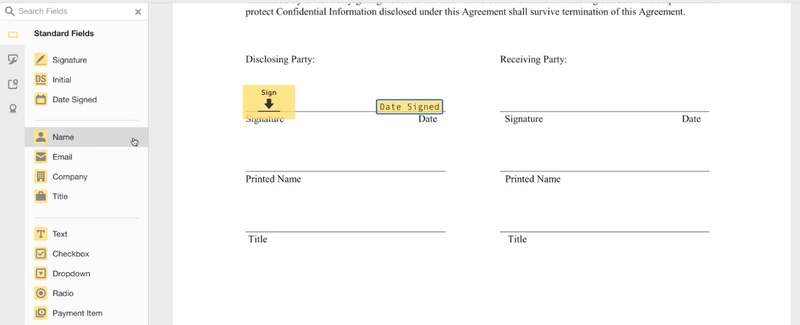 Templates
Do you use the same documents repeatedly? Mark them as templates. Set them up once, and you can reuse them with different signers and share them with others in your organization.
This option is beneficial for standard company forms used frequently such as proposals, NDAs (non-disclosure agreements), and terms of service agreements. Stored templates are available in a dedicated section within the DocuSign platform, making them easily and quickly accessible.
Add a password when a template is used by multiple people in an organization. Other users must know the password to edit the template, ensuring changes are carefully controlled.

Document tracking
Requesting signatures is important, but so is getting the signed documents back. DocuSign facilitates this process through its document tracking features.
DocuSign provides a screen to view the status of sent documents. You can take several actions, such as making updates or viewing a history of the actions taken on your forms. If your recipient requests the document again, this screen allows you to resend at the click of a button.
Your inbox shows which documents await your signature. You can organize items into folders, and a search box helps you quickly find documents.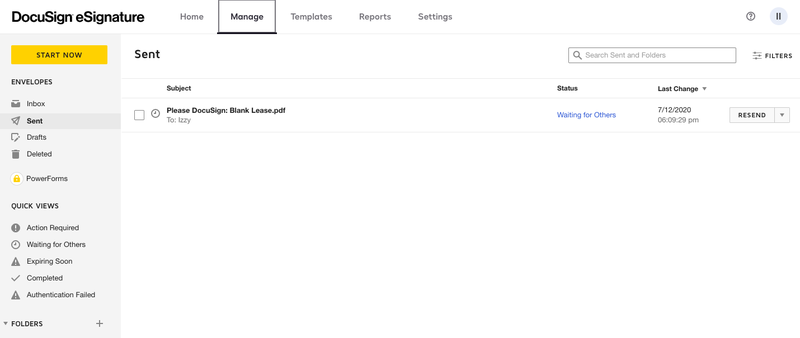 Integrations
Companies collecting e-signatures also use other apps, such as CRM software.
DocuSign integrates with over 350 third-party providers. These integrations streamline your business workflows.
Integrations with software providers exist in many industries including healthcare, nonprofits, and education. When a sales representative using Salesforce to manage their sales pipeline closes a deal, they can leverage DocuSign to finalize the contract.
DocuSign also works with human resource (HR) software platforms, including Workday, to sign HR documents.
If you store your documents with a cloud provider, it's good to know that DocuSign integrates with popular options such as Google Cloud and Dropbox.
Reporting
Your account includes reporting. These reports show basic statistics, such as the number of "envelopes" sent. (An envelope is DocuSign's label for the set of documents sent to a recipient.)
Reports update in real time, so as signatures are collected and documents returned, you can see those actions reflected in the reports. Schedule the most frequently used reports to run automatically. The reports are downloadable, making them easy to share.
---
DocuSign's ease of use
One of DocuSign's strengths is its ease of use. It's as simple as uploading your document, flagging the required areas to sign, then emailing it to recipients. These steps happen through user-friendly drag-and-drop features within an intuitive, clean interface that guides you through the steps.
The downside is that DocuSign requires you to repeat steps when you want to make changes. This forces you to click the "next" button to bypass screens you're not updating to get to the relevant ones.
Recipients don't have to download any software or sign up for an account. They simply open the document emailed to them and sign. Once they confirm their signature, you're notified, making the entire process smooth and effortless.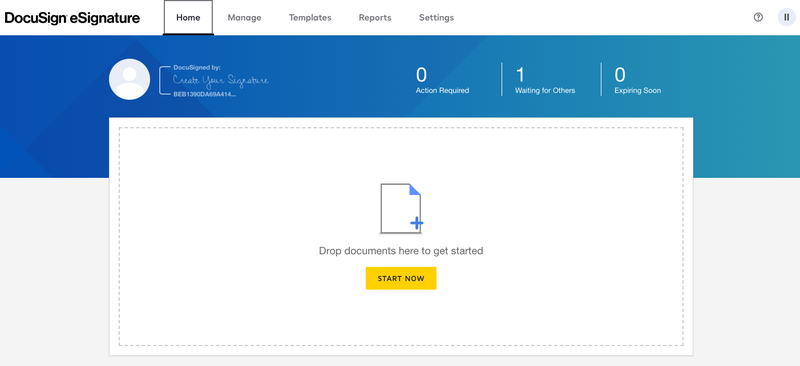 ---
DocuSign's pricing
DocuSign offers three standard pricing tiers, starting at $10/month for a single user when paying annually. The price moves up to $25/month per person for up to five users in your organization with annual billing.
DocuSign's pricing skews on the high side when compared to the competition. No free version is available, although the company offers a 30-day free trial period and a DocuSign demo to try out the app.
A fourth pricing tier for businesses seeking custom implementations is an option for DocuSign's corporate accounts. Pricing depends on your organization's specific needs, so call DocuSign for a quote.
Separate pricing exists for real estate companies. These also start at $10/month for individuals paying annually.
Do you just need software that allows you to sign documents electronically? DocuSign provides a signing-only option for free. You can't request signatures from others, but this option is useful for e-signing documents rather than needing to print, sign, then scan the form to send back.
---
DocuSign's support
DocuSign's standard support options are self-serve and chat. An online support center provides articles and video tutorials that can walk you through common questions and challenges.
The company offers comprehensive online training courses that address many areas, from e-signature basics to how your organization's software engineers can use the DocuSign API (application programming interface) for custom implementations.
You can also ask questions of the DocuSign community. If you're still stumped, you can use DocuSign's built-in chat feature to get help, or submit your issue through an online case management system.
If you seek phone support or other DocuSign customer service, such as faster case response times, you must pay for a separate support plan.
---
Benefits of DocuSign
DocuSign makes it easy to capture signatures digitally, but it truly shines when used with a team. Templates are shared, so the right information is consistently collected for every document.
Reports show how each team member uses the platform. It's available in 43 languages, making DocuSign accessible to teams and recipients around the world.
Another advantage is DocuSign's ecosystem of products. These let you go beyond e-signatures to automate your document management workflow or manage contract negotiations by tracking changes as they occur throughout the process. These add-on capabilities come with separate pricing.
Document recipients also benefit since they sign documents for free. They never need to pay or sign up for an account.
---
A full-featured solution
DocuSign's many years in the e-signature arena are evident in its robust feature set, making wet signatures a thing of the past. It works well for a range of scenarios, whether you're dealing with contracts, loan documents, new hire paperwork, or rental agreements.
Every document is encrypted for security, and you can set requirements for identity verification, such as the recipient entering an access code to open and sign the document. The DocuSign free trial lets you evaluate the software to ensure it meets your needs before you buy.

View more information: https://www.fool.com/the-blueprint/docusign-review/