Customer Appreciation Day: How to Thank Your Customers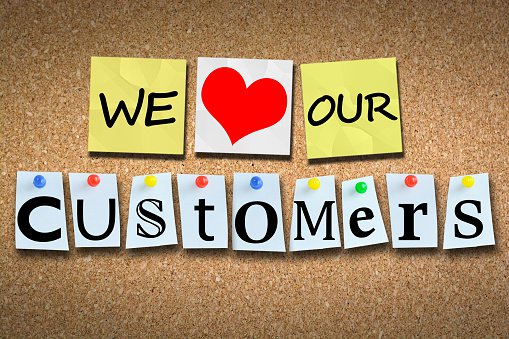 Don't downplay the value of customer appreciation. You'll be amazed what it can do for your business.
Remember, customer appreciation encourages customer retention. And the longer your customers stay with you, the more opportunity you get to win their loyalty.
Considering that loyal consumers spend 66% more than average ones, I'm sure you can see why showing customer appreciation should be a priority.
In this guide, we'll talk about the ins and outs of customer appreciation day and several strategies you can employ to make your customers feel valued.
---
Overview: What is customer appreciation day?
National Customer Appreciation Day is celebrated every April 18. However, you ultimately decide the day or week you'll dedicate to your customers. Some brands even celebrate it throughout the year with seasonal discounts or birthday offers.
Customer Appreciation Day is the perfect event to be creative in how you show gratitude to your customers. In 2018, HubSpot released a thank-you video on Twitter showing employees talking about why they love their customers and thanking them.
Along with the video campaign, HubSpot also sent personalized gifts and thank-you letters to several partners and customers.
Why is customer appreciation important?
There's more to customer appreciation than just leaving thank-you notes or being extra nice to your customers. These are just the basics of a quality customer service experience.
Customer appreciation is about deliberately engaging your customers to show they truly matter to you. It's about building positive emotional connections with them.
Making your customers feel valued is important for a lot of reasons.
Valued customers are more likely to buy again.
Happy customers spread the word about your brand.
It builds a good brand reputation.
It improves overall customer satisfaction.
Notify your customers in advance about your customer appreciation day to make them feel part of the process. After all, this campaign is for them to enjoy.
---
8 ideas for customer appreciation day
Consider the following customer appreciation ideas to show your customers how much you value them.
1. Write a genuine thank-you message
Convey gratitude by sending heartfelt thank-you messages. Say how much your customers helped your business grow and that you recognize and appreciate their efforts. You can even share company updates and your direction moving forward to make your customers feel even more valued and informed.
Small business owners can further personalize their letters by handwriting it themselves. Remember to be sincere and leave out any self-promotions. After all, this is all about your customers.
2. Give exclusive coupons or gift cards
Treat your loyal customers with special coupons or gift cards coupled with thank-you letters. With discounts, you give something that your customers want while showing that you care.
Free shipping deals are also popular. In fact, 36% of consumers abandon their shopping carts because of shipping fees. By giving free coupons, you also encourage customers to purchase again.
3. Put the spotlight on customers
Consider choosing a loyal customer of the week or month, and surprise them with a personal greeting, letter, or gift. Mention your loyal customers on your blog or social media profiles so they get the attention they deserve.
The strategy leads you to publish great online content, and it shows your customers how much you appreciate them.
4. Implement a customer reward program
A reward program is an organized customer care system that impacts both you and your customers. Rewarding your customers when they engage with you emphasizes that you recognize their efforts. You acknowledge them and even reward them for their engagements.
That's how effective rewards programs are for conveying customer appreciation.
The Starbucks reward card is a popular example. After every purchase, its customers collect stars to redeem rewards and other benefits later on. This encourages Starbucks' customers to keep coming back to collect more stars and claim their rewards.
5. Offer a free upgrade
Free upgrades are perfect business gifts for clients of subscription-based businesses. Offering freebies can be more than just gestures of appreciation, it can also be an excellent marketing strategy.
For example, a software company offers a month-long free trial of their latest features to subscribers on customer appreciation day.
This free upgrade allows customers to see if the new features fit their business needs. Once the value of the upgrade is established, it's easier for subscribers to justify the purchase.
6. Invite customers for a special event
Launch a special event for your customer appreciation day and invite select customers or clients for free. The event allows your customers to interact with you more personally and know more about your products or services.
It also enables your customers to meet your team and establish a more meaningful relationship with your brand.
7. Actively engage online
Let your customers know that you are always at arm's length. Even when it's not customer appreciation day, connect with your target audience regularly and respond to their comments or concerns. Create a Google Alert or hashtag to keep track of all your mentions on the news and social media.
And use customer service software, such as a real-time chat, to provide real-time communication and assistance. The sooner you address your customers' needs, the better their customer experience becomes.
8. Send giveaways
Giveaways are fun and engaging since it gamifies the experience for your customers. Provide the mechanics of your giveaway beforehand so your customers know how to participate. The more lead time you allow, the more your customers will go all out on your event.
Since offering giveaways could go viral, some companies even capitalize on the event by capturing their audiences' email addresses to grow their email list. Get more value out of your giveaways by using them as a channel for appreciation and for generating signups for your email marketing campaigns.
---
Customer appreciation examples
Get inspiration for your customer appreciation event by learning from these examples of good customer service.
1. Rosenhaus Sports Representation
Sports agency Rosenhaus Sports Representation sent client appreciation bags to athletes in the NFL, MLB, and NBA.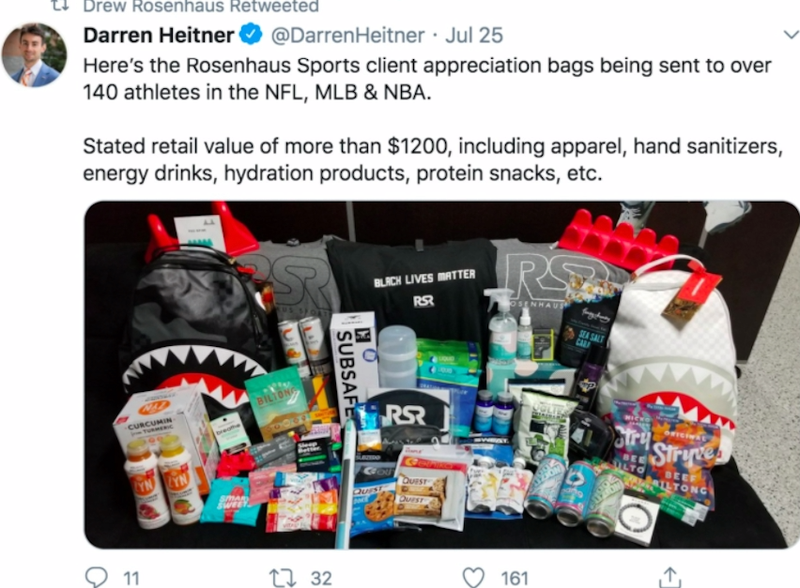 The amount and variety of snacks, drinks, and vitamins show how much the sports agency values its clients. It even considered the athletes' diets and chose healthy goodies.
2. Capillary Concrete
Capillary Concrete®, a drainage and hydration material for golf courses, celebrated its 10th anniversary with a huge giveaway to show customer appreciation.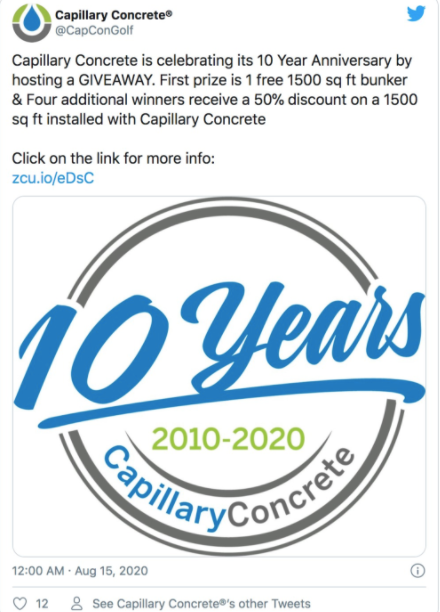 Aside from filling out the form to join the giveaway, its customers increase their chances of winning by following the company's social media profile, sharing the post, and tagging two friends.
The event is a simple, yet effective way of showing customer appreciation while improving your brand visibility through social media.
---
It's all about gratitude
Show gratitude to your customers for choosing your brand over your competitors. Remember that sincerity beats all gimmicks. Even inexpensive thank-you gifts become the best customer appreciation tokens when given with sincerity.
If you value your customers, don't just fulfill your customers' needs. Go above and beyond by making them feel appreciated.

View more information: https://www.fool.com/the-blueprint/customer-appreciation-day/