CoConstruct Review 2021: Features, Pricing & More
Residential and commercial construction are two very different beasts. You often use different materials, the financing of the two types of projects doesn't look the same, and the permitting process varies widely.
So if you're in the residential side of construction, you're probably looking for software that is a little more suited to your particular industry. And that is what

CoConstruct is going for.
From professional estimating to marketing your business, CoConstruct aims to help residential construction firms handle all aspects of construction management. But is it worth the price? We'll break down the software's features, pros and cons, and who this software is best suited for.
---
Who is CoConstruct for?
CoConstruct is aimed at custom home builders and remodelers. It is a residential construction management software that handles tasks such as general project management and financial documentation through QuickBooks-CoConstruct budgeting integration.
Users can create estimates, bids, change orders, and more. They'll also be able to create a schedule for the project, communicate with clients and subcontractors, and manage all of the documentation that goes into these types of projects.
---
CoConstruct's features
CoConstruct has an impressive list of features and it would be too cumbersome to list them all. Instead, I've broken down the following six features that best represent the range of the software.
Change orders
The software enables construction managers to easily create change orders. You'll be able to get sign-offs from clients virtually to keep the project moving, and clients will always be able to see the status of the project — which improves customer satisfaction and your relationship with clients.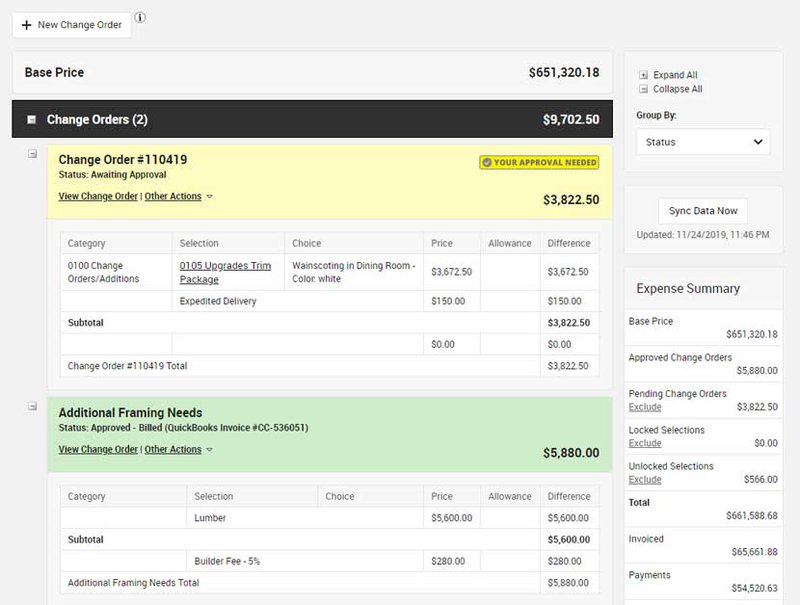 Leads
The job isn't just about building things for existing clients, so CoConstruct helps manage the sales part of the business as well. A lead management tool in the platform keeps leads organized so you can focus on prospects that are ready to close.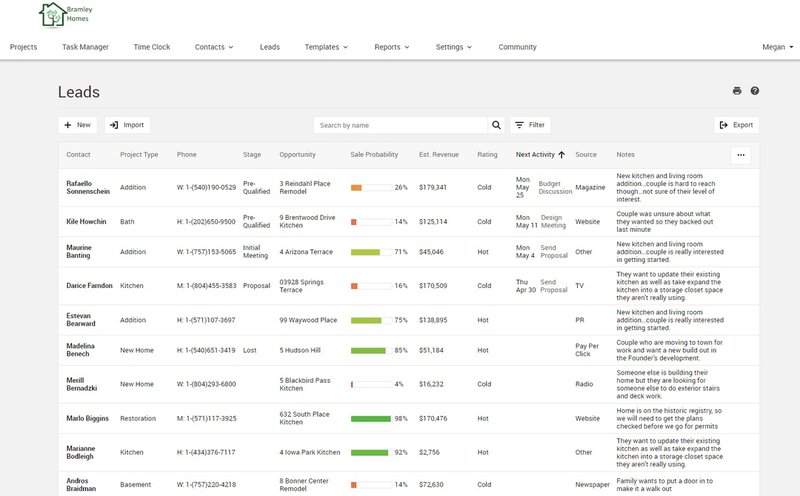 Sharing photos and files
It's beneficial to be able to immediately pull up photos from the job site or a file shared with a client. CoConstruct organizes photos and files in one spot so they can be accessed from a computer, phone, or tablet.
You'll even be able to prompt clients to share progress photos automatically on Facebook to boost your marketing.
Timesheet management
You'll also be able to track your workforce through the software. CoConstruct shows all of your employees and details, such as who is clocked in, where they are, and what they are working on. Workers will be able to clock in and out from an app, which makes things easier for them, too.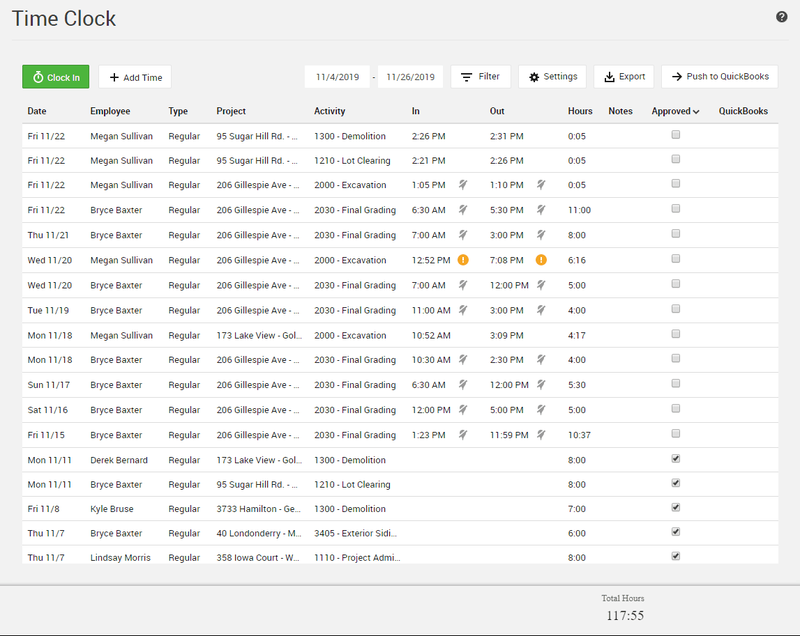 Invoicing
Invoicing can be a big headache for builders. The software allows you to generate invoices that are based on actual costs recorded within CoConstruct. You then email invoices to clients with one click. Everything syncs with QuickBooks, cutting down on time spent on manual entry.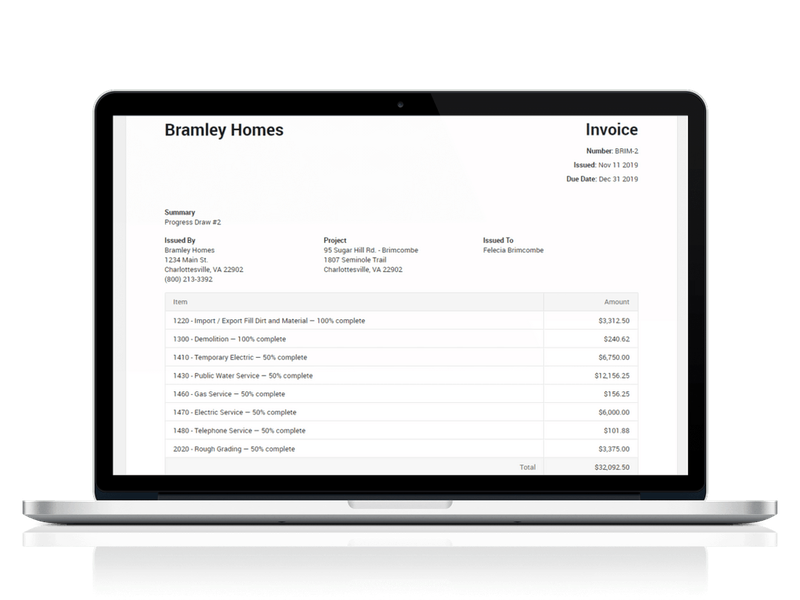 Tracking job site progress
The software will provide visibility into what is going on at the actual job site whenever you want. You'll be able to dial up the daily history of individual jobs or view what's happening with all projects. You can also loop in clients.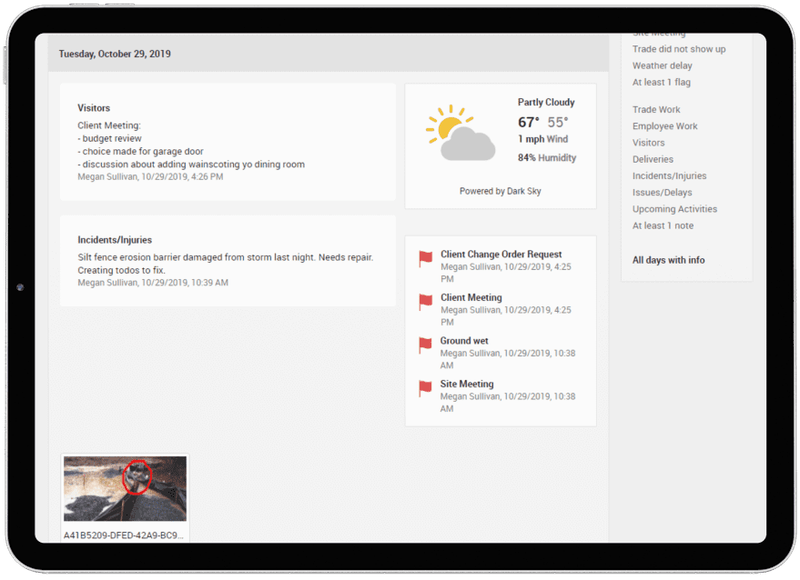 ---
CoConstruct's ease of use
CoConstruct doesn't offer a free trial or demo, so we have to base its ease of use on its demonstration videos.
CoConstruct's main dashboard is pretty basic as far as dashboards go. When you log in, you'll see a list of active projects on the left (including brightly colored notifications of any updates), and a list of your tasks on the right.
It's a clean presentation that is appealing to those who don't want a lot of clutter on their dashboard.
The job log allows you to see what happened in your company recently. With just a few clicks, you can run a report that shows all entries across all projects. You'll also see "flags" that show any unforeseen issues that popped up.
The Gantt chart view allows you to adjust the timeline of your project in the face of the aforementioned unforeseen issues. You can drag items and extend their deadlines, and it automatically sends stakeholders an email about the update.
The task manager will show you all of the tasks across all projects, and you can switch between calendar and Gantt view. The projects are color-coded to make it more visual so everything feels less cluttered, even when there's a lot of information.
The software excels when it comes to communication, offering tools that help you message with the team and with clients alike. You'll also be able to share files in a way that will reduce headaches for all parties involved.
And the CoConstruct app is not just a stripped-down version of the software — it has a lot of functionality. You can immediately see everything about a project through the CoConstruct mobile interface, such as plans, to-do lists, and contact information.
---
CoConstruct's pricing
The CoConstruct pricing model takes a little unpacking to understand. The initial rate quoted is $49 per month, which appears to be a flat rate rather than a per-user rate.
However, this $49 rate is only good for two months and only if you complete two implementation milestones: create and share an estimate in the community, and create and share a schedule in the community.
You must meet one milestone in the first month to continue the promotional pricing, or the price bumps up to $199 per month. After those two months, the price will increase to that level anyway.
Essentially, it appears that CoConstruct is trying to incentivize you to learn the software so you don't abandon it after a few days or weeks without seeing all it has to offer.
Additionally, you will have to pay a fee for data import services during the promotional period, but it is included when the promotion ends.
The good news is that you're not paying per user, and the monthly price includes all features and customer support.
The downside is you can't try out the software for free. You can ask for a demo video and for a salesperson to walk you through it, but that's it.
Otherwise, you'll have to pay to access the software and then take advantage of the money-back guarantee if you change your mind (and the guarantee doesn't apply if you signed up at the promotional rate).
---
CoConstruct's support
Customer support is included when you sign up for CoConstruct, which is a plus. Its phone number is featured prominently on its website, which certainly isn't a given when it comes to software developers. A call to technical support was almost immediately answered with minimal hold time.
CoConstruct also provides a link to "Support" at the top of its website where you can choose to email, call, or visit the help center.
Visiting the help center takes you to an extensive database of articles that describe in detail the various features in the software and how to use them. And it's not just the articles and videos that are impressive, it's the organization.
Each article is organized under an appropriate heading rather than just dumped into a repository that you have to sift through.
CoConstruct also says it does "proactive check-ins" to see if clients are enjoying the software and to offer tips on how to get more out of it.
There's also CoCamp, a training program that allows customers who are still relatively new to the software to understand it better. Unfortunately, CoCamp is on hold as of June 2020 due to the ongoing COVID-19 pandemic, so stay tuned to see if it opens up again at some point.
---
Benefits of CoConstruct
CoConstruct does a stellar job when it comes to features, ease of use, customer support — just about everything. I was impressed by just how well the software handled the complex tasks that often go into construction project management in a way that didn't feel cluttered but also didn't feel too basic.
And the clean dashboard belied the fact that this software is actually packed with features that will come in handy for construction managers at all phases of a project. This software will handle everything that you need it to, from the bid process to the actual construction to marketing your business.
Integration is somewhat limited, but it's there. In addition to integrating with Intuit's QuickBooks, the software also works with Xero, which is online accounting software designed for small businesses for those who want a QuickBooks alternative.
---
CoConstruct won't disappoint if you're in residential construction
If you're a one-person contractor who just needs a simple estimation program, you may be better off saving the $199 per month and going with a free version of some other type of software.
But for those who are serious about getting their home building or remodeling business to the next level, this software does an excellent job of keeping you organized and focused on getting the work done, and it's a solid value for the price.

View more information: https://www.fool.com/the-blueprint/coconstruct-review/