Citi Diamond Preferred Credit Score: Here's How to Get Approved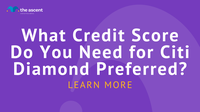 The Citi® Diamond Preferred® Card credit score requirements aren't hard and fast, but you should have good to excellent credit — a score of 670 or greater — for the best shot at approval. It's possible to be approved with a score in the 600s but far less likely, just as it's possible to have a score above 700 and still not get approved.
When Citi considers your creditworthiness for the Citi® Diamond Preferred® Card, your credit score isn't the only thing that matters. The company will look through your credit history and consider your income and debt-to-income ratio, among other factors.
There are also some Citi credit card application rules you should be aware of before applying. Namely, you can only apply for one Citi personal credit card in any eight-day time frame, one business credit card in a 90-day period, and two Citi credit cards total in a 60-day window. If you exceed these limits, you'll be denied for the Citi® Diamond Preferred® Card.
If you don't think you'll have a good chance at approval for the Citi® Diamond Preferred® Card based on your credit score, it might be worth waiting. Each time you apply for a credit card, the card issuer does a hard pull on your credit report, otherwise known as a hard credit inquiry. While they aren't the most important factors in determining your credit score, too many recent inquiries on your credit report can drag down your score. So you want to target credit cards you have a good shot at getting approved for.
There are steps you can take to increase your credit score if you don't qualify for the Citi® Diamond Preferred® Card. Building a positive payment history is the most important, so make sure to always pay your credit card bill on time. If you don't currently use your credit card, start putting small purchases on it and pay it off in full each month to build up your credit.
One of the best things you can do to improve your credit quickly is pay down your current credit card balances. Not only will this contribute to your payment history, it will also decrease your amounts owed, which is the second most important category in calculating your credit score.
If you can't qualify for the Citi® Diamond Preferred® Card because of your credit score, it's also worth looking into similar credit cards with looser credit requirements. Even if you have poor credit, you can look into a secured credit card. When used responsibly, these cards are an excellent tool for building good credit.
View more information: https://www.fool.com/the-ascent/credit-cards/citi-diamond-preferred-credit-score/