Calendly Review 2021: Features, Pricing & More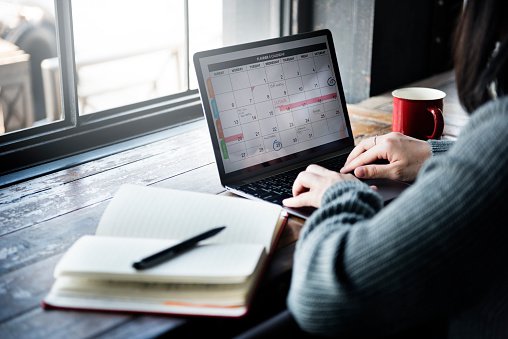 Meetings are a headache for most executives and professionals. It's not just the meeting themselves — but the scheduling, with the constant back-and-forth emails about availability. And when meetings involve multiple people across multiple time zones? It's a major drain on your time and energy.
That's where

Calendly comes in, handling the details so you can focus on more important work. Calendly is appointment scheduling software that integrates with your calendars and allows you to set meeting preferences. Team members or prospective clients then schedule meetings with you by choosing an available time slot that fits the rules you've set.
---
Who is Calendly for?
Calendly is for anyone looking to simplify the process of scheduling meetings, whether with prospects, clients, or team members. For example, you can post your Calendly link on your website and allow visitors to schedule consultations. You can also use it to find meeting times that work for your entire team — without excessive back-and-forth emails.
It's especially valuable for people who want to use automation to save time. Since it syncs with a wide variety of popular business apps, you'll probably find that Calendly works well with tools you already use. If planning, scheduling, and managing meetings starts to feel like a job in itself, then Calendly is for you.
---
Calendly's features
Calendly offers a wide range of features designed to make life easier for its users. Integrations are the real star of the show, with the ability to connect your scheduling software to popular business apps ranging from calendars to video conferencing to CRMs.
You can also set preferences, track metrics, schedule multiple meeting types, and more directly through Calendly.
Integrations
Calendly securely integrates with Google, Outlook, iCloud, and Office 365 calendars. You can connect up to six calendars, and Calendly checks for availability to ensure that you're never double-booked.
It also integrates directly with GoToMeeting and Salesforce, and you can connect additional apps through Zapier. Connect Zoom to your account for Calendly video meetings, with video conference details automatically saved to your Calendly event.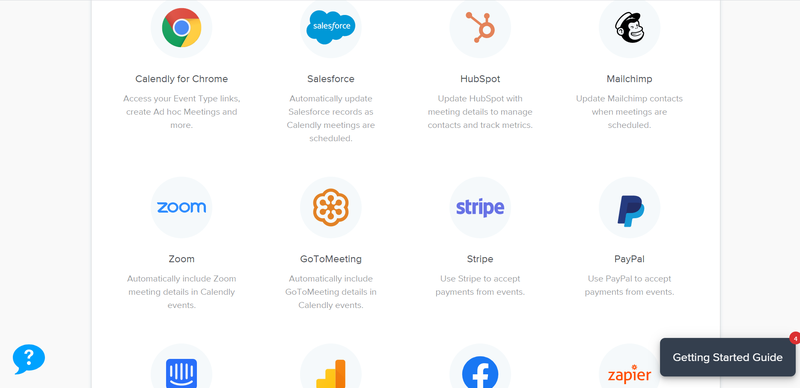 Calendly automatically creates web conferences, adds meetings to your CRM, and sends reminders to your invitees prior to meetings. If you charge a fee for your meetings, accept payments via Stripe or PayPal integrations.
You can also embed the Calendly link on your website and include it in sales and marketing campaigns, allowing easy online scheduling for prospects.
Ability to set meeting preferences
A variety of preference settings allows you to take ownership of your scheduling experience. You can cap the number of meetings per day and decide how much time you need between meetings. Prevent last-minute meetings by setting a minimum scheduling notice.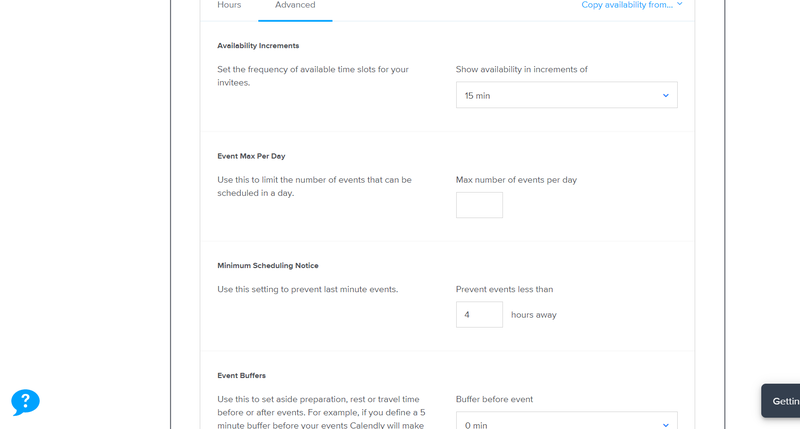 When people schedule meetings with you through Calendly, your available times reflect these preferences.
Multiple meeting types
Choose between different meeting types to meet a variety of needs. Allow people to schedule one-on-one time with you or schedule a time with multiple team members at once. You can also host multiple invitees simultaneously for training or webinars.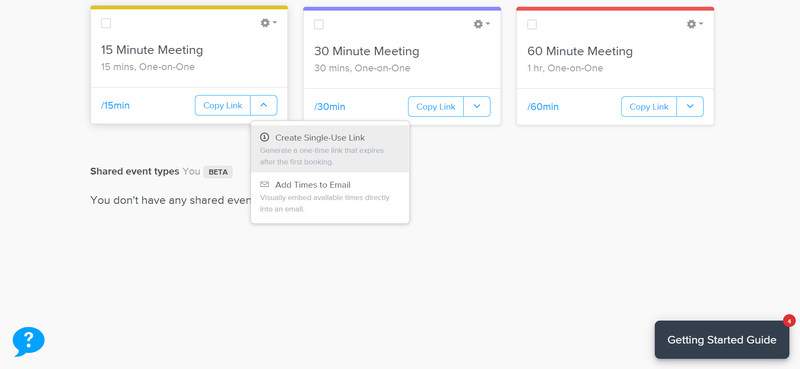 Calendly gives you the option to automatically distribute meetings to your team members based on factors like priority, availability, and equity.
Time zone intelligence
Scheduling meetings with people in multiple time zones sometimes presents a challenge. Calendly seamlessly resolves this issue, detecting time zones for all meeting attendees without the back and forth. People who schedule meetings for you will see your availability in their own time zone.
Metrics
Easily track campaign scheduling activity, invitee engagement, and attendance with Calendly's built-in metrics and reporting. The Calendly app is also available for mobile so that you can check on important metrics on the go.
Automated workflows
Calendly's newest feature, "Workflows," allows you to automate text messages when emails are booked, email reminders, thank-you emails, requests for follow-up meetings, feedback surveys, and more. If there's another workflow you'd like to add, Calendly lets you create your own.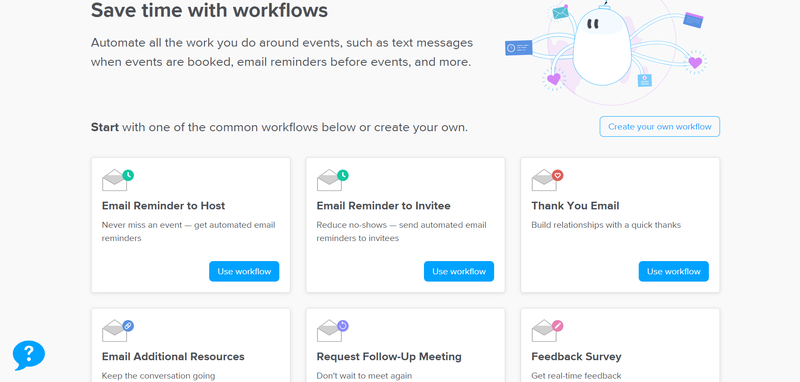 ---
Calendly's ease of use
Calendly's dashboard could be more intuitive. Since it's very minimal, some settings and menus are hidden, making it difficult to find what you need quickly.
However, once the initial setup is complete, Calendly handles scheduling for you and requires little maintenance on your part. You don't need to tweak the tool or think about Calendly to keep it operating smoothly.
---
Calendly's pricing
You can choose from a free plan or two paid options. Calendly plans include Basic, Premium, and Pro.
With the Calendly free plan, you don't have access to any of the team functionality, and you can only schedule one event type (e.g., individual 45-minute meetings). The free plan does not include any customizations, such as customizable email reminders or choosing a color scheme when adding Calendly to your website.
Additionally, the free plan offers limited integration. Calendly will integrate with calendar apps, but it won't integrate with Zapier, Zoom, GoToMeeting, Stripe, PayPal, Mailchimp, and various other business applications.
To access some of Calendly's most important features, you must upgrade to Premium for $8/month or Pro for $12/month. These fees are charged per user, not per team. When you select your plan, you can choose to be billed either monthly or annually.
The Premium plan does not integrate with Salesforce, HubSpot, Mailchimp, Stripe, PayPal, or Google Analytics. It does integrate with Zapier, Zoom, and GoToMeeting. Other features exclusive to the Pro plan include SMS notifications, the ability to redirect clients to your website after they schedule a meeting, and color customization.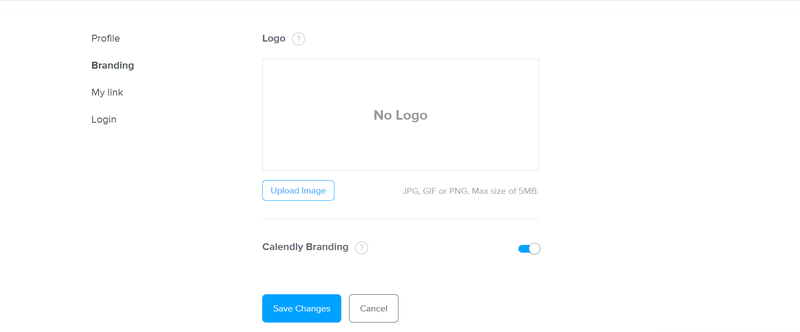 Overall, Calendly pricing is reasonable, considering the amount of time it saves. The free plan is limited, and Calendly can get expensive if you have a large team.
---
Calendly's support
Calendly's help center offers a range of helpful articles organized by topics. The website also features blogs, videos, case studies, and a community forum.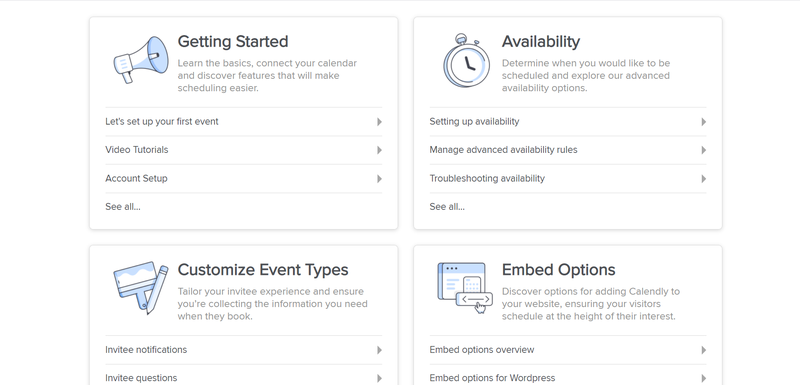 However, direct Calendly customer service is limited. With the free plan, Calendly support is available via email only. Premium and Pro users have access to live chat, but no phone support.
---
Benefits of Calendly
Calendly is a significant time saver when scheduling meetings and consultations, both internally and with prospective clients. Integrations with video conferencing, CRMs, and other popular business apps help you stay organized with little to no work on your part.
It eliminates sending emails about time zones and availability. You set your meeting preferences, and Calendly handles the rest for you.
---
Put an end to endless scheduling emails with Calendly
Meetings and emails are two of the biggest drains on your time and energy in the workplace. Make both of them faster and easier with Calendly.
You'll ensure that you're never double-booked and that all meeting attendees are on the same page. With paid plans, you can also schedule video conferences, add meeting times to your CRM, and even accept payments directly through Calendly. The price and any minor confusion with setup are well worth the time and frustration saved in the end.
View more information: https://www.fool.com/the-blueprint/calendly-review/