busybusy Review 2021: Features, Pricing & More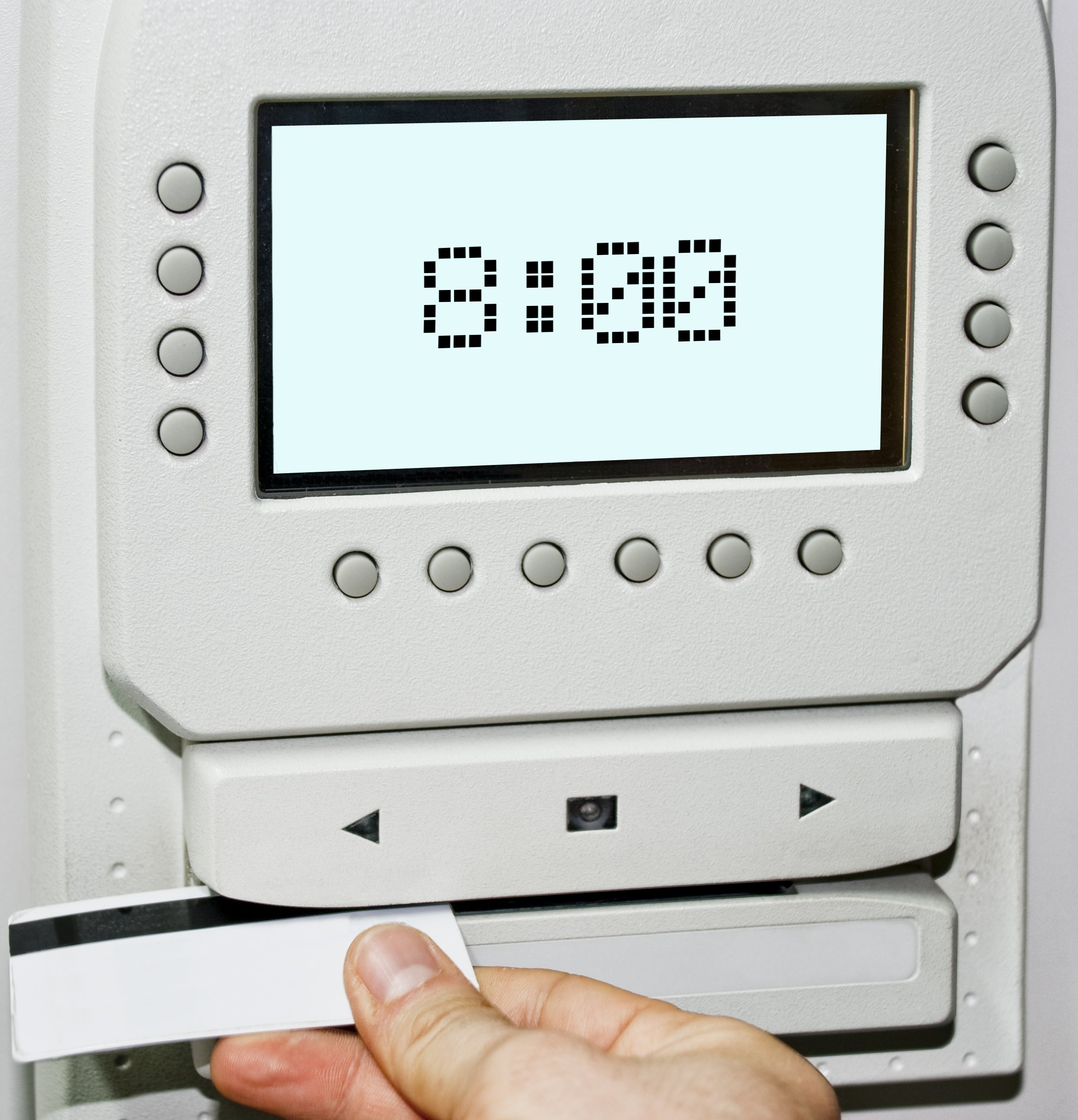 busybusy is time clock software built specifically for the construction industry. Its on-the-go time tracking apps make it perfect for mobile workers who move from job site to job site.
And its document uploading tools, which allow employees to upload pictures and files, are perfect for tracking job progress and equipment conditions.
---
Who is busybusy for?
Made for the construction industry, busybusy is a time clock tool that both big companies and independent contractors will love.
Its fair billing policy, which automatically tracks active users, makes it an affordable tool for an industry where crew numbers fluctuate with the seasons.
---
busybusy's features
busybusy's free version is laser-focused on mobile time tracking. While bigger teams might find the features offered in the free tool limiting, smaller crews can still benefit from busybusy's mobile time clock, location-based nudges, and equipment tracking capabilities.
I'll discuss the differences between busybusy's free and Pro versions later so you can decide if the basics will work for you and your team.
Scheduling
Creating schedules is a feature only offered in busybusy's paid Pro version. While employees can still track time based on projects in the free tool, those who want to plan employees' workloads will have to pay the price.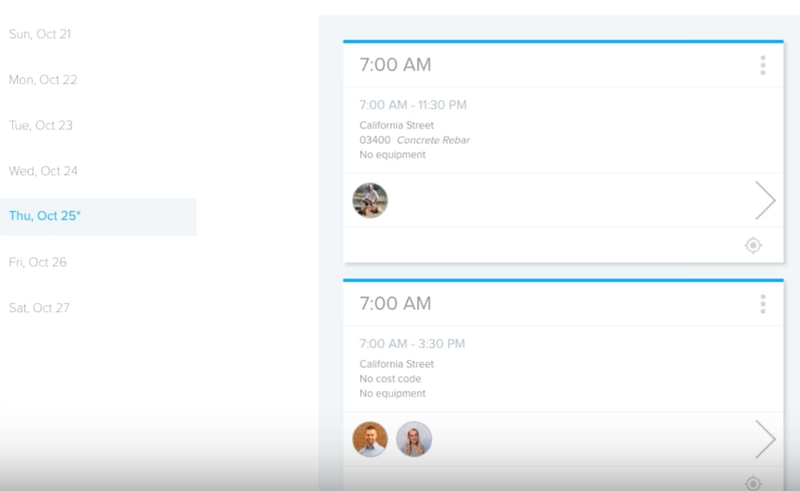 However, if you employ a small crew or have very few simultaneous projects to keep track of, the lack of a scheduling feature might not be a dealbreaker for you.
While users of busybusy's free tool won't be able to plan their crews' schedules from week to week, they can still keep track of employees' time off. Through the app, supervisors can schedule time off for themselves and employees up to 90 days in advance.
And with busybusy's reporting tools, you can keep track of how much time your whole crew has taken off in a given pay period.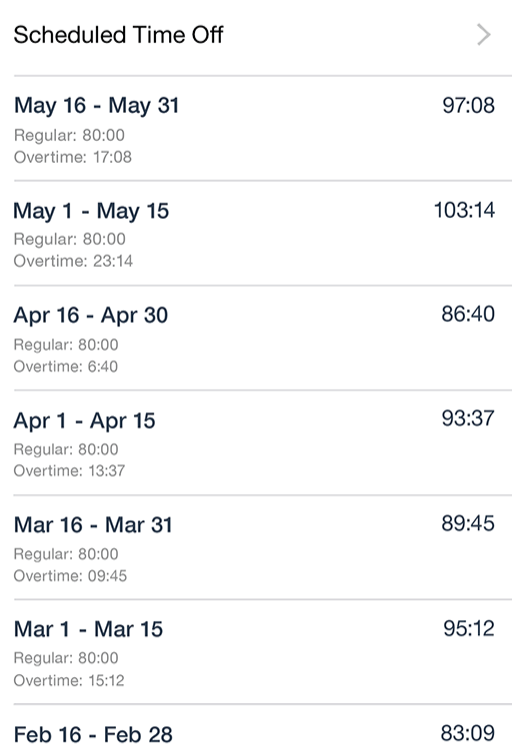 However, users of both the free and paid versions of busybusy will notice that requesting time off as an employee isn't an available feature.
Only supervisors and owners can log time off, which means that all requests must go through someone with supervisor permissions.
The lack of an employee self-service option might be okay for small crews. However, since busybusy also lacks an in-app communication tool, it leaves supervisors with the task of sifting through texts or emails to log time-off requests.
Clock in and out
Though it leaves a lot to be desired in the scheduling department, where busybusy really shines is its mobile time tracking features.
Since busybusy is built for contractors, its main purpose is to allow employees to clock in and out via a mobile app from different worksites.
Those paying for the Pro app can also set up a kiosk clock-in station or allow supervisors to clock their crews in and out.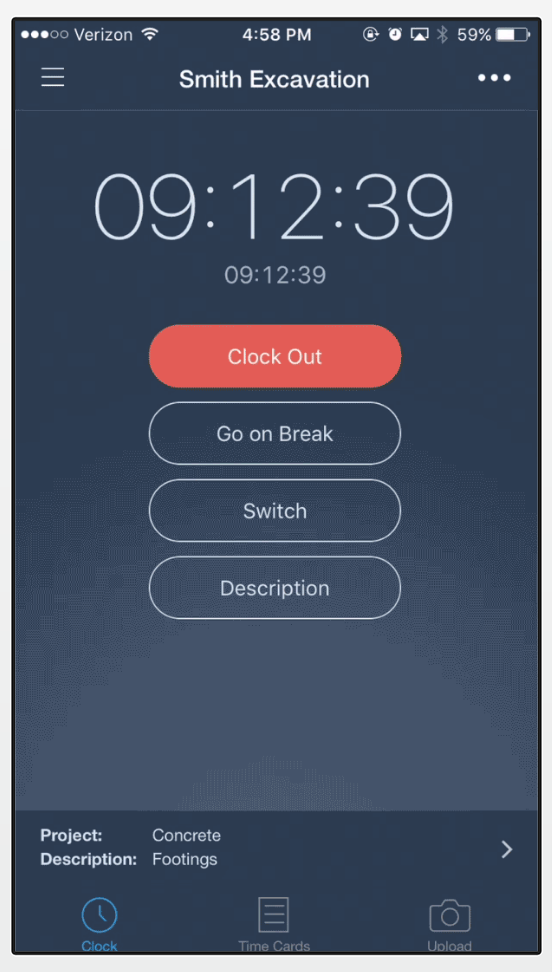 Using busybusy's geofencing rules, you can also log the locations of various worksites. When an employee arrives at or leaves a site, they'll be prompted to clock in or out.
These reminders are especially helpful if your employees travel between sites on any given day or if you don't have a time clock kiosk set up onsite.

Using these geofencing rules, you can also see when and where your employees clocked in and out during the day with busybusy's GPS stamps.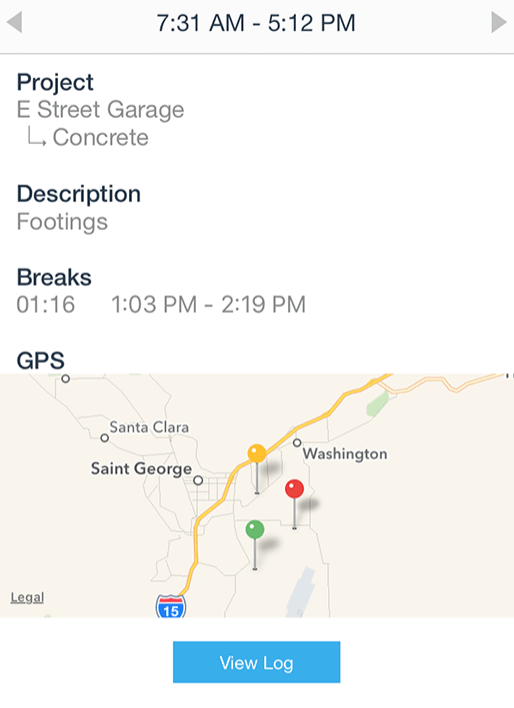 This location-based record of your teams' days can serve as a visual time clock of sorts to verify when and where your crew worked.
In addition to logging their time, employees can also take pictures of job sites and projects to show their progress. They can also attach notes to suggest work that still needs to be done or tools or equipment they'll need to complete a job.
Time tracking, GPS tracking, and file uploads all work offline.
That means that your employees can still log time in worksites that might not have internet access. All of their information will be recorded in the app when they have service again.
Once your employees have logged hours, you can see their total time worked in their timesheets.

You'll also be able to see how much overtime an employee is owed and how much you'll be paying out for wages during a given pay period.
Budgeting
busybusy allows you to approve employee time cards with e-signatures, which can help speed up the payroll process. Once hours are approved, you can export your payroll reports to any payroll solution.
To make sure your projects stay on budget, you can use busybusy's job costing reports to see how much you've spent on a job, including labor and equipment costs. You'll also be able to see how much money you have left on a project and plan accordingly.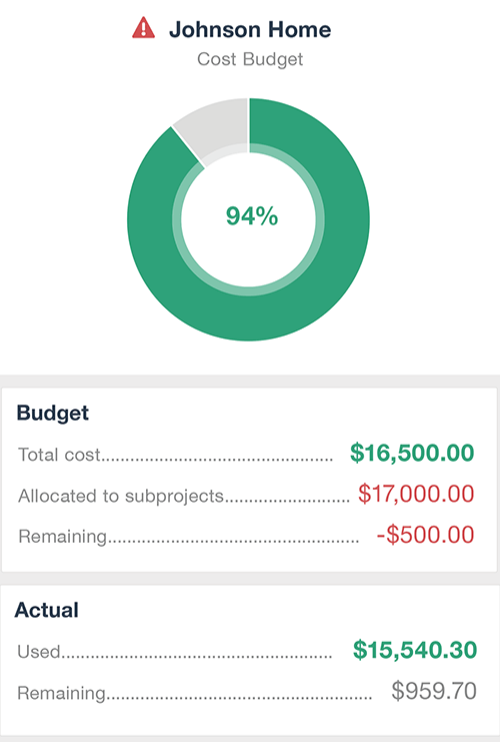 Teamwork and collaboration
Unlike many time clock tools, busybusy doesn't offer a communication tool where supervisors and business owners can easily communicate with their teams. However, it does offer one method of communication that's important for contractors: picture uploads and job notes.
With busybusy's mobile app, your employees can take pictures of work sites and include notes from their devices. That means that even if you're in the back office, you can see how much progress has been made during a shift.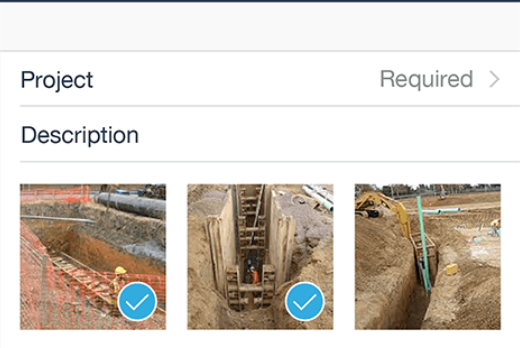 ---
busybusy's ease of use
busybusy is streamlined to meet the construction industry's needs. To set up busybusy, all you need to do is add employees and projects so your team can start tracking time.
From there, you can also add equipment and cost codes for more granular views of project costs and needs.
Once you've given your employees their own login credentials and created projects, you can almost let the system run by itself, checking back in to check time cards and export hours to payroll. Your employees will be able to clock in and out with their mobile apps and send pictures of their progress after each shift.
---
busybusy's pricing
busybusy's free version offers a decent amount of functionality (mobile time clock, GPS clock in and out, and equipment logs) with no limit to the number of users you can add to the system. For small crews that just need a way to allow employees to clock in, the free version of busybusy will probably be enough.
However, if you find that you need more functionality, such as scheduling, supervisor tools, safety reports, or an integration with QuickBooks, you'll need to upgrade to busybusy's Pro version. If you choose to be billed annually, Pro costs $9.99/month per user, with the first month free. For monthly billing, the amount jumps to $11.99/month per user.
Even for a smaller crew of 10 employees and annual billing, busybusy costs almost three times as much as other time clock tools on the market. However, its construction-specific features and emphasis on GPS-based time clocks might make it worth the extra cost.
Finally, busybusy was made by contractors, so they understand the seasonal fluctuations of the industry. If you're using the Pro version, busybusy automatically tracks the number of active users in your system.
When that number goes down, your monthly cost goes down accordingly.
---
busybusy's support
If you're having trouble navigating busybusy, their extensive help center articles can point you in the right direction. You can also chat with their support team via live chat or over the phone during business hours.
After hours, you can leave a message with their help desk.
The only thing busybusy lacks in terms of support is webinar or live video training. However, with their extensive knowledge base and multiple ways to contact their support team, most users should be able to find the answers they're looking for.
---
Benefits of busybusy
Since busybusy is built for contractors, it focuses on features that many time clock tools don't always offer, especially not in the free versions of their tools. Geofencing, for instance, is typically considered to be an advanced feature that comes at an additional cost.
However, busybusy understands that contractors employ crews that move from site to site, so a location-based time clock is available for all busybusy users.
This understanding of the construction industry's needs shines through in other features, such as job costing reports, the ability to upload pictures of job sites, and equipment tracking capabilities.
Ultimately, if you use busybusy as a contractor, you'll be sure that you're using a project that's focused on and receptive to your needs.
---
Try busybusy for yourself
If you think busybusy could help your contracting business track your mobile employees' time, you can always try it out for yourself. Since they offer a free version, you can easily sign up and use the tool to see if its basic features meet your needs.
View more information: https://www.fool.com/the-blueprint/busybusy-review/