Brella Review 2021: Features, Pricing & More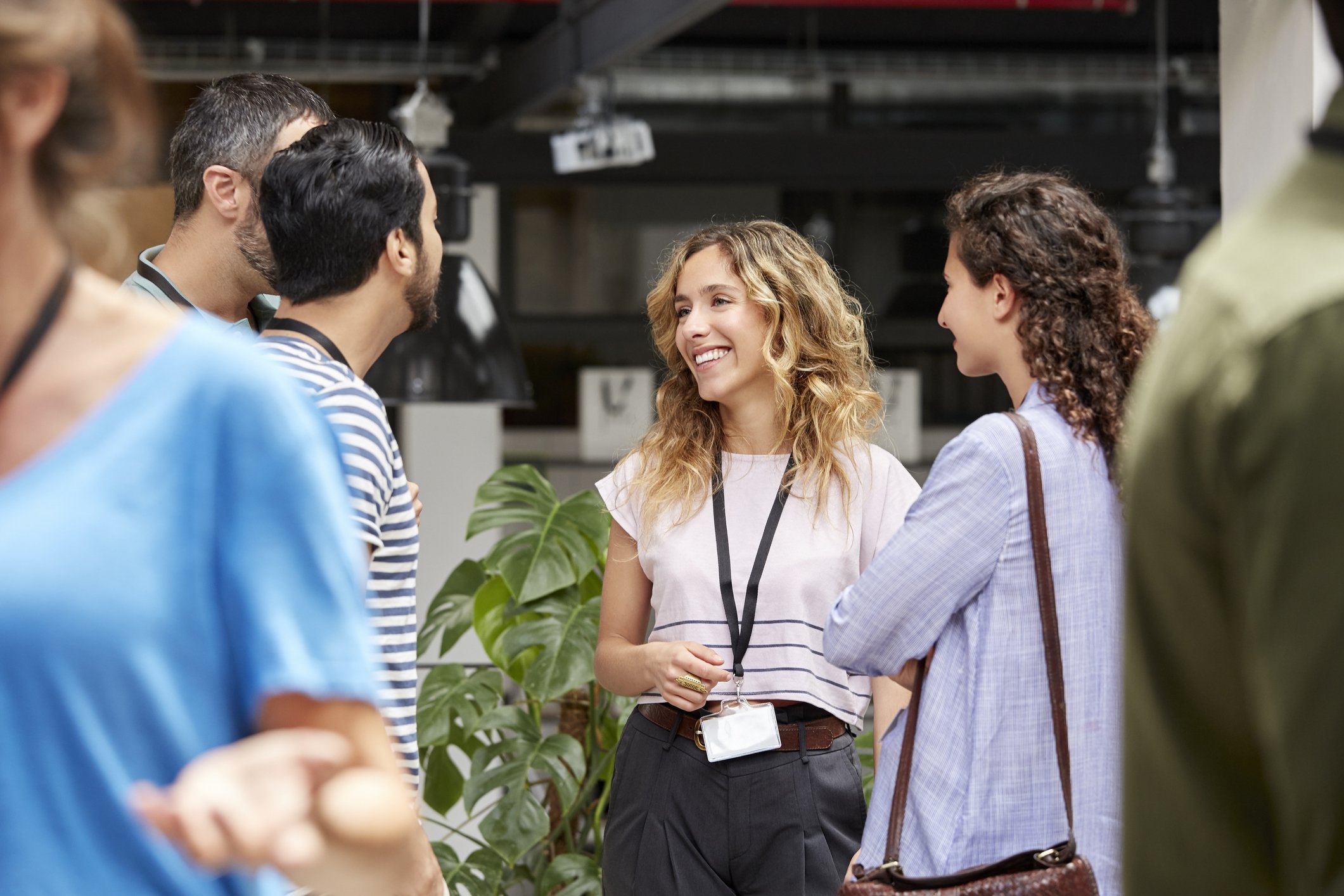 Have you ever attended a virtual or in-person event without making a single valuable connection? Or maybe you organized an online or hybrid event and wondered how you could make it more engaging for attendees and sponsors?
Brella is the answer to creating meaningful connections and increasing real-time communication and engagement for virtual and hybrid events.
Brella is an online event platform and event networking app. It's marketed by its leading feature, referred to as "matchmaking." The matchmaking function uses attendees' interests and goals to pair attendees and offers an easy way to connect and network during 15-minute 1:1 chats or video conference meetings. Brella also features virtual sponsor booths, and reps can schedule appointments with interested attendees.
Brella gives attendees a way to interact with content outside of the sessions, such as pre-recorded videos, speaker information, polls, and other supplemental materials. Overall, the platform offers an engaging experience for attendees, while also providing event organizers with data that ensure event success and support a positive ROI for attendees and sponsors.
---
Who is Brella for?
Brella is for any virtual or hybrid event organizer planning an event for 50 to 5,000 attendees. The platform is best for multi-track virtual, in-person, or hybrid events with sponsors and a focus on networking. Brella does not require any hard coding or fancy analytical skills for configuration, and it takes an average of 15 minutes to set up an event and take it live.
---
Brella's features
Brella's most intriguing features are the event matchmaking function and the backend data, which are carefully collected and integrated within each of the platform's key features. Brella makes it simple to communicate with attendees and encourages communication between them through the streamlined interface.
The platform makes reliable data available with valuable insights for event organizers to understand attendee and sponsor activities.
Event matchmaking
The Brella platform's biggest differentiator is its ability to foster meaningful connections for attendees. It calls this function "event matchmaking." Based on profiles and interests configured by the event organizer and added by the user, the platform uses artificial intelligence (AI) to suggest attendee matches and invite them to connect via video conferencing and live chats.
Directly within the platform, attendees can book 15-minute 1:1 chats, video conferencing, or in-person meetings with others. Brella hosts the virtual interactions directly within the platform, so there's no need to set up a separate video conference invite. It can also designate available in-person locations set up by the organizer, so attendees don't need to coordinate a physical meeting place.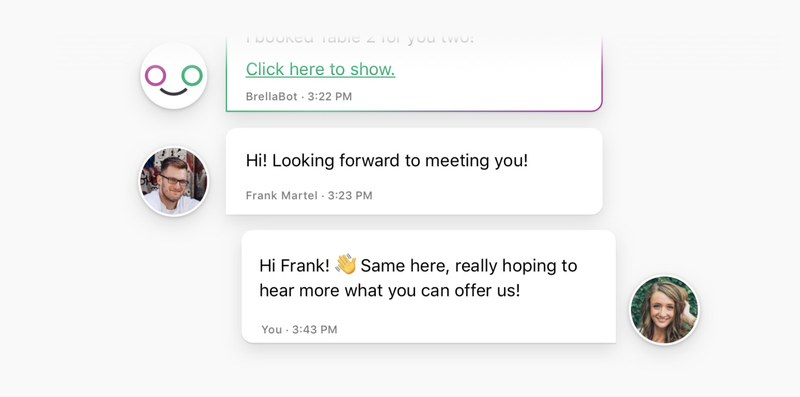 On the backend, the event organizer can see attendee matches and which attendees booked 1:1 meetings. The meeting capability is also a valuable function for sponsors and partners (more on that later).
Backend analytics
One of Brella's most valuable functions is the backend analytics offered to the event organizer. These metrics fall under content engagement and networking, and the event organizer can export all data from the platform.
Content engagement metrics include:
The popularity of each session
Total number of attendees who joined a session and how many times each person clicked on the session card
Total time each person spent watching a session
Networking engagement metrics include:
Top interests (used by the matchmaking function) chosen by attendees when they configure their profile
Number of networking sessions booked
Number of meetings scheduled by each sponsor
Overall, these metrics can help the event organizer:
Be sure content meets interests
Learn who connected and who was most interested in networking
Provide reliable metrics for event sponsors to justify ROI
Improve future events for a similar audience
Event engagement
Before an event happens, attendees can secure their spot using an event-specific link to the event's page. Users can log in using an existing profile or with their email address.
After signing up, attendees can use the platform to:
View and interact with the event schedule
Check out registered attendees and their interests
Schedule 1:1 meetings with attendees, sponsors, and partners
Bookmark sessions and attendee profiles
Receive notifications with event updates
Interact with preloaded or pre-recorded content added by the organizer
The organizer can begin collecting data as soon as the virtual event page is configured and goes live. The data will show who registers on Brella, how many booked meetings, the top networkers, and data on which content or elements of the event drive attendees' interest.
The engagement continues throughout the event by offering a hub where the event will happen or supplementing an in-person event. The space features real-time communication with event announcements, and it collects user data to provide those insights to the organizer.

During an event, the platform offers:
1:1 meeting scheduling
Real-time updates and notifications
Virtual sponsor booths
Interactive event maps
Social feeds to generate buzz
Livestream support to broadcast the event and pre-recorded content
Speaker bios and additional content
Live polling to engage with attendees in real-time
Virtual event attendees can use their multitasking skills and enjoy the speaker in session while simultaneously going through Brella's other functions. While watching a live-streamed session, attendees on computers can minimize the video size using the picture-in-picture function and continue checking out speaker bios, browsing additional session information, or checking out other attendees.
Brella also allows event organizers to use a multi-track agenda by offering more than one "stage" at a time. One stage can feature a live streaming session, while simultaneously offering a recorded session content on a second stage.
The only downside, which applies to the live stream function overall, is that Brella doesn't have its own live stream platform. Instead, you must use another video conferencing or streaming platform to integrate live content through the event stage. (The platform does, however, have its own video conferencing function for the 1:1 virtual meetings.)
Sponsors and partners
Events are often supported by sponsors and partners who pay to be seen by, and interact with, event attendees. Consequently, event organizers are tasked with guaranteeing a measurable ROI for the sponsor and making sure their investment is worthwhile.

With Brella, sponsors are added to the platform under the partner tab, and each sponsor can have a virtual booth. Reps can find interested attendees, schedule virtual (or in-person) meetings, and track their meetings and the results. This offers reps more ways to make intimate, valuable connections and show investment results.
Customer success support
Basic customer support is limited to email exchanges, live chat on the website, and service support calls for troubleshooting.
With an upgrade to the customer success management option, which costs about $3,000, event organizers have access to:
A dedicated professional who offers up to 10 hours of consulting
The help center for self-service event setup
Brella material bank and marketing and communications guide
Organizer support for email assistance
Attendee chat and support on the Brella site
The Brella team also offers a kickoff and results call with the success manager, pre-engagement templates to involve attendees before the event begins, and notifications to make sure deadlines are met.
---
Brella's ease of use
Getting started using Brella is relatively simple, and a basic event can go live with about 15 minutes of setup time. Once a contract is signed, the user receives credentials to log into the admin panel. Within the panel, a navigation option provides a list of to-dos for the event organizer and guides the setup. There is also a space for tutorial videos that can be used for reference throughout the process.

After login, creating the event and adding information is completed by inputting the event details, such as the company name and logo. There's a prompt to add matchmaking categories, which is how attendees find relevant matches and schedule 1:1 meetings.
Speakers, bios, and schedule information is next and can be added manually or by uploading a spreadsheet. Once the schedule is added, the content can be changed and sessions moved if the agenda changes.
The next step is to add sponsor information, set up the virtual booths, and promote them within Brella to the attendees.
Other functions can be added based on the event. They include:
Customizable pages
Sponsor advertisements
Announcements
Attendee statistics
Once the event is set up, the link can be shared with attendees to join the virtual event space and get started.
---
Brella's pricing
Brella has pricing tiers to meet the needs of each event. Pricing is based on the number of attendees and the level of support the event organizer requests. Once purchased, the subscriber has a license to use the platform for 12 months. The event organizer and attendees can then access the platform before and after the event within the 12-month license period.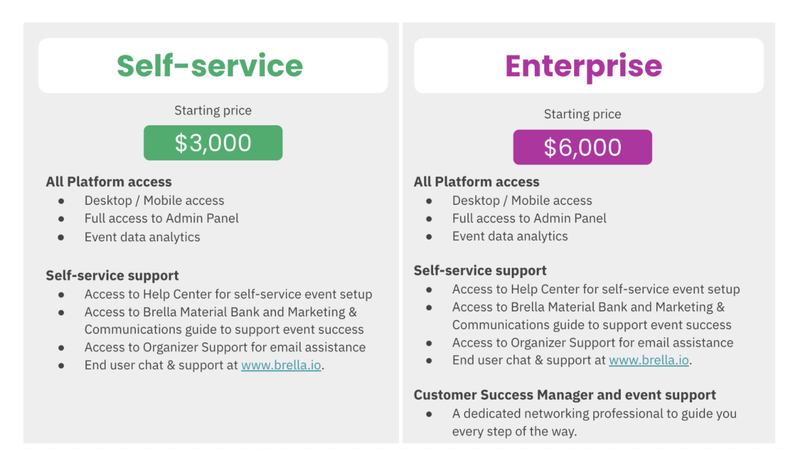 ---
Brella's support
Brella offers basic support for any licensed user. Basic support includes:
Access to the Brella support team via email
Live online chat
Video tutorials within the platform
Support and resources on the Brella support site
However, with an upgrade (which costs around $3,000), Brella offers a customer success manager and event support package. The additional support includes:
A dedicated professional for up to 10 hours of consulting
The help center for self-service event setup
Brella material bank and marketing and communications guide
Organizer support for email assistance
Attendee chat and support on the Brella site
---
Benefits of Brella
Brella categorizes the platform as an event platform. And, while it does support events, it doesn't manage registration and other event management logistics. However, Brella is definitely a way to make the most out of an engagement event. It focuses on value in terms of networking connections and generating revenue through sponsorships.
It's essential to note, though, that Brella isn't a full-service event management platform. Instead, it's an event engagement platform that focuses on the in-person, hybrid, and virtual experience to make sure attendees and sponsors leave an event with the greatest value possible. From this former event director's perspective, the benefits can prove invaluable if everyone walks away with a smile on their face.
---
Use Brella when event engagement is paramount
Overall, Brella is a comprehensive, easy-to-use platform that can enable event organizers to be sure that attendees and sponsors get the best value. However, keep in mind that you'll need other platforms to register attendees and integrate a live stream for sessions.
Beyond that, the capabilities and intuitive design for organizers and attendees will guarantee interaction and engagement, especially during virtual events where networking can be challenging.
View more information: https://www.fool.com/the-blueprint/brella-review/