Breezy HR Review 2021: Features, Pricing & More
Recruiting isn't just about ticking boxes and running efficient processes. It's also about marketing your company so you can look attractive to prospective candidates while making sure your communication is on point so you don't annoy anyone along the way or give them a bad impression of your company.
It's about more than creating a job ad and waiting for the applications to come in.
You need to do all of that so you can compete for the top talent, and not lose them to your competitors.

Breezy HR recognizes that and focuses on recruitment marketing, pipeline management, and reports and analytics. But this comes at a cost.
---
Who is Breezy HR for?
Breezy HR is suitable both for experienced HR professionals and hiring managers, and people who have never used human resources software before.
Since you don't need to spend hours learning how to use the software and creating job ads, this is a good solution for people who have many other responsibilities apart from recruiting and the usual functions of human resource management.
---
Breezy HR's features
Breezy HR has a wealth of recruiting and onboarding features that make it easier to find the right candidate and guide them through the hiring process and improve your overall people management processes.
It lacks the talent sourcing capabilities of other applicant tracking software, with only a basic search functionality based on skills and location to help you find the right candidates.
Creating a job ad
Breezy HR doesn't provide as many suggestions to help you create your job ad as other applicant tracking systems such as Workable do, so you have to spend more time filling out the details, such as position, location, etc.
Breezy HR's customizable templates help you to more quickly create a job description for a range of different positions. This not only ensures that your description is more in line with industry standards, but it also means that you don't have to write your own text for each position, which can be time-consuming and prone to errors.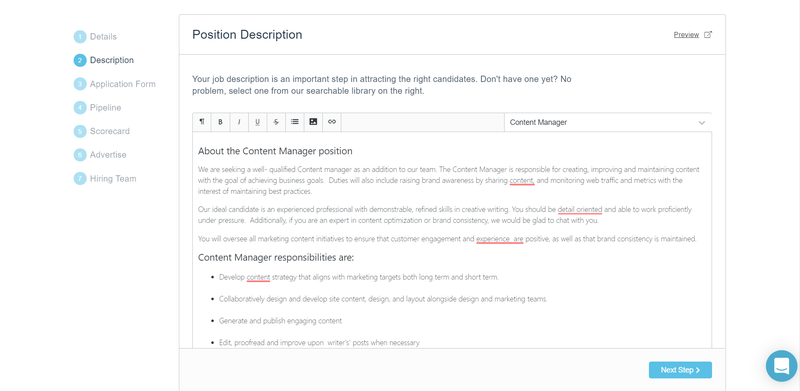 How the ad looks is important, and you can preview the layout at any time. You can add custom questions to your application form for each position, as well as choose which fields the candidate is required to fill out, which to make optional, and which you don't display at all.
Pipeline management
Pipeline management should form a key part of your recruitment strategy. Ensuring you know where all candidates are in your pipeline, how many are at each stage, and what actions you need to take next is important to delivering an optimal candidate experience and running an efficient hiring process.
With Breezy HR, you can automate next actions for each of your pipeline stages, meaning that you never leave candidates in the dark about what is happening with their application, and you save time by eliminating manually checking pipeline stages.
For example, when a candidate has just applied for a job, you can assign them to a hiring manager or send them an automated email or SMS. When they are in the interviewing stage, you can choose to use employee evaluation techniques and get feedback from your team.
You can set up different pipelines with different automated actions for different positions and save these pipelines so you can reuse them later if you're hiring for similar job roles or for a position of the same seniority.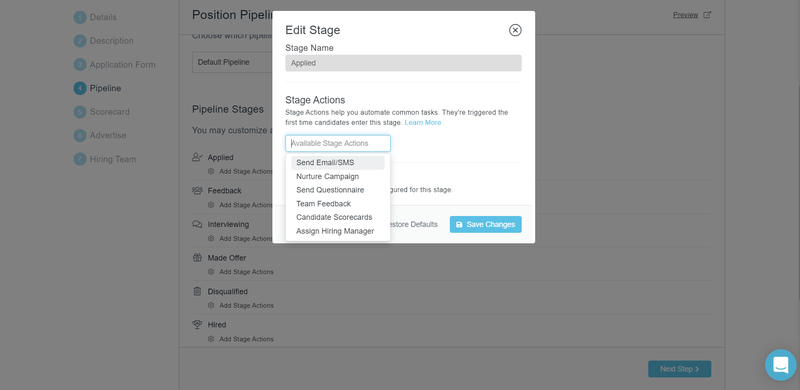 Candidate scorecard
You can use Breezy HR to create a scorecard which lets you easily evaluate candidates based on whether they meet the pre-defined criteria for this position. To create a scorecard, you enter different sections, such as skills and experience, and then add the criteria you are looking for in each section.
When you've filled out the scorecard during the recruiting process, you will get a score that shows how suitable the candidate is for the position. You can create as many scorecards as you like and save them as templates to reuse when recruiting for similar positions in the future.
The advantage of using a scorecard is that you are evaluating candidates using a data-based approach and unbiased information. You can make decisions based on whether they meet the job requirements rather than going on gut feeling or whether you like them or not, although that is important too.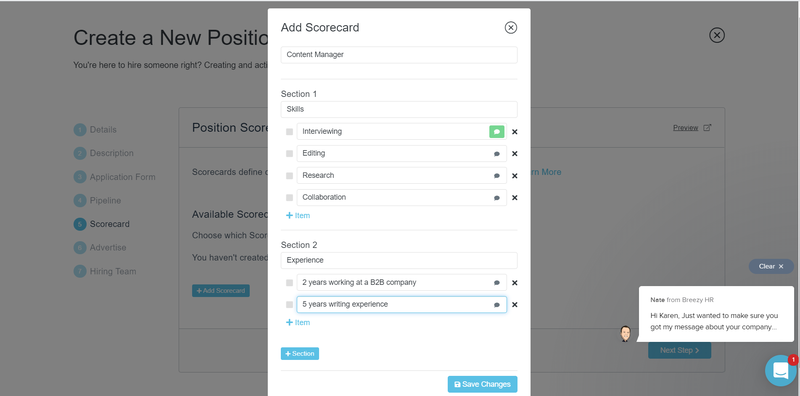 Advertising your position
When you've created a job description and application form, you can choose which channels to use to advertise the position. Breezy HR posts the ad on a number of different job boards for free, including Indeed, Glassdoor, and Google for Jobs.
You can also choose to pay extra to gain further reach on sites such as Monster, LinkedIn, and Stack Overflow, and to sponsor your ads on Indeed and Glassdoor so the ad gets in front of more candidates. Or you can access job boards that help ensure you are reaching more diverse candidates.
For example, if you want a more multigenerational workforce, then you can choose job boards that are targeted at certain age groups.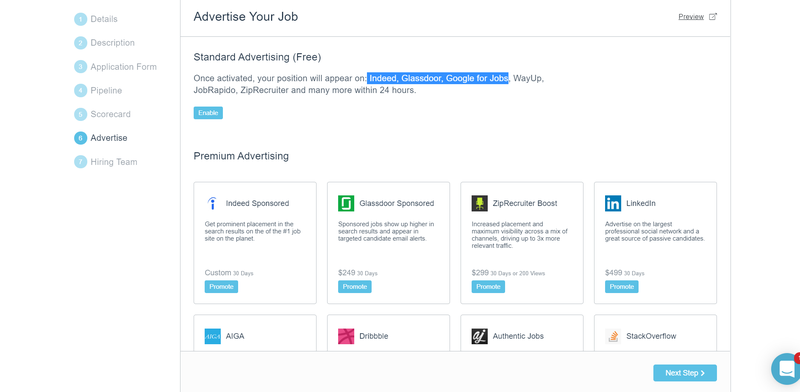 You can also choose to add external recruiters and other members of the team to help you manage the hiring process and give input into which candidates to advance to the next stage.
Careers portal
If you want to improve your talent acquisition process to attract more and better candidates, reduce your turnover rate by hiring employees who are a better fit, and boost your recruitment marketing efforts, then you need to create a careers portal.
You can choose to use one of Breezy HR's templates or create your own careers page. Aside from the basic information about your company, there are sections to add perks and testimonials, as well as upload photos.
This will help you meet your staffing plan needs by ensuring you have a steady stream of candidates in the pipeline.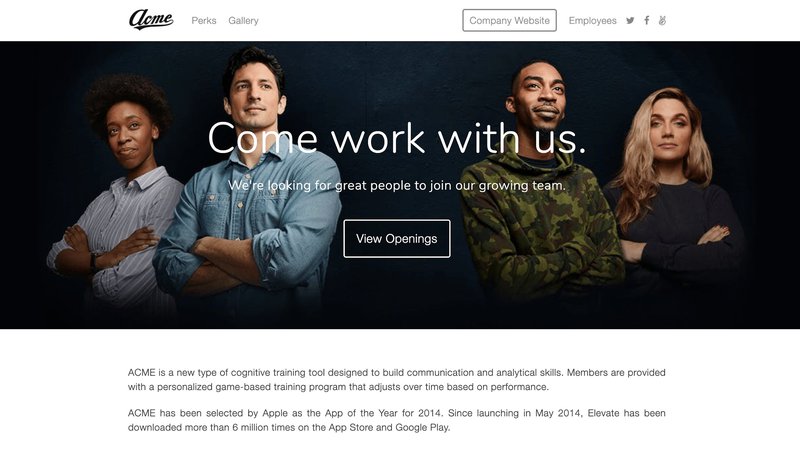 Talent search
As part of your workforce planning and talent management and acquisition, you should be proactively reaching out to candidates, as well as reviewing incoming applications. To do that, you can use Breezy HR's talent search functionality.
This lets you search for candidates based on:
Job title
Location
School they attended
Skills
Background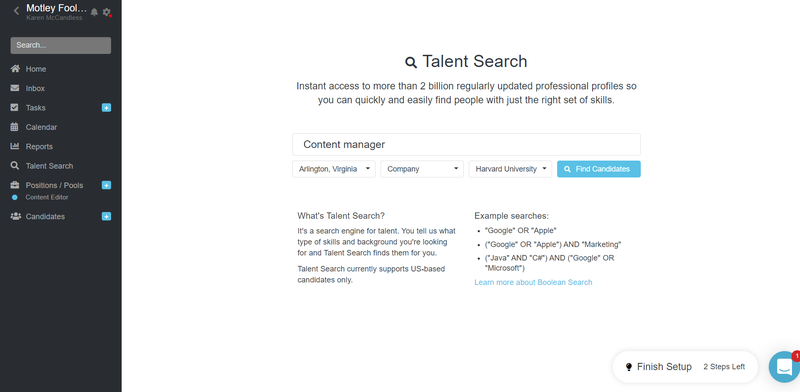 Reports and analytics
It's important to understand how well your recruitment efforts are going by using workforce analytics and implementing a set of performance metrics. Breezy HR lets you monitor metrics such as:
Position views
Candidates applied
Candidates sourced
Candidates referred
Interviews scheduled
Candidates disqualified
Candidates hired
In terms of performance management, you can view the time to fill for each position, send out candidate and employee satisfaction surveys to see where you went wrong (or right), and see how efficient your pipeline is.
Other features
If you want to improve employee retention, then you need to make sure you're recruiting people who will fit well in your organization and that you have a recruitment process that can support your objectives. Breezy HR helps you to do that by building nurture campaigns.
These are a set of automated messages that make sure candidates are fully engaged throughout the process and receive relevant and timely communication.
Breezy HR also includes onboarding and employee management features, such as assessments and background checks.
---
Breezy HR's ease of use
When you first start using

Breezy HR, you can take a quick tour around the main features to understand how everything works and how you can access the different options. The main dashboard suggests actions you should take to get up and running quickly, such as setting up your careers site or creating a new job ad.
There is also an intro video to give you more information on how everything works.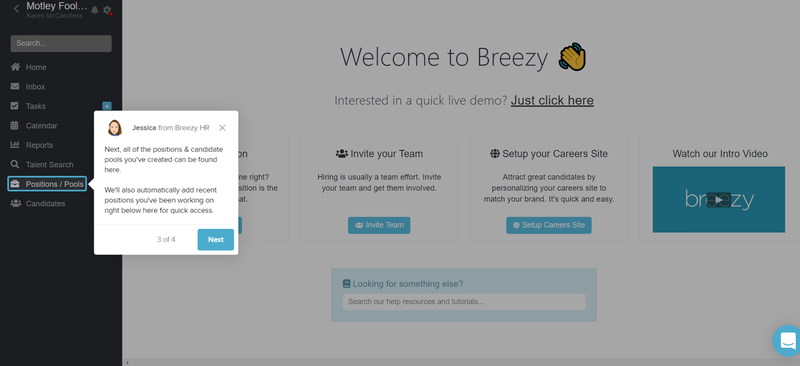 Once you start using the solution, Breezy HR's central dashboard gives you a useful overview of all the current open positions, as well as displaying new candidates, upcoming meetings, and tasks to complete. This helps you easily focus on the most important next actions you need to take to keep your recruitment process flowing.
Breezy HR organizes all of the functionality into one main navigation. It breaks down all of the processes into bite size steps, and you save these and pick up again later on. Its clean user interface means you never feel overwhelmed by all the tasks you have to complete or information you have to enter.
---
Breezy HR's pricing
Breezy HR has a free plan, but it's very limited. It only allows you to create and manage one active position and have one pool of candidates. This is only suitable for people who hire very infrequently. Aside from the free plan, there are two pricing plans and one custom plan.
The least expensive plan, which costs $171/month, doesn't include features such as customizable scorecards, multiple recruiting pipelines, custom analytics and reporting, and nurture campaigns. Given that it doesn't include quite a few useful features, it's quite expensive for a small business.
The other pricing plan, which includes all features, costs $479 per month, which is suitable for bigger businesses.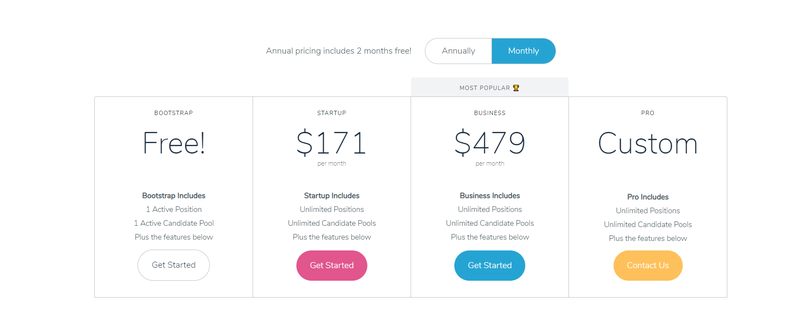 ---
Breezy HR's support
When you sign up to

Breezy HR, its customer service team emails you many times to offer support and a live demo. There are also popup messages that appear at the bottom of the screen offering you more help when you're using the different features.
If you click on these messages, you can ask the agents a question on live chat, and you're given a response time to help you understand when you'll get feedback.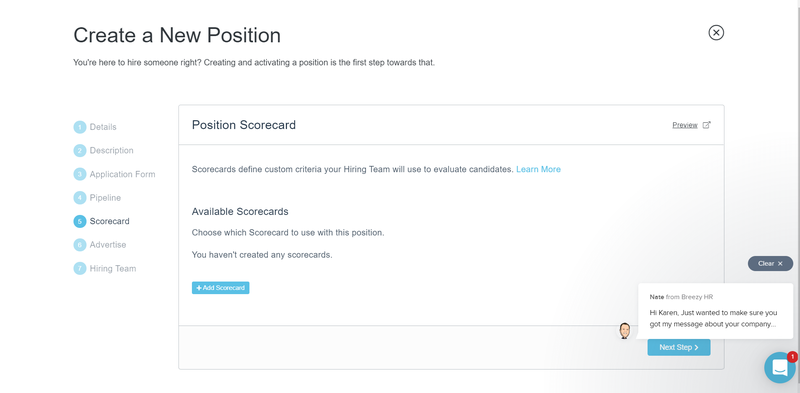 You can also check out the large library of video tutorials and articles in Breezy HR's help center, as well as organize a live demo. There is also email and social media support, but no phone support for urgent inquiries.
---
Benefits of Breezy HR
Breezy HR makes it easy to create job descriptions, customize your application forms, and decide whether to advance candidates based on concrete data through its scorecard functionality.
You can also proactively source candidates using the talent search feature and attract top talent by creating a branded careers portal with sections where you can show off the perks and benefits of working at your company.
---
Attract the best candidates
Breezy HR has nailed the basic recruiting functionality. You can quickly create job ads and make sure your application form is up to scratch without any technical errors. But Breezy HR's real focus is in automating manual tasks to improve the candidate experience and to allow you to source top talent.
The software also helps you better market your business, so that the best candidates will want to work at your company. Its analytics and reporting also show you where you can make improvements. The only drawback is cost. The free plan is very limited, while the paid plans are expensive.

View more information: https://www.fool.com/the-blueprint/breezy-hr-review/