Bloomerang Review 2021: Features, Pricing & More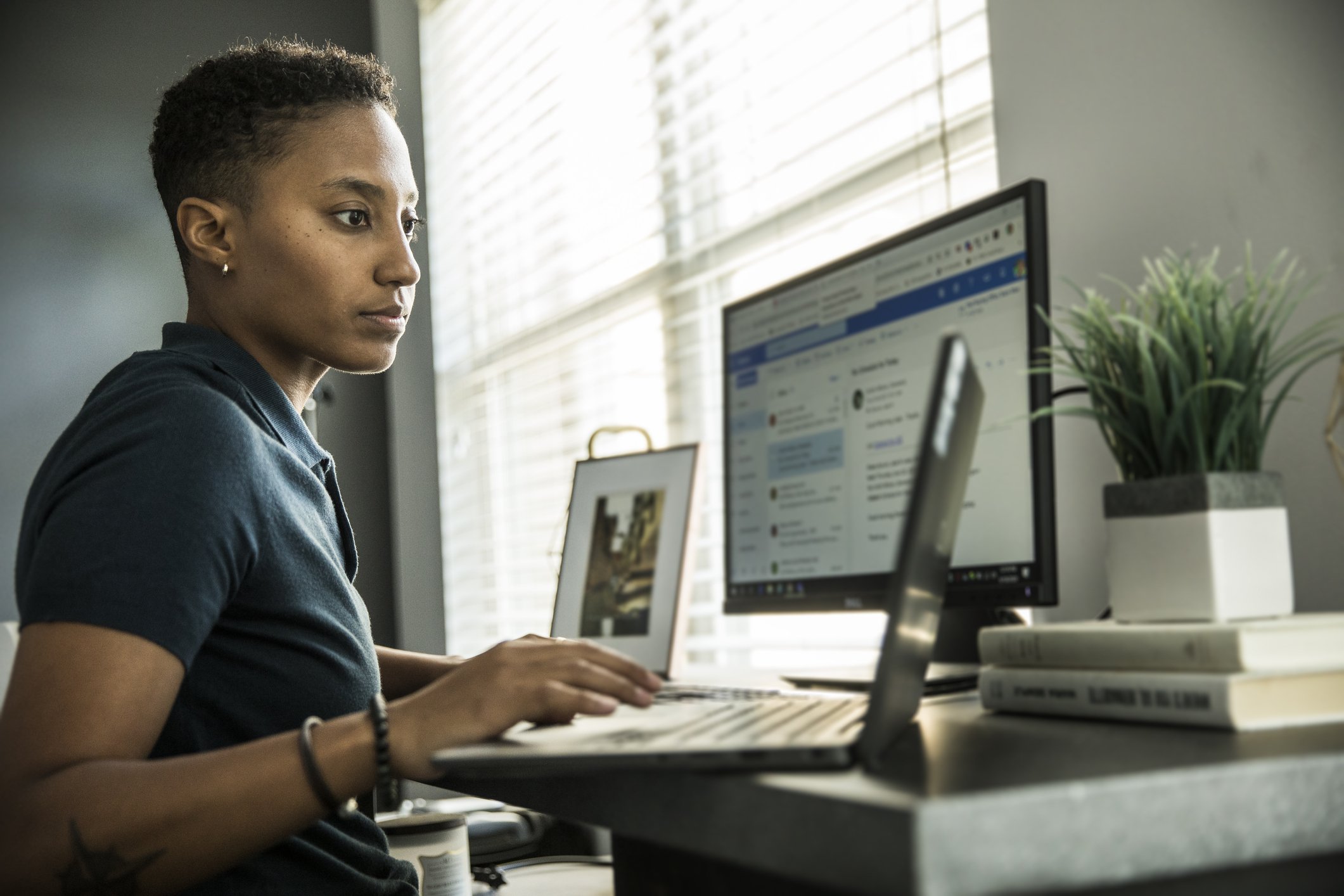 For nonprofit organizations, their donor management software is home base. It's where all their relationships with donors (and often volunteers and other supporters) are cataloged, tracked, and evaluated. From nonprofit accounting to marketing, there are few tools more important than the right donor database.
For many small and growing nonprofits, cloud-based

Bloomerang is an intuitive solution that packs a lot of other aspects of nonprofit administration under one roof. If your organization is seeking to optimize donor web experience for a large and varied audience, Bloomerang may be less fitting.
---
Who is Bloomerang for?
Bloomerang is a comprehensive, but not overwhelming, tool for small and midsize nonprofits. The platform's ease of use and wide range of pricing tiers means it can serve a one-person shop up through a complex team of fundraisers, marketers, and administrators. By providing extensive custom fields, its constituent profiles allow you to know almost anything you like about donors, volunteers, and other stakeholders.
---
Bloomerang's features
Bloomerang's best assets are its constituent profiles and reporting features. Additional direct mail, email, and social media monitoring features are helpful for organizations who want to do more with fewer tools, although you do sacrifice some sophistication for this convenience.
Constituent profiles
To better appeal to and steward donors, you need to know more than just their addresses and phone numbers. Bloomerang makes it easy to create new records (for individuals and organizations), and although you can add unlimited fields to the records, they're not overwhelming to look at.
From the Summary tab, you can see at a glance how engaged the constituent is. You can see their most recent donations and other activities as well as Bloomerang's Engagement Level score, which is calculated based on all recorded interactions, and any available wealth-screening data.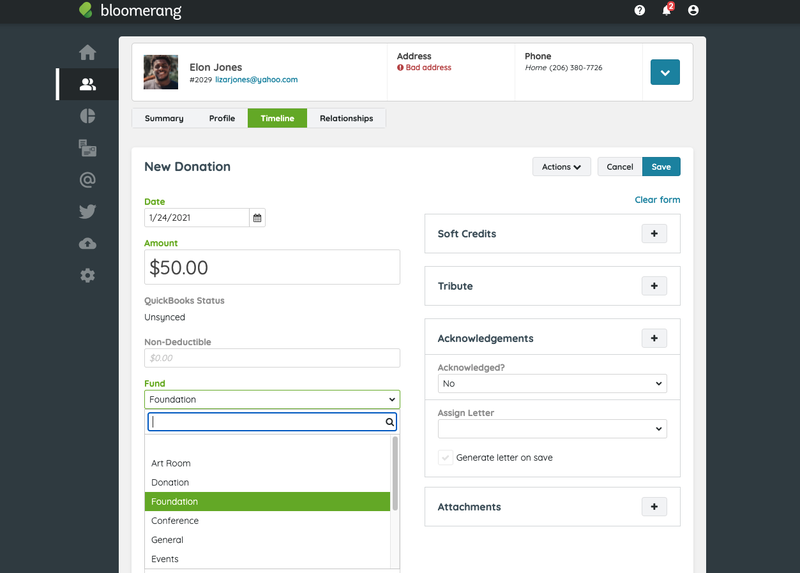 From the Summary tab, you can quickly navigate to add a donation, pledge, or interaction. When you add a new donation, you can specify details, such as the associated campaign or what the program the gift is directed toward, vital for fund accounting.
The profile tab contains not only contact information, but also volunteer information, board involvement, planned giving, and moves management details. You can also add any of the 100+ available fields or simply create your own. Depending on your needs, you can keep track of T-shirt sizes, membership benefits, or even a donor's favorite beverage.
To see a supporter's chronological story, click on the Timeline tab, where you can filter by year, events, or donations.
The Relationships tab allows you to not only link records of spouses, but also those of children, coworkers, and friends. This is especially helpful for understanding and nurturing large or longtime donors.
Reports
Along with its large range of field options, Bloomerang offers many report templates to identify at-risk donors, first-time donors, and the LYBUNTs (who gave Last Year But Unfortunately Not This one). There are also templates specifically for reviving lapsed major donors, identifying average gift size, and fiscal year summaries.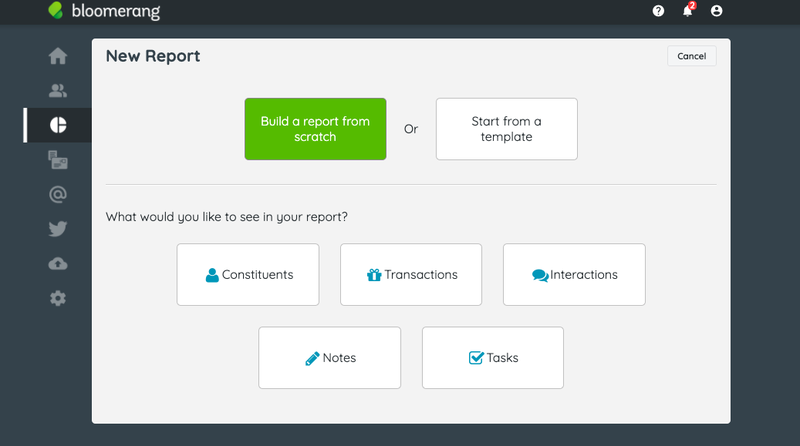 Building a new report can be done quickly if you know what you want. When you start from scratch, you begin by looking at all the applicable records, whether you are searching for supporters, transactions, or interactions. You then use filters (such as fields) to home in on the data you really want.
Letters and emails
Bloomerang has separate functionalities for email and direct mail communications. Direct mail is created in Letters, which offers templates but also allows word processor-style editing. The fields from constituent records are then pulled in to personalize the message. After designing your letter, you use filters to create the recipient list.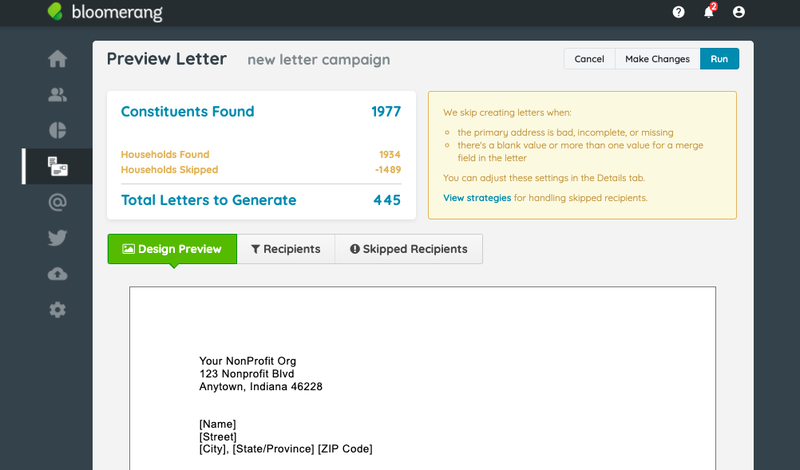 The email tool works similarly, with a variety of templates for common emails such as newsletters, thank-yous, and donation appeals. With an interface similar to popular tools like Mailchimp and Constant Contact, being able to build, send, and track emails all from within your donor database could make life much simpler for small nonprofits.
Twitter Listening Hub
In another bid to keep users in Bloomerang's software instead of other tools, the platform also offers a Twitter Listening Hub. In it, you can track mentions of your account, as well as any hashtags your organization and supporters use. You can even link those posts to your constituent records, giving you an even better understanding of how your donors are engaging with you.
Unfortunately, these capabilities are limited to Twitter. You can link social media profiles to a donor record, but you won't be notified when they mention you on Facebook or Instagram. If you're just starting a nonprofit or are looking to dip your toes in social media monitoring, however, this is a good start.
Website integration
Another feature that may not be sophisticated enough for large established organizations, but could be a huge time-saver for smaller ones, is Bloomerang's website integration options. It allows you to deliver data from donations, registrations, and other activities directly from your website to your database.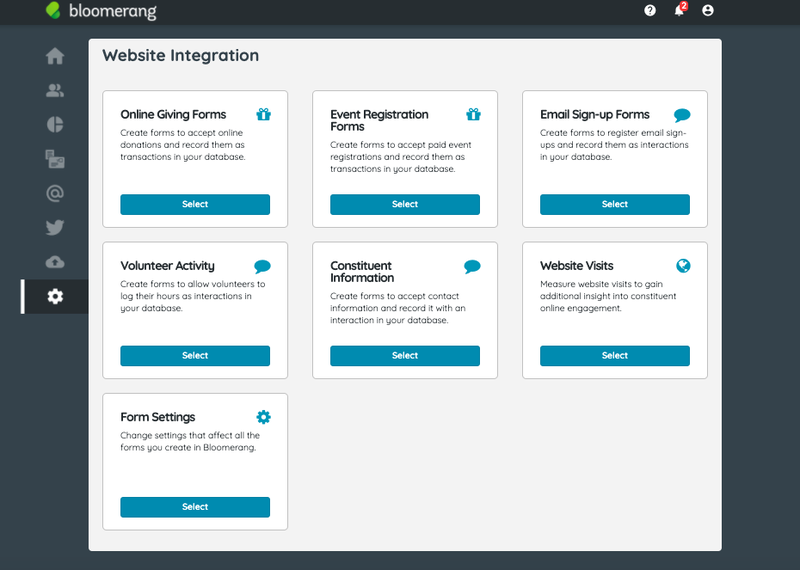 Along with newsletter and volunteer sign-ups, they also make it easy to track your supporters' visits to your website. For new or small nonprofits, this can make life so much easier. A larger organization, or one with specific data needs, may need more specialized tools.
As more and more fundraising moves online, it has become increasingly important to optimize the transaction experience. Users looking for maximum flexibility in their formatting may be frustrated by Bloomerang's limitations there.
---
Bloomerang's ease of use
Customers love how intuitive and user-friendly Bloomerang is. With pleasing design and step-by-step creation processes, it won't take long to get most users started. The wide range of templates are helpful for almost any user and adding custom fields is also a simple process.
The minimal user permissions capabilities, though, could potentially lead to mishaps by less savvy users. All users are either Administrators with full access or Standard users, whose permissions are quite limited.
---
Bloomerang's pricing
Bloomerang has a pricing tier for any size nonprofit, from brand new organizations with a dozen contacts to established nonprofits with tens of thousands of donors. The downside of having so many pricing tiers is that small, growing organizations might need to upgrade sooner and more often than they would with other systems.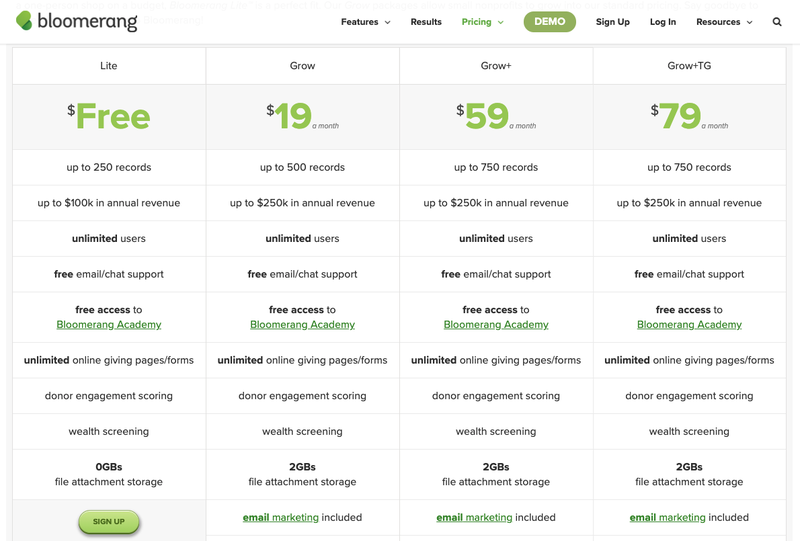 Bloomerang's small shop tiers:
Lite: Free
Grow: $19/month
Grow+ : $59/month
Grow+TG: $79/month
Once your organization grows past 1,000 records, however, the tiers come in larger increments.
Bloomerang's main pricing tiers are:
0-1,000 records: $99/month
1,000-5,000 records: $199/month
5,000-15,000 records: $299/month
15,000-25,000 records: $399/month
25,000-40,000 records: $499/month
Organizations with more than 40,000 records must contact Bloomerang for a quote.
All pricing tiers include:
Unlimited users
Free email/chat support
Free access to Bloomerang Academy
Unlimited giving forms
Besides the number of contacts, the main differences among Bloomerang pricing tiers are the number of emails per month and the amount of file attachment storage. You can purchase additional emails and file storage. From the $99/month tier, you also have the option to add phone support for an additional fee.
---
Bloomerang's support
As explained above, all plans come with email and chat support, but phone support is an additional $35-$100 per month (depending on your pricing tier). Users also have access to an extensive knowledge base that covers everything from user permissions to custom fields to setting up a credit card transaction processor.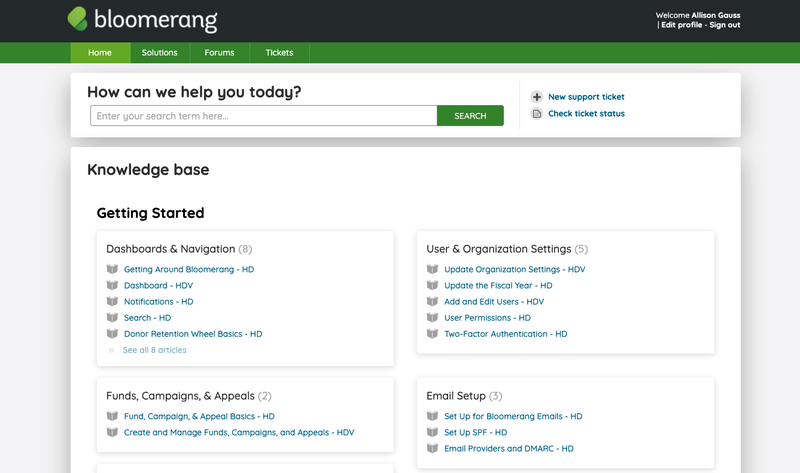 This is also where users can submit a support ticket or track any existing tickets, as well as access a glossary of product terms.
From this in-product knowledge base, you can also access Bloomerang Academy, a collection of 45-60 minute classes (both live and prerecorded). The sessions cover both product-specific topics, like how to generate year-end tax receipts in Bloomerang, and more widely applicable donor stewardship and fundraising topics.
Bloomerang provides a great deal of self-serve content and help articles, but phone support or personalized coaching are additional purchases.
---
Benefits of Bloomerang
Bloomerang excels when it comes to ease of use and depth of constituent records. The platform allows you to create detailed donor records with exactly the information you need. And because it is cloud-based, Bloomerang is accessible on any device and is constantly updated.
For small or brand-new organizations, Bloomerang's email, donation form, and Twitter monitoring tools can enable you to address these needs without purchasing or onboarding other tools.
---
Bloomerang and planning for the future
Bloomerang's ease of use and extra functionalities make it a great fit for up-and-coming nonprofits intent on maintaining a strong community of supporters. Their features will be enough to get you started with email, direct mail, and reporting. Organizations should keep in mind, however, that you may need to adopt more specialized tools down the road.
View more information: https://www.fool.com/the-blueprint/bloomerang-review/