Bitdefender GravityZone Review 2021: Features, Pricing & More
Small business owners have so much on their plate that they rank cybersecurity low on their priority list. Or worse, they don't think it requires addressing at all.
Cybercriminals are increasingly attacking small businesses because of the lack of adequate security. Research data indicates that 43% of cyberattacks target small businesses.
Consumer-grade security software isn't up to the task of protecting work PCs (personal computers) and other company devices, called "endpoints" in the IT (Information Technology) industry. Yet businesses without a large IT team struggle to implement complex endpoint security.
Bitdefender tackles this challenge with its GravityZone Business Security platform. It addresses the unique needs of small and medium-sized businesses (SMBs), and is one of the best endpoint security software for SMBs.
---
Who is Bitdefender GravityZone for?
Bitdefender designed its GravityZone Business Security suite specifically for small businesses. It simplifies the installation and management process to make oversight of your IT network security easy but effective.
Bitdefender delivers a comprehensive suite of protection tools for small businesses. Its platform covers PC security for Windows devices and Bitdefender is also available for Mac and Linux users.
There is no need for a formal security operations center (SOC) with Bitdefender GravityZone Business Security. A small IT team can manage company security via the platform.
Although it's designed for small businesses, GravityZone's use of standard IT processes and terminology, such as packages and virtual machines, can overwhelm tech novices. If your business doesn't have dedicated IT personnel, consider outsourcing the responsibilities to an external firm.
Bitdefender provides a list of partners to help with the purchase and installation process. You can then purchase a support package from these partners for ongoing remote IT support.
Bitdefender offers other versions of its GravityZone Business Security product for mid-sized and larger companies. Check out its GravityZone Elite and Ultra Plus products if you're a medium or large business.
---
Bitdefender GravityZone's features
Bitdefender GravityZone Business Security combines capabilities such as machine learning and heuristics, which analyzes software code for unusual behavior, to protect your endpoints against malware, phishing, ransomware, and other cyber threats.
GravityZone includes essential features, such as threat analytics, and also offers add-ons to deliver a robust security platform tailored to your small business.
Threat detection
Security software is only as good as its ability to protect your endpoints. Bitdefender's GravityZone product delivers strong results in this area.
In tests by independent testing facilities, Bitdefender ranked among the best in computer protection, blocking 99.5% of threats during internet surfing tests, and 99.9% of all malware attacks. It did so without affecting computer performance.
Bitdefender GravityZone uses a range of techniques to identify and stop attacks:
Machine learning: GravityZone employs artificial intelligence (AI) and machine learning algorithms to detect threat patterns in your computer network. These algorithms use billions of clean and malicious file samples collected from over 500 million endpoints around the world to continuously adapt to the latest threats. This approach dramatically improves the effectiveness of malware detection and minimizes false positives.
Process inspector: The product monitors all computer processes using proprietary technology called Process Inspector. It seeks unusual activity or behavior such as attempts to disguise a process. After discovering such traits, Bitdefender takes action, including a quarantine of the suspicious file and undoing the changes.
Exploit prevention: GravityZone includes real-time exploit prevention to detect and block zero-day attacks, which try to take advantage of a previously unidentified software bug or vulnerability. In tests using over 300 samples, Bitdefender successfully stopped 100% of these attacks.
Infected files are quarantined and shared with Bitdefender for analysis. GravityZone cleans the quarantined files and returns them to their original location.
Bitdefender's GravityZone is considered among the best security software. It has won many industry awards, highlighting the product's effectiveness in independent studies. The company has evolved its award-winning technologies for over a decade.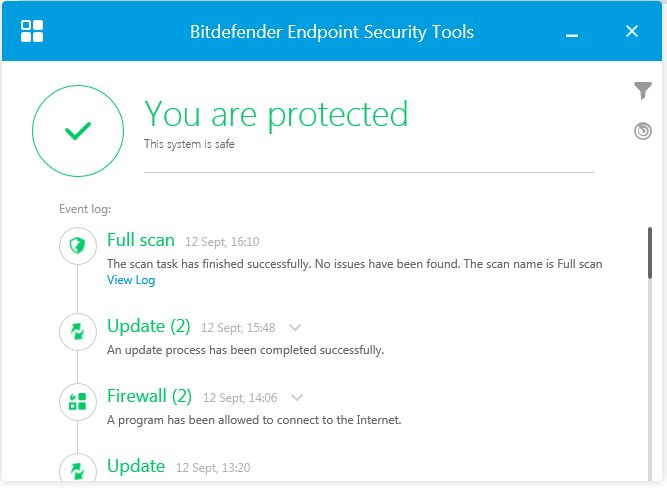 User interface
The GravityZone platform packages most of its security tools under one roof. Its web-based Control Center user interface (UI) is where IT staff oversee your company's security.
This interface provides a single place to easily deploy and manage security across your company's devices, including physical and virtual servers. A separate UI supplies email security management.
Control Center comes with a dashboard that lets you quickly view the health of your IT network. This dashboard surfaces risks, such as software misconfigurations, so your team can address these issues in a timely manner.
Several modules comprise the dashboard's contents. Each module highlights different security aspects, including endpoint protection status, any blocked software applications, and policy compliance. You can rearrange modules in your dashboard, and add or remove modules to customize your view.
Control Center includes other tools beyond its dashboard insights. Among its many features, Control Center enables granular control over website and software application access to your network, the ability to set security policies, and setting up users on your network.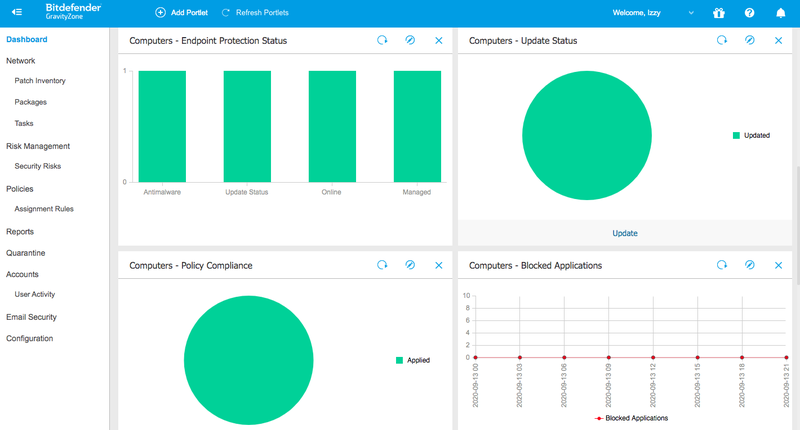 Reporting
Bitdefender GravityZone Business Security packs many reports. These reports provide visibility into security incidents, compliance with company security policies, and assessing network status.
The Control Center's dashboard summarizes several easy-to-understand security insights, including the number of threats caught. Click any of the dashboard reports to drill down into details or take actions, such as scanning infected targets.
GravityZone's Reports page allows you to view and customize a number of built-in reports. These reports cover intelligence ranging from data about your computer network to information related to your Microsoft Exchange server. You can even schedule frequently used reports to arrive in your email inbox on a schedule that works for you.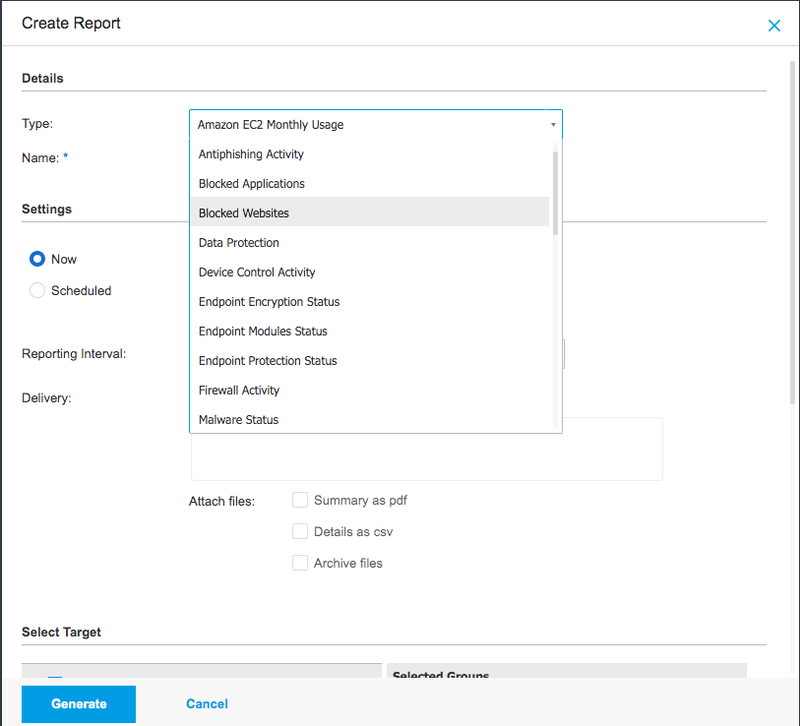 Additional security features
Bitdefender GravityZone Business Security boasts several layers of protection. In addition to malware detection and prevention, it includes a firewall, policy management controls, and a separate email security console to oversee email use.
GravityZone's UI includes a risk management section to help you evaluate security risks such as apps with vulnerabilities in use across your endpoints. This risk management dashboard includes a new feature assessing human risk. It flags employees engaged in risky behavior, such as those who haven't updated their passwords in a while or who are browsing unsafe websites.

Bitdefender GravityZone Business Security is built to protect cloud-based and virtual machine implementations. Since on-site servers are cost-prohibitive for many SMBs, this approach aligns with their IT needs.
Bitdefender complements GravityZone with several add-on products and services, allowing companies to customize their endpoint security to their specific needs. Companies can add features such as patch management to ensure endpoints are using the latest software.
---
Bitdefender GravityZone's ease of use
From the start, Bitdefender makes setting up endpoint security a pain-free experience. Once you create a Bitdefender account and log in for the first time, GravityZone presents you with the essential steps to get up and running quickly.
After you install GravityZone's security agent, Bitdefender Endpoint Security Tools, on your endpoints, you're able to view them in the Control Center. The installation is a straightforward process, and provides computer users with the ability to view their security risk and the steps required to fix issues.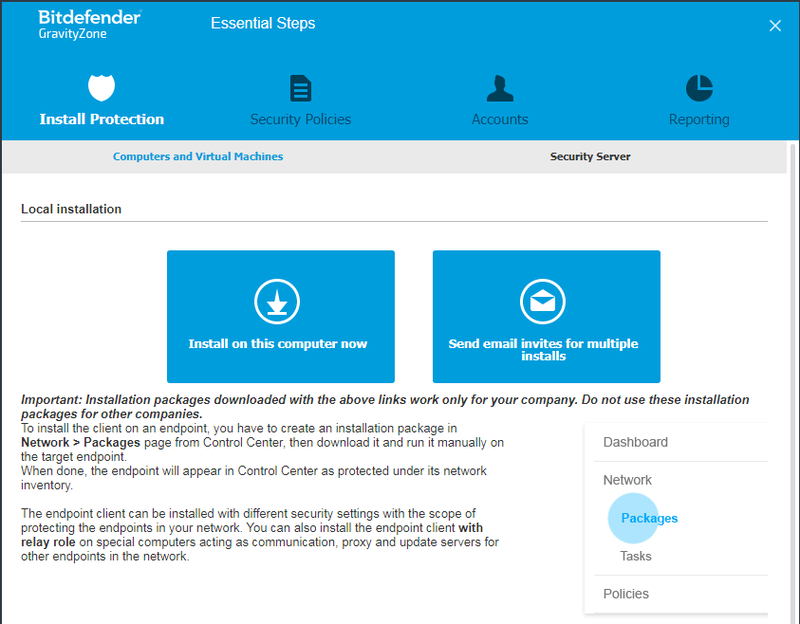 The platform's UI is clean and easy to navigate. The interface is intuitive and simple for IT and tech-savvy personnel to start using with minimal training. Bitdefender GravityZone Business Security isn't for the tech novice, but IT veterans will appreciate the platform's ease of use.
---
Bitdefender GravityZone's pricing
Pricing depends on the number of endpoints you need to protect. The Bitdefender GravityZone Business Security suite starts at $110.99 for a year of protection on three devices, including one server.
Bitdefender's pricing is competitive when compared to other industry players. The company offers discounts for purchasing multiple years of service in advance. You can also determine whether GravityZone is the right solution for your needs by taking advantage of a free 30-day trial.
---
Bitdefender GravityZone's support
Bitdefender's support options include help from the company's technicians by phone. Customers in many countries, including the U.S., receive 24-hour phone support.

Bitdefender provides several support options, including tooltips in the UI. Source: Bitdefender software.
You can also submit a request for help through the company's IT ticketing system. An extensive self-service portal provides articles and how-to guides. Within the GravityZone UI, users can click the question mark icon to view tooltips explaining the functions of the tools on offer.
---
Benefits of Bitdefender GravityZone
Bitdefender's GravityZone product provides multiple layers of threat protection and remediation. It includes essential features for securing your endpoints, from malware protection and threat analytics to optional add-ons, delivering a robust security platform for small businesses.
Bitdefender's GravityZone product provides protection tools in a central platform to facilitate managing your company's security. It is comprehensive, yet designed for easy use.
Bitdefender's central command console, Control Center, is intuitive and straightforward. Your IT staff will find it easy to work in this interface to complete security tasks, and can use the built-in analytics to continuously monitor the health of your network.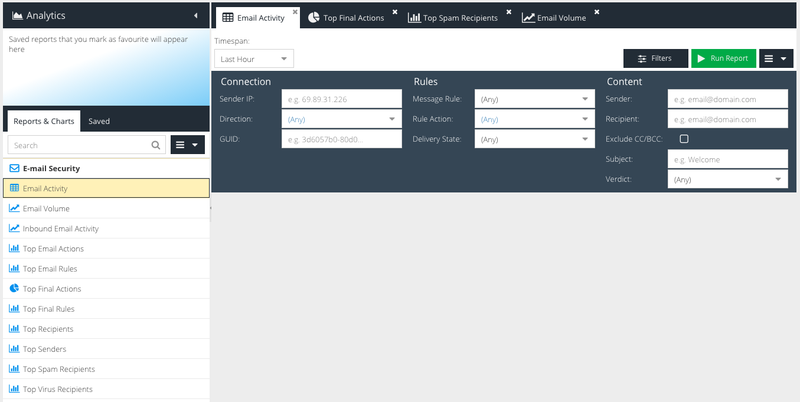 As your business grows and your security needs evolve, you can step up from Bitdefender GravityZone Business Security and get more security features from higher product tiers, such as GravityZone Advanced Business Security and GravityZone Elite. When your business expands further, move up to Bitdefender's solutions for midsize and large companies.
---
A comprehensive small business security solution
The Bitdefender GravityZone Business Security product provides a complete security solution for small businesses. It delivers antivirus protection and safeguards from browser-based attacks and it prevents zero-day attacks.
GravityZone Business Security is easy and quick to use. For more comprehensive protection, including mobile device security, consider upgrading to the GravityZone Advanced or Elite options.
The challenge lies in small businesses without dedicated IT personnel. GravityZone's options are so vast that you could easily spend hours setting it up and getting lost in the technical details. If your business doesn't have a designated IT person, it's best to contract with a vendor who can provide IT support.

View more information: https://www.fool.com/the-blueprint/bitdefender-gravityzone-business-security-review/