BIM 360 vs. PlanGrid: Which Is Best for Your Business?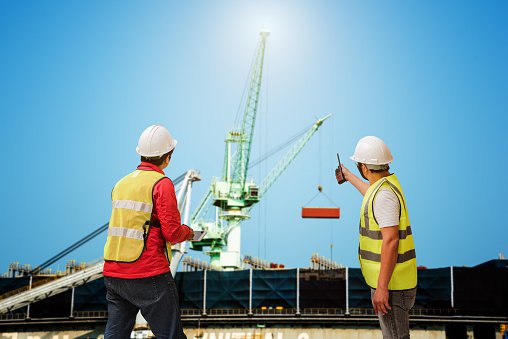 The first man-made structures weren't complicated. They had walls and a roof built of readily available materials — and not much else.
That's not the case with modern buildings. These complex structures require extensive design work beforehand, and powerful software to help architects create them out of nothing more than a vision.
That's where

BIM 360 and

PlanGrid come in. They are construction management software options that overlap some in capability, but have nuances that distinguish them. Here's how they differ and how to determine which one is best for your business.
---
BIM 360 vs. PlanGrid: An overview
BIM 360 and PlanGrid are both owned by Autodesk, so they aren't competing solutions. Instead, they fill specific niches with some overlap, but have distinct specialties.
On one hand, BIM 360 is geared toward architects and engineers designing structures from the ground up, while PlanGrid appears more suited to construction teams that need to view, mark up, and collaborate on project plans. They have similar features, but their focuses are different.
If you're looking for a general construction management solution that will handle typical day-to-day construction tasks such as:
Neither solution will be a good fit, but they fill other equally important needs. Read on to learn how.
Who is BIM 360 for?
BIM 360 is a specialized software platform with architectural design features ideal for architects and engineers. It's not suited for general construction project management.
The software allows you to create detailed 2D and 3D structure designs. It also has a steep learning curve, so it's suited for those with experience in architectural design and engineering who need powerful, accurate software for that purpose.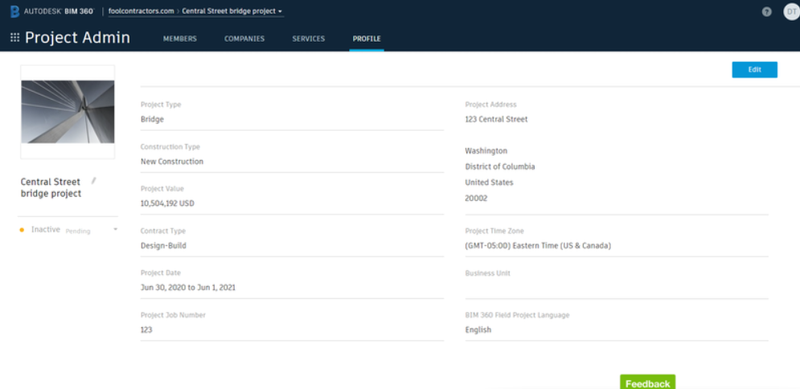 Who is PlanGrid for?
PlanGrid also deals with the design side of construction, although it focuses more on managing blueprints, drawings, and other documents rather than 2D and 3D ground-up design. The software allows you to upload documents, which it automatically renders and organizes.
It's meant for construction managers who deal with a lot of paperwork and blueprints and want a specialized solution to better manage it all. Like BIM 360, it's a specialized solution not meant for soup-to-nuts construction management.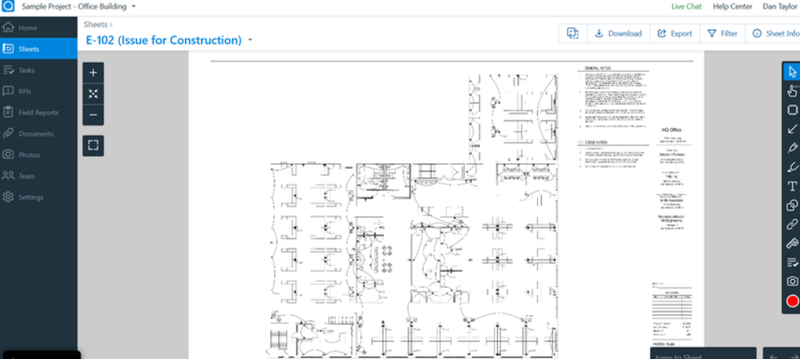 ---
BIM 360 vs. PlanGrid: Features
BIM 360 and PlanGrid both have unique and distinct feature sets, which you won't find in other platforms due to their highly specialized nature.
What BIM 360 offers
BIM 360 connects to a cloud workspace and can support all types of files, which is helpful for architects and engineers who don't want to hunt around for the right file type or do conversions. All files are permission-based and can be shared with anyone.
You can add shapes or text notes to the design files, and you can tag issues and assign them to team members, a helpful construction management aspect. Another general construction management function is its ability to create and manage requests for information (RFIs) and create agenda items.
Mostly, however, it's about designing in 2D and 3D, and it excels in this category.
What PlanGrid offers
Likewise, PlanGrid allows you to mark up and share blueprints and drawings. It doesn't offer the extensive design functions of BIM 360, but it does offer a superior document management and collaboration system, better suited to construction managers than architects and engineers.
You can make notes on a set of blueprints and share them with others on your team, eliminating the need to pass PDFs back and forth over email. You can overlay blueprints to compare differences to ensure that everyone is working off the same documentation.
PlanGrid also allows you to preview drawings in 3D, take measurements, and mark the documents up.
Results
Winner: BIM 360
Comparing the two is apples-and-oranges since they're built to support different people in different ways, but we give BIM 360 the edge for its powerful design tools.
---
BIM 360 vs. PlanGrid: Support
Customer support won't be an issue for either option, but implementation models differ.
What BIM 360 offers
BIM 360 offers a lot of support options, a big plus. You can click on the question mark in the top right and select "contact support, submit a support ticket in BIM 360 Troubleshooting, request an Autodesk live chat, post a question in the BIM 360 forum, or call the customer support hotline.
With all of these options, you should get your question answered in no time.
What PlanGrid offers
PlanGrid provides a customer support phone number on their website, and they do a demo every Wednesday with a basic overview of the software. You can access tutorial videos on the site or a self-help article archive.
However, to train your team to use the software, it will cost you extra. But you'll get direct, specialized support compared to more general support that may not be as helpful.
Results
Winner: BIM 360
PlanGrid training comes at an extra cost and doesn't appear to have the support ticket system BIM 360 has, so the win goes to BIM 360. Still, both options offer excellent support via phone and tutorials.
---
BIM 360 vs. PlanGrid: Ease of use
While these platforms are closely matched in features and support, they diverge in ease of use.
What BIM 360 offers
BIM 360 has a learning curve, no question. It has powerful features and, as is common with such specialized software, it can get complicated.
The dashboard is confusing to navigate at first, and uploading documents requires some manual work. Once you get used to the software, it gets easier, and it will speed up complex tasks like sharing and editing documents.
What PlanGrid offers
PlanGrid is impressively easy to use. Construction managers can easily upload and mark up drawings and blueprints. Also, many document organization tasks are automated. You only have to click the New Project button in the dashboard and import files.
The software will then render and organize the drawings. With a few clicks, you can mark them up with simple highlighting or drawings, and you can then share them with the team. The mobile version gives you complete mobility, allowing you to access everything from the field.
Results
Winner: PlanGrid
PlanGrid is the clear winner here. BIM 360 feels clunkier and has a steep learning curve compared to PlanGrid, which is easy to pick up right away.
---
BIM 360 vs. PlanGrid: Pricing
Both of these options are expensive, but one is slightly better here.
What BIM 360 offers
BIM 360 starts at $480/year, per user, so it's expensive. That's also at the most basic features level, so you'll have to work with a "specialist" if you want more functionality, meaning the price tag will continue to go up. You can trial the software for free for 30 days.
What PlanGrid offers
PlanGrid's pricing model is more complex than BIM 360's, but definitely less expensive. The software comes in three tiers, the main difference being how many sheets (i.e., blueprints and drawings) you want to access.
The lowest pricing plan starts at $39/month, per user, if you purchase annually; otherwise it's $49. This gives you access to 550 sheets, with all plans including unlimited projects, photos, and documents other than blueprints. PlanGrid offers a 21-day free trial.
Results
Winner: PlanGrid
Both options are expensive, but PlanGrid is cheaper, with the highest priced option at $139/month, per user, compared to $480 for BIM 360.
---
BIM 360 vs. PlanGrid: Integration with other software
Since both are Autodesk platforms, integration is solid for both. However, their integrations are different.
What BIM 360 offers
BIM 360 is built on the Autodesk Forge development platform, which provides users with over 100 pre-built integrations, including PlanGrid. The software also integrates with platforms such as eSUB, Google Sheets, Raken, Smartsheet, and Zoom.
What PlanGrid offers
PlanGrid has over 70 integrations to companies such as Basecamp, Dropbox, Gmail, Office 365, and Salesforce. Although BIM 360 is not on the list, you can integrate the two through BIM 360.
Results
Winner: PlanGrid
While BIM 360 has more integrations — offering over 100 versus just over 70 for PlanGrid — PlanGrid connected with more of the popular third-party software options most people can't do without, and thus gets the nod here.
What BIM 360 offers
BIM 360 may be expensive and have a steep learning curve, but it's one of the most powerful 2D and 3D design options if you're an architect or engineer. Once you get the hang of the software, you'll have access to powerful design tools, available in few other construction software products.
What PlanGrid offers
PlanGrid also has building information modeling (BIM) tools, although they don't quite match the level of BIM 360. However, PlanGrid excels as an easy-to-use platform for construction managers who want to mark up drawings, take measurements, organize documentation, automate tasks, and collaborate with their team.
Results
PlanGrid wins this matchup mainly because it's the better solution in terms of pricing and ease of use and slightly better in terms of integration, while BIM 360 has only a small edge in features and support.
View more information: https://www.fool.com/the-blueprint/bim-360-vs-plangrid/