BigCommerce vs. Shopify: Which is Better in 2021?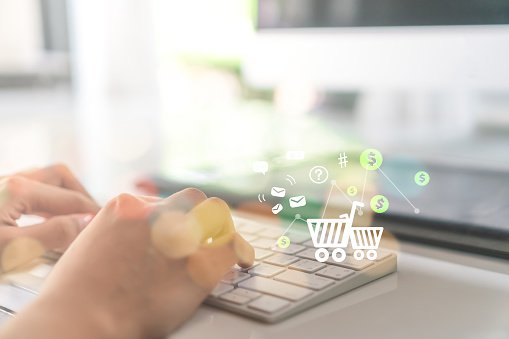 Whether you're new to e-commerce or are already selling online, BigCommerce and Shopify are two of the best e-commerce platforms. The Blueprint rates BigCommerce as having the best features, while Shopify has the best customer support.
We'll go over their features and pricing in a side-by-side comparison below, so you can decide which one is the best fit for your business.
---
BigCommerce vs. Shopify: An overview
BigCommerce is loaded with e-commerce features almost impossible to outgrow. All the built-in tools and related terminology can be overwhelming if you're new to online sales. It is best suited for established businesses looking to rapidly expand their e-commerce capabilities.
Shopify's e-commerce platform comes with outstanding customer support, and its easy-to-use interface will help those new to online sales. To integrate existing online sales with a point of sale (POS) system, Shopify is a good option.
Who is BigCommerce for?
BigCommerce appeals to retail and wholesale businesses with under 50 employees and annual revenues up to $50M. It has a little over 2% of the e-commerce market. Two large, showcase customers are Skullcandy, which sells audio equipment, and ice-cream giant Ben & Jerry's.
Who is Shopify for?
Shopify is typically used by retail and fashion apparel businesses with fewer than 50 employees and annual revenues up to $50M. It controls more than 9% of the e-commerce market. Its user list contains global fashion brands Rebecca Minkoff and Fashion Nova.
---
BigCommerce vs. Shopify: Features
Every e-commerce business is judged by its core platform features. Features include everything from its online store builder to the content management system (CMS) to analytics reports that aid customer retention.
Great power comes with great costs, so you'll want to make sure you have — and pay for — only the features you need.
What BigCommerce offers
The Blueprint's BigCommerce review rated it as having the best features, which include:
Hosting: The secure onsite hosting with unlimited bandwidth provides search engine optimization (SEO) and enhanced site performance.
Multi-channel sales: Besides your online store, you can easily sell via Amazon, eBay, Facebook, Instagram, and Pinterest.
Device optimization: Your website is automatically optimized for viewing on multiple devices, including desktops, smartphones, and tablets.
Shipping options: Receive bulk discounts with major shipping companies such as DHL, FedEx, and USPS.
Security: Credit card transactions and customer data have multiple layers of protection, including Secure Sockets Layer (SSL) certificate encryption.
BigCommerce's analytics and reporting, which include conversion rate data, average order value, abandoned shopping carts, in-store searches, and your purchase funnel, will help you formulate your pricing strategies.
BigCommerce offers 12 free website themes and over 100 paid ones that cost up to $245. They are all well-designed, and you can filter by industry, layout, and price.
What Shopify offers
Shopify has a comparable set of baseline features:
Hosting: This fully hosted solution means you don't have to buy or manage extra external software, pay for hosting, or hire a developer to build your website.
Product management: The e-commerce CMS quickly adds inventory items and product descriptions.
Integrated email: Customer actions at your online store can trigger automated emails that range from a single message to an ongoing advertising campaign.
Customer tracking: Easily track the customer life cycle on your site to generate actionable insights to aid customer acquisition, create targeted sales, and predict inventory needs.
Shopify Exchange lets you buy existing e-commerce stores. Pick one based on price, revenue history, age, or type of industry or business.
Shopify's analytics reporting is more basic than BigCommerce. You'll have to integrate Google Analytics to access granular performance and sales data to inform your e-commerce marketing.
Results
BigCommerce comes out on top here. While Shopify has the baseline features you'll need, the depth and breadth of BigCommerce's capabilities are unparalleled.
---
BigCommerce vs. Shopify: Support
Customer support for the initial setup is critical. You'll also want ongoing help as needed to tailor your e-commerce platform to meet your evolving needs.
What BigCommerce offers
BigCommerce has 24/7 customer support via chat, email, and phone, but you'll first be prompted to use its online resources. These answer common questions such as "How do I sell on Google Shopping?" and "How do I back up my store's data?"
The BigCommerce knowledge base provides additional helpful resources:
User documentation
Guides
Videos
Developer documentation
A robust user community is a good place to learn about the finer points of BigCommerce and share what you've learned. Read the latest news and updates, submit your own ideas for new features, and provide feedback on suggestions from other users.

Developers and users can access separate centers and documentation for its application programming interface (API) and theme designs.
What Shopify offers
The Blueprint's Shopify review rated its customer support best among e-commerce platforms. You can access a customer service rep by phone 24/7, submit a help ticket online at the support portal, or use Shopify chat support.
Shopify provides multiple guides to help you begin e-commerce sales and keep them running smoothly. You can also access training videos and an up-to-date changelog. The Shopify user community has almost 650,000 members, with approximately 2,000 online at any given time.

Free webinar topics range from "How to Migrate from Etsy to Shopify" to "Strategies for Brick & Mortar Retailers During COVID-19". They all aim to teach you more about how to use Shopify.
Results
Shopify comes out on top for customer service. The platforms offer significant overlap in customer support, but Shopify excels at helping e-commerce novices begin online sales.
---
BigCommerce vs. Shopify: Ease of use
You, your employees, and your customers need your e-commerce platform and online store to be easy to use. Otherwise, your cost or features won't matter because everything falls quickly apart.
What BigCommerce offers
BigCommerce is known for using complex terminology once you dig into it and a features set that sometimes gets in its own way.
Initial setup is user friendly, however, as you'll answer a few simple questions to allow the store builder to help tailor a website for your business and products.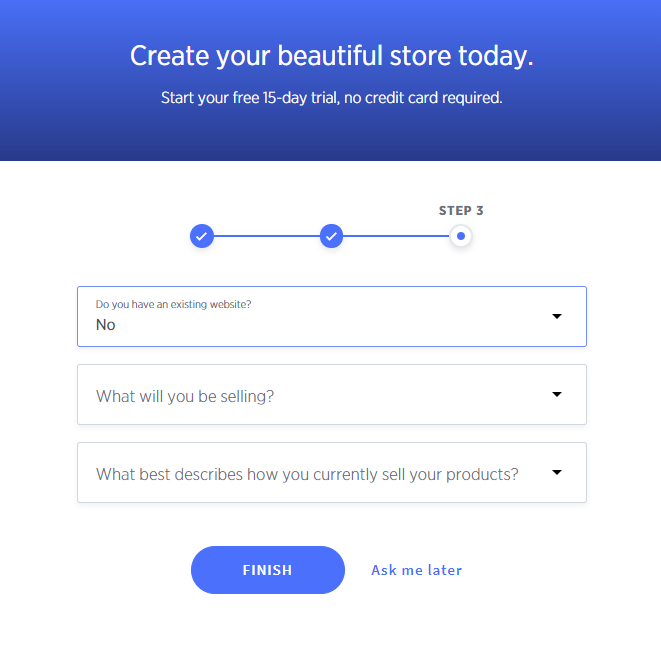 After initial setup, users have mixed feelings about the BigCommerce dashboard, which includes so many features that it can be hard to navigate.
Themes can be difficult to customize because the editor requires command-line actions for updates. Speed's an issue because BigCommerce pages sometimes load more slowly on mobile devices, which will affect search engine rankings.
What Shopify offers
As soon as you select your plan, you'll have a functional online store you can adjust and fine tune instead of building it piece by piece. The pre-made templates help keep your store's design consistent, and the dashboards and toolbars are easy to navigate.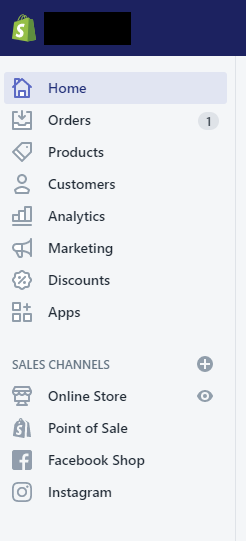 It's also easy, as seen in the screenshot above, to sell products on Facebook and Instagram. You can quickly adjust inventory levels if you make an offline sale. Baseline features aren't as extensive as BigCommerce, but the level of customer support helps you maximize what you can do.
Results
Shopify outperforms BigCommerce for ease of use. If you have one or more employees dedicated to managing your online store, they'll eventually learn all the ins and outs of BigCommerce.
But if you want an e-commerce site you can set up and operate on your own besides day-to-day business operations, Shopify's your answer.
---
BigCommerce vs. Shopify: Pricing
All e-commerce platforms come with three baseline costs: monthly subscription, transaction fees, and add-on integrations and plug-ins. Research each area to avoid any future sticker shock.
What BigCommerce offers
BigCommerce pricing includes four plans:
Standard: $29.95/month — Includes a branded online store, eBay and Amazon sales channels, and unlimited products, file storage, bandwidth, and staff accounts.
Plus: $79.95/month — Adds customer groups and segmentation, an abandoned cart saver, a persistent cart, and stored credit cards.
Pro: $299.95/month — Adds Google customer reviews, faceted search and product filtering, and custom SSL security.
Enterprise: Quote-based — Adds custom facets and product filtering, price lists, API support, and unlimited API calls.
BigCommerce does not provide credit card processing, so you may choose your own third-party vendor. Fees are typically around 2.5% of each transaction plus another $0.10 to $0.30 per sale.
Each plan also comes with a yearly sales cap, ranging from $50K to $400K, and if you surpass it, you'll automatically be bumped up to the next pricing tier.
What Shopify offers
Shopify plans come in five tiers:
Shopify Lite: $9/month — Allows you to add products to your website, sell on Facebook, chat with customers via Facebook Messenger, and manually process credit card sales with the Shopify smartphone app.
Basic Shopify: $29/month — Includes an e-commerce website and blog, unlimited products, two staff accounts, manage inventory or conduct face-to-face sales at up to four locations, free SSL certificate, discount codes, gift cards, abandoned cart recovery, and 24/7 customer support.
Shopify: $79/month — Adds professional reports, USPS Priority Mail Cubic pricing, five locations, and five staff accounts.
Advanced Shopify: $299/month — Adds an advanced report builder, third-party calculated shipping rates, eight locations, and 15 staff accounts.
Shopify Plus: Quote-based — Designed for high-volume e-commerce merchants with thousands of sales per minute.
Shopify fees for transactions range from 2.4% to 2.9% and up to $0.30 per sale if you use them to process credit cards. If you use a third-party credit card processor, you'll pay its fees plus 0.5% to 2.0% of each transaction to Shopify, depending on your plan.
Results
Shopify pricing wins, despite charging a transaction fee if you use a third-party credit card processor. Shopify Lite allows you to begin e-commerce transactions without a significant investment, and the $29/month plan comes with features not available with BigCommerce unless you choose its $79.95/month plan.
---
BigCommerce vs. Shopify: Integration with other software
No e-commerce platform will do everything you want right out of the box. The number of available third-party software integrations and apps is key, so you can customize processes to meet your exact needs.
What BigCommerce offers
The BigCommerce app marketplace has over 750 apps and integrations available. While some, such as Mailchimp and QuickBooks Online, are free, you must pay for most others.
The most popular paid app is ShipStation, which is free to download and install but costs $9/month after a 60-day free trial. Other apps, such as the payments and security app Signifyd, take a percentage of each transaction.
Available app categories include:
While BigCommerce has apps available for all areas of your business, many users report that the relatively small total number of them doesn't provide enough variety.
What Shopify offers
The Shopify app store has almost 2,500 apps, and over 1,000 are free. Want to print free retail barcode labels? There's an app for that in addition to ones for an order printer, advanced inventory management, and task automation, all of which are free.
Other apps categories include:
Customer support
Finances
Marketing
Productivity
Store design
Users frequently comment the number of Shopify apps makes it possible to highly customize their online stores and sales processes.
Results
Shopify is the winner here because of its total number of third-party apps. The BigCommerce alternative also has more free apps than BigCommerce's paid and free apps combined.
---
How They Compare: BigCommerce vs. Shopify
View more information: https://www.fool.com/the-blueprint/bigcommerce-vs-shopify/