BerniePortal Review (2021): Features, Pricing & More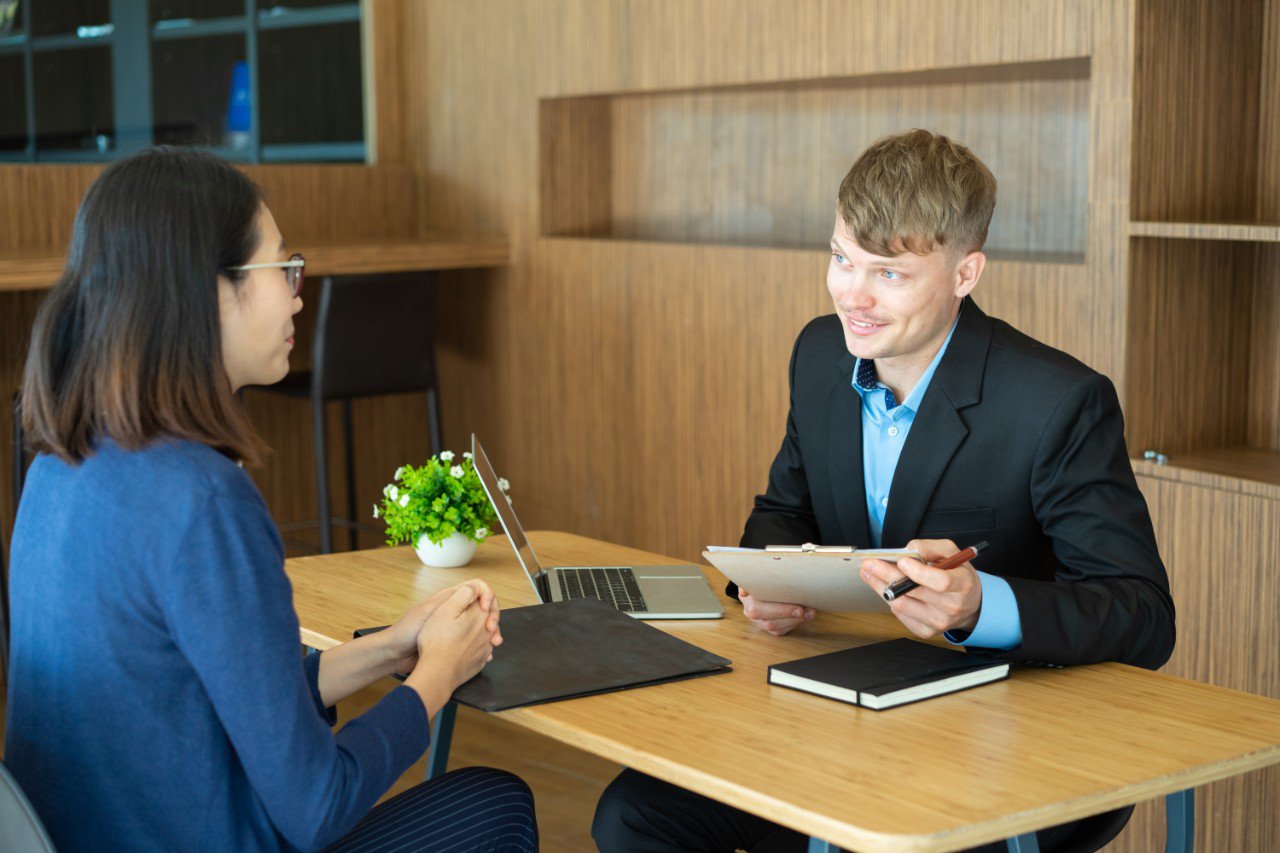 Before choosing an HR solution, it's important to get really clear not only on which features you're looking for, but also who will be using the software.
For example, if you have a team of young HR professionals straight out of college, you should probably consider a more modern, intuitive tool that they can pick up as they go along and that provides in-app help.
BerniePortal is a different beast. Its look and feel scream traditional HR software, with a similar user interface and organization to the likes of Workday, SAP, and Oracle.
If you have a team of super experienced HR professionals who are used to using these types of tools, BerniePortal will be a familiar option. It all comes down to what's right for the unique needs of your business and team.
---
Who is BerniePortal for?
BerniePortal is suitable for experienced HR professionals who know their way around human resources software and understand the different processes involved with managing a multigenerational workforce.
As there is a lack of training and support, and it's not an intuitive solution, it will take novice users a while to get up to speed with how this software works.
---
BerniePortal's features
BerniePortal is an all-in-one HR and recruitment solution that lets you recruit, onboard, and manage employee benefits, PTO, time and attendance, and performance.
Applicant tracking
When you're hiring for different positions, you need different pipelines. BerniePortal lets you build your own customizable candidate pipeline so you can see how each candidate is progressing through the hiring process.
BerniePortal software also provides a recruitment dashboard so you can keep track of the applicants for each position, as well as exchange messages with the candidate and get notifications if there are any actions you need to take.
BerniePortal lacks more advanced analytics, such a time-to-hire metric or how many candidates are at each stage.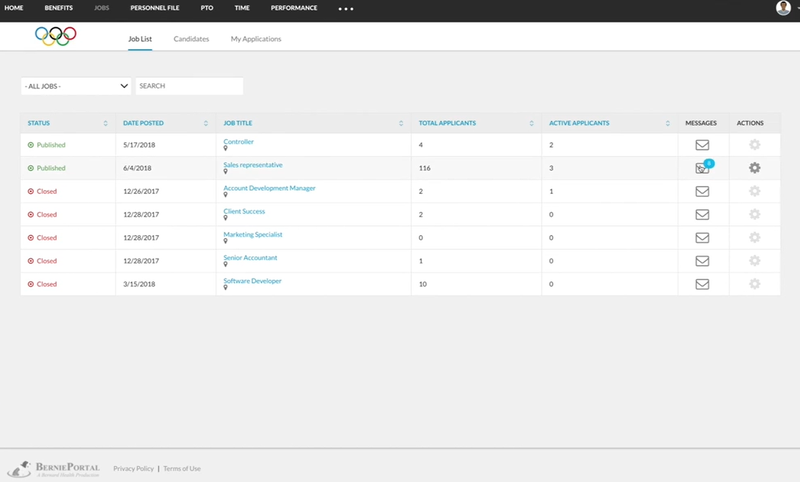 BerniePortal HR software integrates with job boards such as Indeed, meaning jobs you create automatically appear on the job board, and when a candidate applies to the job, their details are automatically populated in BerniePortal.
You can make collaboration a key part of your recruitment strategy by adding other people within the company to your hiring team. The entire hiring team can leave comments on candidates within the hiring portal, so everyone can see each other's input.
BerniePortal's job ad and application form creation functionality is basic, and it doesn't have key talent acquisition capabilities to help you source candidates or create a career portal to improve your employer brand.
Onboarding
Effective onboarding is important for giving a new hire a good impression of your company, making them feel welcome and like they have the tools and knowledge they need to do their jobs. It also ultimately improves employee retention.
If you decide you want to hire a candidate, you can extend a job offer from within the applicant tracking dashboard and start the onboarding process. When you start the onboarding process, the information will already be populated from the candidate data that was inputted during the hiring process.
You can then add additional details, such as benefits, PTO, and payroll.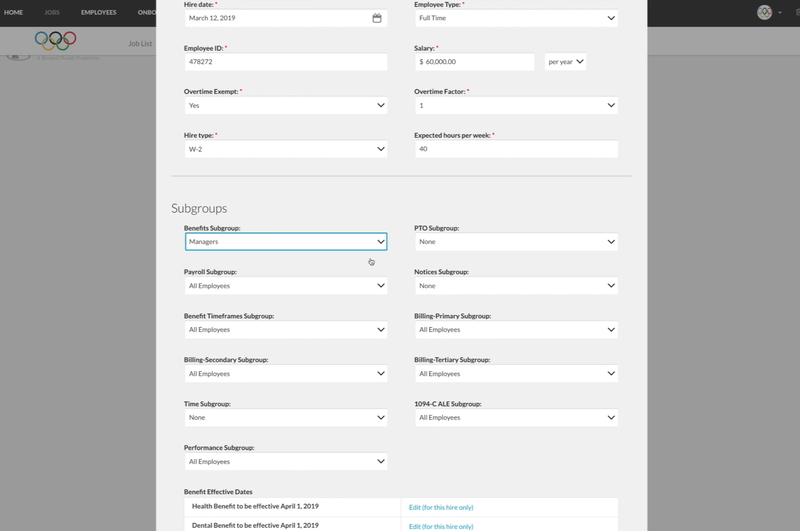 New hires can log in to BerniePortal during the onboarding process to input additional information, access important documents such as the employee handbook, and see their contract type (for example, whether they are an at-will employee).
This means candidates won't have to go through lengthy admin processes on their first day at the company.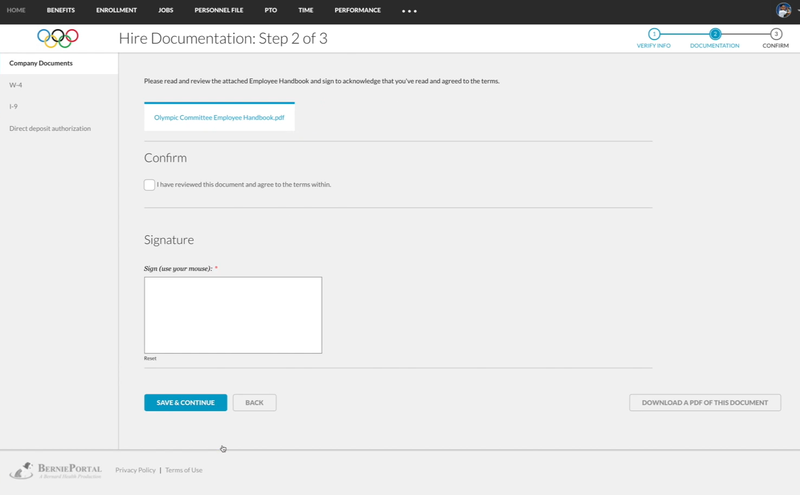 Benefits
BerniePortal's benefits administration functionality includes guided enrollment to walk new hires and existing employees through their options.
While in the benefits portal, employees can select from plans they're eligible for, including health, dental, vision, and life insurance. It then tells them how much their contributions will cost and how much the company will contribute.
If, for example, they only want to pay for health and dental, they can choose not to select any additional plans.
As a business, you can fully customize what information appears on this page, including types of benefits displayed, essential documents, and business data.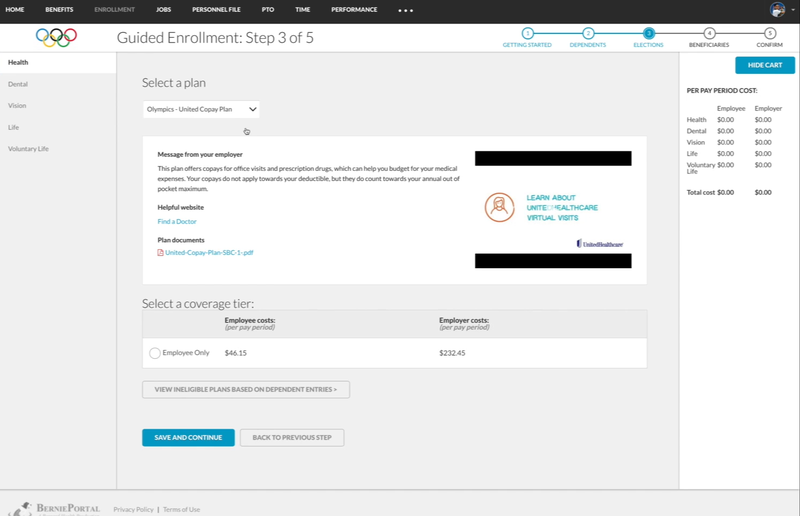 Time and attendance
When it comes to effective workforce planning and people management, you need to be able to track time and attendance. BerniePortal's functionality here is quite basic.
Employees can submit time-off requests via the portal and state the reason, and managers can approve these requests as well as see an overall view of time off for their teams during the month.
Workers clock in through the portal, adding a note giving a reason why they clocked in and out. Managers can then review these clock-in changes.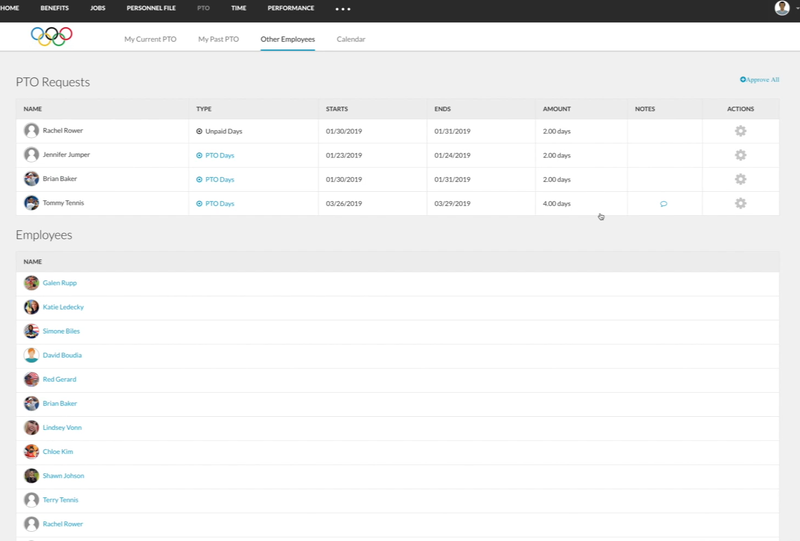 When it comes to employee management, BerniePortal lacks the advanced features of other HR software, such as Zenefits. For example, you can't manage different types of employees, such as hourly or freelance.
There's no way to set different rules for the way overtime is tracked and calculated, set specific meal break times, or manage shifts to make sure your staffing planning is running smoothly.
BerniePortal also lacks the workforce analytics and reporting functionality you need to find out what's working, if there are any issues with employees, or how you can make improvements.
Performance management
BerniePortal's performance management module is aimed at helping HR professionals and managers conduct better employee evaluations and improve their talent management processes.
You can use BerniePortal to set up 1:1 meetings with workers as well as set agendas and have ongoing discussions about performance metrics. The idea is that, with the record of this ongoing communication and feedback, both manager and employee are held accountable for performance through 360-degree feedback.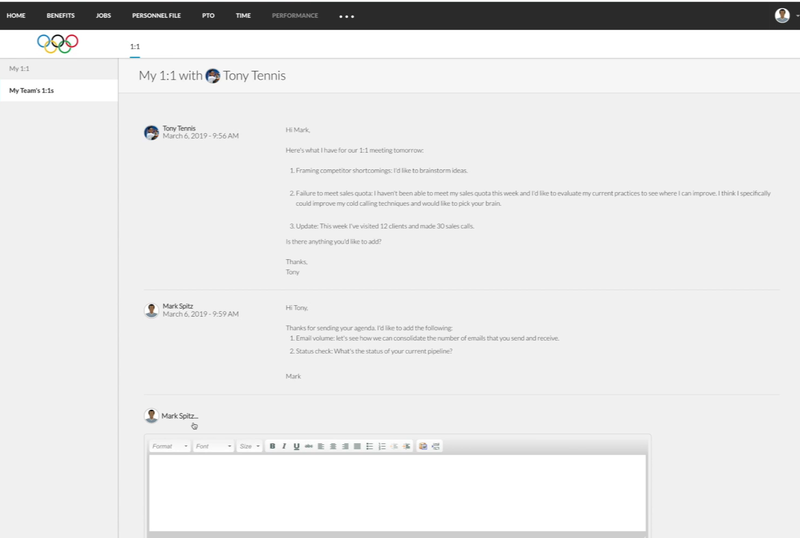 BerniePortal lacks the ability to incorporate company goals or specify any learning and development needs based on performance management data.
---
BerniePortal's ease of use
BerniePortal has the kind of outdated user interface more commonly found in traditional HR software. It lacks the intuitive user experience of more modern solutions such as BambooHR and is less graphical and more text-based.
Its main dashboard — which is accessible at all times through the Home option on the main navigation — focuses on benefits enrollment while providing a handy to-do list to help you complete pending tasks.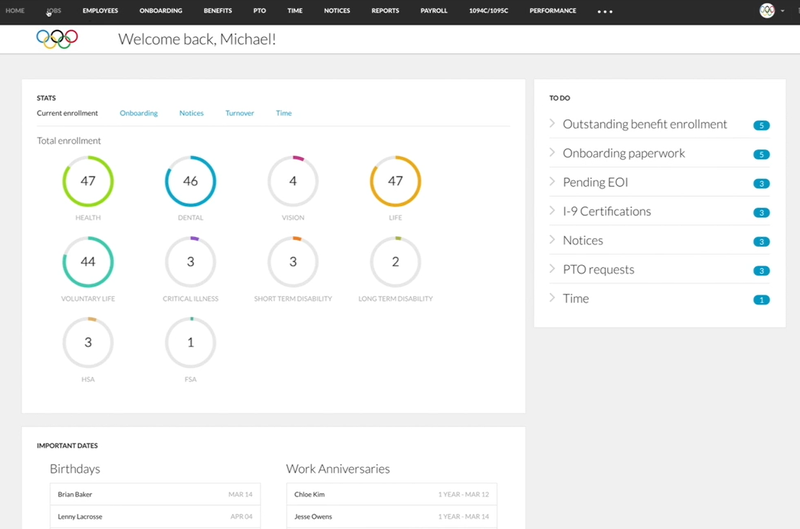 BerniePortal doesn't provide any in-app tips or help, leaving you to get up to speed with the software yourself. When you know what you're doing, it's pretty easy to complete tasks and manage employees. If you're new to HR, though, you'll likely need some training to understand the complexities of this solution.
Its main navigation splits up the various tasks in a logical order, so you can always find your way around and return to the main dashboard at any time.
---
BerniePortal's pricing
BerniePortal's pricing is more complicated than other HR software because it charges per feature set rather than for the solution as a whole. There are five different modules:
Applicant tracking
PTO tracking
Time and attendance
Compliance
Performance management
Each module costs $5 per employee, per month with a $15 base fee per month for each one. So, for example, if you want the applicant tracking and performance management modules, there would be a $30 base fee per month and a $10 per employee, per month cost on top of that.
As BerniePortal is only available through Broker Partners, the benefits administration module is included as standard.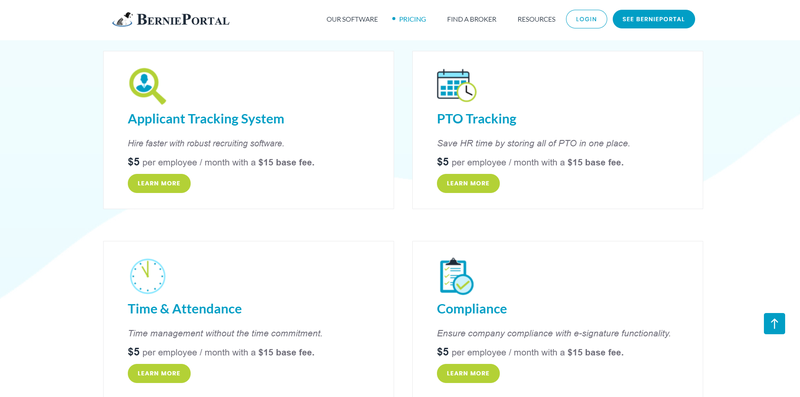 ---
BerniePortal's support
BerniePortal's Knowledge Center includes dedicated resources for companies, brokers, and employees. Just like the rest of BerniePortal, the help guides look quite outdated with static screenshots rather than videos, live training, or recorded webinars.
You can email BerniePortal support if you have additional questions (although you have to spend some time searching for the email address), but there is no phone support.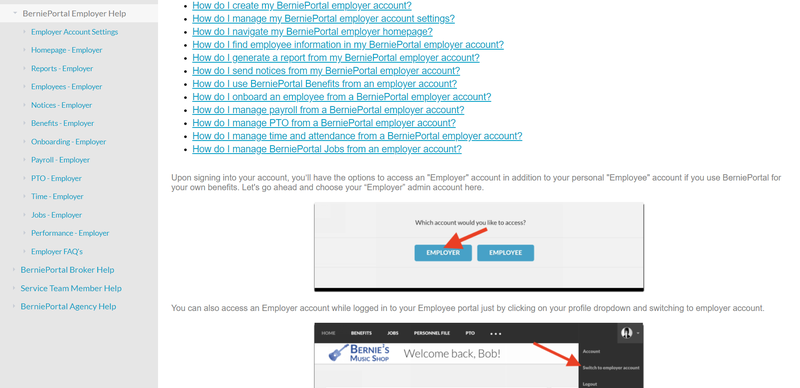 ---
Benefits of BerniePortal
BerniePortal is a solid solution that helps you complete most of the key functions of human resource management in one place. You can recruit and onboard candidates in one smooth and joined-up process, as well as ensure both employees and managers contribute to improving performance.
Benefits administration is easy to manage and fully customizable, and it provides transparent pricing for employees.
---
Middle-of-the-pack HR software
While BerniePortal contains quite a lot of features, nothing makes it stand out. There's no functionality in its modules that you can't find in most other HR software. It also looks like it belongs in the past decade, before the current crop of modern, cloud-based solutions came on the market.
It's a decent option if you're used to traditional HR solutions, but its outdated user interface will put off many.
View more information: https://www.fool.com/the-blueprint/bernieportal-review/