Basecamp Review 2021: Features, Pricing & More

---
Who is Basecamp for?
Basecamp is the perfect tool for collaborative teams looking to track multiple projects and tasks, store and share team documents, and increase communication regarding task progress. This system works best as a collaboration tool for staff projects that do not require any budget planning, invoicing, or time tracking.
I've used Basecamp to track projects requiring lots of creative input, such as developing social media marketing campaigns, organizing event promotions, graphic design projects, and even company rebranding efforts. It's mainly a collaboration and planning tool best for internal team projects.
---
Basecamp's features
Basecamp keeps it simple in the features department and goes for a more collaboratively based approach. It offers task management, commenting, file sharing, and scheduling features that'll help you keep internal projects on track.
Management and planning features:
Task prioritization and scheduler: Basecamp offers a task list system that allows you to tag relevant users, comment on task progress, and share project resources (documents, graphics, charts, etc.).
Documentation features:
Document storage: Every project on Basecamp has a docs and files section where you can upload images, documents, and spreadsheets from your local computer as well as documents from your Google office suite.
Collaboration features:
File sharing: Each Basecamp project and task has a file uploading and sharing system so you can quickly share resources with the rest of your team.
Communication: Not only does each task in Basecamp have a comment section and messaging platform so you can communicate with your team, but Basecamp also sends email notifications whenever you're away from the app. That way, you'll never miss a task update or completion.
Budgeting features
Basecamp doesn't offer any financial management features such as budgeting, expenses, or invoicing.
---
Benefits of using Basecamp
Basecamp's strengths lie in its simplicity. Navigating to different projects and teams is a breeze on the home screen, with each project and team displayed in giant blocks listed in alphabetical order. I never felt lost while using Basecamp.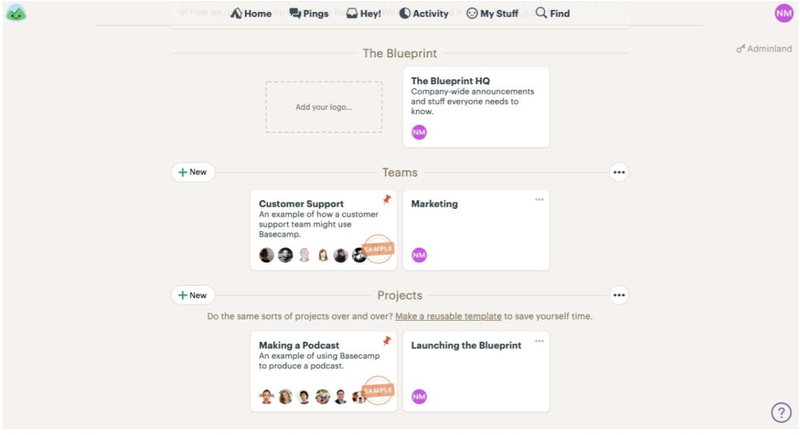 If you're looking for a collaboration tool that you can pick up quickly with minimal training or experience with project-management tools, Basecamp is the way to go.
The user-friendly platform is also easy to scale thanks to the flat $99 per month pricing structure. No matter how many projects you create, users you add to the platform, or features you take on, you'll always pay the same rate, making it the ideal collaboration tool for large project teams.
---
Basecamp's pricing
Basecamp is $99 per month with no contractual obligations, no user limits, and no tiers for features or customer support. This is perfect for teams looking to scale with lots of users without taking on any extra costs. This price may seem relatively expensive right out of the gate, but the more users you bring on, the more economical it gets.
Additionally, Basecamp has added a free version of its software for freelancers, students, families, and personal project needs. This version, named Basecamp Personal, offers users the ability to create three projects, add twenty users, and use up to 1GB of storage space. This free tier is perfect for entry-level users looking to test the waters before upgrading to the full platform!Usability
---
Basecamp's ease of use
When it comes to usability, you can't get much easier than Basecamp. Everything is clearly labeled with large project icons on the dashboard, and each project clearly lays out your message board, to-do list, automatic check-ins, schedule, "campfire" discussion feature, and file/document uploads. If your project doesn't involve handling money or outside contractors, what more could you want in a collaboration tool?
Basecamp's file upload system makes the ideation process simple and convenient. If I need feedback on a graphic, an email, or a social campaign, all I have to do is upload my ideas into a task and tag the relevant team members to let them know. Once tagged, those users will receive an email letting them know that I've pinged them in case they aren't currently on Basecamp. If I need to create tasks, it's as easy as clicking into a project, entering the "to-dos" section, and adding a new task with a due date and the relevant users.
Furthermore, Basecamp even offers a mobile app so you can keep in contact with your team on the go. I found that the mobile app functions almost exactly like the desktop version. The icons look nearly identical, the comment functions are the same, and the team pinging functions are intuitive, with notification bubbles at the top of the home screen.
Easy, easy, easy.
Basecamp doesn't offer everything you could ever want in a project management software, but what it does offer, it does very well.
View more information: https://www.fool.com/the-blueprint/basecamp-review/