BambooHR vs. Zenefits: Which is Better in 2021?
Zenefits and

BambooHR both target the same market: small businesses. They're both relatively new kids on the block — Zenefits was founded in 2013 and BambooHR in 2008 — compared to HR software stalwarts such as SAP and Oracle, which have been around since the 1980s.
They also both market themselves as super user-friendly solutions suitable for modern businesses.
They have a lot in common, but which one is better? That's the question we'll answer with this BambooHR vs. Zenefits showdown, as we evaluate their features, support, ease of use, pricing, and integrations.
---
BambooHR vs. Zenefits: An overview
Searching for HR software means finding a solution that meets the needs of your business, allows you to manage your employees, and helps you create an attractive and pleasant workplace. But no matter how good a tool is, it needs to fit your type of business.
Who is BambooHR for?
BambooHR is a great option for startups and small businesses that want to manage their HR processes. It's easy to get started and quick to learn, which makes it ideal for businesses without a dedicated HR department.
As BambooHR takes a modular approach — you can add on functionality such as performance management and employee satisfaction for an additional fee — it's perfect for businesses that are growing quickly and want HR software that will scale with them.
Who is Zenefits for?
Zenefits is an affordable solution, meaning it's a good option for all business sizes. Its powerful functionality means it has a steeper learning curve than BambooHR, but it also sports an intuitive design and attractive user interface.
Its raft of features won't suit businesses that want vanilla functionality that covers the basic HR functions.
---
BambooHR vs. Zenefits: Features
When choosing HR software, look for the features you need, not the maximum number of features. This human resource information system (HRIS) comparison should help you decide which one has what you need and what you want.
What BambooHR offers
BambooHR's features include talent acquisition, workforce management, and reporting functionality, but it doesn't have the breadth of features as other HR software, such as Zenefits.
Talent acquisition
BambooHR's talent acquisition capabilities let you easily create job postings and manage the candidate pipeline. You can add collaborators and manage their permissions, which comes in handy if you work with external recruiters.
BambooHR has strong recruitment analytics that let you review how many candidates are in each stage as well as HR planning metrics, such as total candidates and how long the job post has been open. These can help you optimize your recruiting processes.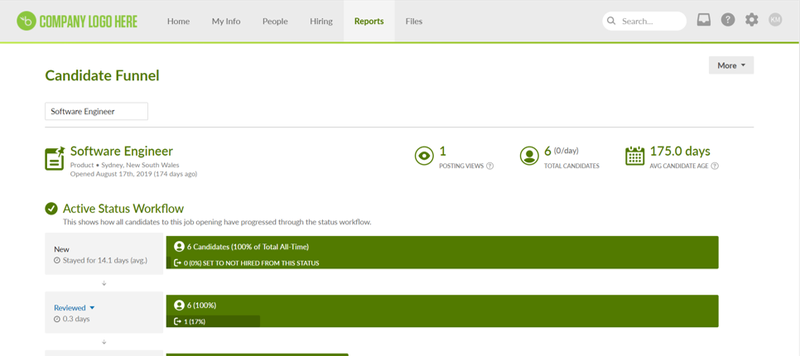 Workforce management
BambooHR's HRIS capabilities centralize your HR data, bringing together demographic information, time-off requests, benefits details, IT assets, and employee employment status into one place.
To help improve your workforce planning process, you can drill down into the specifics of each worker, so you know their strength, any issues they have, and their learning and development needs.
What Zenefits offers
Zenefits brings together time and attendance, scheduling, performance management, benefits administration, compensation management, and wellness into one solution. It's one of the only HR solutions that includes a module focused on employee wellbeing.
Time and attendance
Zenefits has comprehensive time and attendance functionality, all managed through one dashboard. From this centralized location, you can see the activity of all types of workers, whether they are hourly, weekly, salaried, or freelance.
The dashboard is fully customizable. You can also set your own rules for the way overtime is tracked and calculated for different workers.
Performance management
If you're unsure how to get started managing employee performance, you can use one of Zenefits's templates to set goals, run reviews, measure success, and make adjustments. You can track goals across the whole company, and by department, team, and your direct reports.
With 360-degree functionality, employees and managers can leave feedback for each other. A calendar helps you manage your reviews and remind you when you need to give feedback.
Benefits administration
Zenefits' employee benefits functionality is one of its main selling points. You can design and customize your benefits package, offering not just common insurance such as medical, dental, and visual, but also perks such as property insurance and transport subsidies for commuters.
The reporting functionality provides detailed insight into how much your benefits are costing and how many employees are enrolled in each of the options.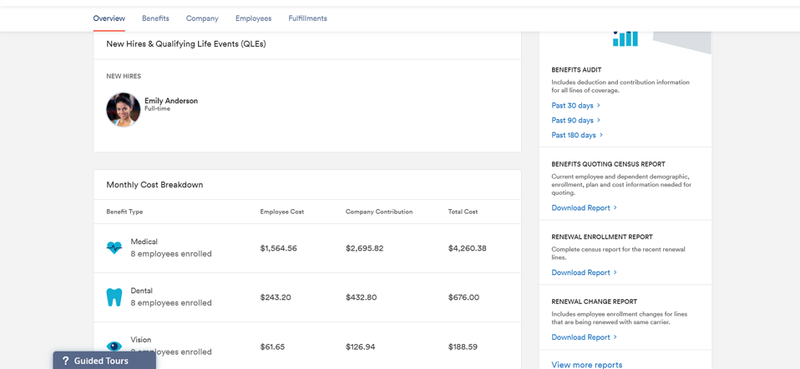 Results: Zenefits wins
Zenefits provides a huge number of features. BambooHR has a good range of functionality but can't compete.
---
BambooHR vs. Zenefits: Support
A variety of support options is important. Sometimes you want self-service support immediately in the form of a quick tutorial or video, and sometimes you need to call or chat a support agent to solve a more tricky problem.
What BambooHR offers
BambooHR's support options vary by which of its two pricing plans you subscribe to. If you're on the least expensive Essentials pricing plan, you only get access to email support Monday through Friday, 8a.m. – 5p.m. (MT). Phone support isn't an option.
If you are on the Advantage pricing plan, you get access to email and phone support, which is again available Monday through Friday, 8a.m.-5p.m. (MT).
BambooHR's Help Center contains useful and user-friendly articles and videos to help you sort out your problem yourself. BambooHR also holds weekly customer success webinars, which you can listen to live or at a later date. They offer no live chat support.
What Zenefits offers
Zenefits lays out its support options in a straightforward way. You can do a lot from its help center: you can start a live chat, send email, get phone support, and watch training videos. You can also ask questions in the Zenefits community forum to get peer-to-peer support.
The one glaring negative in its support system: It's closed on weekends, and its Monday to Friday help times are limited for people outside the US.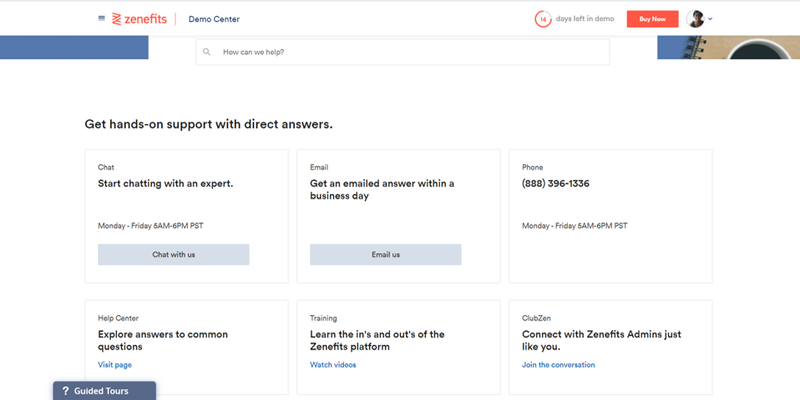 Results: Zenefits wins
Zenefits wins with its live chat support and online community peer-to-peer support.
---
BambooHR vs. Zenefits: Ease of use
If you're a startup or small business, you can't afford the downtime it takes employees to learn how to use a new system. And it's a system wide issue, because most employees in your company will use your HR system in one way or another, so ease of use is crucial.
What BambooHR offers
BambooHR has a simple and straightforward user interface. Zenefits packs everything under the sun into its main navigation, but BambooHR sticks to a few key options. This includes People, Hiring, Reports, and Files. Click on these options, and you'll immediately carry out the associated tasks.
BambooHR's main dashboard is easy to use. Six main buttons address your main options, and you can also see a list of your tasks on the left of the screen. Navigating around the app is quick and easy.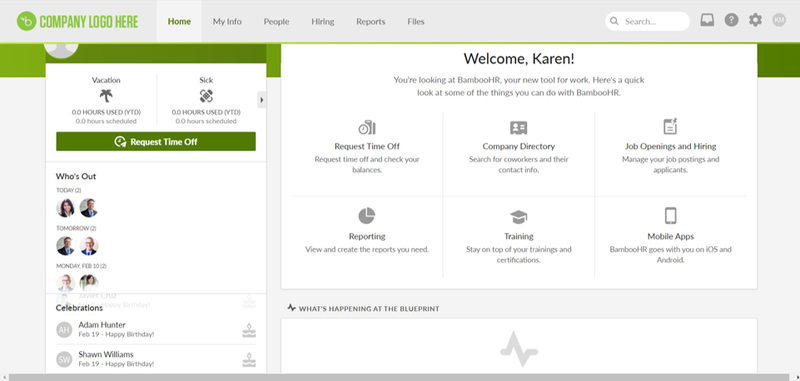 What Zenefits offers
Zenefits has a clean and clear user interface, with all features easily accessible at all times. Its vertical navigation organizes features into logical groups, such as time and attendance, benefits administration, document management, and scheduling.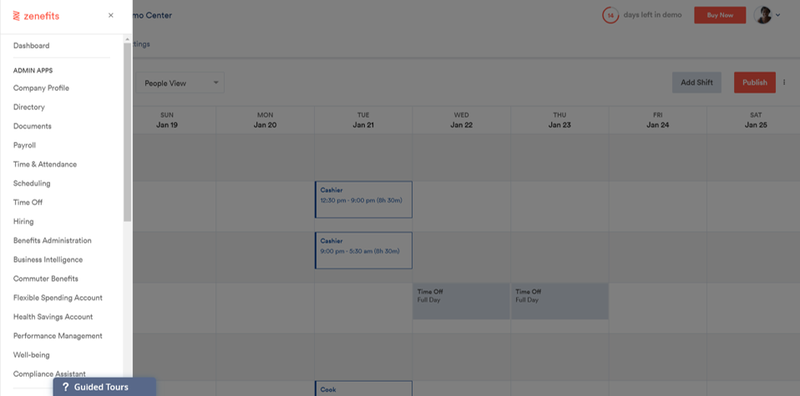 The horizontal sub-navigation in each feature group helps you carry out common tasks quickly. Zenefits puts these common tasks within big red buttons, so you not only understand the logical next best action, you also don't have to spend ages looking for it.
The downside with Zenefits is that it has many options in the main navigation, which can seem both intimidating and overwhelming when you don't know what you're doing, or if you don't want to spend excessive time managing your HR processes.
Results: BambooHR wins
BambooHR has a more straightforward interface and less cluttered menus, so it takes this round.
---
BambooHR vs. Zenefits: Pricing
Transparency is important in pricing. While with some business software, such as email marketing, the vast majority of companies make their pricing public, the same can't be said for HR solutions. Many companies don't even have a pricing page on their website.
What BambooHR offers
BambooHR provides a seven-day free trial, with access to all software features.
BambooHR pricing is not publicly available on its website, but we do know they have two paid pricing plans — Essentials and Advantage. The Essentials plan doesn't include hiring, onboarding, training, employee satisfaction, and offboarding, and it doesn't include phone support.
You can add performance management and time tracking modules — no matter which of the two plans you are on — for an additional cost. This is a good option for businesses that want to start small but scale their HR software as their workforce grows.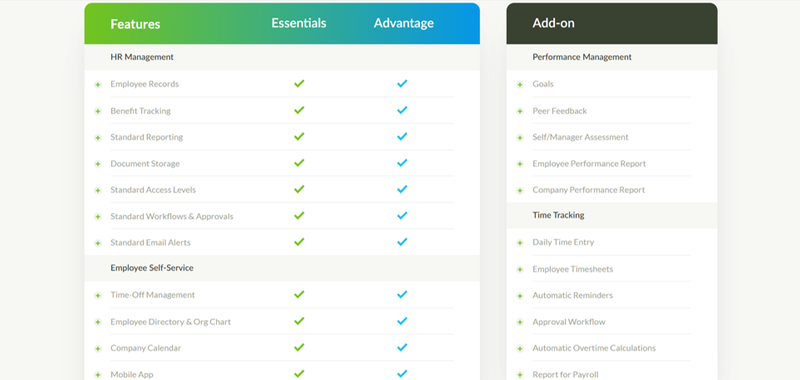 What Zenefits offers
Zenefits' pricing is affordable, even for small businesses. Zenefits offers a 14-day free trial, and three main paid pricing plans:
$10/month for the Essentials plan
$18/month for the Growth plan
$27/month for the Zen plan
Pay annually and you get a 20% discount.
The Essentials plan includes core HR functionality (hiring, onboarding, document management, and reporting), time and attendance features, and a mobile app. With the Growth plan, you also get compensation and performance management. The Zen plan also includes a wellbeing module.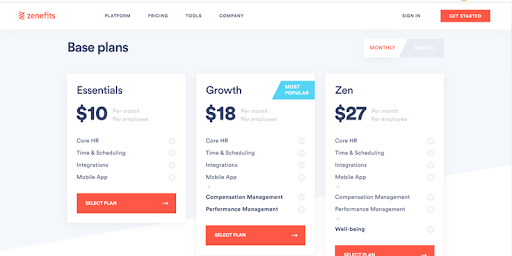 Results: Zenefits wins
Zenefits offers a longer free trial, plus it provides full pricing information on its website.
---
BambooHR vs. Zenefits: Integration with other software
Your HR department works with almost all other departments and teams within your company. That means you need an HR tool that can seamlessly connect with your existing technology landscape.
What BambooHR offers
BambooHR has an app marketplace that helps you extend functionality from within the software, rather than having to connect to an external tool. The add-ons include hiring, culture, onboarding, and benefits functionality.
BambooHR integrations — which connect different software with this HR solution so data can flow seamlessly between the two — include business tools for:
Accounting
Background checks
Employee development
Learning and training
Performance management
Employee recognition
This Zenefits alternative also helps you connect with a developer to build a custom integration if you need to integrate a tool that isn't on the list.
What Zenefits offers
Zenefits offers a ton of integrations in the following business software categories:
Productivity
Accounting
Travel
Recruiting
Performance management
Employee management
You can also create custom integrations if Zenefits doesn't already integrate with your software, and it provides limited support to help you do that.
Results: BambooHR wins
BambooHR's app marketplace and wide range of integrations means it comes on top in this round.

View more information: https://www.fool.com/the-blueprint/bamboohr-vs-zenefits/