Avast Business Antivirus Pro Review 2021: Features, Pricing & More
Cybercriminals target small and medium-size businesses (SMBs) due to their limited resources, smaller IT staffs, and relative lack of IT know-how. Smaller, with less sophisticated protection, they have the same type of data that enterprises have, including:
Credit card information
Health records
Contact PII (personally identifiable information)
Intellectual property
It's just as, if not more essential, for SMBs to put in place an effective security defense plan. A breach at a strategically vulnerable time could deal a fatal blow to an SMB. Consider what would happen to your capital funding efforts if a breach occurred.
---
Who is Avast Business Antivirus Pro for?
Avast Business Antivirus Pro is a great choice for SMBs and managed service providers (MSPs) who serve SMBs. SMBs may elect to buy the Management Console or the standalone version without the Console. The standalone version is installed and configured on all devices and managed from that device.
MSPs and SMBs with savvy IT will probably opt for the Managed version because it provides more control and standardization over policy setup and reporting.
Versions for recent Windows Workstation operating systems, macOS, and Windows Server with Sharepoint support make it a no-brainer choice for SMBs with OS-agnostic networks. While not included in this review, Avast also offers free antivirus and antivirus for Linux.
---
Avast Business Antivirus Pro's features
The Pro version's feature lineup is extensive, offering all the standard antivirus device solution capabilities you'd expect, such as browsing protection, anti-spam and anti-phishing protection, remote management, a firewall, and more.
Avast has created names for multiple functionalities that fall loosely into the same category. For example, File Shield and Behavior Shield, while slightly different, basically protect you from threats that exist in files and programs.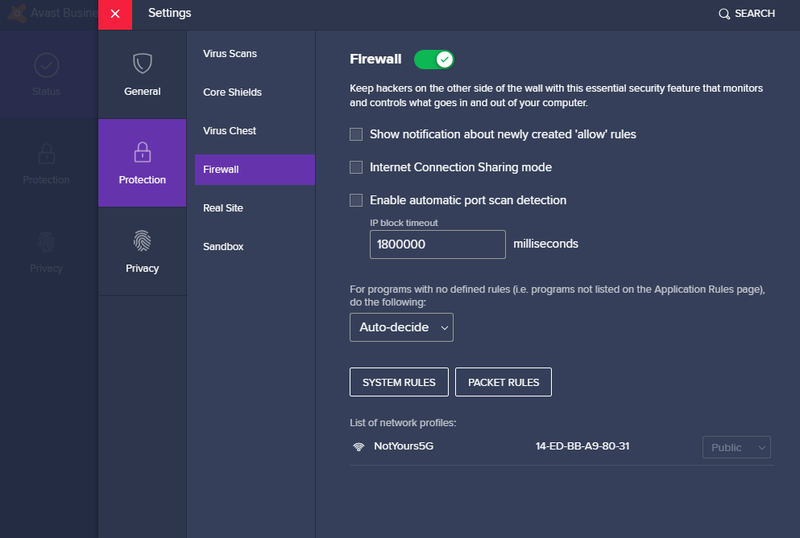 The product also includes useful network monitoring features like its Wi-Fi Inspector that detects unauthorized lurking systems on the network. Another capability in the Protection menu we liked is called Real Site.
It thwarts hackers from hijacking your DNS settings in browsers, even those that use DoH protocol, and redirecting you to counterfeit sites that will steal your financial and banking data.
Because video conferencing has exploded during the COVID-19 pandemic, it would have been a nice addition to include the Webcam Shield in this version.
Core Shields
Behavior Shield blocks applications trying to gain access to other unrelated applications or functionalities that may be caused by malware. It warns you of suspicious activity and is one of Avast Business Antivirus Pro's four Core Shields.
It works in tandem with File Shield, which scans files being downloaded to your system either from the Web or a removable drive, and auto-run extensions.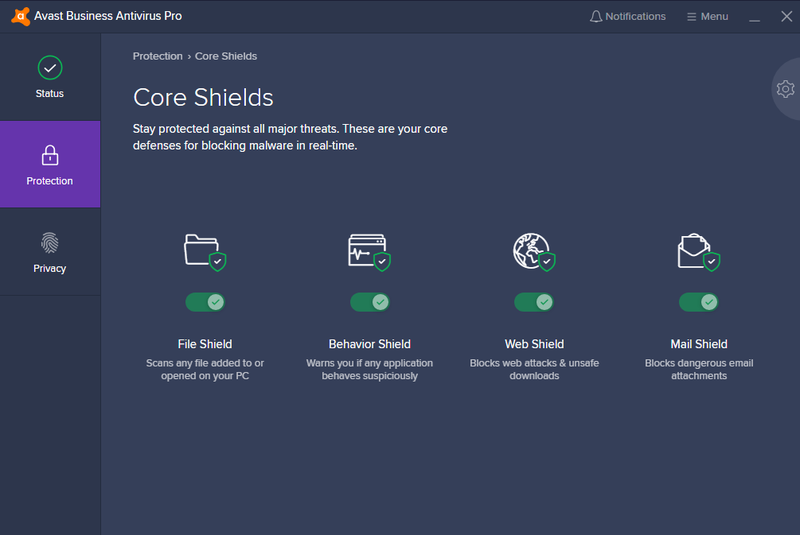 Web Shield blocks web attacks, sketchy downloads, and botnet attacks. You can enable HTTPS, script, and QUIC/HTTP3 scanning, which will scan encrypted sites for threats.
The last of the four, and certainly not least, is the Mail Shield that scans inbound POP3 and IMAP4 and SMTP outbound email and their attachments for viruses.
Sandbox
This is a great tool that lets you test apps and files without the exposure you'd have if you simply downloaded a spooky file or app. You can ascertain file legitimacy without letting them loose to torch your system. You can select apps to virtualize which will have internet access and keep trusted files outside the Sandbox.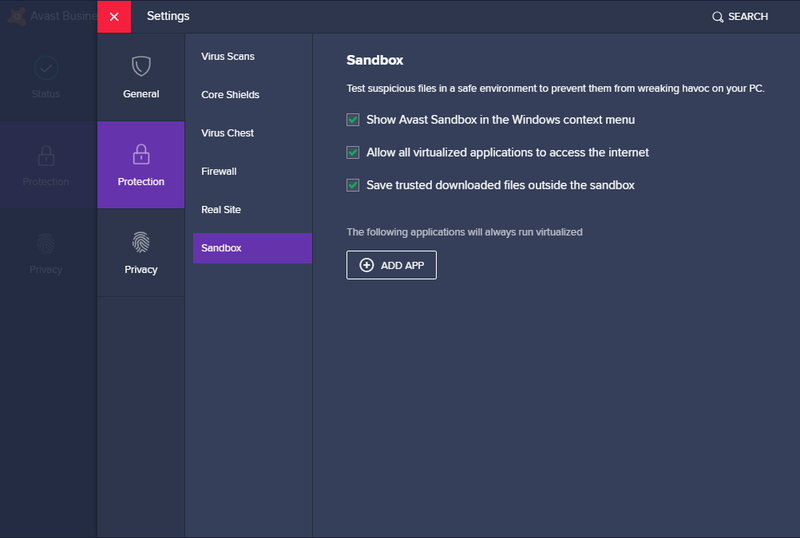 Data Shredder
Often employees think once they delete a file, it's gone. Not necessarily true. Data Shredder gives you the option of selecting specific files, selecting an entire drive with all its data, or shredding the remains of already-deleted files.
You have a choice of three algorithms: Gutmann with 26 passes; DoD 5250.22-M, which does three passes; or Random overwrite with your option of passes.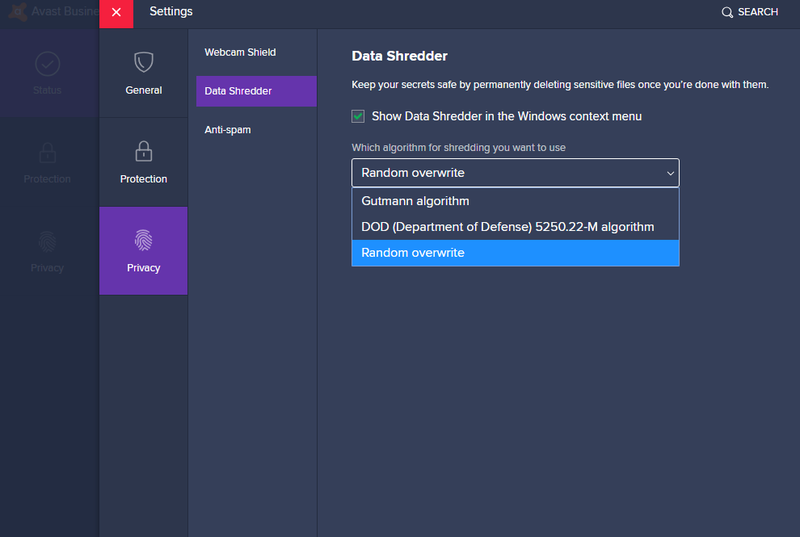 ---
Avast Business Antivirus Pro's ease of use
Deploying Avast across an SMB network is like clockwork.
We tested Avast Business Antivirus Pro using its 30-day free trial version on a Windows 10 laptop since that's likely to represent a majority of SMB user systems. You'll need to be comfortable switching out of "S Mode" to install the product.
Our installation went off without a hitch, leaving us to explore the dashboard before actually setting up Policies, scheduling Scans, and Reports, and downloading Patches for installation.
The dashboard is well-designed and intuitive. It even lets you explore products that are still under development in the Labs section, provided you're the adventurous type.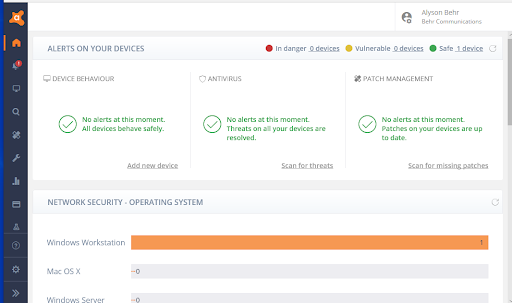 ---
Avast Business Antivirus Pro's pricing
As with other antivirus products, Avast offers a free trial before you buy. Once you've decided it'll be a fit for your business, pricing is fairly competitive and flexible across its managed product portfolio. Here's a quick scan of its offerings.
Business Antivirus Pro: The specific product we tested runs from $47/year for a single seat up to $6,413/3 years for 100 seats.
Avast Business Antivirus Pro Plus: You get all the functionality in Pro as well as browser cleanup, webcam shield, password protection, and SecureLine VPN for $57/year for a single seat up to $7,778/3 years for 100 seats.
Avast Antivirus: Provides endpoint protection for almost every type of device you can think of running: Windows, Windows Server, or macOS. It includes everything in Business Pro except the data shredder feature. Pricing starts at $37/year for one seat up to $5,437/3 years for 100 seats.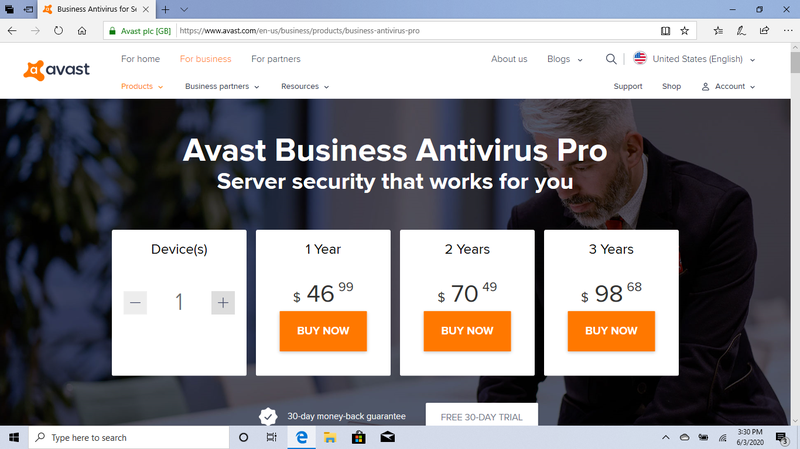 ---
Avast Business Antivirus Pro's support
Fortunately with Avast, support is just a keystroke or call away.
Sorting through issues quickly is critical when it comes to installing security. Avast's multiple resources and contact points make resolving problems manageable.
There's the usual online chat, although in English only, and a list of landline numbers for supported regions. You can also submit tickets. The depth and range of its support documents was what impressed me.
It has detailed articles on configuring product features, a comprehensive manual on how to use the management console with related articles, and even an instruction on how to perform a clean uninstall of the product.
Its product roadmap is an important read so you have a handle on how well the product will sync with your needs in the short, near, and long terms.
If these resources don't resolve your situation, you can purchase Avast's Premium Tech Support. It gives you 24/7, one-hour response with queue priority.
We submitted a ticket, and although we had signed up for the Windows trial version with the same email address we used at registration, they asked us for this information again, causing a delay in productivity.
---
Benefits of Avast Business Antivirus Pro Management
For the money, Avast Business Antivirus Pro has a lot going for it as an SMB security solution. Its full lineup of security features are intuitively organized in a clean, logical user interface. Its tech support is very responsive to support tickets, and you can install it on just about any operating system.
We tested the Managed version and found the Management Console easy to navigate, add devices to, set policies, and schedule reports. Whether you're a SMB or a MSP, you can customize it to fit multiple levels of cultural environment security levels.
---
SMB antivirus security you can count on
Managed security services offer SMBs a way to protect themselves with a strong defense plan without breaking the budget. Avast Business Antivirus Pro has completed some rebranding and is a strong contender in the business security software sector.
This particular version meets Avast's entry-level product (Avast Antivirus) and its fullest, feature-rich version (Business Antivirus Pro Plus) in the middle capability-wise. MSPs will like it because it's easily customizable to meet various SMB client needs. It's worth installing a 30-day free trial to see if you fall in love with it.

View more information: https://www.fool.com/the-blueprint/avast-business-antivirus-pro-software-review/