Asana vs. Jira: Which is Better for You?
[ad_1]

Asana and Jira are some of the most user-friendly project management software options I have ever come across, aside from Basecamp.
The difference is, these two have far more to offer their users than Basecamp.
This was a difficult comparison since these tools share a lot of the same features, variety in management styles, and support content, with only a few subtle differences (outside of their user interfaces).
Let's explore some of these differences so you can determine which one is right for your team.
---
Asana vs. Jira: An overview
Before we consider functionality, let's take a look at who these tools were created for.
Who is Asana for?
Asana was founded by ex-Google engineer Justin Rosenstein and Facebook co-founder Dustin Moskovitz in 2008. They created Asana with the purpose of "simplifying team-based work management."
The first iteration of Asana officially launched in 2011, and since then, it has grown to include a mobile app, kanban boards, integrations with outside programs, and project timelines.
However, this tool does lack in-depth reporting and budgeting tools, making it more of a collaboration tool than a complete project management software.
So, I have to conclude that this tool is best suited for any company or team looking to boost their collaboration but not requiring any financial management features.
Who is Jira for?
Atlassian's Jira started as an issue-tracking tool for software developers, becoming one of the most popular choices for app developers in the country.
Today, Jira has evolved into a platform for all sorts of project managers, with new functions such as task management, time tracking, kanban boards, and project reporting.
Just like Asana, Jira is lacking in financial management features, such as budgeting and invoicing. Jira doesn't offer any native financial management features or reporting without additional paid integrations.
If you're looking to save money, this platform is fantastic for smaller collaborative teams of 10 or fewer thanks to its lower starting price.
Unfortunately, once your user base grows beyond 10 users, the price becomes cost-prohibitive for many, especially when other tools offer the same functionality for a cheaper price.
---
Asana vs. Jira: Features
Both Asana and Jira approach project management with similar goals in mind: Streamline the project management process, make it simple, and give users variety in the management styles they can choose to use.
However, only one solution has the upper hand in the features department.
What Asana offers
Asana is a collaboration tool first and foremost that covers the project management basics. It doesn't offer any financial management features or in-depth reporting, but when it comes to task management, Asana goes above and beyond to give you plenty of variety.
It offers task lists, Gantt timeline charts, kanban boards, and shared team calendars for you to create, manage, and track tasks from start to finish.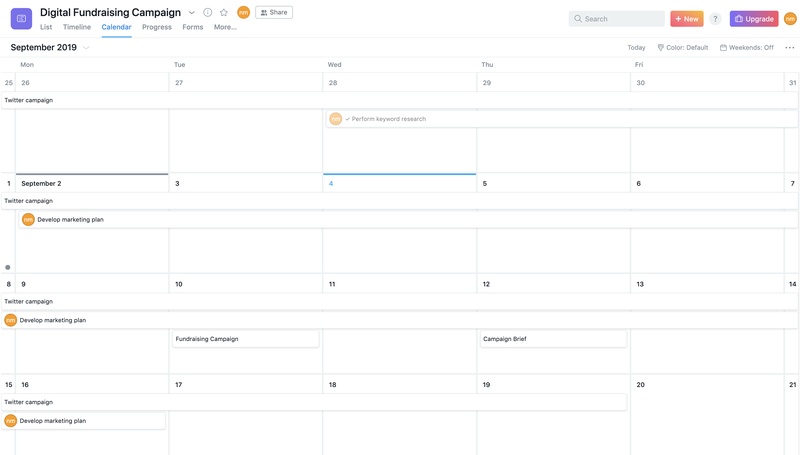 While most project management tools offer similar features, Asana separates itself with unique features such as Workload.
This feature allows you to track how much work each member of your team is juggling at one time and set limits on their workloads in order to prevent burnout.
While some project management tools offer similar features, none of them are as detailed and convenient. Any time a team member is in danger of exceeding their workload limit, the project manager is notified and given the opportunity to address the issue before it grows into a bigger problem.
Features such as these prove that Asana is more than just a management tool, but instead is focused on improving the relationships between managers and their teams.
Team members are incentivized to stay on top of the tasks they create in Asana in order to promote transparency without daily team meetings or one-on-ones.
What Jira offers
Jira has significantly improved since I used it years ago. What was once a dry and dull issue-tracking system has matured into an appealing and easy-to-use project management software.
For starters, Jira's selection of task management options and management styles is very impressive. While testing this tool, I chose to build my trial project using the kanban board management system since I'm familiar with it.
However, if kanban boards aren't what you're looking for, Jira also offers task lists and Gantt timeline charts.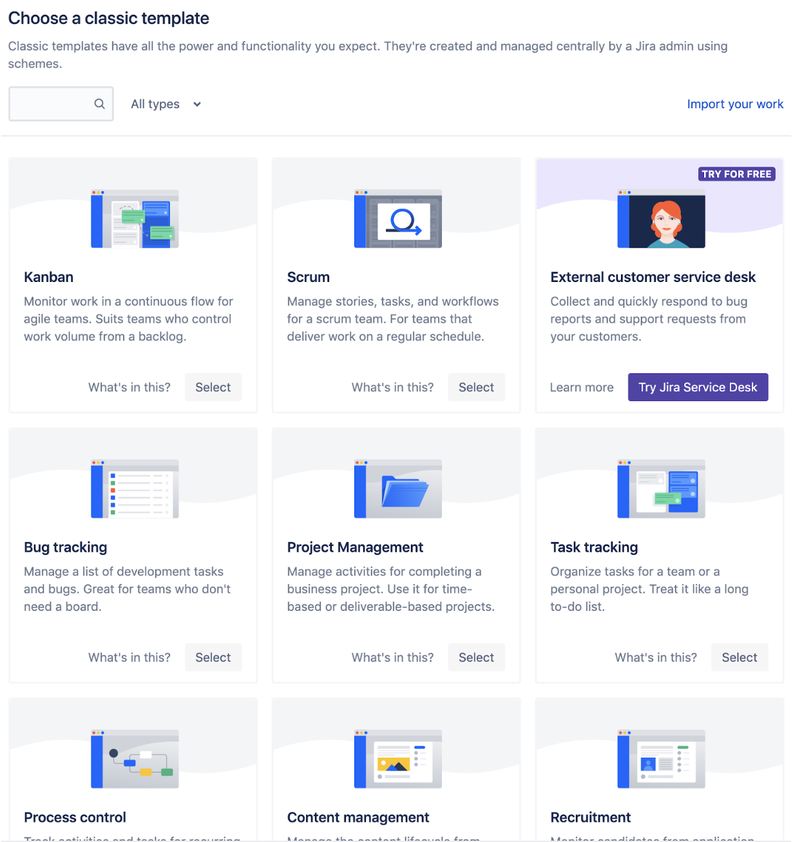 The task creation form in Jira is standard. Each task allows me to add due dates, attach files, assign a priority level, assign tasks to certain team members, add descriptions, and add comments as the task moves along the board.
These functions are easy to find and use. Moving tasks from one step to the next is accomplished with a drag-and-drop system, just like most kanban boards.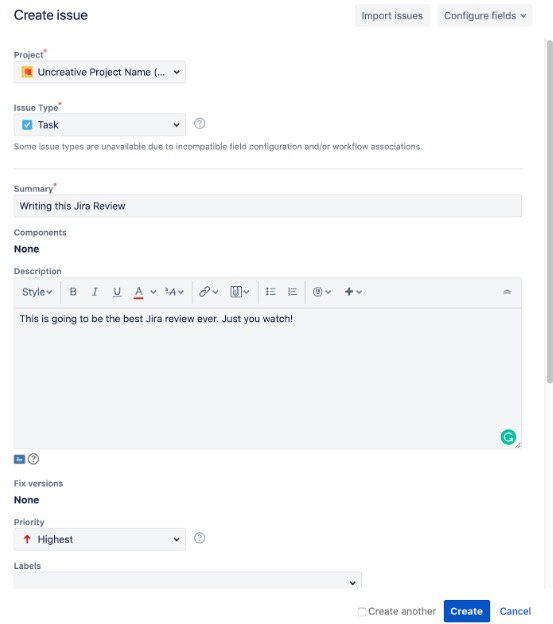 Where Jira really differs from Asana is the fact that it actually offers reporting capabilities, and it's easy to build these reports.
Jira lists lots of different reporting options, including Agile reporting, time tracking reports, workload reports, and many more. All you have to do is select which type of report you want, and Jira creates it for you in a simple format.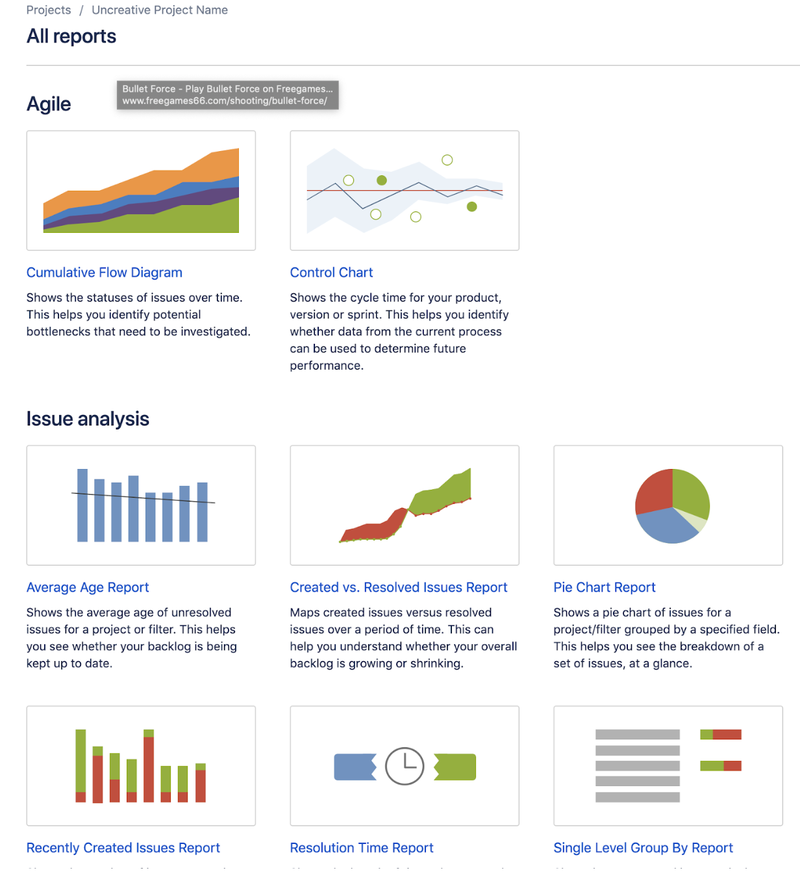 Just like Asana, where Jira falls short is its lack of financial management features.
If you're looking for ways to track and manage your budgets, Jira offers integrations that'll help with that, but most of these integrations come at a cost, so you have to factor that in.
Results
At first, I was planning on chalking this one up to a tie since both tools attempt to appeal to the same audiences with similar lists of features. Asana has workload monitoring, and Jira has better reporting.
But I'm giving the nod to Asana. Why?
When reviewing software, I can't accurately judge features without simultaneously looking at the price. How much am I getting for my money?
What bumps Asana ahead despite Jira having a slightly longer core features list is the fact that Asana offers a free option for up to 15 users that has nearly all of the same functions that Jira offers for $10 a month for only 10 users.
Features and cost are both important, and I believe the ratio of money spent versus features offered tips the scale in favor of Asana. So, Asana barely edged out in this category.
---
Asana vs. Jira: Support
Without a healthy customer support structure, your big, expensive software can become a digital nightmare.
So, which customer support system can you count on to be there when you need it most?
What Asana offers
I had a difficult time finding a phone number to get in touch with Asana's support team; I only found a contact form.
However, when it comes to help guides, FAQs, forums, webinars, and use cases, Asana offers more material than Jira. After reaching out to Asana support through its form, I found its response time on the slow side.
In fact, it took a whole day for Asana to get back to me.
What Jira offers
Jira offers community forums and help guides, but as far as I can tell, most issue fixes are handled through support ticket forms rather than through phone support.
Phone support is available to premium users, but if you're looking for help when it comes to time-sensitive issues, and you don't have a premium plan, a support ticket or forum may not cut it.
Results
I'm calling Jira the winner, although both Jira and Asana struggle when it comes to customer support.
Asana doesn't have a customer service number to call, and its contact form response time is a little slow, while Jira only offers phone support to its premium users.
However, Jira's response time through support forms is faster, and the fact that a customer service phone number exists puts it ahead of Asana.
---
Asana vs. Jira: Ease of use
Your project management software should never be the project itself. Both Asana and Jira go out of their way to make your user experience simple and convenient, but which vendor takes the cake?
What Asana offers
One of Asana's lead developers claimed their goal for this tool was to give users as much functionality as possible while maintaining the easiest possible user experience.
If the average user couldn't figure out how to use a specific function with little instruction, development teams would go back to the drawing board until they got it right.
After testing Asana, I'm impressed with the simple and convenient user interface. Asana opts for a traditional user interface with the navigation menu on the left, user options and help center in the top right-hand corner, and task management windows in the center of the screen.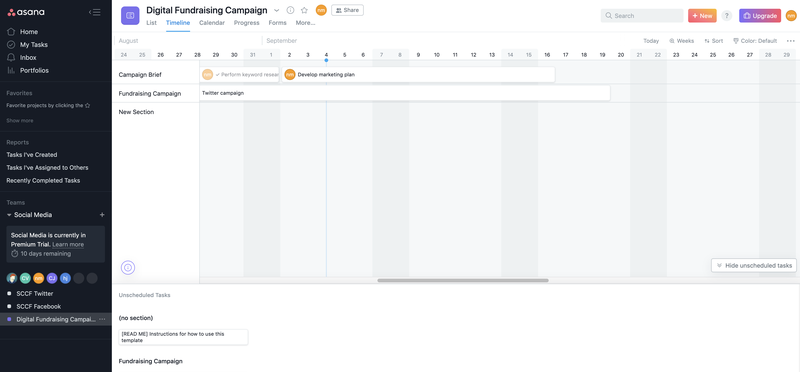 Above is the Gantt timeline view in Asana, and it's not hard to figure out where a task belongs, who owns the task, and when it begins and ends.
You can view all of your tasks in list, timeline, or calendar format, and these options are listed right under the project name.
Asana's user interface is not only very easy to navigate and understand, but it also gives you several different task management views to choose from when planning your projects.
What Jira offers
Jira doesn't bring anything particularly new or revolutionary to the table. It offers many of the same functions you'll find in lots of other project management tools, including Asana, such as kanban boards, project reports, collaboration functions, and time tracking.
Jira really shines in how easy it is to set up and use.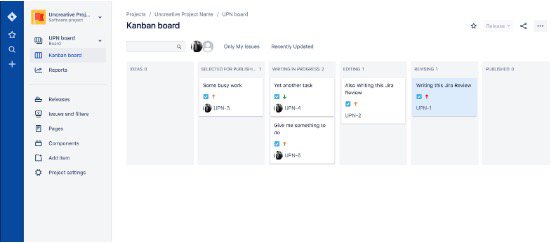 Jira helped me fit my system to my sample project and guided me through the process of adding my team, creating tasks, moving these tasks along the kanban board, communicating with my team members, adding files to my tasks, and creating project reports.
I could've figured out all of its systems without the guide.
Everything about project management with Jira is centered around convenience, even the reporting features. There were no formulas to enter and no technical skills required on my part.
All I had to do was select the type of report I needed, and Jira did all of the heavy lifting for me.
Anyone with even a little project management software experience will have no trouble picking up this software and fitting it to their needs, so long as those needs aren't budgetary in nature.
Results
When it comes to simplicity, I have to give the nod to Jira. It even took something as dull and arduous as reporting and made it easy to digest, and that speaks volumes for me.
Asana is also very easy to use, but when it comes to making even the painstaking areas of project management simple, Jira is the clear winner.
---
Asana vs. Jira: Pricing
As I mentioned earlier, I can never judge features without simultaneously looking at the price. So, if you were paying attention during the features section, you can guess how this will end.
What Asana offers
Asana starts off great by offering a free version of its software, which is perfect for someone dipping their toes into project management software for the first time.
However, its paid options add up over time, especially if you choose the Business option, which includes Asana's unique Workload features and integrations.
Basic: Free — Task lists, kanban boards, calendars, app integrations, up to 15 users
Premium: $9.99/user per month with an annual contract — All previous features, timelines, advanced searches, custom field creation, premium Asana Academy content, Admin privileges
Business: $19.99/user per month with an annual contract — All previous features, portfolios, Workload, forms, automatic proofing, Adobe Creative Cloud integration
Enterprise: Pricing negotiated with the client — All previous features, user provisioning, data exporting, custom branding, priority support
What Jira offers
Jira's pricing model is simultaneously cheap and expensive depending on your project needs. If you go with the standard option, Jira will only charge you a flat rate of $10 per month.
This pricing is perfect for small teams that require task management and reporting features.
However, once you pass the 10 user limit, Jira takes a significant dip into your bank account, and once you consider the lack of budgeting, invoicing, and task list features, it's hard to justify such a high price tag for these standard features.
Standard: $10/month flat fee for up to 10 users, $7/month/user beyond 10 users — All task planning and management features, 250GB file storage limit, 9-5 support window
Premium: $14/month per user — All task planning and management features, unlimited file storage limit, 24/7 support
Results
The fact that Asana offers a free version of its software for up to 15 users with most of the key features you would expect from any project management tool puts Asana ahead of Jira.
---
Asana vs. Jira: Integration with other software
Since neither Asana nor Jira offers financial management features, integrations are a key aspect of shoring up everything else you might need in a project management software. So, which solution offers better connectivity with outside programs?
What Asana offers
Asana offers over 100 different app integrations that'll help you manage any aspect of your projects, including some not offered by Asana's core features. Some of these integrations include:
Adobe Creative Cloud
Dropbox
Microsoft Outlook
Slack
Google Calendar
Everhour Reporting
Trello
Mailchimp
And many others
What Jira offers
Instead of opting for a long list of integrations with popular programs, most of the apps Jira integrates with are lesser-known. However, Jira strives to justify the need and function of every application in its marketplace, such as:
Draw.io diagrams for Jira
Better Excel Exporter for Jira
Script Runner automation for Jira
Jira Workflow Toolbox
Insight Asset Management
Google Drive & Docs for Jira
Zapier for Jira
Results
Asana squeaks ahead, here.
While I appreciate what Jira is trying to do by establishing relationships with lesser-known vendors, people are always more inclined to use products they're familiar with.
Asana offers more integrations with well-known software vendors that fill the gaps of whatever its software can't accomplish on its own.
---
Asana vs. Jira: Getting started
Both Asana and Jira offer simple onboarding processes with lots of tutorial content to get you started, but there are some subtle differences
What Asana offers
Asana's startup process differs slightly from most other project management software platforms I've tested. After visiting Asana's website and entering your project info into the free trial form, you're sent an invitation email that gives you access to the tool rather than immediately being taken to the program.
Asana's onboarding content was a little harder to find than Jira's, but once I found it, I definitely wasn't disappointed in the breadth of help it offers.
It consists of guides for getting started, onboarding your team, managing/planning tasks, and use cases to help structure your experience.
What Jira offers
Jira's startup was was fast and easy. All you have to do is enter your name, email, and project information, then you're taken to the setup screen for the tool.
What really sets Jira apart from similar alternatives is how thorough the setup process is from start to finish. Jira walks you through everything, including the type of project you're managing and the management style you prefer.
Once you set up your project, Jira also offers tutorial guides explaining kanban boards, agile project management, and scrum so you'll never be left in the dark when trying out new features.
Results
While Jira's initial startup process is a little shorter than Asana's, the latter had slightly better onboarding content.
What gives Jira the edge over Asana is its stellar setup process that allows you to tailor the software to the type of project you'll be managing.
[ad_2]
View more information: https://www.fool.com/the-blueprint/asana-vs-jira/