ApplicantPro Review 2021: Features, Pricing & More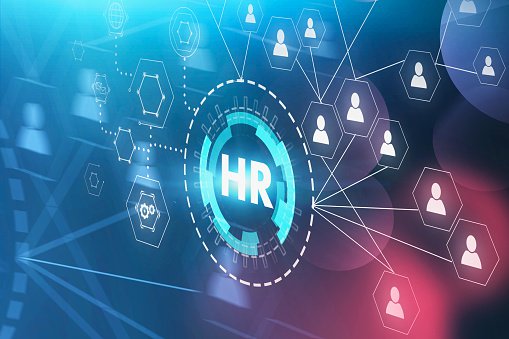 When you pack a huge number of features into software, it's difficult to get the user experience right. By creating tons of different menus, navigations, and sub navigations, users have to spend ages searching for the right option, and then write it down so they can remember it for the next time.
And if you try to cram all those options into only a few dashboards, then you start to get overwhelmed with all the options.

ApplicantPro offers an impressive array of features, but has it nailed the user experience?
---
Who is ApplicantPro for?
ApplicantPro has pricing options for all business sizes, from its pay-per-job hiring plan for small businesses with irregular hiring needs to its fully featured plan for enterprises.
ApplicantPro provides a wide variety of support options, from searchable FAQs that are positioned at the bottom of each page to live chat to phone support.
This helps new users get the help they need to get up to speed quickly. However, it's crowded user interface can be overwhelming if you aren't familiar with applicant tracking systems (ATS).
---
ApplicantPro's features
ApplicantPro has a ton of useful features that can save you time by automating steps, helping you find better candidates, and improving the way you communicate with applicants.
The way the dashboards are organized does mean that you sometimes feel overwhelmed by all the options, and its job application and workforce analytics functionality are quite basic.
Job application process
With ApplicantPro, you can encourage more signups by creating a branded career site that displays all the perks of working at your company, which can help you improve your recruitment marketing efforts.
Applicants can then view jobs and apply for open positions directly from the site or sign up for job alerts if there is nothing of interest at the moment.
In terms of creating a job listing, ApplicantPro is not as intuitive and helpful as other solutions such as Workable. You have to create all the text and input all the details yourself unless you are using a template you put together previously.
You also don't have the ability to customize the way your application form looks to ensure it is optimized for mobile devices. The user interface also looks dated when compared to more modern ATS.
That said, you can enter a lot of specific data upfront to help narrow down your candidate field immediately. This includes adding customizable screening questions to auto-reject candidates for each position.
Once you've created the job listing, you can publish the ad automatically to multiple job boards, and post it to your social media channels.
Candidate experience
ApplicantPro lets you communicate with candidates directly from the applicant dashboard by sending the messages as either SMS or email, depending on the candidate's preferences. The messages (and the candidates' replies) are all saved in the tool, which helps you offer a coherent candidate experience.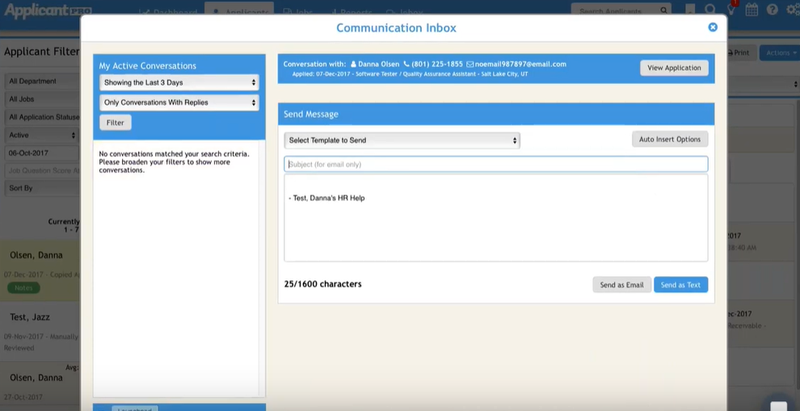 ApplicantPro allows you to grow your talent database by letting you copy an applicant from one position to another if you think they are a better fit for a different role.
ApplicantPro does a good job of centralizing all candidate data in one place, including assessments and background checks, and makes it easy to edit.
However, as we'll discuss later on, this approach can make it more complicated to ensure you're on top of your workforce planning and haven't let any tasks slip through the cracks.
Applicant tracking
The applicant dashboard helps you keep track of the status of your candidates, which means you can keep your staffing plan on track by hiring efficiently. But it does pack a lot of information into one place, which makes it look busy and confusing.
It's not the most intuitive layout, but you can filter and drill down to look at active candidates, or see how many are at each stage, and the actions you need to take to keep people moving down the pipeline.
If you hover over the colored bubbles next to the applicants, you can see messages from other members of the hiring team, as well as actions that need to be taken or have already been taken, and any other notes. This helps ensure a more collaborative approach to talent acquisition and streamlines candidate communication.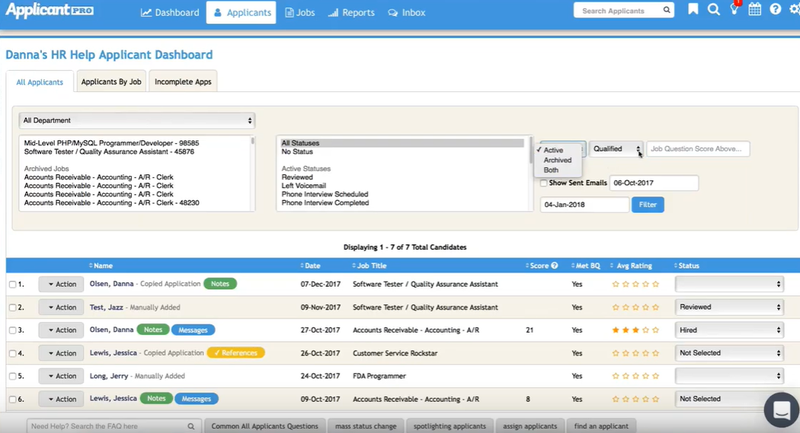 ApplicantPro also helps you find the right candidates from inside your company with its internal portal functionality. You can create a careers site that allows internal candidates to apply for open positions.
These applications show up in the internal portal, which means you can apply a different process to manage these candidates.
It also automates steps within the candidate pipeline, such as rejecting candidates. You can send out multiple rejection letters for different pipeline stages at the same time by quickly selecting the relevant option.
Or you can set up the system so that it automatically sends out rejection emails or text messages when you change the candidate to a particular status.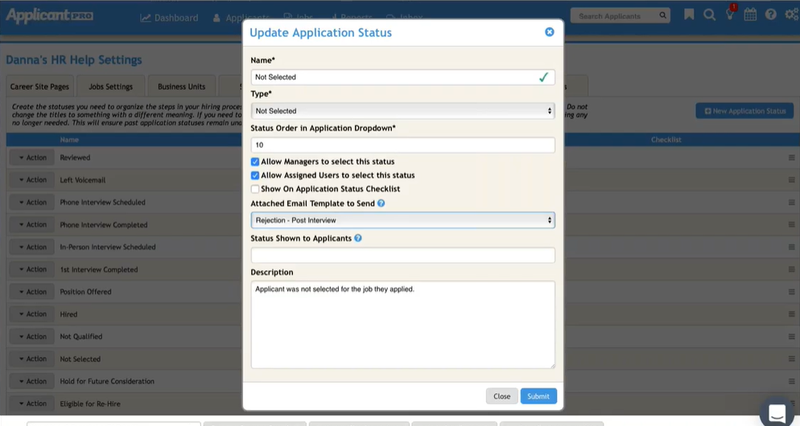 You can fully customize all pipeline stages and statuses to adapt ApplicantPro to your hiring workflow, as well as only allow users to have certain permissions according to their role. For example, only hiring managers can change the status of candidates to hired.
Reporting
ApplicantPro includes a list view of different people analytics reports that you can quickly run by clicking on the relevant option. These provide a breakdown of different recruiting and HR metrics, such as candidate source, referrals by employees, and user activity detail.
You can also create custom reports based on a ton of granular data, allowing you to get very detailed insight into the success of your recruitment efforts.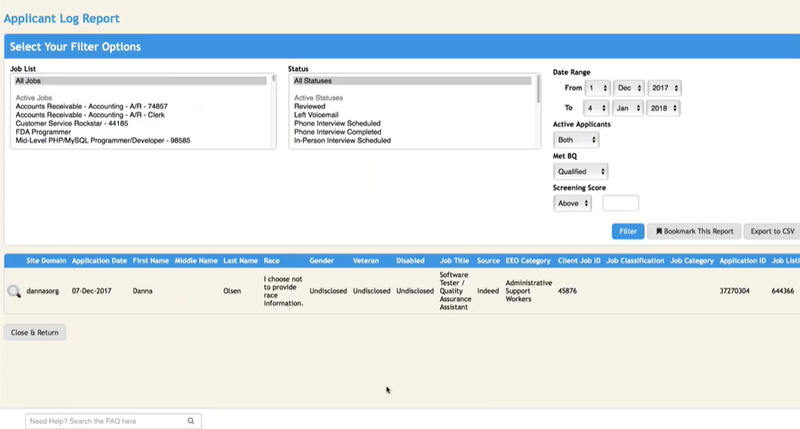 The issue with these reports is that they are not very visual. All you get is a list of the information organized by different headers. There are no graphs or charts to help you better understand the data.
---
ApplicantPro's ease of use
ApplicantPro packs a lot into each of its dashboards and screens, which makes it seem a bit confusing and hard to know where to go next or what to focus on.
It's not difficult to use when you know what you're doing and have been using the software for long enough to get a handle on the features, but its busy user interface is off-putting.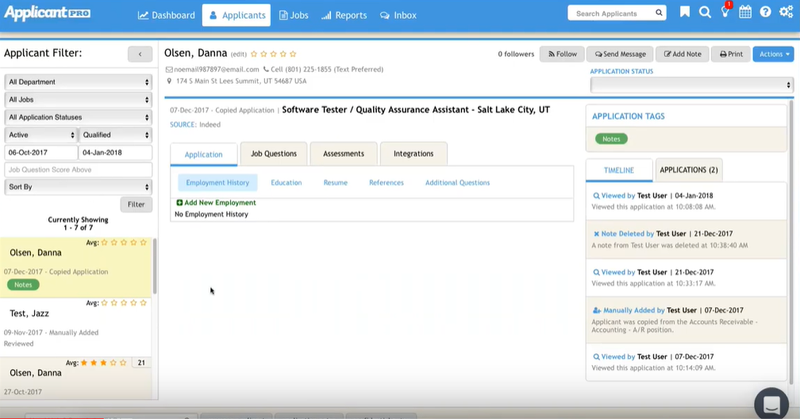 However, when you hover over certain options or functionality, ApplicantPro provides an explanation of what it does. This helps new users get up to speed more quickly and execute their human resource planning activities more efficiently without having to resort to a training manual.
The consistency of the user interface also helps you get up to speed. ApplicantPro always has a blue button that is designed for next actions. There are a ton of actions hidden away in this drop-down menu that could be better sprinkled in other places throughout the software.
---
ApplicantPro's pricing
There are ApplicantPro pricing options for all business sizes, although it doesn't provide information publicly about how much each plan costs. You have to provide your details and then a representative will call you and try to sell you the product before giving you a price.
A word of warning: ApplicantPro is very pushy when it comes to sales.
If you're a small business or you are only starting out and you don't need to recruit often, then you can pay per job. This pricing plan has limited features, and you don't get access to the employee referral program portal, background checks, and integrated assessments.
You also can't create a portal to let your internal candidates apply for jobs.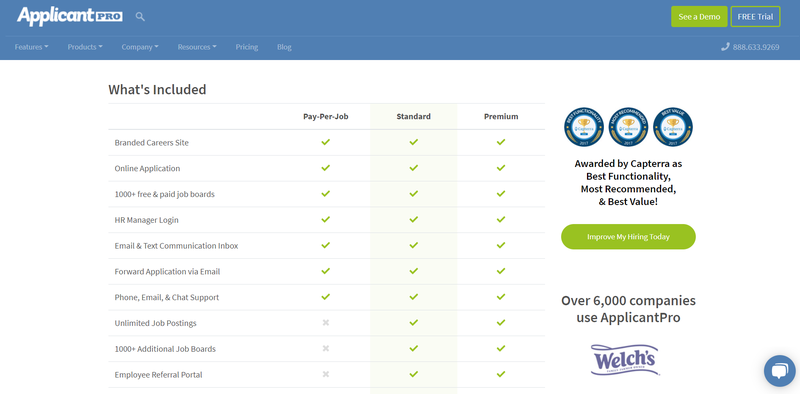 The next option up is the Standard plan. This doesn't include a portal for external recruiters, and it doesn't let you send offer and rejection letters or email reference checks as part of your onboarding checklist. The Premium plan is the most expensive pricing plan and includes all features and unlimited users.
You can access a free trial, but only if you give all your details and want to have ApplicantPro salespeople chasing you to see if you'll buy.
---
ApplicantPro's support
One area that many HR solutions fall short on is providing in-app help, especially when you are stuck on a particular feature and you need some quick tips without having to navigate away from what you're doing.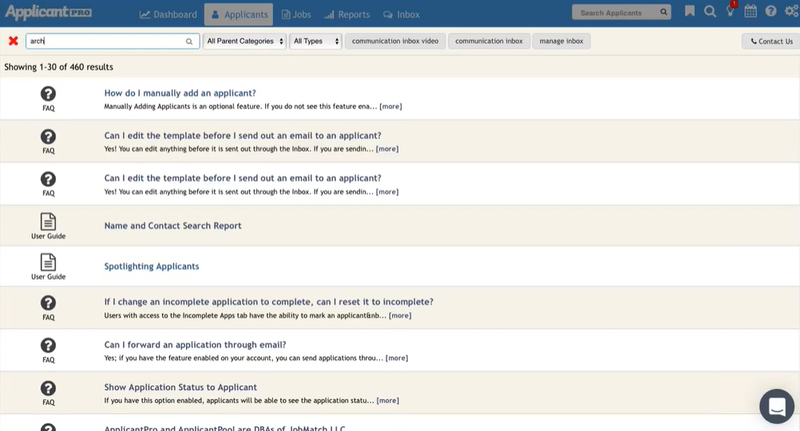 ApplicantPro has a searchable FAQ area at the bottom of the page where you can quickly find an answer to your question. You don't have to leave the app to read the relevant article and can quickly return to what you were doing before.
ApplicantPro is one of the only HR solutions on the market to provide live chat support, although this is only available Monday through Friday. When you ask a question, the chat feature provides an estimated time when you'll get an answer.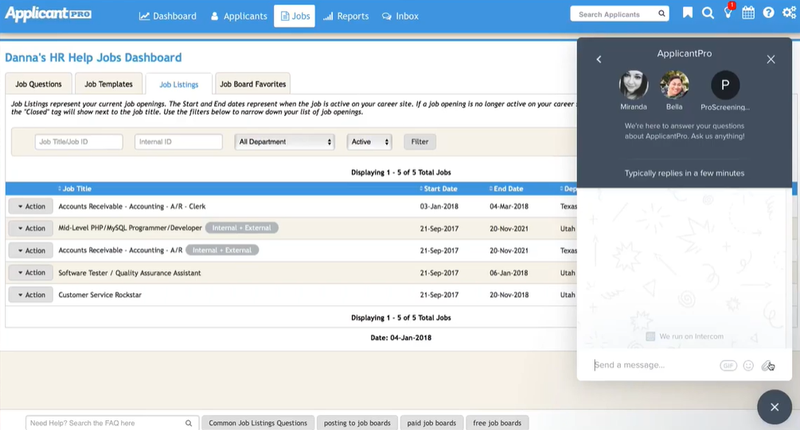 ApplicantPro makes it really easy to get in touch with support, putting its phone number on the top of its website where it is clearly visible. This is in contrast to many other HR tools that make you go on a mission to find contact details.
---
Benefits of ApplicantPro
ApplicantPro helps attract the attention of passive candidates and turns them into brand fans with its career page and job application functionality.
You can keep track of where candidates are in the pipeline and work out which actions you need to take to ensure the hiring process continues to run smoothly. To help you screen your candidates, ApplicantPro provides built-in video interviews, background checks, and online assessments.
---
A mixed bag
There's a lot to like about ApplicantPro. Its communication and collaboration features allow you to create the kind of candidate experience that makes people line up around the block to apply for jobs at your company.
It also helps you save a ton of time by letting you completely customize the application tracking experience and allowing you to set rules to automate common tasks, such as sending out rejection emails or text messages.
But why does everything have to live in the same dashboard? If ApplicantPro were to spread out the functionality more and work on making the user experience more intuitive, it would be hard to beat when it comes to recruiting candidates.
View more information: https://www.fool.com/the-blueprint/applicantpro-review/