Airtable vs. Asana: Which is Better in 2021?
Selecting software often feels like a roll of the dice: It all looks great up front, but who knows what the actual results from daily use will be? And if you're new to project management, distinguishing between the available project management tools can be difficult.
Airtable and

Asana are two popular project management software options that share many of the same features. We'll go over their respective strengths and weaknesses below, so you can choose the best one for your small business.
---
Airtable vs. Asana: An overview
Airtable uses a hybrid database and spreadsheet system for project management and collaboration. Creative project teams will appreciate its visual interface and flexibility.
If you're looking for greater collaboration within your team and increased transparency for stakeholders, Airtable could be the right software for you.
Asana is more collaboration tool than project management software. It organizes everything from granular-level tasks to overall business objectives, so your teams always understand their responsibilities and priorities.
If you want to incentivize each team member to use the software for their own benefit and the projects at hand, Asana's worker-centric features could be your best bet.
Who is Airtable for?
Airtable's billing, budgeting, and resource management features make it easy for small businesses to work with external clients and project teams to operate within larger organizations. Companies that use Airtable include Expedia, Netflix, and Shopify.
Who is Asana for?
Asana's lack of invoicing, billing, and extensive reporting features makes it best suited to smaller teams working on internal projects. Companies that use Asana include Airbnb, Pinterest, and Uber.
---
Airtable vs. Asana: Features
Airtable and Asana share many of the same features, so choosing one over the other depends on the exact functionality you need and are willing to pay for.
What Airtable offers
Airtable project management consists of six components:
Workspaces: A collection of bases.
Bases: Collections of tables containing information to create projects.
Tables: Spreadsheets with project information.
Fields: Individual entries in a table.
Records: Rows within tables.
Views: The results of filtered data searches.
Airtable may be built around the spreadsheet concept, but you won't be stuck looking at your grandfather's Excel files. One strength is its ability to view bases, projects, and tasks in boards using gallery, calendar, and kanban project management organization.
You can also create boards by using different filters, including category, client, due date, project team, and start date.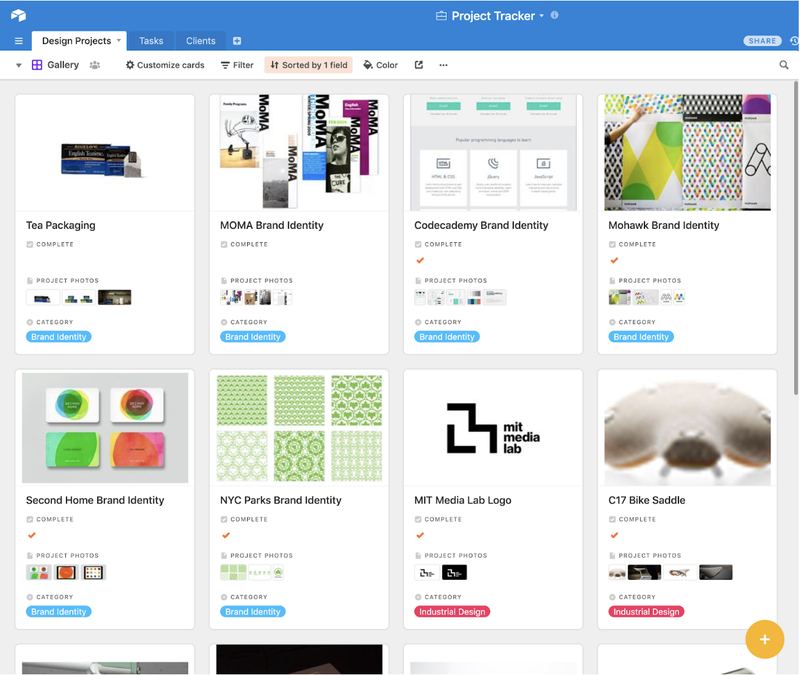 Alt text: An Airtable board uses the gallery view to display cards sorted by user-selected criteria.
Airtable's other features include:
Task scheduler
Shared team calendars
Team dashboards
Time tracking
Resource management
File sharing
Airtable doesn't have a built-in reports or budgeting tab. Instead, the records and categories you create in Airtable serve as your potential reports. Don't have the skills to create a budget in Airtable's spreadsheets? Airtable has multiple templates that provide the necessary framework.
Custom reports use Airtable's grouped records feature, which shows records grouped together based on one or more fields of your choosing: completed tasks, deals, qualified leads, and more.
What Asana offers
Asana project management offers different formats to structure your projects, including task lists, Gantt charts, and kanban boards. You have the flexibility to track your project and teams according to your needs when creating, scheduling, and prioritizing tasks.
Or, use the My Tasks option at the top of the left-hand navigation menu to see your personal Asana to do list.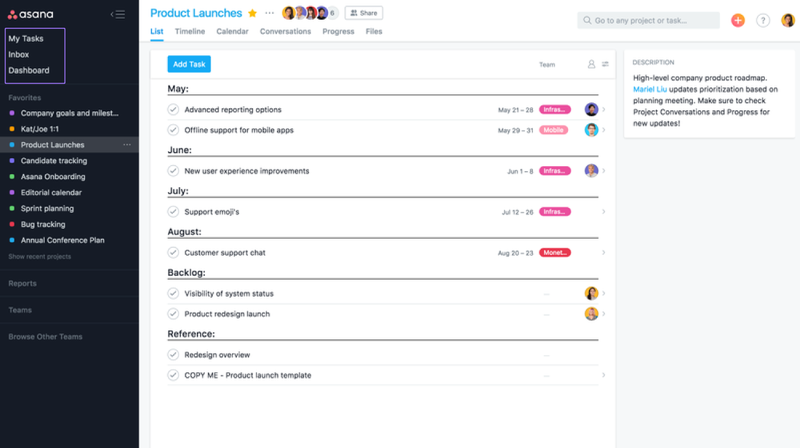 Additional Asana features include:
Task and subtask scheduler
Approvals
Shared team calendar
File sharing
Time tracking
Milestones
Custom fields
The reports option in the left-hand interface menu shows which tasks are finished and which are in progress, but the reporting functions essentially end there. Asana does offer several integrations with other reporting tools, including Everhour, Google Sheets, and Hourstack.
Results
Airtable is the winner here. Each offers similar project views and organizational schemas, such as the comparable Airtable and Asana Gantt charts, but Airtable's custom reporting capabilities extend its functionality and use.
---
Airtable vs. Asana: Support
Customer support is important to keep your project management software running. Know all your options — online, one-on-one, free, paid — to keep everything from grinding to a halt when you encounter an issue.
What Airtable offers
Airtable offers standard customer service and support options:
Email support for all plans
Knowledge base
Community forum
Online tutorials
Training videos and webinars
Airtable offers telephone support or one-on-one training only if you have the enterprise plan. With other plans, the knowledge base is your best first choice to find answers to your questions.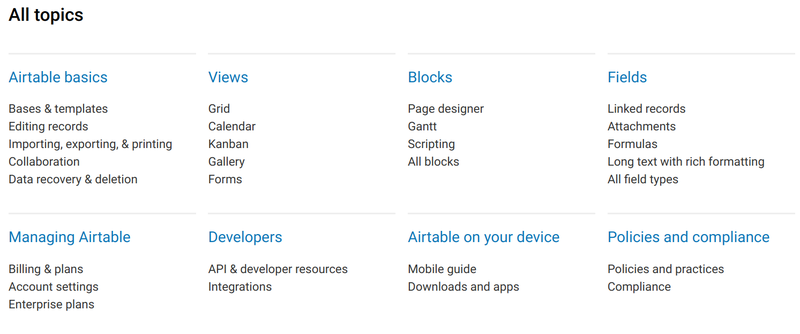 Alt text: Airtable's knowledge base groups articles into eight categories: Airtable basics, views, blocks, fields, managing Airtable, developers, Airtable on your device, and policies and compliance.
Airtable offers different project templates, but its Airtable Universe goes far beyond that with a gallery of user bases to explore and copy for your own use. The hundreds of real-world projects range from a student planner to a legislative bill tracker to a product launch calendar and many more.
What Asana offers
Asana provides standard customer support options:
Email support
Knowledge base
Community forum
Online tutorials
Training videos and webinars
Asana does not offer telephone support, so like Airtable, its knowledge base is your best initial resource for information.

Selecting one of the three options in the screenshot above gives you more choices. For example, the "I want to learn…" section drills down to information on tasks and projects, workspaces and organizations, profile settings, and other topics.
Results
Airtable is the winner here. Both offer standard customer support options and resources, and neither one offers telephone support to lower tier users. Airtable Universe makes the difference because it has the potential to be a project management game changer.
---
Airtable vs. Asana: Ease of use
Ease of use is important because you never want software getting in the way of actual project planning and the subsequent work to be completed.
What Airtable offers
Airtable might seem daunting because it's based on spreadsheets, but it goes out of its way to make setting up your first project an easy process. Have an upcoming product launch? Need a bug tracker? Want to conduct user research? Airtable has project schedule templates to do that and more.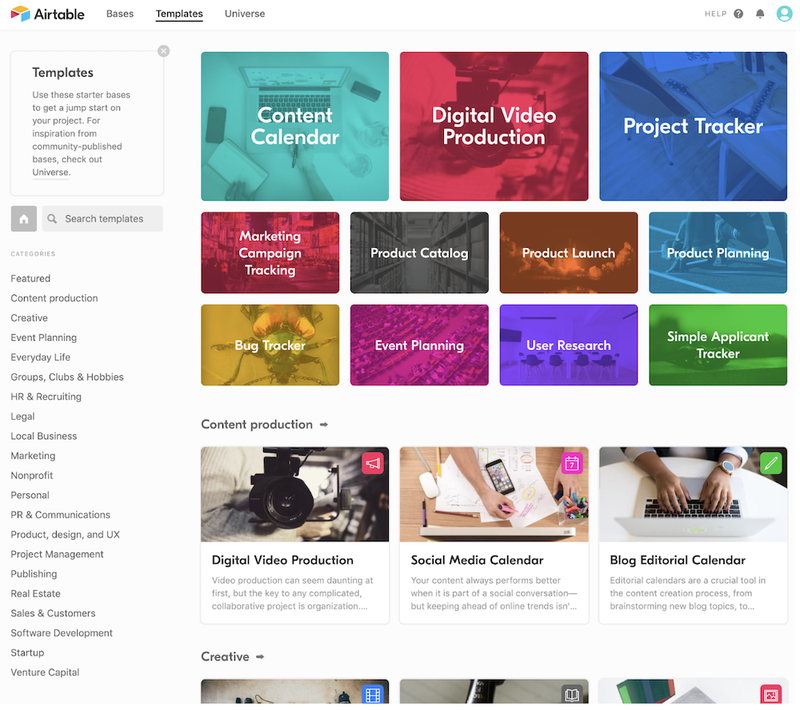 Alt text: Airtable's project templates are organized in categories such as content production and marketing and include product launch, product catalog, and bug tracker projects.
Airtable prioritizes visuals to contextualize and organize your tasks and processes, which belies the use of spreadsheets at its foundation. The images used in kanban boards and shared calendar tasks add to its engaging feel.
Learning to use Airtable isn't that labor intensive, but it has quirks with its task creation and filtering that require more work than expected, so you might be more comfortable with one of the Airtable alternatives.
What Asana offers
Asana also strives to make onboarding pain free for new users. When you log into Asana for the first time, choose from dozens of templates for your first project that include:
Bug tracking
Digital fundraising campaign
Editorial calendar
Meeting agenda
New employee onboarding
Product roadmap
Most project software focuses on the project manager, but the Asana task manager and workload management feature will help prevent team member burnout. The workload tab lets you see team and individual workloads, and you can assign an effort level for each task.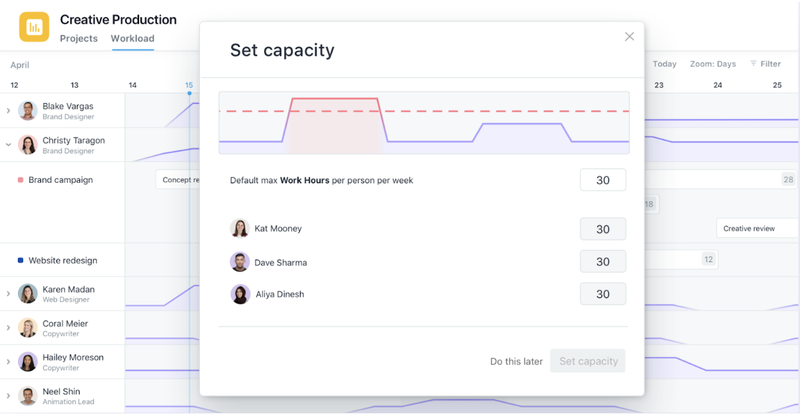 Capacity is the maximum amount of work a person can take on in a week and is customizable at the individual level. For example, an independent contractor might be able to work only 20 hours, while a full-time team member can work 40 hours.
When someone has more work than their assigned capacity, their workload graph turns red.
Results
Asana comes out on top here because Airtable's idiosyncrasies take time to figure out. Asana also includes tracking to help balance everyone's workload.
---
Airtable vs. Asana: Pricing
Pricing is where the rubber meets the road: You'd love all your team members to have access to every possible feature, but that's unlikely unless you have deep pockets. Instead, a cost-effective plan is the product of the negotiations between your wants and needs.
What Airtable offers
Airtable has four plans:
Free: Includes unlimited bases with two gigabytes of file space and 1,200 records per base, and has grid, calendar, form, kanban, and gallery views, and real-time collaboration and commenting via web, desktop, iOS, and Android apps.
Plus: $10/month per user — Increases storage space to five gigabytes and 5,000 records per base.
Pro: $20/month per user — Increases storage space to 20 gigabytes and 20,000 records per base, and adds advanced calendar features, custom branded forms, personal and locked views, password and domain restricted shares, and priority customer support.
Enterprise: Quote-based — Increases storage space to 1,000 gigabytes per base, and adds unlimited workspaces, an enterprise-wide admin panel, enhanced deletion recovery, individualized onboarding and training, and a dedicated customer success manager.
Airtable works best for creative teams, such as graphic design or marketing agencies, that provide services and products to clients. The cost per user at the pro level, which is the plan even smaller businesses need to access necessary features, raises the monthly cost dramatically even for small teams.
What Asana offers
Asana also has a free plan and three paid options:
Basic: Create tasks using list, board, and calendar views, assign tasks and due dates, use mobile apps and a Chrome extension, and employ software integrations with up to 15 team members.
Premium: $13.49/month per user — Adds the timeline view, advanced search and reporting, custom fields, unlimited free guests, forms, rules, milestones, admin console, and private teams and projects.
Business: $30.49/month per user — Adds portfolios, workload tracking, custom rules builder, approvals, proofing, lockable custom fields, and advanced integrations with Salesforce, Adobe Creative Cloud, Tableau, and other software.
Enterprise: Quote-based — Adds user provisioning and deprovisioning, data export and deletion, custom branding, priority support, cross-regional backups, and a 99.9% uptime service level agreement (SLA).
Asana is also a good fit for smaller teams with large budgets. Like Airtable, teams of 10 users are looking at more than $100/month for the premium plan that still does not have workload tracking or include Adobe Creative Cloud integration.
Results
Airtable and Asana tie with their pricing. Each one has the same issues: Despite offering a free plan, even small teams will pay well over $100/month to access necessary business features.
---
Airtable vs. Asana: Integration with other software
Like most businesses, you likely use multiple software applications, so your project management software should seamlessly integrate with them to avoid cumbersome and/or manual data transfer processes.
Keep an eye on the bottom line: Using multiple integrations could require a more expensive subscription plan. Third-party apps and plug-ins may have a one-time cost or a monthly subscription. Companies such as Zapier that connect multiple pieces of software have their own monthly fees too.
What Airtable offers
Airtable has seven built-in integrations:
Box
Dropbox
Gmail
Google Drive
JotForm
Slack
Typeform
Airtable has 25 more preconfigured integrations that use Zapier to automate connections with software such as Basecamp, Instagram, Mailchimp, and Twitter. Or, create your own custom connections using Automate.io, Zenaton, or another third-party vendor.
What Asana offers
Asana integrations include over 150 options in nine categories:
Communication
Connectors
Development
File sharing
Forms
Google
Importers
Reporting
Time tracking
If you or your team has the coding ability, use Asana's application programming interface (API) to create your own custom actions.
Results
Asana is the winner here due to its number of native integrations. Airtable provides integration substitutes with Zapier as a connector between it and other software, but one-to-one communication between your project management software and other applications is

View more information: https://www.fool.com/the-blueprint/airtable-vs-asana/