Ahrefs Review 2021: Features, Pricing & More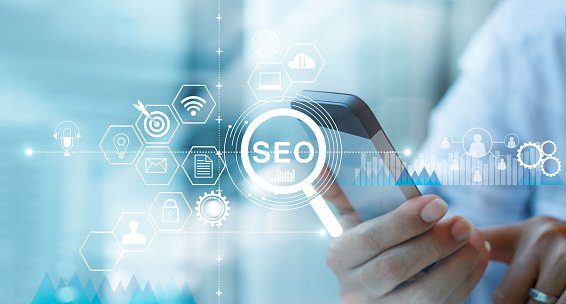 Once you have overcome the pronunciation challenge of the geeky name, it's a pure joy to use

Ahrefs because it covers all your SEO needs, is fast, and provides a great user experience. Knowing that it's also built on proprietary data acquisition and works in real-time adds up to a great ride with one of the best SEO tools on the market.
---
Who is Ahrefs for?
Ahrefs is for SEOs and site owners of small to large sites. Although its origin is a backlinks index, today it covers all the main SEO tools disciplines brilliantly and belongs to the select group of top SEO tools which fully cover all the functionalities you may need: backlinks, site crawl, rank tracking, and content analysis.
---
Ahrefs' features
With the Ahrefs Site Explorer, you can look up any page or site for a complete backlinks analysis as well as an estimate of the number of keywords the site ranks for, the traffic it generates, and the traffic value. It also provides a view of the paid search presence of the site.
The Site Audit tool will crawl your site and provide a Health Score based on an in-depth analysis of the site. It lists and makes suggestions in the places you can improve your technical SEO.
With the Rank Tracker, you monitor your site's performance for specific keywords in search engines over time. And when you want to discover new keywords or expand your existing range, you can use the Keyword Explorer which provides keyword suggestions from Google, YouTube, Amazon, and a range of international search engines.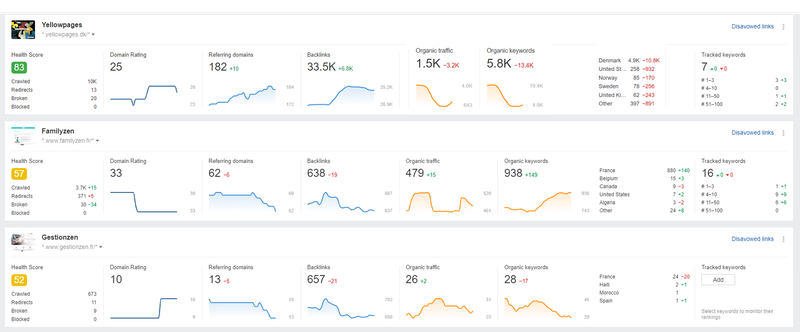 The Content Explorer identifies topics and influential authors and sites. Ahrefs produces a clean, easy-to-read dashboard laying out all your meaningful metrics. Let's explore the features one by one:
Dashboard
The Ahrefs dashboard displays a graphical overview of the most important metrics for sites you are monitoring. It provides you with a site Health Score from the Site Audit, the main metrics from the Site Explorer on backlinks, authority, and traffic, and the ranking evolution for keywords you track with the Rank Tracker.
The overview is comprehensive and lists each of your tracked sites in one line allowing you to click through for more detailed reports.
Site Explorer
The Site Explorer is where the Ahrefs backlink checker sits. Ahrefs is known and respected for its backlinks crawl and extensive index. This was likely the original tool that has kept its more generic name, rather than being called simply Backlinks Explorer. It has been extended to add many more SEO metrics and even has a paid search view.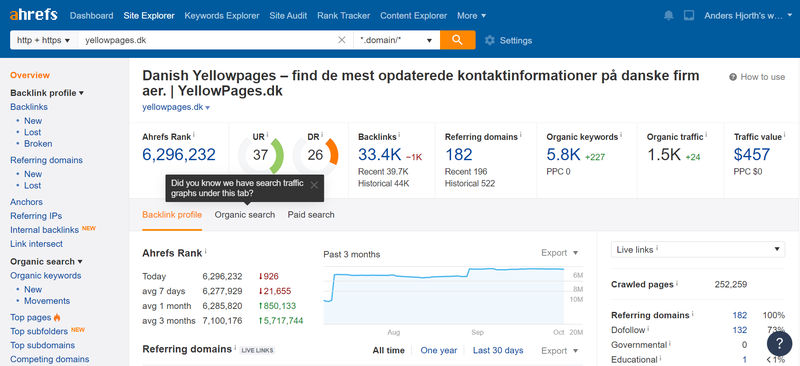 At a glance, you will see a range of metrics for the site you entered:
Ahrefs Rank: the rank in Ahrefs index of sites. The lower the better.
UR: URL rating shows the strength of a target page's backlink profile, from 0-100.
DR: Domain rating is a proprietary metric that shows the strength of a target website's total backlink, from 0-100.
Backlinks: number of backlinks detected by the Ahrefs crawler.
Referring domains: number of domains the backlinks come from.
Organic keywords: total number of keywords the site ranks for within the top 100 results.
Organic traffic: estimated monthly organic traffic for the site.
Traffic value: estimated value of the traffic if you wanted to buy it via paid search.
Many of these metrics are available in competing tools but the organic traffic estimate is one which Ahrefs is particularly advanced in, and it's used extensively across the tool.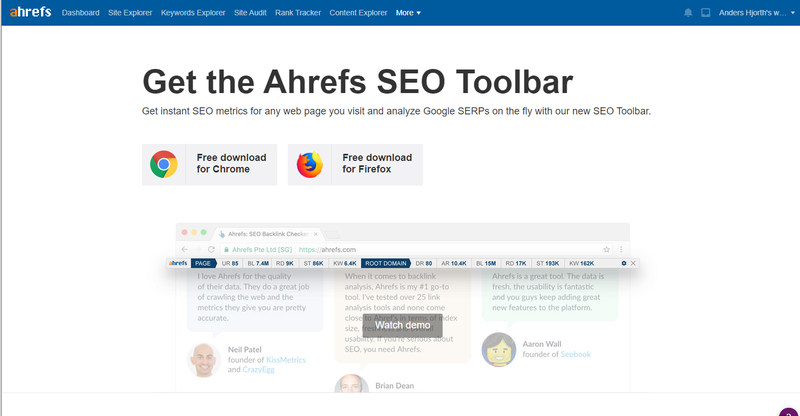 By installing the Ahrefs Chrome extension, you can overlay this information on the search engine results page and view SEO metrics for pages as you are visiting them. It works for Firefox as well. An Ahrefs WordPress plugin allows you to have your SEO analysis data available directly inside your WordPress admin console.
Keywords Explorer
Keyword explorer functionality in Ahrefs is outstanding. It goes beyond your traditional Google lookups as it integrates with Amazon, YouTube, and international search engines including Baidu, Yandex, and more.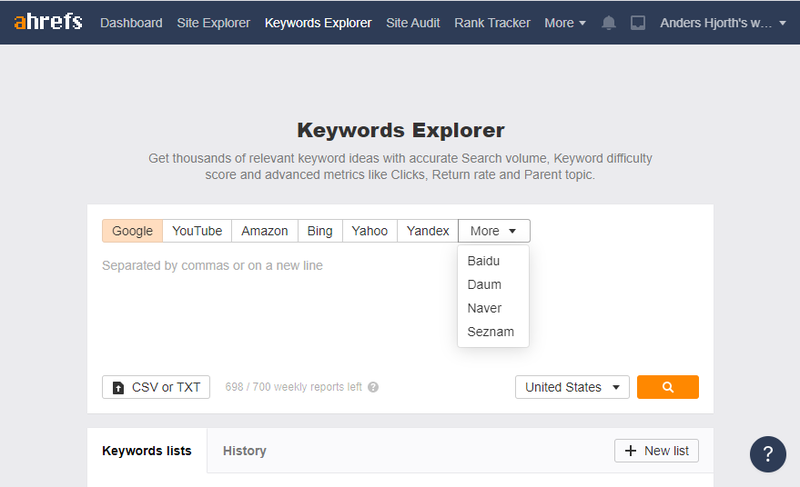 Once you enter a keyword, you access a comprehensive overview of keyword metrics which we will go through below:
Keyword Difficulty: An estimate of the difficulty to rank on the keyword from a backlinks perspective on a scale from 0-100.
Search volume: The volume of searches in the market you configured the lookup for.
CPC: Average cost per click advertisers pay to appear for the keyword via paid search.
Clicks: Average number of clicks the keyword generates. This varies according to the nature of the query and the search results page.
CPS: Estimated average number of clicks each search for the keyword generates.
RR: Return rate — an estimate of how many times a user searches for the same keyword in a month.
Global volume: Search volume from all the markets in which the keyword is used.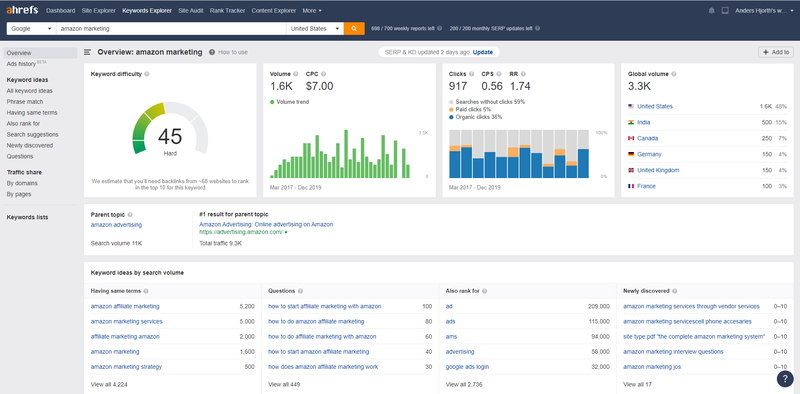 Site Audit
Ahrefs website audit is easy to use. You are prompted to use the site crawler immediately and weekly when you first set up your account. Say yes, and Ahrefs immediately starts crawling your site. It creates an overview including a Health Score, a status of the crawl characteristics, and a breakdown of errors, warnings, and notices.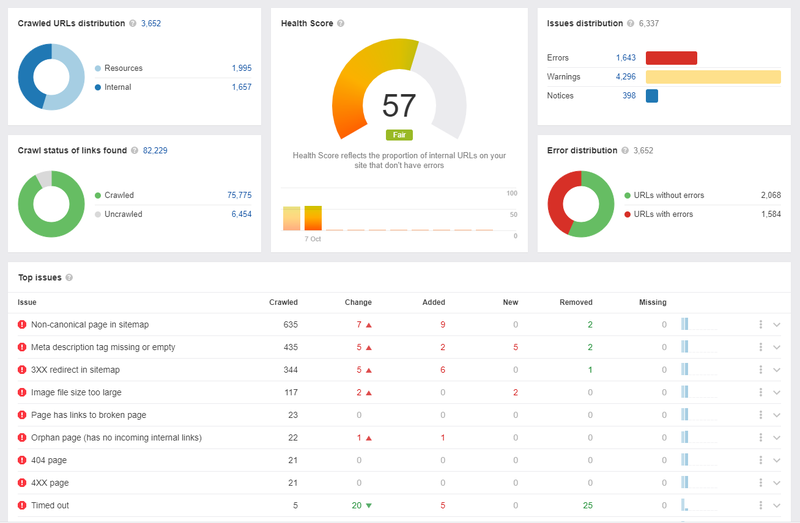 The tool doesn't address the more philosophical question of whether a missing description meta tag should be considered an error when search engines rarely use them, but it does a great job of crawling a site and rendering statistics on what it found in a clear manner, providing access to the detailed information you need to address the individual issues.
Rank Tracker
With the Rank Tracker, you set keywords and countries you want to check ranking for. Ahrefs shows you all the keywords you are already ranking for as well as suggestions for associated keywords. The keyword allowance is quite reasonable, even in the Lite plan.
The Rank Tracker provides detailed information for each keyword you entered into the tracking setup and summarizes the information for all your projects using the following metrics:
Visibility: An estimate of the percentage of all clicks for the tracked keywords which land on your website.
Average position: The average position of the tracked keywords.
Traffic: An estimate of the number of clicks the tracked keyword positions generate.
SERP features: An indication of how many keywords are in enhanced SERPs (search engine results pages) where the search results include maps, featured snippets, or other non-standard elements.
Positions: Changes in positions indicating how many results moved up in rankings and how many declined.
Distribution: The distribution of positions of your keywords in top (1-3) results, other first page (4-10), other top 5 pages (11-50), other top 10 (50-100), and not appearing (101+).
Comp: The number of competitors you are tracking.
Locations: The number of locations (countries) you are tracking positions in.
Keywords: The number of keywords you are tracking for in the domain.

Content Explorer
The Ahrefs Content Explorer lets you look for influential pages and authors. Its starting point is a search engine query, and it assembles results in clusters by grouping pages together and ranking authors who have published these pages. A toggle identifies broken links and pages link builders may find backlinks opportunities in.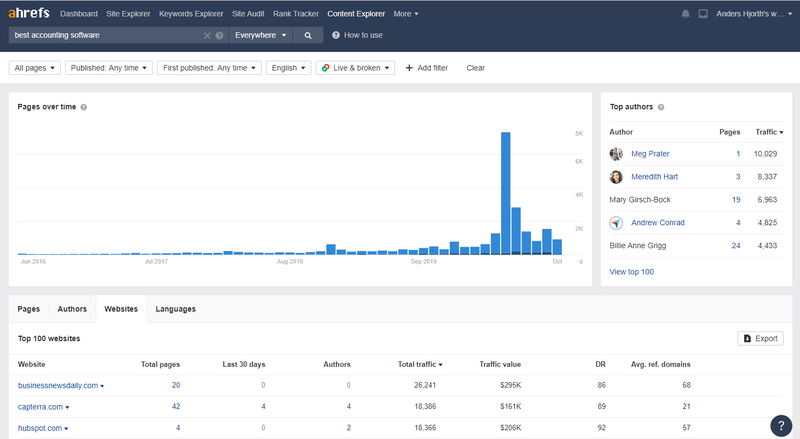 And it allows you to find the most influential sites and authors for a topic. When the author can be identified, the name appears, and when Ahrefs finds profile information for the author, there is a link to the author's Twitter profile.
---
Ahrefs' ease of use
Ahrefs is a dream to use. Actions are immediate and straightforward. There is an explanation of how to use each feature on the screen, as it appears, and suggestions for more advanced usage take the user by the hand. When research is in progress, the interface will update and indicate its progress.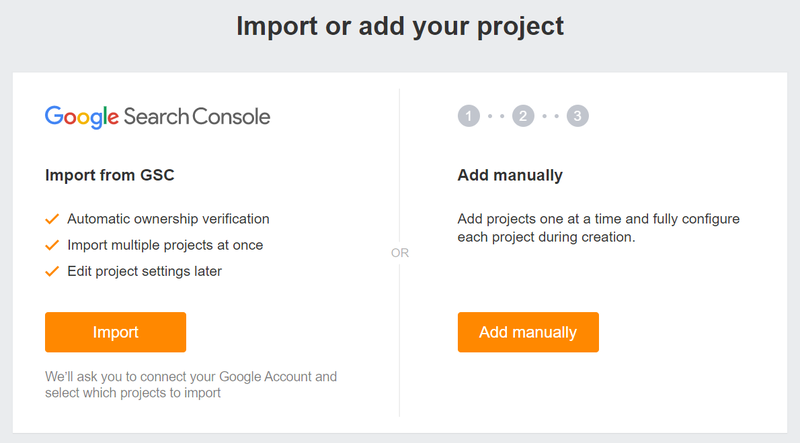 The tool also sends an email when a task such as a site crawl is completed. All this makes working with Ahrefs a frictionless experience and a joy.
---
Ahrefs' pricing
Ahrefs price plans cover the full range of features and are structured in three tiers with an entry-level Lite plan at $99/month allowing you to monitor SEO for up to 5 sites and look up and research many more. The Standard plan at $179/month doubles the number of sites and multiples the other allowances making it a good fit for a freelance SEO working on various engagements.
The Advanced plan at $399/month allows three users and is suitable for a small agency. The Agency plan provides five seats and generous allowances for all features of the tool.
Ahrefs pricing is reasonable considering it's the only SEO tool you need, its quality, and the breadth of data it provides.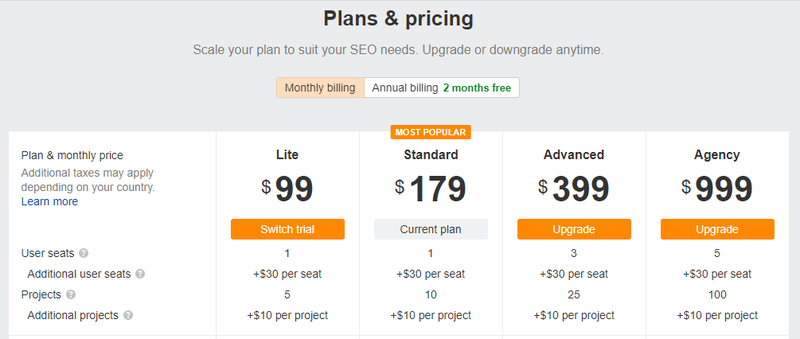 ---
Ahrefs' support
You'll find help on every page, with occasional popups inviting you to explore a topic or view a tutorial. The tutorials are on-topic and interesting, inviting you to explore parts of the tool you may not have yet discovered. The FAQ seems to be structured around what people are looking for and gives precise and detailed answers.
The one place Ahrefs support seems limited is when you have a query you didn't find an answer to, only to realize there is no option to get individualized help via a form submission. The link to Contact Us didn't respond, leaving us with no direct help options.
Turning to social media, we reached Ahrefs via Twitter and got what looked like an automated response. Reiterating a specific question we got through to what looked like a human response to our question.
Ahrefs is doing everything in their power to optimize the user experience. They hope this will eliminate users having to create support queries, so they don't provide a lot of personalized support.
---
Benefits of Ahrefs
Ahrefs is a complete SEO tools suite that provides keyword research, backlinks analysis, rank tracking, and site crawl. It's the only SEO tool that consistently estimates traffic from webpages and includes that metric in all its views.
It claims to have the best proprietary backlinks database and provides solid rank tracking, great site crawl, and keyword research which goes well beyond the classic Google lookups and includes both Amazon and YouTube and the major international search engines.
Ahrefs has added a content exploration facility for discovering topics, identifying influencers, and finding backlink opportunities. The user interface is well structured with comprehensive dashboards and overview screens, providing a seamless user experience.
---
Backlinks master and universal SEO tool
Ahrefs is not just a great backlinks tool. It fully qualifies as an SEO tools suite since it covers all the needs an SEO will have: site crawl, rank tracking, a keyword tool that goes beyond the market standard, and a content exploration tool for finding new topics. Top it all off with great attention to user experience and video tutorials to help you get the most out of your SEO, and you end up with an absolute stellar SEO tool.
View more information: https://www.fool.com/the-blueprint/ahrefs-review/