ADP Workforce Now Review 2021: Features, Pricing & More
There are two schools of thought when it comes to choosing HR software for your business: Get one solution that does it all, or choose best-of-breed tools for your different business functions.
Both ways are equally valid, and there are pros and cons no matter which path you take; it all depends on your preferences and how your business is run.
ADP Workforce Now covers the entire length and breadth of HR management, whether it's recruiting, performance management, tracking business goals, onboarding, or workforce planning.
But, as it takes a modular approach, you can choose different plans that offer some or all of this functionality. If you want to keep your best-of-breed recruiting solution, then you can do that.
---
Who is ADP Workforce Now for?
ADP Workforce Now is that rare breed of solution that is suitable for all business sizes. Most traditional HR solutions that have been on the market for some time are better suited to large enterprises but, as ADP lets you pay less if you don't need all the functionality, then there is an option for small businesses, too.
Its ease of use makes ADP Workforce Now a good option for companies with dedicated HR departments, as well as businesses that have one person in charge of all functions of human resource management.
---
ADP Workforce Now's features
ADP Workforce Now packs a ton of features into one solution but, if you are a growing business and don't need all the functionality on offer, you can choose to only implement certain modules.
For example, if you already have a recruiting solution to manage your hiring process then you can choose to implement a less expensive plan that doesn't include this functionality.
Recruitment
One important part of your recruitment strategy is the ability to attract the most talented candidates by showcasing why they would choose to work at your company. ADP Workforce Now helps you do that by creating a custom careers site and tailoring your job application form to the position.
You can also create internal career sites to help you attract candidates from within your company.
The pipeline management capabilities help you understand what stage candidates are in the application process, as well as actions you need to take to ensure you are meeting the hiring needs of your staffing plan.
This human resources software provides recruiting admin capabilities, such as scheduling interviews, carrying out background checks, and sending offer letters. However, it lacks the smooth and intuitive job ad and creation forms that you find in dedicated applicant tracking solutions such as Workable and Breezy HR.
You also can't source candidates using keywords or automated social media searches.
Onboarding
Even if you don't use ADP Workforce Now to hire candidates, it integrates with your recruitment and applicant tracking solution so the data from this software is automatically populated when you want to start the onboarding process.
From an employee perspective, they can read about other members of the team, access important documents such as your employee handbook, and complete paperwork before their first day. This helps free up time to concentrate on getting a new hire settled in, rather than having to spend ages on admin.
From an employer perspective, you can track the status of new hires, and people who have already started the onboarding process, and get an overview of which tasks still need to be completed. You can also tailor the onboarding process by role and location and reuse this process for similar positions.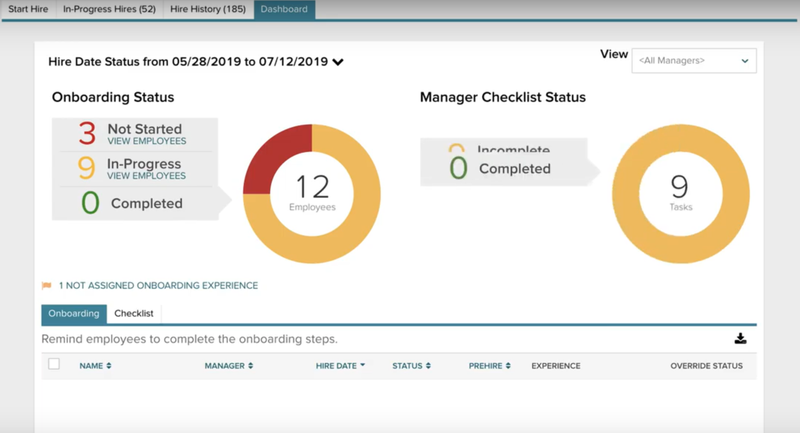 Performance and talent management
Ensuring you have proper talent and performance management processes in place boosts workplace satisfaction, which, in turn, increases employee retention.
ADP Workforce Now lets you tailor your performance management process according to the needs of your company and your multigenerational workforce. This could mean annual reviews or continuous feedback and ratings.
You can then use this employee evaluation data to offer training to help employees meet their goals and to inform overall company goals, as well as predict your turnover rate and implement succession planning procedures.
Workforce planning and management
ADP Workforce Now has comprehensive workforce planning and people management functionality. You can manage workers — both at-will employees and freelancers — in different locations by adjusting pay rate, overtime, and paid sick leave settings.
Thanks to its workforce analytics and reporting capabilities, you can identify areas where you are overspending — such as overtime pay — and take actions to address the issues. You can view real-time data to track company performance metrics and get an overview of workforce data. This includes:
Actual versus scheduled hours
Overtime
Budget
If your company is spread across multiple offices, you can also view this data by location and benchmark this data against your competitors to see where you need to make improvements.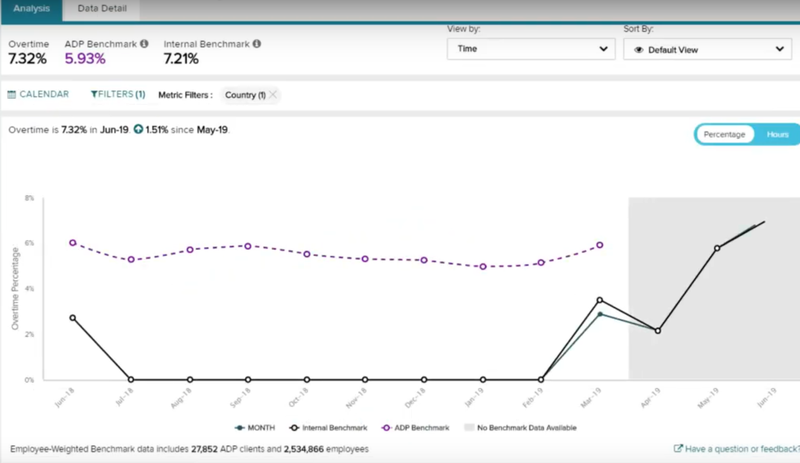 Another interesting and unique employee management feature is the integration with productivity platforms such as Slack and Microsoft Teams. This allows workers to see their vacation balance and submit time-off requests from these productivity platforms rather than having to log in to the ADP portal.
Labor laws change regularly, with new regulations being created and existing ones being repealed and revised. ADP Workforce Now aims to help you stay compliant globally by providing a library of documents, templates, toolkits, and advice on staying up to date with changes, as well as what action you need to take.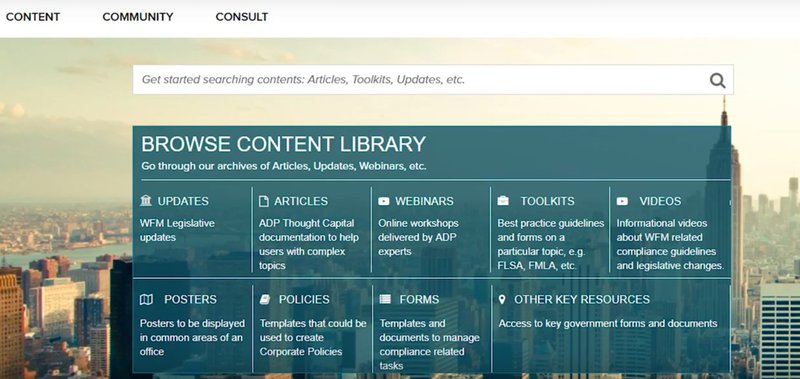 ---
ADP Workforce Now's ease of use
ADP Workforce Now makes even the most complicated HR feature seem easy to use. As it doesn't use a lot of jargon or assume that you already have a ton of knowledge on all subjects, it's easy to speed through the different processes.
That said, ADP Workforce Now has a huge amount of advanced functionality and, if you really want to get the most out of this software, you should invest in training. Or, at the very least, you should spend a lot of time reading help documentation, watching webinars, and playing around with dummy data.
Also, if you choose one of the higher-priced plans, you'll be using one solution for recruiting, onboarding, talent and performance management, benefits admin, and company reporting, so its user interface and navigation can be overwhelming. It's easy to forget where to go to access each option.
The main team dashboard is accessible at any time via the "Home" tab on the main navigation. This helps you focus better by providing an overview of the most important information you need to know and the tasks you need to carry out that day and week.
---
ADP Workforce Now's pricing
ADP Workforce Now does not make its pricing public; instead, you have to talk to sales to find out the cost. There are four different plans, which include different functionality. The Payroll Essentials (least expensive) plan only includes payroll and tax, and HR and workforce management functionalities.
The next plan up — HR Plus — has additional features, such as:
HR document and policy toolkits
Job description support
Job description templates and wizard
HR doc library, alerts, and tools
Federal and State compliance reporting
The two higher plans, Hiring Advantage and Performance Plus, offer even more functionality from there.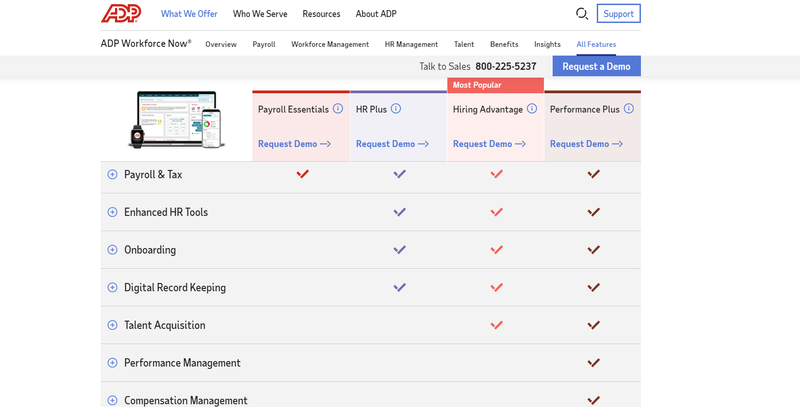 ---
ADP Workforce Now's support
ADP Workforce Now provides automated support via phone that can help answer basic questions. It's similar to a chatbot but you press numbers on your phone instead of typing questions. There is also an ADP Workforce Now virtual assistant for both HR professionals and employees.
The ADP Resource Center provides documents, webinars, and how-to guides that are tailored to your business size. The ADP Tools section includes payroll and retirement calculators, plus tax and compliance resources. You can even attend ADP events or meet ADP representatives at a trade show if you want in-person help.
There are additional support options depending on the pricing plan you choose. The three higher pricing plans all come with a dedicated employer help desk staffed by HR professionals.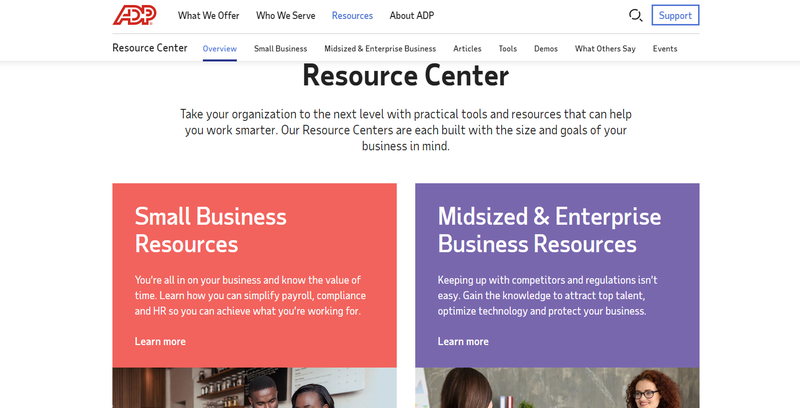 ---
Benefits of ADP Workforce Now
ADP Workforce now has deep analytical capabilities that help you understand how your company is performing at a macro level, as well as take a deep dive into the performance of your workforce.
It combines workforce management, recruitment, onboarding, and talent and performance management to help you get the best out of your employees.
---
The best of both worlds
ADP Workforce Now is a traditional HR solution with a mammoth amount of features. But despite that, and unlike some of its competitors (Oracle, SAP, etc.), it's an intuitive and easy-to-use solution with an attractive user interface.
It has a design to rival the newer cloud-based options such as Zenefits and BambooHR, yet it has the functionality to rival other enterprise solutions.

View more information: https://www.fool.com/the-blueprint/adp-workforce-now-review/