ActiveCampaign Marketing Automation Review 2021: Features & Pricing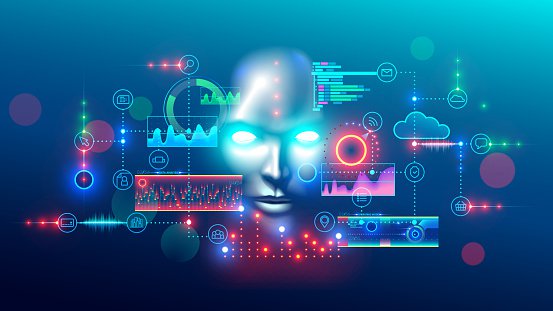 ActiveCampaign automations are essential. They define the solution as a customer experience automation platform. This marketing automation tool empowers marketers to track and score leads and turn them into customers by providing seamless, personalized engagement that's orchestrated across marketing channels.
ActiveCampaign provides unique and differentiating features. Continue reading to learn how the platform combines email automation and CRM to cut across sales and marketing campaigns to acquire more leads, move them through the marketing funnel into the sales funnel, and generate more wins.
---
Who is ActiveCampaign Marketing Automation for?
ActiveCampaign serves small businesses looking for email marketing and automation capabilities. The 14-day free trial allows you to spend time with the solution before committing. The already reasonable pricing grows as your contact list grows, so it's a great tool if you're just starting to build your contact list.
While favorable for new teams and small business marketing efforts, ActiveCampaign scales to meet the needs of enterprise marketing plans. Its feature set, integrations, and support options can support well-established businesses looking to replace their outdated or inefficient marketing solution.
---
ActiveCampaign Marketing Automation's features
ActiveCampaign provides features that span email and inbound marketing, CRM and sales tools, and automation capabilities. It stands out from the crowded marketing automation space with its omnichannel messaging capabilities and machine-learning driven predictive analytics.
Read on to learn more about these features and other core features that seamlessly tie sales and marketing efforts into a single solution.
Asset testing
ActiveCampaign features marketing testing tools that show which messaging, images, CTAs, and automations work best for each audience segment. The split action is the testing tool that empowers you to test entire workflows against others.
You can also use A/B testing for emails to conduct tests on up to five emails at once. This enables you and your team to determine the best combination of subject line, design, images, messaging, and CTAs. Over time, these tests should inform best practices for content creation.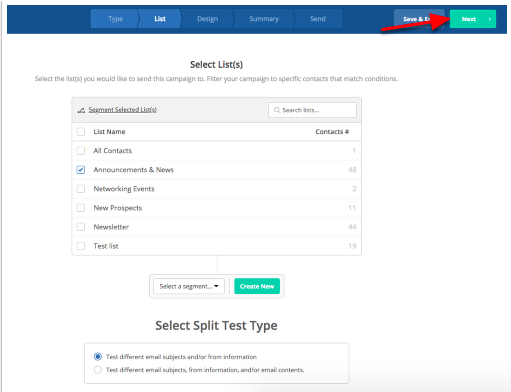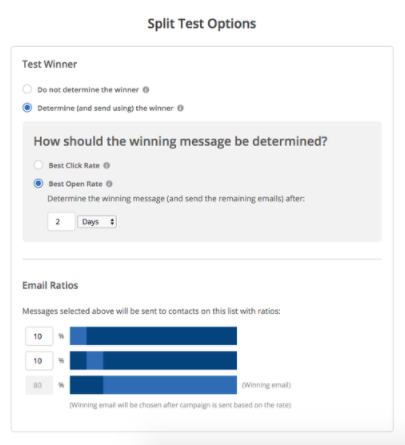 Attribution
ActiveCampaign provides a robust attribution set that highlights which marketing campaigns, channels, etc. are driving the most results. Monitor conversions, downloads, and eventual deal wins and ROI to pinpoint and prioritize top-performing marketing efforts.
ActiveCampaign's UTM-based attribution (urchin tracking module) tracks the customer journey, from prospect to contact to lead and ultimately, a deal.
With a high-level view of sufficient attribution paths, you can spot trends, bottlenecks, and successes along marketing and sales paths. This direct line to ROI enables you to accurately quantify your marketing efforts, justifying further investment or recalibration.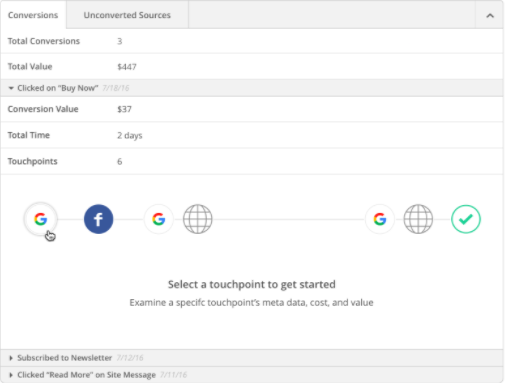 Custom forms for landing pages
ActiveCampaign's form tool lets you capture visitor information and set up automatic tagging for your new leads, immediately place them into a welcome funnel, and alert the appropriate team to the new conversion. You can also program ActiveCampaign forms to use on iPads as virtual business card bowls at events.
The form designer allows you to add images and customize the layout and color schemes. ActiveCampaign offers four different positions to embed forms on your landing page: inline, floating box, pop-up, and floating bar.
ActiveCampaign doesn't include a full landing page builder and instead requires you to embed forms on your own separate landing pages.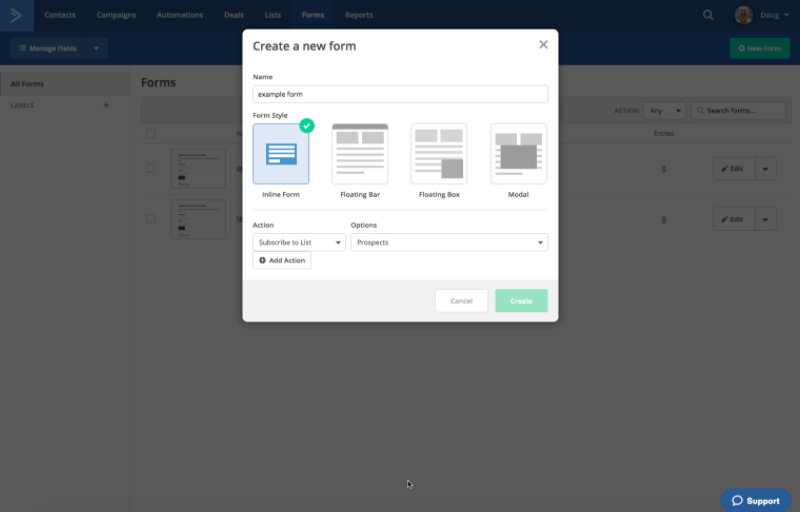 Customer relationship management
ActiveCampaign's customer relationship management (CRM) capabilities let you monitor lead status, store valuable contact information, create and manage tasks for the day, week, quarter, etc., and more.
Use it to make calls and update lead status and deal wins in the office and on the road. Managers can leverage the CRM tool to track sales performance of individual team members and measure the health of the overall sales funnel.
Dynamic and predictive content optimization
Take advantage of ActiveCampaign's dynamic content optimization capabilities to get the right messaging in front of the right audiences and deliver personalized engagement marketing.
Dynamic content optimization uses lead tagging details and matches those tags with content based on the conditional details you input for different content.
Content optimization lets you change text, images, and calls to action in your emails so that you can easily send different segments the right messaging, imagery, and offers.


Email marketing
ActiveCampaign offers an enormous email marketing feature set. You can set up triggered emails that fire a pre-programmed message after a purchase, site visit, newsletter sign-up, or other conversion or trackable, on-site behavior.
Targeted emails ensure you're personalizing and segmenting outreach by factors such as location, lead score, industry, etc. Or send a sweeping email blast when you need to reach your entire contact list. Funnel-based emails enable you to create fully customized drip campaigns to nurture leads down the funnel.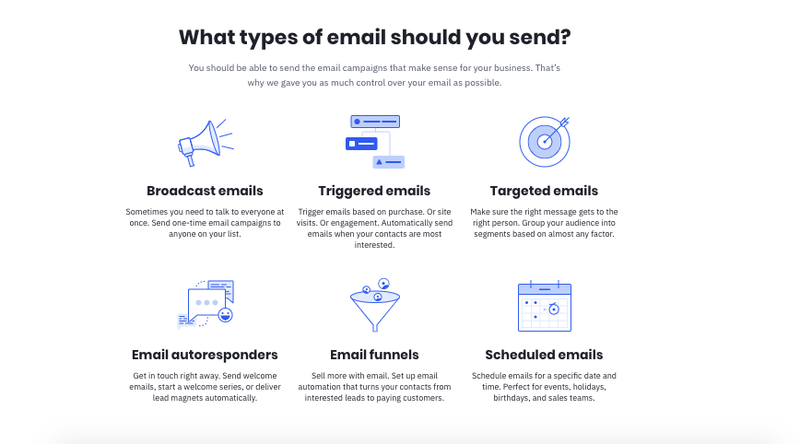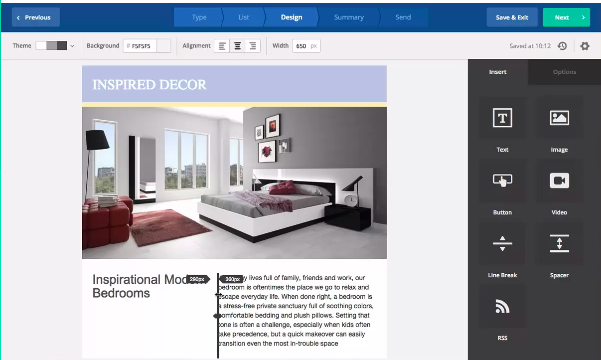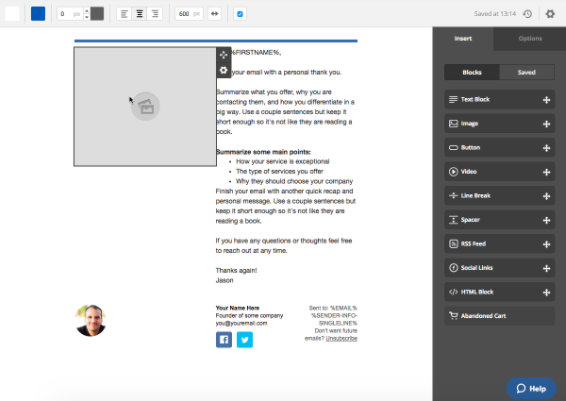 Journey builder
ActiveCampaign's automation map provides programmable journey-building capabilities to create and review automated engagement paths. You can design and review multiple branching automated journeys for your contacts, leads, and customers.
The birds-eye view of these paths lets you identify where your leads are disengaging and test new marketing materials to bring them back into your funnel.
Lead scoring
Lead scoring is integral to ActiveCampaign's system. ActiveCampaign offers two scoring types: contact scoring and deal scoring. Use contact scoring like typical lead scoring to automatically track lead activity and receive notifications when they're heating up.
Use contact scoring and ActiveCampaign's automations to trigger emails to leads once their score crosses a preset threshold.
Deal scoring focuses on your sales team and tracks their progress with open deals. It helps you focus on your most valuable leads, those closest to closing.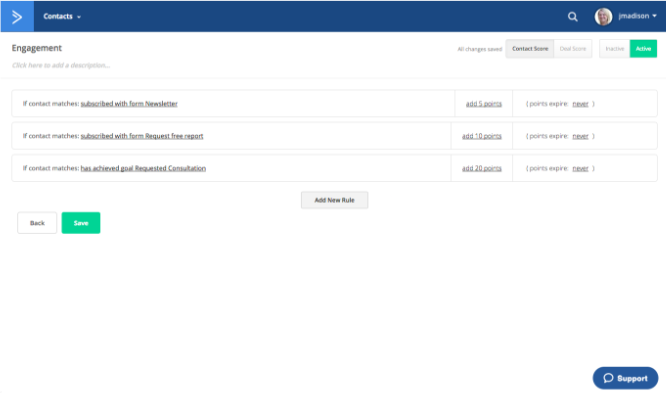 Machine learning
ActiveCampaign offers predictive analytics powered by machine learning to spot trends and make lead predictions. It scans your data to quantify the win probability of all your leads.
At the end of the day, not all your leads are going to turn into deals. These predictive analytics features help your sales team prioritize leads and determine when to rely on automated nurturing and when to pull them out for more personalized engagement.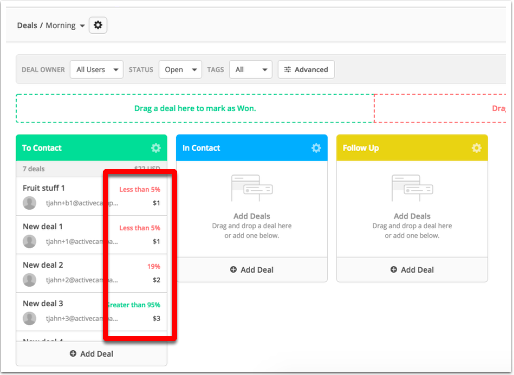 Multi-channel orchestration
In addition to robust email capabilities, ActiveCampaign empowers you to engage audiences across a range of channels. Conduct acquisition, nurture, and retention outreach across Facebook Ads, SMS messaging, and live chat.
ActiveCampaign provides what they call "conversations" as a part of their live chat capabilities.
This tool automatically registers and responds to triggers in conversion and live chats, such as tagging visitors if they're interested in a certain product, sending a follow-up email with pricing information. You can even register a new deal based on live chat conversations.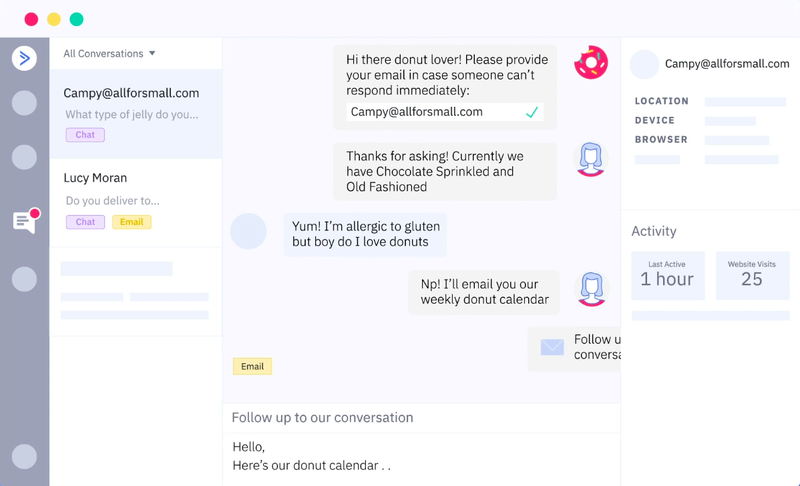 Site and event tracking
ActiveCampaign site tracking tracks the online activity of your leads. Site tracking tools inform and optimize marketing outreach based on real-time website activity across specific pages on your site.
Optimizations leverage messaging triggers and behavior-based targeting. Honed segmentation and personalization improve experiences and boost conversion rates.
In addition to this site tracking, event tracking tools allow you to record and act on specific events that happen across your site, such as purchases, sign-ups, cart abandons, in-app behaviors, video views, and more.
Site tracking is just one component of the much larger and more vast event tracking capabilities ActiveCampaign offers.
While event tracking is a powerful tool for hyper-personalized outreach, it does require some basic coding. On the other hand, the code for site tracking is provided, and all you have to do to implement is copy it across all your pages.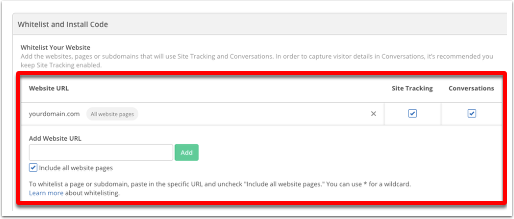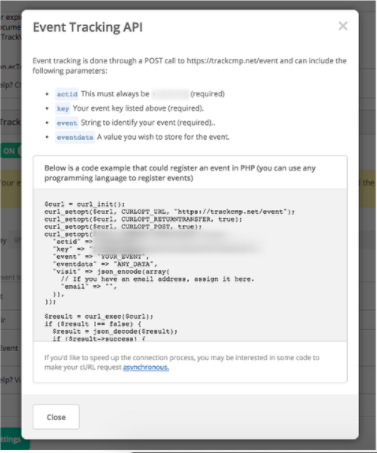 ---
ActiveCampaign Marketing Automation's ease of use
ActiveCampaign is a relatively easy to use platform considering its vast and advanced feature set. Its core email function is intuitive with drag-and-drop and guided automations features.
Baked-in templates, recommendations, and other "how-to" information help small businesses and new users embark on marketing automation for the first time.
The system is built to scale with your business, so you can add marketing automation complexities as your business grows, rather than paying for and adopting them all up front.
---
ActiveCampaign Marketing Automation's pricing
ActiveCampaign has four pricing tiers that increase as your contacts increase. The lite version, with 500 contacts, costs $9/month.
Three other tiers, the plus, professional, and enterprise plan are priced at $49/month, $129/month, and $229/month respectively, with a 500 contact cap.
The company negotiates prices for enterprise plans with 10,000 contacts and above. The same is true for the plus and professional tiers after 25,000 contacts. The graphic below shows price and feature breakdown at 10,000 contacts.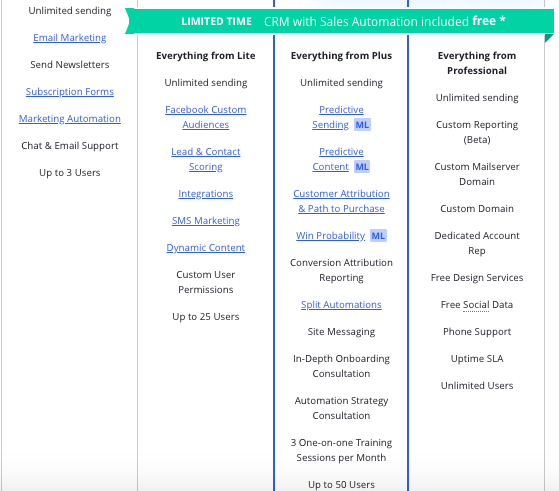 ActiveCampaign offers a 14-day free trial. The free trial is set up on their professional tier. It's a low-risk way to take the solution for a test drive with your sales and marketing folks who will be in it every day.
---
ActiveCampaign Marketing Automation's support
ActiveCampaign offers support through live chat, ticketing, one-on-one training, a community forum, and a huge education knowledge base of content and resources geared toward troubleshooting and best practices.
The knowledge base is searchable and organized by features and common categories such as getting started, integrations, sales automation, and many more.
You can schedule one-on-one training by logging in and choosing a free block of time. You can interact with the user community through onsite forums and Facebook and Slack groups.
---
Benefits of ActiveCampaign Marketing Automation
ActiveCampaign provides above-average marketing automation benefits for all types of users. The free trial is a good way to test out the system without having to completely commit.
The pricing tiers and per-contact variations provide numerous points of entry so businesses can start small and grow their solution as their business grows.
Free support makes it easy for new users, especially those new to marketing automation, to troubleshoot issues, address integration concerns, and determine best practices.
The solution offers everything you need for seamless sales and marketing automations, lead tracking, and more. The machine learning-powered predictive analytics complement traditional lead scoring and provide an edge over competitors too busy trying to impress all leads rather than prioritizing for wins.
---
Fortuitous feature set at favorable price point
ActiveCampaign is a unique, feature-packed solution for small businesses but also features adaptability and price points to grow with your business or immediately meet the needs of your larger business. It's relatively easy to use considering its multiple automations and customizations.
The ability to score contacts and deals sets it apart from similar options, and its predictive analytics are a real game changer for lean sales teams that need to operate with efficiency and precision.
View more information: https://www.fool.com/the-blueprint/active-campaign-marketing-automation-review/