A Small Business Guide to the Merchant Cash Advance
Maintaining a positive cash flow isn't always simple for small businesses. Unforeseen expenses can arise, seasonality can slow sales and regular customer acquisition, and as we've seen recently, global pandemics can halt business altogether.
If your small business needs an injection of capital but is unlikely to meet the requirements of most traditional business loans, a merchant cash advance might be the answer. However, the decision to apply for a merchant cash advance isn't always the best option.
Here we help you determine whether this type of financing is right for you, discuss merchant cash advance alternatives, and detail how to apply for a cash advance.
---
Overview: What is a merchant cash advance?
A merchant cash advance is an immediate cash advance that's based on a business's credit and debit card sales. A one-time lump sum of cash is given by a merchant cash advance provider in exchange for a percentage of a business's future credit and debit card sales.
A merchant cash advance is also sometimes known as a credit card processing loan.
Merchant cash advance providers calculate how much the business will need to pay back by evaluating their risk and assigning a "factor rate", which is then multiplied by the borrowed amount.
They also look at a business's daily card transaction average to ascertain whether the business will be able to pay the advance back, and if so, how quickly.
For example: Your business needs to borrow $20,000, and the merchant cash advance provider sets a factor rate of 1.5. Your factor fee would be $10,000, and your payback amount would be $30,000.
However, merchant cash advance providers also typically charge other fees on top of this, such as an origination or closing fee.
Payments are then collected by the provider on a daily basis by taking a portion of the business's card transaction sales through Automated Clearing House (ACH) withdrawals until the payback amount is repaid in full.
---
Merchant cash advance vs. business loan: What's the difference?
While merchant cash advances and businesses loans are both working capital loans that help businesses finance day-to-day operations such as purchasing equipment, paying their staff, or footing an unexpected bill, they do have a few key differences:
Speed: While a business loan may take weeks to get approved or denied, merchant cash advance funding is almost instantaneous.
Business age: In general, in order for a business to be eligible for a business loan it needs to have been trading for a minimum of three years. To qualify for a merchant cash advance, a business can be as young as six months old.
Borrowing requirements: Business loans are generally approved if a business has a good credit score, whereas merchant cash advance loans aren't concerned with credit histories, and are based on an average of a business's daily card sales.
Repayment terms: Repayments on business loans are fixed for the duration of the loan, while merchant loan repayments are taken daily from a business's card sales.
---
How to apply for a merchant cash advance for your small business
Applying for traditional loans can be pretty straightforward, but you might not know exactly what you need to do when applying for a merchant cash advance. Here, we go through the steps you should take before, during, and after applying for a merchant cash advance.
Step 1: Review your business's finances
Even though you're not required to produce substantial amounts of paperwork before you apply for a merchant cash advance, it's a good idea to review your business's finances — especially its cash flow statement — for your own sake.
This will help you identify areas in which you can begin to make future cost-cutting measures and adjustments to help you avoid taking out any further loans.
Tips for reviewing your business's finances
You should get into the habit of reviewing your spending regularly. Here are some ways you can identify areas where you can minimize business expenses.
Look for lower rates: Whether this is with your wholesale distributors, suppliers, vendors, or the agency taking care of your business's sales and marketing efforts, try to negotiate the rates you're currently paying, or shop around for new quotes.
Review your prices: Maybe your competitors are offering better prices, or your pricing strategy doesn't quite match your customer persona. You can use a CRM tool to help you identify the right product positioning strategy and price points.
Step 2: Do some initial research
Before you apply for a merchant cash advance, make sure you really understand what is expected of you when taking out an advance, and what type of lenders provide the service.
When you search for merchant cash advance lenders, you're going to be inundated with options. Sorting the wheat from the chaff is important when it comes to making a business decision of this kind.
Tips for conducting initial research
As with any big financial decision, you need all of the information upfront before you commit. Here are some ways that you can make sure the choice you make is the right one.
Decide on your parameters: You'll need to know what kind of daily amount you can afford to pay back before you commit to an advance, and what advance amount you're looking for.
Compare lenders' terms: Weigh up all the terms from each lender to see which one suits your needs and abilities to repay the loan. This includes the lenders' minimum requirements for eligibility, factor rates, and the total cost of the advance including fees.
Step 3: Check that your credit card processor is approved
In order to receive the cash advance, you'll need to be using a credit card processor that's approved by the merchant cash advance provider. Either your current processor will need to be approved by the provider or providers you're considering, or you'll need to replace it with one they support.
Tips for checking that your processor is approved
This is a pretty straightforward step, but nonetheless very important to do before submitting an application, as it could delay the release of a cash advance.
Get in touch with the provider: Contacting providers directly is the best way to ascertain whether your card processor is compatible with their requirements.
Weigh up the costs of switching providers: If it's necessary for you to switch providers, make sure you factor in the costs of exiting any contract you're in with your current processor, and the fees involved with setting up a new processor. Switching providers could substantially increase the total cost of taking out a cash advance.
Step 4: Review the proposed contract
Once you've done all of the above and chosen your merchant cash advance provider, it's vital that you double-check the contract you'll be responsible for.
Tips for reviewing the proposed contract
Don't blindly accept the terms that a merchant cash advance provider prescribes. Here are a few tips to help you review a cash advance contract.
Look out for hidden fees: Look out for any clauses that stipulate that you'll be liable for any further costs.
Check the dispute resolution clause: You need to be fully aware of what will happen in the event of a disagreement between you and the lender. Often, lenders will insist that you use a third-party mediator to settle disputes.
---
Merchant cash advance alternatives
A merchant cash advance is a very quick financing option, but also one of the most expensive choices — especially for small businesses. A merchant cash advance isn't suitable for businesses who aren't generating high cash flow from operations. Here are some alternatives to merchant cash advances.
1. Short-term business loan
Short-term business loans have short repayment terms, ranging from three to 36 months, but typically offer repayment terms of a few months to one or two years at most. These types of loans are suitable for businesses that don't want to make a long-term loan commitment.
Characteristics of short-term business loans:
Short-term business loans are often unsecured.
Because of their short-term nature, the amount of capital businesses can borrow is much less than with a long-term loan.
They're associated with higher fixed interest rates.
Businesses are also charged origination fees of around 2.5% to 6% of the total loan amount.
Lenders require businesses to have been trading for at least one year, make over $50,000 in annual revenue, and a credit score of around 550 or higher.
2. Long-term business loan
Long-term business loans are paid back in fixed amounts over several years, plus interest and fees. These loans often have a longer approval process, and can be repaid over a much longer period of time — typically anywhere between three and 10 years.
Characteristics of long-term business loans:
Businesses must demonstrate that they have a "legitimate business expense" before lenders will process their application.
Lenders require businesses to have been trading for at least two years, a minimum credit score of around 600, and make over $100,000 in annual revenue.
Long-term business loans typically have more affordable interest rates, and are often much less expensive than short-term business loans.
3. Payment processor financing
Some payment processing companies such as PayPal, Square, and ShopKeep that may already be processing your sales transactions, and may also provide you with your POS hardware and point-of-sale software, also offer working capital loans to businesses.
These loans are a suitable option for businesses already processing a lot of card transactions.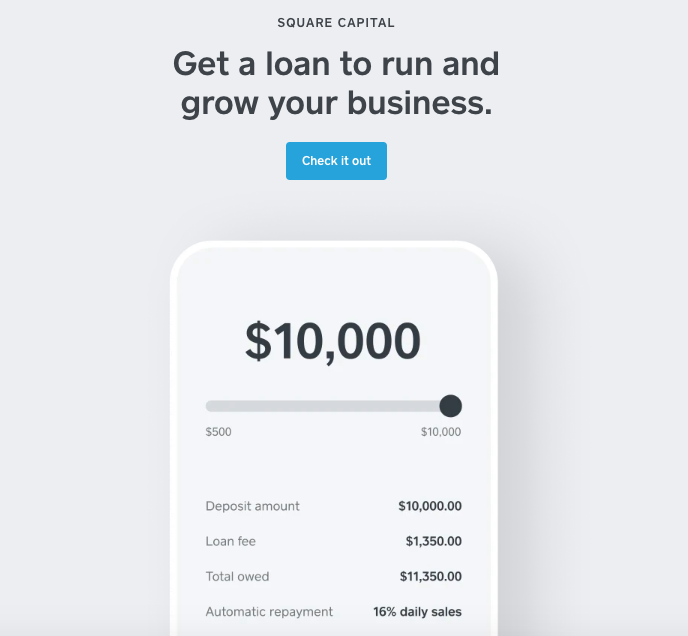 Characteristics of payment processor financing:
As with merchant cash advances, businesses pay back a fixed portion of daily card transactions sales to repay the loan.
Unlike merchant cash advances, this type of financing functions as a traditional loan, rather than a sale of future revenue.
Repayments are taken automatically and on a daily basis.
Businesses must already be using the payment processor's services.
Loans are approved on the basis of your card processing history, and a credit check is not required.
---
Consider other financing options before committing to a merchant cash advance
While merchant cash advance loans are quick and frankly quite easy to apply for when compared with other financing options, they're not suitable for businesses who aren't confident that they can afford to repay the full amount over a short period of time.
To safeguard your business's future, make sure you consider all financing options available to you before making a decision. And if you do settle on a merchant cash advance, make sure you shop around for the best terms for your business before entering into any financing agreement.

View more information: https://www.fool.com/the-blueprint/merchant-cash-advance/