A Small Business Guide to the ITIL Framework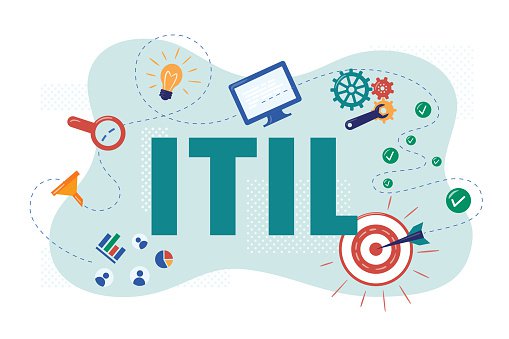 The Information Technology (IT) industry's tremendous evolution in the past few years opens the door for many small businesses to implement IT.
When I started my technology career during the dot-com boom of the early aughts, a business required significant capital to spin up IT infrastructure. Today, cloud computing dramatically reduces those costs.
IT setup for your business is only the start. IT systems and the organization responsible for supporting it require an operational framework. This need spawned ITIL, an acronym for the Information Technology Infrastructure Library.
Since its inception in the 1980s, ITIL has become one of the most popular IT frameworks in the world.
---
Overview: What is the ITIL framework?
ITIL is a series of best practices for IT services delivery. By services, ITIL refers to any element required to provide technology to an organization, from software to documentation to workflows. The UK government created ITIL after recognizing the growing importance of IT and the lack of standardized processes.
ITIL is intended to support an organization's execution of IT service management (ITSM), an approach to overseeing a company's technology that meets internal and external customer requirements. Through ITSM, the ITIL framework aligns a company's technical investments to its business needs.
How does it do that? Processes form the backbone of ITSM. When delivering technical solutions to customers, a business requires procedures to address areas such as training, dealing with technical issues, and rolling out updates. The ITIL processes provide the solution.
ITIL's foundation is its four dimensions model. These four dimensions comprise the necessary ingredients to create a high-quality ITSM experience. The four components are: organizations and people, value streams and processes, information and technology, and partners and suppliers.
Organizations and people: IT serves your organization, and that organization is composed of employees and customers with different needs. Addressing the people component to IT service management helps ITSM achieve company goals.
Value streams and processes: This piece serves as the heart of ITIL. In the previous ITIL V3 framework, the concept of a life cycle framed the ITIL processes. In the current ITIL V4, the service value chain replaces the life cycle. Rather than a linear flow prescribed to IT services, the value chain supports both linear and iterative approaches such as agile methodologies. The service value chain outlines the flow of IT service delivery from the recognition of customer demand through to value creation and the steps in between.
Information and technology: Every IT service consists of technology, of course, as well as the information required to enable that technical solution.
Partner and suppliers: No company can do it all. Partners and suppliers of technology also contribute key pieces to the overall IT service provided by your business.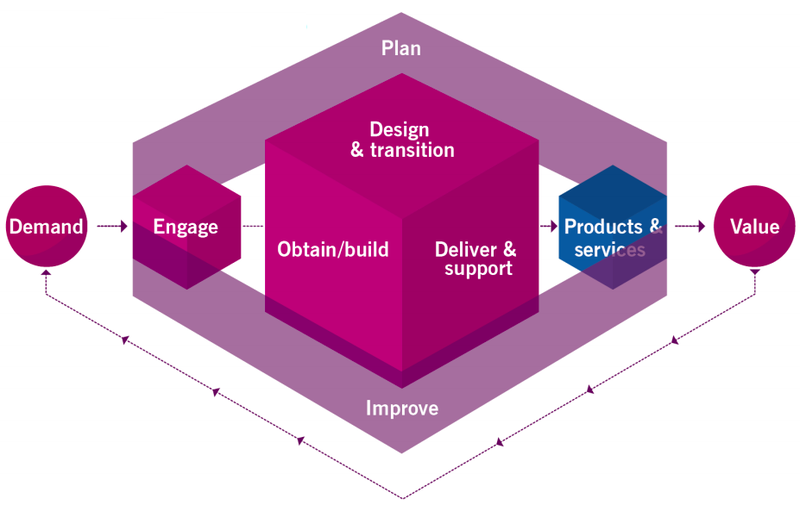 ---
Benefits of the ITIL framework
ITIL became a popular ITSM execution approach because it delivers many business benefits. The following touch on the key ITIL advantages.
1. Improved customer satisfaction
ITIL identifies critical customer-facing IT functions such as resolving technical issues, addressing customer feedback, and implementing changes in a manner that minimizes customer disruption.
These processes streamline workflows, leading to faster, more efficient IT services to customers. In turn, customers will find your technology reliable and trustworthy, improving customer satisfaction and retention.
2. Reduced business risk
As companies increasingly rely on IT services, they become targets for hackers. Technology is also used to execute many business functions, opening a company to legal and regulatory issues if that technology isn't properly maintained.
ITIL processes address these and other areas that expose your business to increased risk, such as upgrades to your IT systems. Employing ITIL reduces risk across these areas.
3. Better business alignment
Inherent technology complexity often leads to misaligned business expectations, resulting in IT service conflicts. A primary ITIL goal is to align IT services with business needs, avoiding this scenario.
ITIL processes tackle IT asset management to keep costs in check. ITIL sets service level agreements (SLAs) with vendors, customers, and other business partners, outlining the IT organization's commitment to addressing system issues or service requests within a designated time frame.
These and other ITIL processes align business expectations and set up the IT team for success.
---
The 34 ITIL framework processes
The ITIL framework describes 34 processes, called management practices in ITIL V4. Rather than prescribe specific workflows or procedures, ITIL V4 outlines a holistic approach that delivers guidance.
Its management practices are described in the ITIL guide as "a set of organizational resources designed for performing work or accomplishing an objective." ITIL divides these practices into three categories based on the nature of the practice: general, service, and technical management.
1. General management practices
The general management practices cover areas important to IT service delivery that don't fall into the other two categories. It's up to your IT team to determine the general management practices that apply to your organization, and at what point in your service value chain to introduce each management practice.
Architecture management: This management practice delivers the blueprint (no pun intended) to design the current IT service strategy while accounting for future advances in the technological landscape.
Continual improvement: A core ITIL tenet is the idea that IT services strive for continuous improvement in both technologies and processes. This practice outlines methods for achieving this goal.
Information security management: Every IT system must safeguard the confidentiality, integrity, and availability of an organization's data and services.
Knowledge management: Your company's technology should increase the efficiency of knowledge sharing so that business information is gathered, analyzed, stored and easily accessed throughout the organization.
Measurement and reporting: This practice encourages the use of data collection to deliver data-driven insights for improved decision making.
Organizational change management: This practice seeks to guide the people in your organization and its customers through technology changes using tools and processes such as a change management plan.
Portfolio management: The list of IT services, including those planned for the future and retired, comprise your organization's IT portfolio. The portfolio management practice concerns oversight of that portfolio to ensure the right mix of products and services to meet customer and business needs.
Project management: IT teams undergo numerous projects from deploying new services to decommissioning old technology. IT project management practices assists the team in achieving a project's goals.
Relationship management: The IT team requires strong relationships with the rest of the business organization and its customers. These practices focus on establishing and nurturing those connections.
Risk management: Managing risk is a key element of technology implementation. Security measures, legal and regulatory compliance, and minimizing system issues comprise risk management.
Service financial management: This management practice involves financial oversight to ensure technology investments are paying off and costs associated with IT service delivery are managed to the budget.
Strategy management: Before implementing IT services, your business requires a strategy to outline which services are necessary to meet customer needs, industry standards, and competitive offerings.
Supplier management: For companies leveraging third party technology suppliers, this practice covers considerations such as contracts and ensuring suppliers meet their obligations.
Workforce and talent management: IT services can't operate without an IT team. This practice focuses on managing that team and ensuring people with the applicable skills are aligned with the right roles.
2. Service management practices
Each service management practice focuses on one ITSM component. Incorporate the following to deliver a comprehensive ITSM experience to your constituents.
Availability management: IT services hold value only when available for use. Availability management involves limiting system downtime and any issues that affect system performance while adhering to agreed-upon SLAs.
Business analysis: This practice analyzes business areas and provides recommended IT solutions to address needs.
Capacity and performance management: To meet availability and performance requirements, IT systems must include the appropriate capacity in a cost effective manner. This practice also plans for future capacity and performance needs.
Change enablement: Formerly called change control and ITIL change management, the change enablement practice differs from organizational change management in that it focuses on changes to technology rather than the people using it. Upgrading your software system falls under change enablement while training people on the new software involves organizational change management.
Incident management: Any technical issue or degradation in IT services is referred to as an incident. Incident management involves practices to address incidents in a timely and effective manner.
IT asset management: An IT asset encompasses any item required to enable your organization's technology use, such as software and hardware. IT asset management ensures assets are properly deployed, maintained, and eventually, decommissioned.
Monitoring and event management: IT systems require constant monitoring to identify incidents quickly and to record changes in system state, called events.
Problem management: Recurring incidents signal a deeper issue, called a problem. The problem management practice is about problem identification and finding solutions to improve IT system reliability.
Release management: Changes to IT services require carefully planned rollouts called releases. The ITIL release management practice outlines processes for implementing releases while minimizing risk to the organization.
Service catalog management: The service catalog acts as a single source of consistent information about the currently available IT services.
Service configuration management: IT assets include configurable items, which are the components of an IT system that the IT team can perform changes to, such as software. To manage these changes, the team typically employs a configuration management database (CMDB). The CMDB is a key part of the service configuration management practice, tracking every change, which helps accelerate incident and problem management resolution.
Service continuity management: This practice ensures IT services can recover and continue to meet SLAs when confronted with a disaster. It manages risks that can impact IT services by reducing those risks to an acceptable level and planning for IT service recovery.
Service design: The scope of this practice is to design new IT services or address changes and improvements to existing ones so that those designs complement business needs while seamlessly integrating with the IT ecosystem.
Service desk: The service desk tackles incident resolution, customer inquiries and suggestions, and offers an interface between the IT team and the internal and external customers it supports.
Service level management: This practice describes the service level agreement (SLA) process.
Service request management: IT service users need the ability to submit requests for help, such as setting up an account, and to address other request types, which includes reporting issues or asking for new features. The service request management practice covers this area, and usually incorporates an IT ticketing system, which is the IT help desk software used to facilitate service requests.
Service validation and testing: Changes to IT services require testing after changes roll out to validate they achieved the intended results. The service validation and testing practice looks at the processes involved in this area.
3. Technical management practices
A handful of technical management practices comprise this category.
Deployment management: The deployment of new technology or other IT changes requires a series of coordinated steps to ensure these changes occur smoothly.
Infrastructure and platform management: IT platforms and infrastructure include office Wi-Fi systems, servers, cloud computing, software and more. These services require oversight, and the infrastructure and platform management practice outlines processes for doing so.
Software development and management: IT services rely heavily on software. ITIL recognizes this by devoting a set of practices specifically around ensuring software meets the needs of the business and its customers, maintaining and upgrading it, and certifying software is safe, secure, and compliant with legal requirements.
---
A final word on the ITIL framework
The ITIL framework, reflecting the evolving technology industry, has changed over time from its prescriptive processes in V3 to V4's flexible approach. The current V4 debuted in 2019, and acknowledges that businesses address IT needs in divergent ways.
The ITIL V4 framework also recognizes that other IT methodologies can benefit organizations, and provides guidance and advice around these other approaches such as DevOps, an IT framework that merges software development support with IT service operations.
Adapt the ITIL practices to your organizational needs, and you'll enjoy an IT framework that propels your company to success.
View more information: https://www.fool.com/the-blueprint/itil-framework/