A Small Business Guide to Service Desks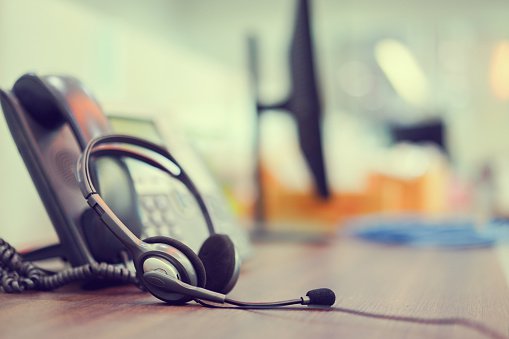 Technology is a boon and a bane for every business. It streamlines work and helps your company scale, but sooner or later, that technology experiences hiccups. When that happens, your business needs the technical support of a service desk.
In the Information Technology Infrastructure Library (ITIL), a series of best practices for the Information Technology (IT) industry, a service desk helps users with technical issues and questions. It's a core component of delivering IT services to an organization.
As one of the ITIL processes, the service desk falls under the service operation step of the ITIL V3 service lifecycle. This means if your business offers technology products or services to internal or external customers, you'll need to set up service desk operations.
---
Overview: What is a service desk?
The service desk acts as the single point of contact between your IT team and the users of your IT services. Your company's IT services encompass any technology-related items used in your business. It could be the products you sell, or the software used by your employees.
When these IT services run into a technical issue, referred to as an incident, the service desk team steps in to solve the problem. The service desk also handles routine requests, such as setting up a new user account or resetting a forgotten password.
These requests typically come through an IT ticketing system. The system involves IT management software to allow users to submit requests or report incidents electronically.
Yet the service desk is more than a team that tackles technical challenges. It's also the face of your IT organization to your technology users.
The service desk's primary responsibility is to deliver value to the company by addressing your users' IT needs. This is a core concept in IT service management (ITSM), the philosophy behind ITIL. The service desk creates the bridge between your business operations and your technology ecosystem.
Service desk vs. help desk: What's the difference?
The terms service desk and help desk are used interchangeably in many organizations. In the ITIL framework, the IT help desk is a specialized subset of the service desk.
While the service desk focuses on activities to further customer value, the help desk is more about addressing only a portion of the ITIL service desk processes, such as incident management. The distinction is subtle, which is why the service desk and help desk are often considered one and the same.
The way to differentiate the two is to remember that the service desk is about the big picture of delivering IT services to users, while a help desk is more tactical in terms of the nature of its work.
---
Benefits of an IT service desk
The service desk's scope of responsibilities deliver several key benefits to your business:
1. Improves productivity
Arguably the most important service desk responsibility is to resolve incidents. When the users of your IT services can't perform their jobs or use your technology, work doesn't get done, and productivity declines.
A service desk team that quickly responds to and resolves technical issues keeps an organization productive, allowing your employees to get back to work quickly. It also brings the benefit of improved confidence in your company's technical prowess and creates a better customer experience.
2. Reduces costs
The service desk reduces business costs by implementing automated workflows for many routine IT tasks.
Rather than a member of the IT team needing to address every user who's forgot their password, the service desk can set up a self-service portal where the user can walk through self-help capabilities within your IT system to reset a forgotten password themselves.
The same applies to other standard IT requests, such as setting up a new user account.
More importantly, the service desk saves your company an average of $300,000 per hour in lost productivity and sales by addressing technical issues, according to research firm Gartner.
3. Proactively catches problems
In ITIL, recurring incidents hint at systemic issues called problems. The service desk tracks reported incidents, then performs an analysis to identify problems proactively so they can be addressed as part of ITIL's problem management process.
---
Types of service desks
ITIL classifies different service desk types based on several factors.
For example, the location of your service desk affects the structure of the team, since a global service desk supporting users in multiple time zones has different requirements than a service desk that only provides service desk functions to users in one location.
You can set up your company's service desk using some common methods.
Type 1: Service offerings
ITIL defines three types of service desk offerings.
Help desk: This type handles a subset of the ITIL service desk practices. Usually, the help desk is confined to incident management, service request management, or both.
Call center: This group handles IT requests by phone or email and then routes the requests to the appropriate teams within the organization. They do not attempt to solve the requests themselves.
Service desk: This team is responsible for the end-to-end process of resolving user requests and issues. They may need to get help from other members of the organization, such as asking software developers to investigate an incident, but the service desk team owns the user's request, acting as the communication channel until it's resolved.
Type 2: Size and location
The size of your service desk team and their location plays a role in how the team is structured. This type breaks down into four categories.
Local: The local service desk is a dispersed team located close to your customers. They may be in a branch office near the customer or simply in the same time zone. This structure allows them to visit customers to assist with onsite tasks and is commonly used with large, enterprise clients.
Central: The team operates from a centralized location. They may not be close to the customer, but this model creates cost savings for the company and greater team synergies, since all team members are together.
Virtual: Service desk team members sit dispersed across different locations but use the internet and associated tools, such as video conferencing software, to simulate a team working in a centralized location.
Follow the sun: Customers receive IT support desk help 24 hours a day, seven days a week. This level of coverage requires service desk teams at different locations around the globe.
Type 3: Support level
The service desk is the first to receive a notification of any technical issues or requests. From there, the IT organization may break down the service desk into a hierarchy that addresses requests based on severity or client value.
Single level: In this type, no hierarchy exists. The service desk handles all requests and incidents. This structure is usually employed when addressing high-value clients, such as your company's largest customers.
Multilevel: The most common type of support structure, the multilevel approach starts with users going to a self-service portal to find help on their own. If that doesn't resolve the situation, they submit a request through an IT support ticket system detailing their concern. If the service desk personnel can resolve the request, they do so. If not, they route the request to the appropriate staff and escalate the request if it's an urgent issue. A separate team exists to deliver dedicated support to the company's most important clients.
Type 4: Business model
You can design a service desk to be a profit center or a cost to the business.
Cost center: The most common type of service desk business model is one where your company absorbs the cost. The service desk operates under a budget. This model's key challenge is to reduce costs as much as possible.
Profit center: The service desk levies fees for its services, like replacing a free ticketing system in favor of charging for IT request submissions. The challenge is to charge reasonable fees that cover your costs while ensuring you don't alienate customers.
Type 5: Ownership
Your company has a choice for funding a service desk. You can build your own team, or you can outsource.
In-house: Building your own team is more costly, but the team is invested in the company's success, and you have complete control over the staff you hire and the performance targets used to evaluate individual team members.
Outsourced: In this approach, you hire a third party to manage and run your service desk. It involves significantly lower costs than an in-house team but adds a level of complexity. You don't directly manage the team, you must apply extra effort into communications, and since you're dealing with an external company, you must be careful not to share sensitive information. Your service desk support is limited by the requirements set forth in the contract.
Type 6: Audience
A service desk can focus on a specific audience.
Internal: The team delivers services to users within your organization. You're servicing coworkers, which means more flexibility in the communication. Service desk team members can usually walk up to a colleague's workstation to troubleshoot issues in person.
External: Services are provided to external customers who bought your products or services. The team must practice care in communications to avoid sharing sensitive company information, and they must keep in mind that their customer interactions directly affect customer satisfaction.
---
A last word about service desks
The service desk fulfills a vital role in any company incorporating technology in internal processes or through selling digital products and services.
Many IT processes depend on the service desk to provide support, such as when executing release management to ensure any post-launch incidents are addressed in a timely manner, or in ITIL change management so that service desk personnel are aware of IT system changes.
With a robust service desk, your company is poised to get the most out of your company's use of technology.
View more information: https://www.fool.com/the-blueprint/service-desk/