A Small Business Guide to POS Data
I remember when I got my first TracFone in the early 2000s. It was amazing: a phone with a tiny display screen you could carry around with you. Over two years later, I figured out I could play Tetris on it. Six months after that, I discovered it could send text messages. I mean, really, who would've thought?
Don't let your small business find itself in the same situation if you bought your first point of sale (POS) system just to process credit card payments. The best POS systems also collect data that impacts multiple areas — sales, inventory, marketing, and more — within your business.
We'll go over point of sale data collection, the different actionable insights POS data analysis provides, and how to leverage that information to benefit your small business.
---
Overview: What is POS data?
Every transaction your POS terminal processes captures a variety of information, including products sold, time of sale, location, payment method, and, with credit card sales, customer names.
On its own, the data from a single transaction is not revealing. Once you aggregate a large data set, however, POS analysis identifies important patterns and related performance metrics about your sales, inventory, customers, employees, and marketing which can influence marketing and increase profits.
While POS data collection technology is relatively new, it's become an important source of information for retail sales operations.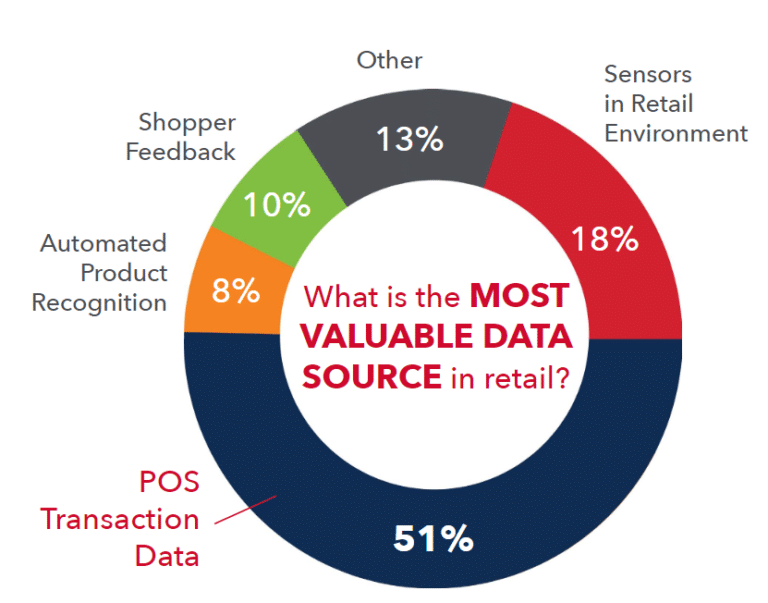 Sir Arthur Conan Doyle wrote: "It is a capital mistake to theorize before one has data." A thin line separates financial success and failure in most businesses, so you require actionable data to make the best decisions.
---
Where is POS data stored?
Retail stores and fast-food restaurants began using the first electronic POS hardware in the early 1970s. These systems used miniature mainframe computers connected to electronic cash registers via a local area network (LAN) to store data on-site.
The majority of today's retail POS systems are web-based and use online cloud storage for their data. This allows POS reporting to incorporate information from multiple store locations, online sales, and different POS transactions, including virtual terminals and mobile point of sale (mPOS) mobile payments.
---
How to utilize your POS data
Most POS features include performance metrics analysis and reporting. If you're already using a POS system, look closely at the reports it generates. If you're choosing your first POS, make sure it includes reports for the areas covered below.
Step 1: Sales management
Sales drive your business's growth, and there are many ways to break out sales data to identify your strengths and weaknesses.
Sales key performance indicators (KPIs) to track include:
Gross profit versus net profit
Average transaction value
Average number of products per transaction
Sales by location
Payment methods
New business versus returning customers
Sales per square foot (brick-and-mortar stores)
Percentage of website visitors who make purchases (e-commerce sites)
The ShopKeep sales analytics dashboard has a useful sales overview — gross sales, revenue, discounts, net sales, and sales tax — which you can drill down into for more granular analysis.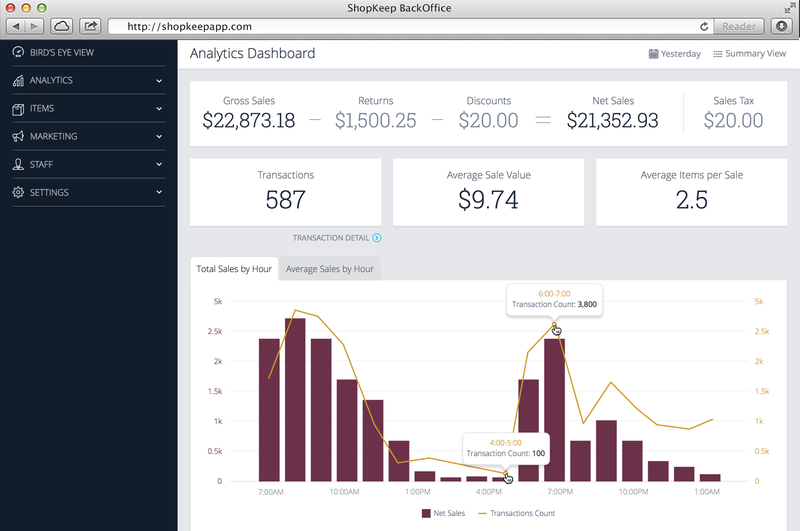 Small business owners wear multiple hats, so set up and schedule your reports to ensure you're regularly reviewing and acting upon their information.
Step 2: Inventory management
Most POS data about your stock relates to inventory control such as picking, packing, and/or shipping items. This information, however, can also contribute to inventory management: maintaining and reordering the optimal stock at the best prices.
Inventory formulas and KPIs include:
Safety stock levels
Reorder points
Economic order quantity (EOQ)
Stock-to-sales ratios
Sell-through rates
Inventory turnover rates
ABC categories
Back-order rates
Time to receive inventory
Shopify POS has inventory control and management features, but like many POS systems, you can build out that functionality through third-party integrations. In the screenshot below, the Stocky plugin delivers more information about your Shopify inventory, including low stock and lost revenue.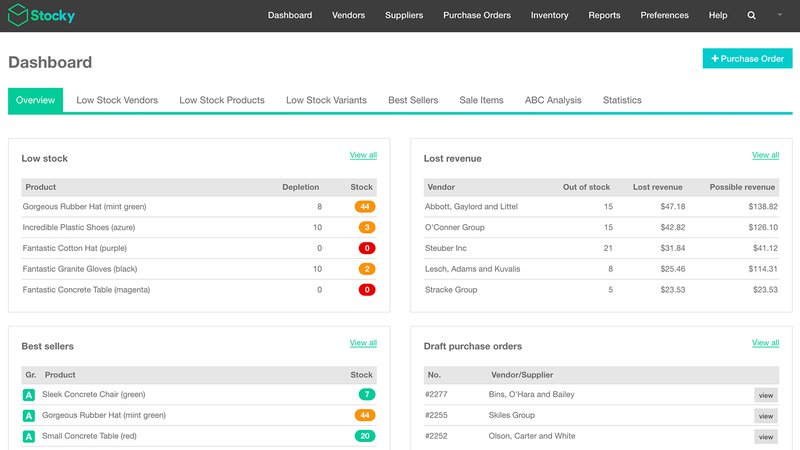 Excess inventory costs are often "hidden" expenses, such as unsold items warehoused for years or products past their expiration dates. Your POS inventory info helps you keep top-selling products in stock while not ordering or storing slow-moving items.
Step 3: Customer management
Who doesn't love a big pile of cash at the end of the day? Unfortunately, that pile of cash doesn't tell you anything about who bought your products and services. POS data captured with each customer transaction will improve your customer service and promote customer loyalty.
Customer management data includes:
Profile information such as name, company, and marketing permissions
Purchase history to identify top customers
Payment methods to speed up the transaction process
Loyalty program points to encourage future purchases
Customer service records for each interaction
The Vend new customer profile interface stores key information about each customer to improve their experience and lead to future sales.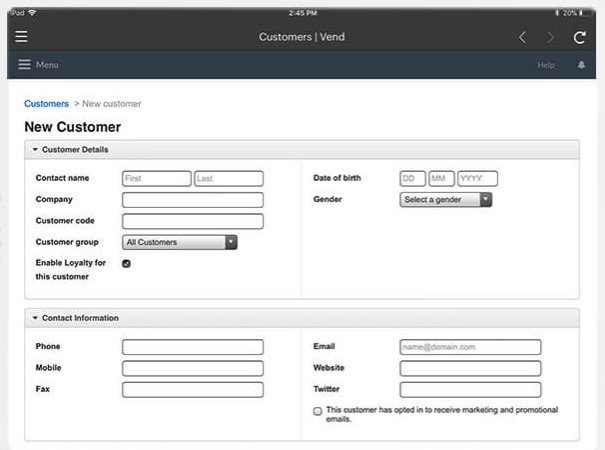 When cash was king, each transaction was a unique, short-term event, but now you can see purchases by individual customers over time. This lets you take a longer view of sales so you can take actions to maximize the revenue generated by each customer and increase their customer lifetime value (CLV).
Step 4: Employee management
Your POS can also track employee data to make business operations more efficient. Let your POS software deal with what used to be standalone devices or processes such as time clocks and paycheck calculations.
Common employee management features include:
Having employees log in and out of the POS to track hours worked
Tying each transaction to an employee to boost accountability
Calculating commissions and bonuses
Comparing staffing levels to revenue generated by location and shift
Tracking tips to avoid allocation disputes
Need to determine which employees to schedule first? POS employee data identifies your top performers and spots less productive workers who may need extra training or help.
Step 5: Marketing
Ever get a one-size-supposedly-fits-all marketing email that was completely irrelevant? Don't be that company. Instead, use insights from analyzing customer demographic data such as age, gender, location, education, purchase history, customer values, and more to create segmented marketing campaigns.
Many POS systems offer integrations with email marketing applications such as Mailchimp. These let you track email campaign performance by bounces, opens, click-throughs, forwards, and shares to further refine your efforts.
Go one step further by using your customer data to develop buyer personas: profiles of high-value target customers that incorporate their interests, behavioral traits, goals, purchasing patterns, and pain points.
Buyer personas allow you to maximize return on investment (ROI) from your marketing and customer acquisition activities.
---
Use POS data to power business success
Your POS system: Who knew it could contribute so much to so many areas of your small business? Sure, it may not have Tetris, but start leveraging this data today to enjoy the other benefits it provides.

View more information: https://www.fool.com/the-blueprint/pos-data/