A Small Business Guide to Improving Construction Workflow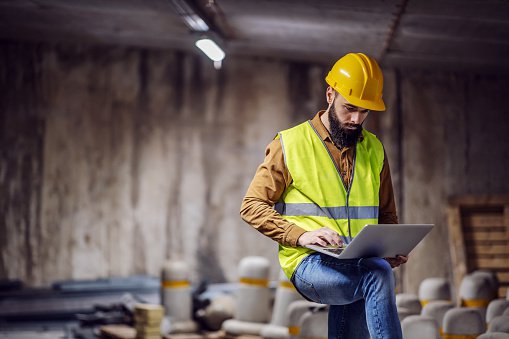 Do you ever feel like your workers are reinventing the wheel on the job site? On one project, your work crew completes masonry in record time, but on the next project, they do it differently and wind up way behind schedule. The inconsistency is maddening — and sometimes costly.
The solution? Workflows. Learning how to create and implement workflows in your project will result in huge efficiency gains. And they're usually simple to create — you come up with a good process for doing things you already regularly do, but you do them more efficiently.
Creating workflows is an essential part of construction management. This guide will help you understand them and create your own.
---
Overview: What is a construction workflow?
A project workflow is a business process describing what actions are to be taken on a certain task in order to complete it properly and consistently.
Organizations use workflows to execute a range of tasks, assigning them to people and designating step by step how the tasks are to be accomplished. In a workflow, one completed action leads to another until the task is completed.
In construction project management, a workflow may lay out how to conduct construction planning and scheduling, or it may describe the process for completing the foundation work.
A workflow can be applied to any task that needs to be done on a construction project, and managers have multiple workflow styles to choose from to execute these tasks.
---
What are the benefits of construction workflows?
Workflows are important in any business, but they are essential in construction for three important reasons.
1. They make sure tasks are done correctly
If you assign a task to your workers and don't describe how to do that task via a workflow, they may make critical errors that set back your project, or they may simply take longer to do it.
By creating an efficient workflow beforehand, you increase the chances that the work is done correctly and quickly through effective construction risk management.
2. They standardize processes
A construction project is more likely to get done on schedule and on budget when you have standardized the processes — meaning you have laid out exactly how tasks should be done every single time.
This results in more predictability so you're not wondering how long it will take to get a task done, and you can create a realistic budget and schedule that isn't likely to deviate from your projections.
3. They save you time
Workflows save the workers time, but they save you time as well. By setting up a workflow, you'll be able to set the task in motion and forget about it, letting your workers take care of it without having to worry about how they're performing. This frees you up to focus on more important things.
---
5 essential construction workflows
Construction workflows have significant benefits for your company, so it's wise to implement a few. But which should you choose? Here are five examples of workflows any construction business should employ.
1. Bidding and RFIs
If you're looking for a perfect automated workflow candidate, the process of bidding and responding to requests for information (RFIs) is it. It's a time-consuming and often monotonous process that involves a lot of rejections for every successful bid.
By implementing an RFI workflow, you streamline this process so you can focus on other tasks — and increase the accuracy of your bids at the same time.
Best format for this workflow: Form
An RFI workflow generally involves a form. This form includes all the information you must have so you're not starting at square one every time you respond to an RFI.
The form will include information such as the project name, location, company, contact information, the RFI title, any relevant dates, and a breakdown of the project. You can find free templates online.
2. Planning and scheduling
Having a predefined workflow for the construction planning and scheduling process will prevent mistakes when it comes time to lay out a new project.
This workflow should describe each step in the process from defining the scope of work to attaching resources to milestones. By creating a workflow for this process, you will have more predictable results and happier clients.
Best format for this workflow: Checklist
A checklist works best for your planning process because this process essentially goes step by step, and there aren't any situations where one step would lead back to a previous step.
3. Worksite tasks
A construction project manager should create workflows for tasks often repeated on the job site. For example, you could create a workflow for pouring concrete for the foundation. In most cases, there's no reason to deviate from this workflow, so you can streamline this process by standardizing it for your workers.
Best format for this workflow: Flowchart
A flowchart is usually best for these tasks because workers often are faced with situations that require them to make adjustments. For example, if the crew is unable to pull the ready mix concrete truck up to the site to pour directly into the forms, the flowchart can tell them to use the concrete pump instead.
4. Equipment maintenance
The condition of your equipment is an underrated part of making sure your project stays on time and on budget. Construction equipment breaks down all the time during a project, and it can cause significant headaches for you as a manager.
By implementing a maintenance workflow for each of your assets and assigning someone to be responsible for it, you ensure that the equipment is in tip-top shape at all times.
Best format for this workflow: Checklist/flowchart
This workflow may take the form of either a checklist or a flowchart, depending on what makes the most sense to you.
It may be best to create a checklist of what needs to be done each day or week to check on the equipment, and then create a flowchart for situations where an item on the checklist doesn't meet the standard.
5. Closeout
The closeout is among the most important construction phases, but it is often underestimated by construction managers, resulting in delays at the end of the project.
Managers have to complete punch lists, which are documents that list any work that does not conform to the project and must be completed before final payment. By turning these punch lists into a workflow and working through them before the end of the project, you will be more likely to get paid on time.
Best format for this workflow: Checklist
Turn these punch lists into a checklist and go through each item as the project gets closer to wrapping up. When you plan the project, schedule time at a point when it makes the most sense to create this checklist, and carve out time during the project to work through it so you're not scrambling at the end.
---
Use software to create workflows
Construction management software is perfect for creating workflows. These construction programs offer form templates, construction daily reports, customizable flowcharts, construction schedule tools, and checklists you can use to streamline your operations.
Use these platforms to conduct workflow improvement and revolutionize the way you run your business. Check out The Blueprint's reviews to find a software solution that makes sense for your business, try out a few offerings, and settle on one to build your future projects around.
View more information: https://www.fool.com/the-blueprint/construction-workflow/