A Beginner's Guide to Construction Document Management
You signed up to be a construction manager, not a document manager. But that's what many in this business feel like as paperwork piles up.
Contractors are flooded with forms, from permits to blueprints to contracts to change orders — and on and on. It's exhausting keeping up with it all, and it takes valuable time away from dealing with your actual work: construction.
You don't have to feel overwhelmed all the time. Here's how to get your document management system working for you.
---
Overview: What is construction document management?
Construction document management refers to the methods a construction manager uses to organize the blueprints, drawings, permits, contracts, specs, and any other documentation related to a construction project.
Years ago, this meant a system that involved organizing paperwork in a filing cabinet, but today's construction software includes document control features that make it easier to upload files digitally and share them with key stakeholders.
Business document management is important in construction because you often must quickly find, edit, and share relevant documentation during the project.
---
6 tips for implementing a construction document management system
Putting a document management system in place seems daunting, but it's straightforward. Follow these six document management best practices to maximize your chances of success.
Tip 1: Take a hard look at how you do things now
You probably already have a document management system in place, so ask what is working and what isn't.
A good document management system should do five things:
Make all business documents easy to find within seconds
Organize and categorize construction documents logically
Make it easy to share the latest documentation with key stakeholders over the cloud
Be scalable so it will grow with your team
Prevent unauthorized use
If your current system doesn't meet any one of these criteria, you need a new system — or at least an overhaul.
Tip 2: Create a system that fits your firm
Every construction firm is different, so your document management system must be fine-tuned to fit your business and its culture and operational flow. If your workforce can't adapt to it quickly, you'll run into problems, and your crew will go back to old methods of document management.
Involve your staff when coming up with a new document management system. The change won't succeed without buy-in from everyone who has to use it — and you might learn something from them.
If you can't get buy-in from all stakeholders, you must come up with a compromise — or even rethink the whole system. It's no good to move forward with a system that doesn't have 100% buy-in, because every stakeholder is essential to the document management system's success.
Tip 3: Make someone accountable
When no one is responsible for a new system's success, you lower the chances that the new system will succeed.
Choose someone who will fill the role — likely yourself, if you're a very small firm — and give that person the time and resources to ensure all of your documentation is properly organized according to the new system.
Draft a list of standards, and allow the person in charge to figure out the best way to do it themselves.
For example, one stipulation could be, "All permits should be filed in the 'Permits' folder within five (5) business days of being emailed to the Documentation Manager." Then leave the logistics to the document manager.
This person should handle any technical issues that come up, ensuring that document sharing protocols are filed and adjusting the system as necessary to the firm's needs. You want an individual who knows the system, knows what success looks like, and is invested in ensuring the system runs as intended.
Tip 4: Use software and go digital
Ditch the spreadsheets and those massive stacks of papers on your desk. With all of the construction software tools and applications available, you don't need to be stuck in the dark ages.
Software simplifies document management by putting all paperwork on the cloud, where any stakeholder can access it. An electronic filing system cuts down on clutter and makes it easier to find paperwork when you need it.
Many construction software options offer other important and complementary features such as project management, bidding and proposals, custom reports, job site monitoring, and even sales tools in addition to digital document management.
By consolidating all construction management tasks into one platform, including document management, you will simplify your professional life significantly.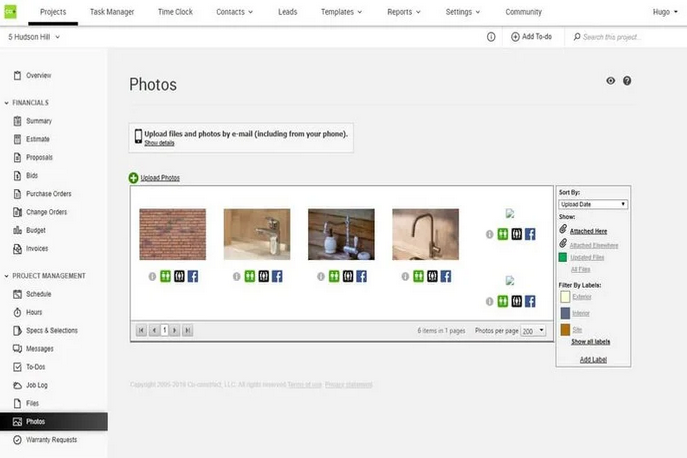 Tip 5: Consolidate and centralize
Some construction managers try to manage their documentation with multiple types of software, but this simply moves clutter to the cloud. A key part of going paperless is consolidating your project document management in one platform and centralizing everything.
That way, you aren't wondering whether a contract you need access to now is in your Dropbox, Google Drive, or CoConstruct account.
Which platform should you choose? That depends. Usually, a construction management software platform with document organization capabilities is adequate.
But if you deal with more paperwork than most contractors, go with something focused more exclusively on document management, such as PlanGrid.
As you draw up a new document management system, list every place that every relevant document ends up. Ask yourself which of these document management platforms makes the most sense long term for your business. Then figure out how you can adjust workflows and processes so that all documents get put on that platform.
With centralized documents, managing and organizing them will be a lot easier.
Tip 6: Make adjustments
You won't get it right the first time.
Hopefully, you'll see improvement over your previous system if you design it according to the tips above, but you will run into new problems — for example, you might find that combining all blueprints into one folder doesn't work because it makes more sense to group things by project than by document type.
Experiment and find the system that works best for you. Whoever is accountable for this system should note each issue they or one of your crew encounters. At the end of a quarter, review these issues with the team to determine what kind of adjustments you should make.
Continue to make these adjustments regularly. Even if you eventually get it right, the needs of your business may change, and you may need a new way to manage documents as you grow. Never stop trying to improve the system.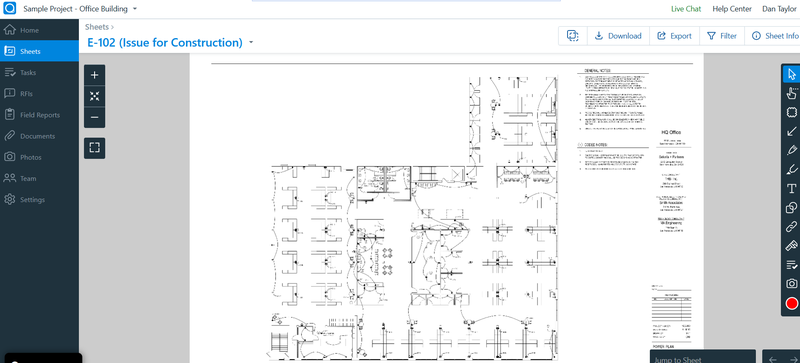 ---
Review your document management system now
Every day you go without a proper document management process in place is another day you risk something going wrong on your project because you misplaced a permit or accidentally sent outdated drawings to the foreman.
The best first step is to call a meeting with key stakeholders. Talk about where your document management system is inadequate, and brainstorm how you can improve it.
Check out some of The Blueprint's construction management software reviews, and download trials of software to see if they improve how you do things.
Then launch a pilot program where you implement a new document management system for a quarter. Analyze how it went and whether you should stick with it or make some adjustments. Eventually, you'll get it right.

View more information: https://www.fool.com/the-blueprint/construction-document-management/