A Beginner's Guide to 360-Degree Feedback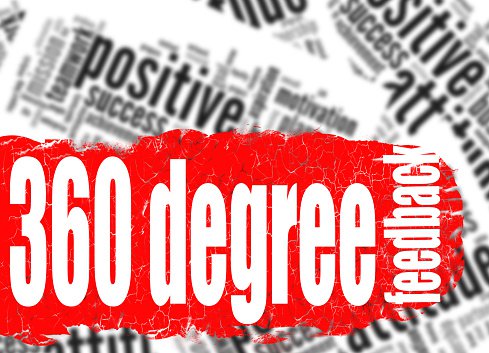 To run a successful business, you need your employees to thrive. Modern businesses recognize that typical performance measures aren't enough to help their staff identify areas to improve and capitalize on the areas in which they're successful.
The way you manage your employees' performance and development is a part of strategic human resource management, and feedback should be a healthy part of this process.
Standard annual performance reviews have been shown to be ineffective, and so businesses are increasingly incorporating new ways to create well-rounded evaluations of each employee.
Enter 360-degree feedback, or 360 evaluations. This type of talent management and employee evaluation strategy is aimed at improving employee engagement (and therefore employee retention) and development through involving both employees' managers and peers.
In this article, we'll go through exactly what a 360 evaluation is, whether your business should use this type of feedback, and, if so, how to use it.
---
Overview: What is 360-degree feedback?
360-degree feedback is a holistic review process in which employees receive performance feedback from multiple raters, such as managers, direct reports, colleagues, peers, and customers, as well as self-evaluation.
Typically, these individuals work directly with the employee they're giving feedback on and will be asked by the employee's manager to consider areas such as skills and competencies and more subjective aspects such as teamwork and character.
360 review processes often ask individuals to assess their peers using a numeric scale and/or by answering open-ended questions.
By not solely focusing on a manager's review of an employee's performance, the 360-degree approach adds another layer to the employee evaluation process by asking other relevant individuals to help identify the employee's strengths and weaknesses.
Businesses usually use HR software to help them manage their 360 performance feedback processes.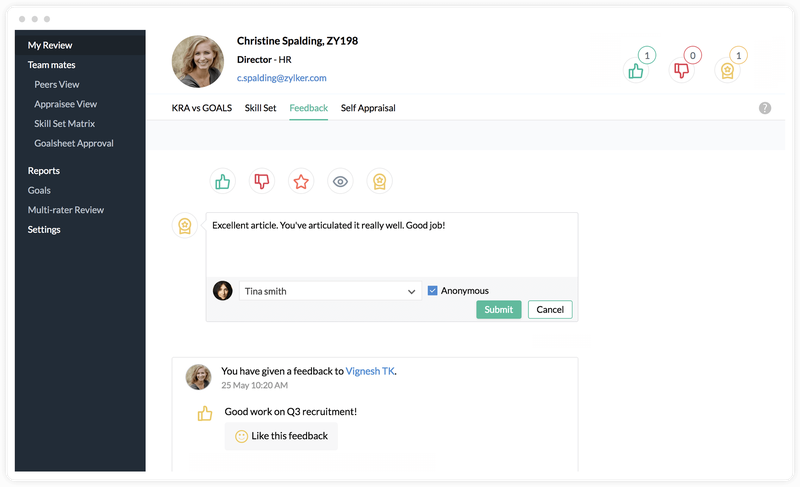 ---
Should your business use 360-degree feedback?
Smaller businesses tend to shy away from 360-degree feedback surveys because they think they don't have the resources to conduct them, or they run a small operation that won't benefit from the effort spent.
However, just as people analytics and workforce analytics are important tools to measure the pulse of your organization, so is finding new ways to implement effective development and performance measures.
Just like all performance strategies, 360 performance feedback has its share of pros and cons. Below we go through the main advantages and disadvantages.
Advantages of 360 feedback
Provides businesses with comprehensive, balanced, and well-rounded opinions from a large circle of peers and management
Promotes a culture of upward feedback (direct reports are invited to share their opinions and views of their managers), thereby improving organizational trust and transparency
Indicates areas where employee development opportunities could be beneficial
Offers constructive feedback on behaviors and character as well as role competency.
Disadvantages of 360 feedback
Opinions can be motivated by personal bias, with no way of filtering it out
Giving 360 performance feedback can be time-consuming, especially if businesses decide to ask for feedback on every employee, and it's only one part of an overall performance/development process
When employees receive personalized feedback from their peers, they might receive it as personal judgment rather than constructive criticism
As feedback data are usually anonymized, they can serve as a Band-Aid on a broken leg; if surveys reveal significant issues, it's impossible to know where to start to fix them.
---
How to use 360-degree feedback
Incorporating 360-degree feedback into your organization should take time, thought, and proper organization, and the outcomes you expect should be linked to your strategic business goals. If your business is ready, here's how to get it prepared for 360-degree feedback processes.
1. Communicate with employees ahead of time regarding 360 reviews
Don't shock employees by springing a completely new and complicated HR process on them. Ask managers to set time aside during their one-on-ones to explain to their direct reports that the organization is preparing to implement 360-degree feedback and what that means for them.
Be sure to let employees know what will be expected of them, what kind of time commitment the process will require, why the organization is implementing it now and how this process will differ from their regular performance reviews — and assure them that feedback guidelines will be provided.
2. Use software to help manage the process
We strongly recommend that businesses use software to conduct 360-degree feedback reviews. Not only does this protect the anonymity of your employees' feedback, but it's a far more efficient way of managing large amounts of data.
Many tools will also help you:
Aggregate and analyze the feedback data
Provide a library of survey questions for you to use
Give training and guidance on how to carry out the feedback process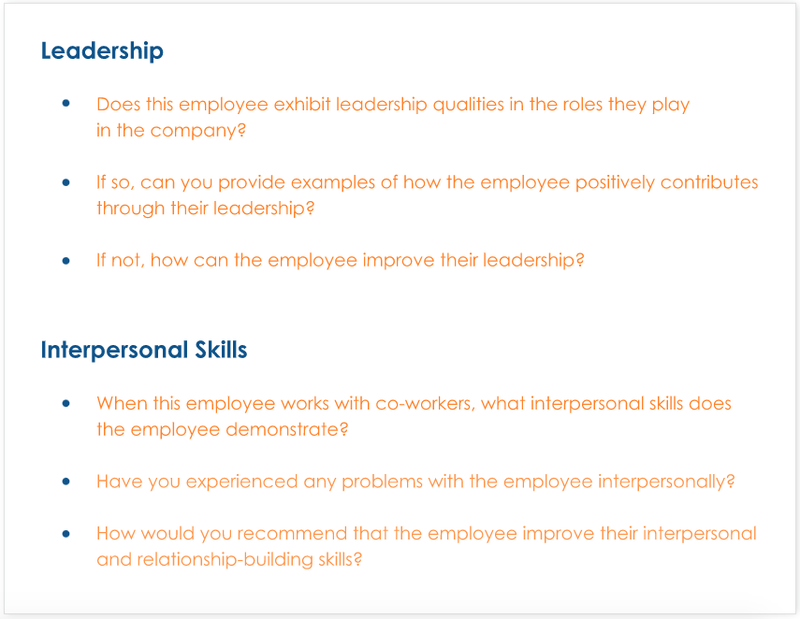 3. Define who will be involved in the review process
This includes which employees will be reviewed and by whom (e.g., who has direct insight into whom), those who will be responsible for sending out surveys (usually senior managers or HR department personnel), and which managers will be responsible for collecting feedback and delivering it to employees.
4. Analyze survey data
Once all of your feedback has been collected, you'll need to analyze the data to help you spot patterns and trends, which will then lead to devising measures you can take to act on them. Again, many software tools can take care of this process for you.
5. Deliver the results to employees
While a large part of the 360-degree review process can be automated by software, this part definitely should not be. Sharing the results of the surveys with employees should be done in person (or, if that's not possible, via a video conferencing tool) and not shared with the employee beforehand.
Depending on the results, there might be some surprises in store for employees (both positive and negative), and they deserve to hear these in person.
You can explain which areas have been highlighted as strengths and which have been identified as areas in which they can grow, and then devise a plan for how to work on key skills or behaviors and develop new and existing skills.
This is by far the most important part of the process. After all, a 360-degree feedback exercise is meant to highlight information and actions that can be taken to benefit both the business and the employee.
---
Build an open culture with 360-degree feedback reviews
Small businesses with fewer than 10 to 20 people might not benefit from implementing 360-degree feedback processes, but small businesses that are growing quickly need to think about how they might start incorporating them soon.
360-degree feedback results help businesses gain a well-rounded view of each employee, which in turn helps them plug gaps in employee development and pinpoint strengths and weaknesses.
However, businesses that want to implement 360 assessments should do so with the help of HR or talent management software that can help them manage the process.
View more information: https://www.fool.com/the-blueprint/360-degree-feedback/