A 2021 Guide to Time Tracking in Freshbooks
It's estimated that more than 80% of small businesses fail because of cash flow issues, yet every time you don't bill your clients properly, you're losing money.
Remember when you answered that phone call for your client and swore to yourself that you wouldn't forget to write it down? Remember when you spent two hours sorting through stacks of tax forms that your client submitted to you for review? Remember when you had to spend an extra three hours finishing a project that you initially thought would take about half an hour?
The bigger question is not whether you remember but whether you billed your client properly. And I'd guess that the answer to that question would be a big fat no. Not because you didn't need the money, but because you forgot. Or you didn't write it down. Or you wrote it down, but you lost the sticky note you wrote it on.
Let's face it, time management is difficult for anyone, so why not arm yourself with the resources you need to better manage your time and your employees' time, and bill your clients accurately and fairly?
That's why FreshBooks' time tracking can be a lifesaver. Designed for small businesses, FreshBooks even offers a built-in timer that allows you to track time for each task that you complete.
---
3 features Freshbooks offers for time tracking
Contrary to popular belief, you don't need to purchase expensive accounting software, when a small business accounting software application like FreshBooks can provide you with the time-tracking capability that your small business needs. You track time manually, use the timer, track employee time, and even generate an invoice in FreshBooks. There's also a mobile app available for on-the-go time tracking.
1. Timer
One of the easiest ways to track time in FreshBooks is by using the built-in FreshBooks timer. Once the timer is started, you can fill in any other relevant details in the timer box that pops up on the screen so you'll know exactly what you're tracking time for.
Once you're done, you can generate an invoice directly from the time-tracking screen. This is a great feature that's usually found in more expensive software applications, so be sure to take advantage of its availability.
2. Manual time entry
FreshBooks also includes a manual time entry option that lets you enter time by day, week, or month. The manual time entry option can also double for a timesheet, making it easy to track employee hours. Like the timer, manual time entries can also be pulled directly into an invoice for client billing.
3. Managing billable time
Any time that you track in FreshBooks can be added to an invoice for a particular client or project, with each time entry appearing as a separate line item. Your invoice will display the information that was entered when you recorded your time, and you have the option to create a detailed, grouped, or simple format when creating your invoice.
---
How to track time utilizing Freshbooks
If you're ready to start using the FreshBooks time tracker, let's get started.
Step 1. Access the time-tracking feature
Like all FreshBooks features, you can easily access the time tracking feature directly from the FreshBooks dashboard.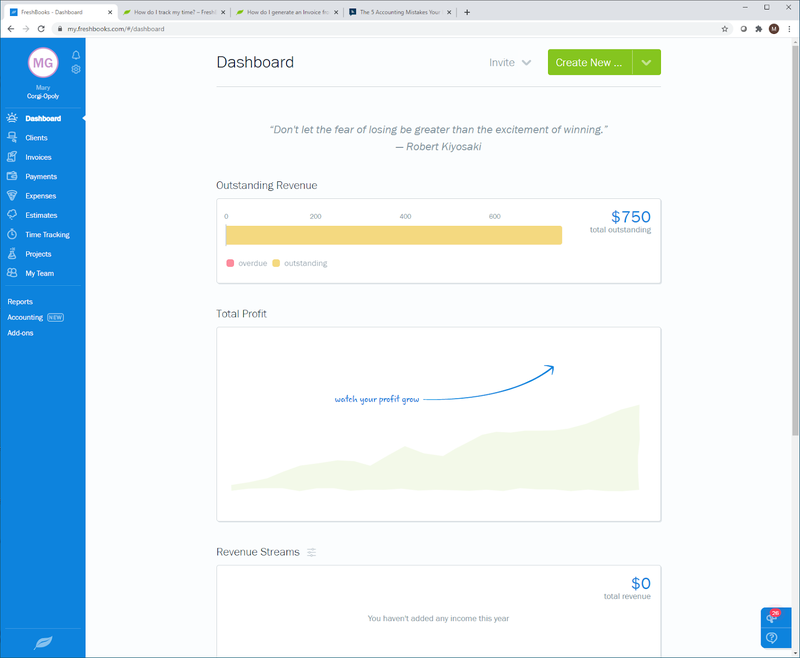 No further system setup is needed before accessing the time-tracking feature, as you can add any new clients, projects, or other information directly from the time-tracking screen.
2. Choose manual entry or start timer
Once you're in the time-tracking area, you can choose to enter time manually or by starting the timer.
If you're recording a week's worth of time for a timesheet, it's best to use the manual entry option, but if you're on a phone call, or working on a specific project for a client, the timer can be your best bet. For those on the go, FreshBooks mobile offers a time-tracking app for both iOS and Android devices that allows you to track time using the timer or by entering time manually.
3. Start the timer
When you're ready to start tracking time, just click on the Start Timer button. You can set the timer to track by duration for hours and minutes or by start and end times.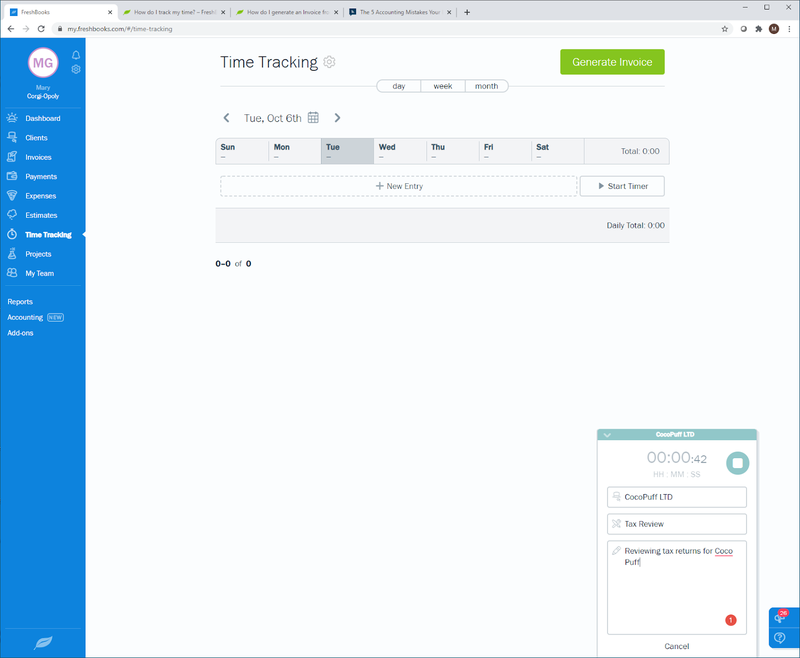 While the timer is running, you can fill in additional details such as your client's name and what you're working on. If you need to stop the timer, just click the stop button. Once you click the button, FreshBooks recaps the amount of time recorded, while also giving you the option to restart the timer if you wish, a perfect solution for interruptions, or when you need to start working on another project.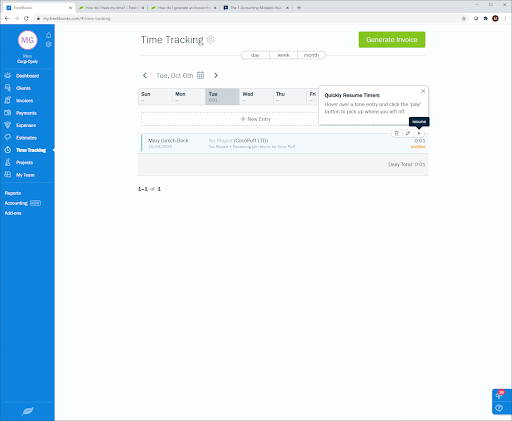 Any time that's recorded using the FreshBooks timer can also be edited or deleted if necessary.
4. Record time manually
If you'd rather record your time manually, FreshBooks allows you to track time daily, weekly, or monthly.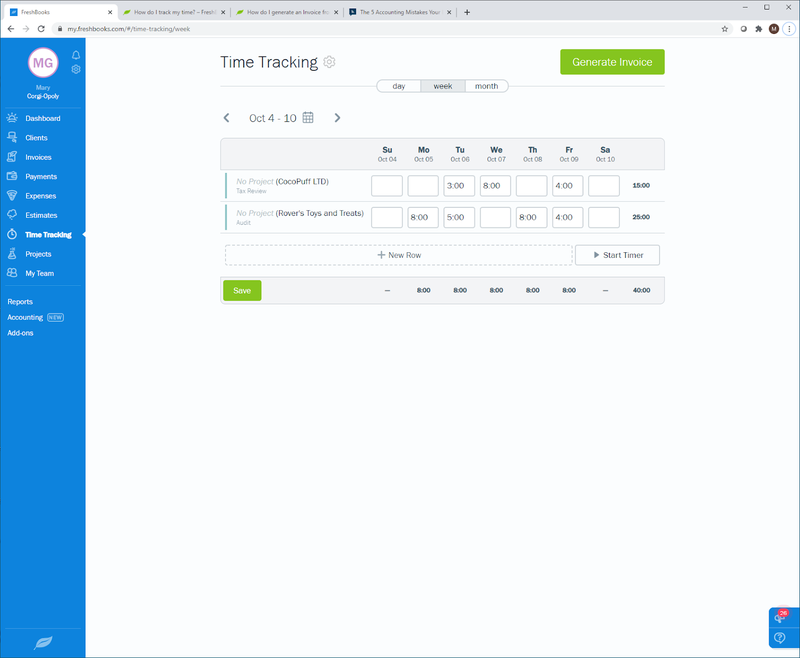 Recording time manually is a great option for creating a timesheet for payroll, or if your tasks are fairly routine. Whether you're using the timer or entering time manually, once you finish time tracking, invoicing a client is a simple next step and can be completed directly from the time-tracking screen.
5. Generate an invoice
If you're tracking time to create a timesheet for payroll, you don't have to worry about generating an invoice. However, if you're tracking hours for billing purposes, just click on the Generate Invoice button to start creating a FreshBooks invoice.
Once you do that, simply choose the client you want to bill, set a standard rate for your time, and choose the format that you want to use on the invoice.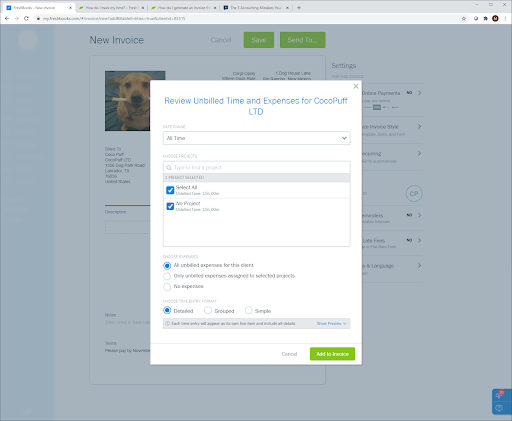 Once your choices are made, click on Add to Invoice, and you can now access your complete invoice.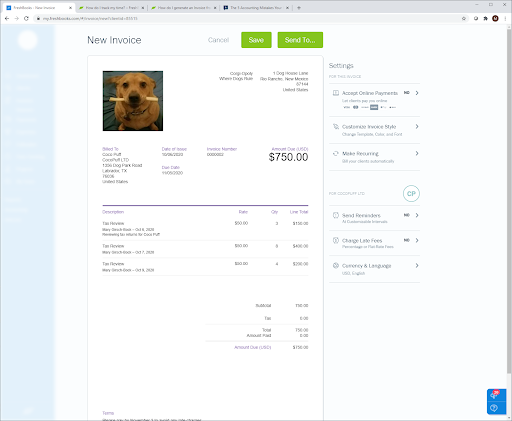 Your completed invoice is now ready to be saved and printed or sent to your client via email. Any time recorded in FreshBooks can also be marked as non-billable. For example, if you're tracking employee time, or you just want to know what you're spending your time on, you can mark the time tracked as non-billable, so it doesn't appear on an invoice.
---
Tracking your time accurately is important
Whether your small business needs to track time for payroll purposes or more accurate client billing, FreshBooks can help. Designed for flexibility, FreshBooks lets you record your time daily, weekly, or monthly, or by using the built-in timer. FreshBooks can also automatically generate an invoice for a client at any time during the time-tracking process.
FreshBooks time tracking does not include advanced time-management features such as time blocking or workflow management, but it does offer small business owners a way to easily and affordably manage their time more effectively.
While there are a lot of top-notch alternatives out there, chances are they won't provide you with the time-tracking capability found in FreshBooks. If you're a small business owner struggling with tracking your time or your employees' time accurately, consider checking out the FreshBooks trial, which lets you try out the application before purchasing.

View more information: https://www.fool.com/the-blueprint/freshbooks-time-tracking/